Trade Mania
Purchase real estate in different cities, and make your company a fantastic success story in Trade Mania! Corner the real estate market as you master unique economic gameplay. Play through maps of actual megalopolises and feel like a real millionaire. Dominate the market and become a mogul in the world of Trade Mania!
Unique gameplay
Fantastic action
Corner the Real Estate market!
Game System Requirements:
OS:

10.8/10.7/10.6

CPU:

2.5 GHz (INTEL ONLY)

RAM:

1024 MB

Hard Drive:

72 MB
Game Manager System Requirements:
Browser:

Safari 4.0 or later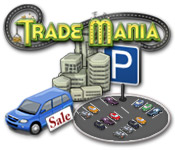 NEW299
The Big Fish Guarantee:
Quality tested and virus free.
No ads, no adware, no spyware.

Reviews at a Glance

Trade Mania
0
out of
5 (
0
Reviews
Review
)
Customer Reviews
Great boardgame and can be played with the family!
I really loved this game, to me it is like a combo of the games Life and Monopoly. It is a game that the kids and I can play together on the computer which I really enjoy. I demo'd the game before it came out and actually kept it installed on my computer until they released the full game lol, if that tells you how much I liked it (even though the demo was limited). Graphics were good, I had no problems at all with the game. It doesn't seem to put everything in the same place #besides property names) as far as I can tell so far. I have actually spent hours and hours at a time playing this game, I warn you you may find it highly addictive. I didn't have problems with any lag, music I can't really speak to as I have my sound basically off. If you like board games that require some thinking and strategy I encourage you to give this game a whirl.
November 16, 2011
Trade Mania
Fun game I have it in my game manager. I play it every day. It its a game I do not get tired of. It does not play the same twice. I live in the Seattle area so it was fun to see properties that I reconize. Love love it.
November 15, 2011
Trade Mania
When I first bought this game, I thought it was a mistake because I don't play card/board games. Then I realized when I was playing Trade Mania I didn't want to stop until I finished the whole challenge after 3-4 hours later. I got hooked so becareful when you are playing Trade Mania, its addictive. What can I say more, I am Trade Mania addiction. BFF, Fruitmania
November 18, 2011
Very Entertaining Family Game
If Monopoly had been invented in the age of computers, it would have been done like this. Even the kids will enjoy this since all of the accounting is done by the computer. This isn't a "quick" game. Like Monopoly this will take a while to play. Besides the classic concept of buying properties and putting buildings on them, this adds the twist of buying and selling an assortment of investment items (water, tea, seafood, lights, and many others) that can effect your game by skilled investing in buying low and selling high. There are a lot of twists that come along unexpectedly, like being hospitalized from an accident (it won't cost you anything if you were smart enough to buy medical insurance), or you might win the lottery. If you want a change of pace from the hidden objects, brick busters, or match three games, this could be what you've been looking for.
December 3, 2011
Addictive, updated Monopoly-like game!
This is one of my top three favorite games ever! It's a similar concept to Monopoly, but better! There are three city settings - Seattle, Paris, and New York, surprisingly well done. It has Campaign and Custom Game options. Campaigns have specific objectives and rewards, and are great for learning how the game works, how to strategize. And there is a lot of strategy involved to come out ahead. Custom Games are very fun - good for more advanced players. You can choose how many players to play against - live or computer players, and difficulty levels. Very addictive, fun, can be played over and over with equal enjoyment. Highly recommend!
November 22, 2011
Love!
From the logo and advertisement, I didn't think this was a game I'd enjoy (assuming it to be another city builder), but to my delight it was a lovely economic boardgame. They took Monopoly, and they made it FUN! =)
November 18, 2011
So addicting, great board game
If it wasn't for a tip in the forums, going by the title I would have passed this gem by. If you love monopoly but with a good twist then do try it. The campaign mode has a choice of 3 settings - Seattle, Paris and New York (I live in Seattle area so it was fun to see it) and you are rated out of 5 stars. Seattle was really easy, Paris easy and New York slightly harder. There is also a custom mode where you can play with your friends, or play against the computer and have a choice of 3 settings - easy, medium or hard opponents or mix and match hardness styles! You can choose which city you play in as well or the number of players you want to play against. It's not monopoly as you can build on individual property but the other aspects are sort of the same. The twist is that when you land on a property you have an opprtunity to buy a commodity. Underneath each commodity it tells you the price range - the cheapest it will be or the dearest. So if you buy when it's cheap and sell when it's the most expensive you make your money and that's where the real money is. You can also land on a car, when you do you can upgrade your vehicle which gives you more boxes in which you can buy and keep items. The same commodity isn't offered at each turn so you have to keep some, and some for a while if the price doesn't go up. There is also side tasks you get in campaign mode, if you do different things you get rewards. CONS - The fast forward button isn't very fast It does have black bars down my non widescreen monitor. If you want a game to play with your kids, teaching them very basic stock tips at the same time or a game your young child can play as you can set the computer to play on easy (and hard isn't that hard) then this is it. I found this so addicting and have been playing this for hours on end. The replayability factor is great as it is a board game, but has 3 different cities for you to play in. And I loved the tading aspect of it, I didn't need to do it on a turn if I didn't want to.
July 4, 2012
Excellent "Monopoly" like game
"Trade Mania" is an excellent "Monopoly" like game. However , though "Monopoly" like then in "Trade Mania" you can also trade at most every spot you move to, your own as well as that owned by others. Also "Trade Mania" allows you to buy cards that will add +/- 1 or 2 step forwards and backwards card , as option if at hand , as well as other card that one can use strategically (I won't describe it too much not to to spoil the game for anyone). Though the game at the first level (where the trial level is) seems reasonably easy then it becomes much harder already at the second level. It is also possible , by game play , to unlock a game mode where each "challenge" can be played at custom set difficulty level. (I do however miss that one can not set the level of what one have to own to 100% , or bankrupt all other players to win level one or any other levels - I think that that would have been fun). In this custom mode I think that it also allows for playing against other "human" players - in what ever way that is done/posssible...... The game can take a long time to win - I think that I used 3 hours on level 2 - and people should also understand that if they do not enjoy the long game play and if they can not enjoy the repetiveness of the tasks which is basically the same , though how game can be played and what strategy is applied evolves as/if you get more money in the game , then people should not buy the game. If one likes the game then I guess that it has some re-playability , if by nothing else then , through the custom game settings.... I think that the game is fairly nice though the repitiveness of the tasks can be a little bit boring.....
April 21, 2012
Bring on Trade Mania sequels 2 , 3 and 4
This game gets you in, played through again and again. C'mon developers please hurry with Trade Mania 2
February 18, 2012
A big surprise !!!!!
Much like the fast paced real world race this game offered the excitement for some healthy fun and quick thinking. This is a real joy to me and those of you who have made remarks I could not agree more with your views. If I'm not carefullI could spend hours doing it!
December 1, 2011
The Apple logo is a trademark of Apple Computer, Inc.
The Windows logo is a trademark of Microsoft, Inc.