Trade Mania
Purchase real estate in different cities, and make your company a fantastic success story in Trade Mania! Corner the real estate market as you master unique economic gameplay. Play through maps of actual megalopolises and feel like a real millionaire. Dominate the market and become a mogul in the world of Trade Mania!
Unique gameplay
Fantastic action
Corner the Real Estate market!
Game System Requirements:
OS:

10.8/10.7/10.6

CPU:

2.5 GHz (INTEL ONLY)

RAM:

1024 MB

Hard Drive:

72 MB
Game Manager System Requirements:
Browser:

Safari 4.0 or later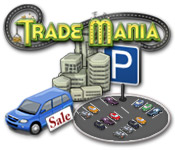 NEW299
The Big Fish Guarantee:
Quality tested and virus free.
No ads, no adware, no spyware.

Reviews at a Glance

Trade Mania
0
out of
5 (
0
Reviews
Review
)
Customer Reviews
If Only Real Life Worked Like This! LOL
Absolutely love this game and play it daily at times! In my opinion, Trade Mania is a perfect mix of Monopoly and the Tradewinds series. I only wish I could make money in real life the way I can in this game! I'd be a massively wealthy woman! (not sure whether to lol or cry...rofl) The graphics aren't exactly earth shaking, but they aren't bad either. The music is enjoyable without being obtrusive. There are various cards, similar to Monopoly, that do anything from discounting merchandise to letting the player change the "square" on which they will land to avoid paying rent or other penalties. There are two game options: the main game and a customizable game where the player can choose how many opponents she/he will be up against and whether they are human or computer opponents and the skill level of computer players. In the main game, computer players' skill levels begin fairly low and increase as the game progresses but never become unbearably tough. Each city has its own merchandise that you buy, transport and sell for a profit. Each city has its own sets of goals that earn the player various rewards - from cash to bonus cards. This is one of those games that any age and skill level can play and enjoy. My only real complaints would be the lack of a story line and the fact that there aren't more locations. The three cities, in order of play, are Seattle, Washington, Paris, France and New York, New York. I'd sure like to see a sequel....a longer game next time! ;-)
August 9, 2012
Lots of Replayability
I really enjoy this game, sort of a monopoly game with a twist where you can buy products & then sell them for a profit in other locations. I find myself replaying it over & over, I'm finally able to beat all of the computer players when they are set to the "hard" difficulty, and I STILL play it over again. I hope a sequel comes out soon, would love to see some new cities!
May 4, 2012
fun strategy game
i love this game - one very useful feature is that you can choose not only difficulty level but also length of each game freely. i find this game is wonderful for reducing my pre-xmas stress levels, requiring a fair amount of concentration but not a strain on the eyes
December 16, 2011
Monopoly, Only Fun!
Trade mania is a really great title that shares its core mechanics with games like Monopoly. However, unlike the board game, Trade Mania actually offers a very significant strategic component with the goods trading mechanic. You will absolutely need to be wise with your property purchases and your choice of goods. Upgrading your properties is essential. However, upgrading your vehicle may be more so because trading is the key to building a large surplus of cash. Unfortunately, the game does suffer from some of the same late game problems that plague Monopoly - particularly in that once you have upgraded your load capacity and established a profitable trading plan, it is near impossible to lose as long as you also control a decent amount of property. The end game then consists of sitting through round after round maintaining your trades and building up your properties as you wait for your opponents to land on them and pay you off. It is a slow and monotonous progress. However, all in all, the game is a truly fantastic test of strategy. I highly enjoyed it.
February 12, 2012
If you like monopoly...
This game is very similar to monopoly. You have to buy up properties before your opponents do and then compete to bankrupt each other. But you can earn extra money by being business savvy and purchasing goods at a low price and then selling them in another location at a high price.
November 11, 2011
Soothing trading game
It's a turn-based board game not unlike Monopoly, but with a market trading component that keeps it more interesting. You can play against the computer or your family in three different cities (with different property and goods characteristics). The chief downside is that, like Monopoly, the end-game can drag a bit. However, like Monopoly, there is no requirement that humans play it to the bitter end. The graphics are well executed, and the music is innocuous. While the it doesn't take long to play through the "campaign" mode, the game is engaging and has plenty of replay value.
July 9, 2012
Monopoly Like
So this game was pretty good. It's a lot like monopoly except that you can buy and trade goods on your turn. That exception livens the game up some. I like that there is more than one city/location to play the game, the level of difficulty increases and you can play custom games. Additionally, this can be a multi-player game which is why I gave it 4 stars. I may have given 5 stars if this game were more repeatable. I got bored after the first play through and while I may pick it up again in few months, overall, it's pretty forgettable.
December 3, 2011
Very good Monopoly type game
This is a great game to play alone or with friends, very similar to Monopoly but also different in some ways too. You can compete alone against computer opponents on 3 different boards which allows for variety. You can also play against your friends. The game is great fun and I would reccommend it to anyone. I only wish it was a little more difficult to beat the computer opponents. Having said that it is not too easy, it does take time.
September 26, 2013
Buying and Selling
I did like this game and have spent a few hours going around the game boards accumulating property and wealth. It did start to drag after a few times of playing even though I managed to promote to a new city. The game play is fairly simple. You are in a city, initially Seattle, and you go from place to place on a playing board. You have the option to buy the place or not, or if it belongs to another player you pay rent. There are also hospitals and parking spaces (where you lose a turn), a space to pay taxes and spaces to garner investments. In addition you also have the option to buy and sell goods and increase the storage level of your vehicle. What I enjoyed about the game was being able to buy "real" places and see the various places of the city. I enjoyed the somewhat strategic nature of it, making sure not to run out of money, plan for buying places, and outdo my opponents on the playing field. In my case I chose to play with the computer, but there is an option to play with others. The graphics are cartoony but well done and show the various structures you might see in your given city. The music got a bit wearing at times. I noticed that I only saw three cities on my game (Seattle, Paris and New York), so I'm not sure about replay value, although each city does require a lot of time to reach task goals. When all is said and done, I do recommend this game because it is entertaining and learning some of the places of a city while being able to purchase is also fun.
May 26, 2013
I'll Buy All the Property!
A good game that I havew already piled a lot of hours into. As others have said, it takes some inspiration from games like Monopoly and Hotel, but mixes in haulage of goods for an extra twist. It is a really addictive "Just one more turn" type of game. Campaign games on average take between 2 and 4 hours depending on difficulty give or take a few minutes, while custom games can run longer depending on settings chosen. The game will save progress if you have to stop halfway through. The music is good but there is not nearly enough of it and over a 3 hour game will become repetitive. Some people will likely turn off the music and have their own music playing instead. There are a couple of glitches in the game. Sometimes the first computer player can declare bankruptcy without selling it's properties first. This means that you continue paying rent to the player for the rest of the game because the properties are not made available for purchase. Another minor glitch is that the computer will occasionally match female names with male avatar pictures and vice-versa, but this is mildly amusing rather than a problem. The game provides a bit of a challenge at higher difficulties, but on low difficulty settings it is easy to be swimming in money while the computer is struggling. Something I would like to see in future would be a DLC pack or suchlike that includes some additional campaign maps and an expanded music library for the old and new maps. I would be happy to buy a four map pack to extend the longevity of this game. I would also like to see high score tables for the campaign maps, so I can see my previous game achievements and try to beat my scores for time taken, money made, etc.
August 15, 2012
The Apple logo is a trademark of Apple Computer, Inc.
The Windows logo is a trademark of Microsoft, Inc.