Grim Facade: Sinister Obsession Collector's Edition
In Grim Facade: Sinister Obsession, you have been summoned to a lush vineyard by the maid of a wealthy family. When you arrive, the frightened girl hands you a mysterious diary that reveals the murders of three women – but who is the murderer? Signs point to a member of the Conti family, yet Signor Conti and his sons are away… As you delve deeper into your investigation, you realize that all is not as it seems on this rural Italian estate. Can you uncover the truth before you become the next page in the killer's diary?

This is a special Collector's Edition release full of exclusive extras you won't find in the standard version. As a bonus, Collector's Edition purchases count toward three stamps on your Monthly Game Club Punch Card!

The Collector's Edition includes:
Bonus Content
Integrated Strategy Guide
Concept Art
Game System Requirements:
OS:

10.8/10.7/10.6/10.5

CPU:

1.4 GHz (INTEL ONLY)

RAM:

1024 MB

Hard Drive:

578 MB
Game Manager System Requirements:
Browser:

Safari 4.0 or later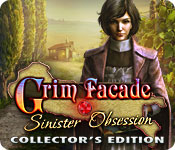 The Big Fish Guarantee:
Quality tested and virus free.
No ads, no adware, no spyware.

Reviews at a Glance

Grim Facade: Sinister Obsession Collector's Edition
0
out of
5 (
0
Reviews
Review
)
Customer Reviews
Grim Facade: Sinister Obsession Collector?s Edition
120
120
Disappointing
I really liked the previous games in this series, but I was disappointed in this game. While it has some clever innovations (like buying objects vs. just collecting them), it still seems as though the developers threw something together without a whole lot of planning. It's basically simple and boring. I sure don't recommend paying the CE price; maybe the SE.
July 7, 2012
Don't get it if you liked the first Grim Facade!
I enjoyed Grim Facade: Mystery of Venice, so I went ahead and bought this one when there was a sale without playing the demo first. I have to say, that was a mistake. Mystery of Venice was pretty well done, and was enjoyable to play. This one is not well done, and is somewhat painful to play. The story for this game is just not good, and doesn't make a lot of sense. Part of why it doesn't make a lot of sense is that a good portion of the details are missing. Who are all these women? Where are the sons? (The description on this site says they're away, but the game certainly never gives a clue.) Why is the maid the one who called you to solve all of this, given the rather odd ending? (That's not really revealed in the bonus material, even if it does give you more info about the maid.) Why are all these dead bodies just sitting around the villa, anyway? The diary/notebook has almost no info in it, even though you collect items for it, so it's not helpful to the storyline either. (Frankly, I see no point to the diary/notebook with how badly it's done.) Unfortunately, the huge gaps in the story and the lack of any organization it follows isn't evident until after you've finished the game. And the bonus gameplay doesn't help clear it up either. The graphics are okay, but not great. I somehow remember them better in Mystery of Venice, but perhaps I'm just remembering as better than it was. In this one they're grainy and just meh. The music gets repetitive and old after awhile, so I ended up eventually turning it off. There's very little challenge to the game, other than occasionally trying to remember where you saw you needed an item you've finally picked up. (Sometimes you find things you need immediately, sometimes it takes long enough you can't quite remember.) The hidden object scenes are really, really easy if you've played any other hidden object games as well. The lack of challenge, meh graphics and sound, and very poor storyline make this game somewhat unenjoyable. I will say it's nice it has three challenge levels, but unfortunately none of them provide much challenge given the ease of the game in the first place. The bonus gameplay is just as poorly done as the game, so it's not much of a bonus. Ultimately, I definitely wouldn't recommend this as a CE edition - the bonus stuff doesn't help it at all. I wouldn't even recommend it as the SE edition, since the main game just isn't good. I really hope if they come out with any more Grim Facade games that they do a much better job in the future; this is just a very poorly done game, even without comparing to Mystery of Venice.
December 20, 2012
Way too easy
OK, I know there are plenty of excellent reviews on this game but by all means, I could never give a five star review on this one. ERS is known for good games. But when you start the game, you know immediately it's ERS, not only because of the cursor but also by the way the graphics are done, and truly, I woudn't call them phantastic, they are - as quite often - just grainy. The cut-scenes - there are very little - I just found awful (I'm sorry to say so). The game play is extremely easy, even though sometimes you don't even recognize the objects really well. Was there a story-line? I hardly noticed one. I bought the game nonetheless, because I liked the HOS at the beginning in which you had to find objects in order to continue. But half-way through the game, you just had the same old HOS. Boring. Maybe it's a game for beginners, but if you've played as many as I have, you'll find the game too easy - even in expert mode. Why ERS always gets these incredibly good reviews I cannot quite figure out. I know there are reviews that say, the developper gets better and better. I do not share that opinion.
July 7, 2012
Boring!
I bought this game as a result of the sale of the highest rated games, so I expected it to be good. The graphics are great as they always are from ERS, but the game itself is so incredibly easy, I have lost all interest. In some cases the items needed to start a puzzle are literally at your feet, boring. The game is so linear that it holds absolutely no challenge, find an item, use an item, blah, blah, blah, encounter roadblock, told exactly what you might need to get past. The mini games are exactly what you'd expect to find, which again, offers no interest or challenge. The HO scenes in which you had shadows as clues were something new, thank you, but that was undone by scenes where you had to find 12 of something, again, boring. If you have any experience at playing these games at all, then you might want to give this one a miss. Come on ERS, you can better than this, seems like you are just churning them out these days, putting less effort in as you go. There was a time when I bought your games automatically without trying them (as I did this time due to the great reviews I read), but no longer. In this case, I don't even know that even I'd buy or recommend the SE.
July 11, 2012
Really lame story--if you can even call it that
This is the first hidden object game I've played that I've genuinely disliked (by contrast I really enjoyed the Mystery of Venice game by this same developer). Like a number of people have mentioned, the biggest issue here is that the story made absolutely no sense and was barely integrated into the game, which ultimately made it drag on and feel really boring and meaningless by the time I got to the (nonsensical) end. The puzzles and HOS within the game game ranged from "meh" to pretty fun, but without at least a halfway decent story, basically all you're doing is sitting there for 3 hours finding a medallion to put in a box so you can retrieve a handle to put on a tool so you can reach up to find another medallion for another box....and so on and so on. At first the game seemed fun and intriguing, and the addition of the dog and the shopkeeper that you interact with throughout the game made it seem like this would be multilayered & interesting. As it went on though, there really wasn't any more information about any of the people involved in this "story." The maid is scared and calls you for help, but that's all we know about her. There were dead girls, but who were they? Why were they even killed? Why is there literally zero character development for the family at the center of the mystery, beyond a few random facts (one of them likes cars, one of them is into science...so what)? And why couldn't the shopkeeper be integrated more instead of just being there to sell stuff (surely he could have some thoughts/opinions/clues to share)? After a while I could barely even remember the point of the story at all. I just felt like I was running back and forth between rooms with no real purpose. Then the ending comes abruptly out of nowhere, and doesn't explain anything. I started to play the bonus chapter to see if it would clear any of my confusion up, but I quickly realized that after spending a few boring hours clicking through the main game for no payoff, I just didn't care enough to keep playing. Sorry to go on like this, but I kept hoping there would be more to this story and I was so frustrated when I realized I'd wasted all this time on it.
December 23, 2013
Ok, this was ridiculous
Oh, dear! This game was a total mess for me... ERS did it again. They made a game that has the intelligence of a rotten vegetable. The storyline is completely impossible to understand and the overall game makes no sense at all. At all! Cons: - The storyline makes no sense whatsoever. "What is going on in this game?!" crossed my mind a lot while I was playing. The maid mentions the diary of the murderer where he describes three murders about to happen and when you open up the diary you find nothing. Alright, so much for keeping up with the story... The girls that got murdered. Who were they? Obviously, they were implanted in the game for the "shock factor", right? Because, otherwise, it makes little to no sense why they were murdered since the target ends up being someone else. Why did the maid asked you to investigate in the first place when after that she just keeps obstructing your very investigation? Why all those close-ups of the Conti sons and the replay of the "I'm getting married" thing?; - The "game" itself also makes no sense. You finish an intricate puzzle and a secret cache opens up on the wall. Wanna know what's in there? A screw. Okaaay... These little things build up for the constant ridiculousness of "Sinister Obsession"; - The music at first probably won't bother you, but then it will become annoying and repetitive since not only are the same tracks always playing over and over again, but they all sound alike; - The diary is not used to keep notes. Nooo. It tells you every little thing that you must do; Okay, let me just say what I liked: - The graphics; That's it. I've played some dumb games, but this one takes the cake all day. Every day.
March 3, 2013
Waste of Money
Apparently I'm in the minority on this, but I regretted buying this game and I wanted to warn others. I have played several other Hidden Object Puzzle games on this site and loved them, so this came as a huge disappointment -- mostly because the storyline made no sense whatsoever and seemed so shoddily put together. Also, the music got extremely repetitive and at times did not sync with the action (and, oddly, at the end in parts did not play at all when I got the sense it was supposed to be). Lastly, the setting was just plain boring, especially in comparison with the other games. I would be more angry if I hadn't gotten this for half-price, but I would advise avoiding this one regardless; I only finished it because I was too stubborn not to.
July 12, 2012
Very Disappointed
I played Grim Facade Mystery of Venice and enjoyed it. When I received an offer from BFG to buy this game at a reduced price, I decided to buy it without trying it first because I liked the first game. Big mistake. Thank heaven the price was at least reduced. If there is logic behind this plot, I missed it. I never figured out who the women were that were killed or why they were killed. I can't figure out what happened to two of the brothers. The end of the regular game is abrupt and leaves you wondering what the heck?! Is that it? The bonus game tries to wrap it up but who cares by that point. I'm sorry, but don't buy this game if you are expecting the same quality that was in the first.
August 7, 2012
zzzzzzzz
this is a dull scavenger hunt with an incomplete story that makes little sense. a huge disappointment.
July 22, 2012
Good beginner's game
I guess I've come to expect more of these games, particularly since the other game I have in this series was pretty good, but I found this one to have very little challenge. Dress a scarecrow with basically no way to mess it up? HO sceens were too easy and held no challenge. The graphics aren't bad and the story was somewhat interesting but the level of challenge was severely lacking. There was no thought required at all. I still had almost half an hour left when the free trial ended and never touched a hint or skip. I won't be getting the full version of this game. If you're new to HO games, this is a good one to get your toes wet but those experienced gamers will probably want something more challenging than this.
July 25, 2012
The Apple logo is a trademark of Apple Computer, Inc.
The Windows logo is a trademark of Microsoft, Inc.