Rite of Passage: The Perfect Show
Solve the Mystery of Everlake in Rite of Passage: The Perfect Show! You are a teacher in Everlake, a small town recently struck by a series of unexplained child abductions. When your student goes missing, it is up to you to take up the role of a detective and save the children. On your quest you will uncover secrets, solve challenging problems and encounter enigmatic characters with unclear motives. In the town of Everlake nothing is at it seems, as the story of crime, mystery and supernatural events unfolds before your eyes. At the center of it all stands the old puppet theater and its elusive patron. The Perfect Show is coming.
Immersive environments
Fantastic gameplay
For a more in depth experience, check out the Collector's Edition
Game System Requirements:
OS:

Windows XP/Windows Vista/Windows 7/8

CPU:

1.4 GHz

RAM:

512 MB

DirectX:

8.1

Hard Drive:

372 MB
Game Manager System Requirements:
Browser:

Internet Explorer 7 or later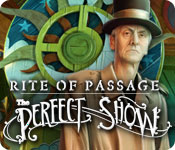 NEW299
The Big Fish Guarantee:
Quality tested and virus free.
No ads, no adware, no spyware.

Reviews at a Glance

Rite of Passage: The Perfect Show
0
out of
5 (
0
Reviews
Review
)
Customer Reviews
Rite of Passage: The Perfect Show
78
78
Pied Piper Has Met His Match
I actually wrote a review regarding the CE version for this game and although it carries many qualitites, I opted to wait for the SE version to come out mainly because it lacked the challenge. But Guess What? today there is a sale on CE Games so if you haven't bought it, go ahead, you will definitely like this one. Rite of Passage is your basic HOPA game that will appeal great to beginners and IHOG fans alike. The story revolves around the dissapearance of children, recently a young girl who just happens to be your student. (You are a music teacher), and so it is up to you to find the dark secret that lies ahead. Graphics are good, not outstanding but I really did like the artwork and best of all, the use of colors. There are voice-overs and I liked the music. Game features include 2 modes of game play and a journal. There is no map and trust me, you will be running around alot in this game, so bring along those extra pair of running shoes. Game mechanics include HO scenes that are junk-piled and interactive. This is where graphics tend to get blurry a bit. It seems that many people have different opinions on graphics; some complain and some dont. I always compare graphics and visuals to outstanding games like the MCF games and in my opinion, not many games can hold a candle to that. I liked the puzzles and mini-games, although not very challenging, some were quite interesting and unique. There are collectables, 55 masks are hidden throughout the game, I just wished that they had morphed. All in all, good story and good gameplay and a good time to be had.
July 6, 2012
very nice..
great graphics, VOs, and all that, but i liked the fact that there werent TOO many hogs, but instead, interestig little mini games. finding the objects to move forward with was more interesting also..not just "digging them up" lol anyway...good game, go play :)
July 7, 2012
Mixed Feelings
There are some clever new things in this game, which I liked, and there were some not so nice things. -no map, and it really really needed one -music needs to be turned down real low -HO's are not fun, but are interactive -VO are good -Graphics are nice -hint button works well -bought the SE and played it in about 6 hours Okay game
July 29, 2012
Good game, but disappointing end
Just finished this and I enjoyed playing the game very much. It's challenging, the scenes are beautiful, the story somewhat spooky, I like that kind of thing. But what came into the heads of game developers to design an ending in which you just have to match some symbols, the villain is roaring at you in a very unconvincing way, you actually have all the time in the world, and THAT's IT...? I've seen this kind of ending before. It doesn't fit with the rest of the story and gameplay. So yes, I surely recommend this game - but don't expect too much from the "grand finale".
August 5, 2012
Good Storyline
I purchased this game based on the positive reviews I read. The story basically revolves around missing children, and you, the town music teacher who sets out to find them. The artwork and visuals are very well done, as well as the voice overs. The music is rather non discript but at least not annoying. I have to say that the three clump stepping got on my nerves a bit, which is why i only gave the game 4 stars. The mini games are fun, and not too difficult. . The hint button fills quickly but that is based on casual play, so i don't know about the other levels. The HO's are clear and not so small as to make things impossible to find. I am still working on this game so can't say how long it is. Overall i recommend this game.
July 13, 2012
Above average, but disappointing; the next game in the series, Child of the Forest, is much better
The Perfect Show is a fun game and above average, but its current 4.5 rating and strong sequel had my expectations sky high, so I was let down. The next game in this series, Rite of Passage: Child of the Forest is one of the most well-made HOPAs I've played. From the interface to the minigames to the animations, the design is thoughtful and attractive and high quality. So I don't want to badmouth these developers. They went on to make a really impressive game after this one. But The Perfect Show was disappointing. Several of the Hidden Object scenes in this game looked pasted together from stock photos. Not all of them, but this is a major pet peeve for me. I think a Hidden Object game should have appealing Hidden Object scenes. It was particularly jarring because most of the settings and characters are well illustrated, and the puzzles look good. But then a low quality HO scene would take me out of the story. The plot is a very typical HOPA missing persons mystery which has basically the same explanation behind it as the last three HOPA games I played. The minigames are a little more original and challenging than most, but not too difficult for casual gaming. I did find it irritating, though, that puzzle instructions consisted of diagrams and one or two words rather than written instructions, which meant that sometimes figuring out how a minigame worked was tougher than actually solving it. The era of the story was hard to get a sense for; the villain drives an old-fashioned car and there are rotary telephones around, but modern items appear in the HO scenes. That lack of clarity added to the feeling of carelessness created by the subpar HO scenes. There's also no map, but I didn't miss it. I'd recommend playing the demo and deciding if this game meets your expectations before buying. And I do recommend the sequel highly.
December 4, 2013
Solid
This was a solid game with good puzzles and graphics. The HOS were excellent with challenge. Thank Goodness for the hint button as some items were small. This game would have been a 5 star if it had a map. Some of the back and forth and use of inventory items was not intuitive. I enjoyed the game very much.
July 22, 2012
what a relaxing fun game
A relaxing way to spend one afternoon - took me 5hours wihtout skipping puzzles. The story is complete without needing to pay for CE price to get an ending PLUS there are 55 masks to collect -some are quite hard to spot. well done devs...if this had a jump map I would have given it 5stars.
June 28, 2014
Based on Demo
Based on the demo, I can already tell that this is an awesome storyline if you can get past the constant back-tracking, lack of map, and the character's lip syncing/mouth movements wasn't the best (so far). The story is very captivating, and in no time my hour was up! However, due to the above issues, I might just try out the second game since it's newer and more polished. Still, from what I've read/heard, it is worth purchasing if you really love the story!
February 22, 2014
Good game. I enjoyed it.
I really liked this game. It was rather sad as others have mentioned but it was interesting. The graphics are decent. Gameplay was moderately challenging but I thought it could have been better entwined with the story. HOS were pretty typical but some of the puzzles were a little different. The puzzle instructions were basic diagrams rather than statements but they are easy enough to figure out. I like puzzles But I am not always very adept at doing them. I managed to get through almost all of them. There wasn't a bad balance but I think it was a little heavy on HOS. I also liked finding a mask in each scene. There is some travelling back and forth with no benefit of a map but the Hint is helpful. And it's a good length. Good game. I enjoyed it.
May 10, 2013
The Apple logo is a trademark of Apple Computer, Inc.