Severe Incident: Cargo Flight 821
Make your escape from an uncharted, beautiful and deadly planet in Severe Incident: Cargo Flight 821. Flight 821 has crashed on an alien planet which appears to have been inhabited in the distant past. You and your trustworthy robot companion Oscar will uncover the mystery of the planet's lost inhabitants as you work together to find a way home in this gorgeous Hidden Object adventure game.
Explore the terrain of an alien world
Enjoy the company of Oscar the robot
Outsmart dangerous creatures
Game System Requirements:
OS:

Windows XP/Windows Vista/Windows 7/8

CPU:

1.2 GHz

RAM:

1024 MB

DirectX:

9.0

Hard Drive:

314 MB
Game Manager System Requirements:
Browser:

Internet Explorer 7 or later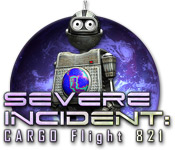 NEW299
The Big Fish Guarantee:
Quality tested and virus free.
No ads, no adware, no spyware.

Reviews at a Glance

Severe Incident: Cargo Flight 821
0
out of
5 (
0
Reviews
Review
)
Customer Reviews
Severe Incident: Cargo Flight 821
56
56
Frustrating game!
After assembling Oscar the robot, and get off the ship, you find some objects and have no idea what for. I was at four locations outside the ship ... I took five objects ... and?? Nothing more! Hint not help, just shows where you have to interact ... but how? You keep walking back and forth, not knowing what to do or where to go. Some different mini games, but not challenging, as well as HOS, easy and non-interactive. Robot has the hint, map, journal and tasks. After 25 minutes, I got lost and annoyed and... not knowing what to do, I gave up!
July 9, 2012
I Love This Game!
A Sci Fi HOPA game for adventurers and hard-core players who like a bit of challenge. This is one of those games that you will either love or hate. After the first 10 minutes, I loved it and went off to buy. Sci-Fi is a theme we dont get every day and I just could not resist cute little Oscar. Your first task is to assemble him by locatying his parts. Fron then on, Oscar the Robot is your companion, guide, hint and data holder. His voice is a bit irritating, but then again, he is a robot. The story is that your ship has crashed on a mysterious planet and both you and Oscar must find a way to escape. I Almost gave this game a 5 star game but unfortunately the graphics were just not up to standard. Although I really loved the artwork, the bright colors, graphics were a grainy and a bit blurry. SOund effects were amazing , if not a bit too loud but then again, we are in a spaceship and on a planet where things are not what they seem. There are no game modes available and you do have sparkles showing you points of interest. The HO scenes are junk-piled and non-interactive. You quest is to find parts, assemble them and search the planet with Oscar, who also provides you with a map and task list. There are mini-games to play and they were relatively easy to solve. Actually, the gameplay was easy and the challeng really is to find your way around. I expect a walk-through will be useful. Like I said, you will either love this or hate it. I recommend you try the demo to find out. I myself am off to join Oscar and continue onwards and awayyyyyy.
July 9, 2012
Reviews are all over the place. Do give this game a try.
This game doesn't exactly hold your hand. But there are hints and clues. Once you assemble the robot, you can click on "DATA" and you'll have tasks, a map and "data" available. The map shows where hidden object scenes are, as well as where you are but you can't use it to jump to another scene. No click penalties in the HOS. The hint button doesn't work outside of the HOS. Some of the hints are provided through what I'll call cut-away shots. They show you when something has changed in another area after you've completed a task. So, of course, you know you need to go there next. I think the game deserves a better rating than what it is being given, but as another reviewer said, "You'll either love it or hate it." For this game, I suggest actually leaving the tutorial on until it finishes. There are just enough things about this game that are different, that I think the tutorial makes game play better. Please try this game.
July 9, 2012
Not A Bad game After All
This is a totally different game from the norm. Graphics are excellent. There is a map, but can't use to jump to locations. Story line is okay. Tutorial could have been better. Not always sure what you need to do. It is a pretty fun game. Does make you think. This will not be for everyone, but at least try it before you make a decision. Not easy, but not extremely hard. For those who like a challenge, this is a good one.
July 9, 2012
HOGs In Space: Finally!
Yes, follow Data, the Robot, and go where no HOG has gone before....and about time, too! Nice bright graphics and good potential on the music/sound (that's a definite maybe, I haven't finished the game). However, the game had a rough start for me since I couldn't locate a vital item needed to re-build Data after his ship had crashed. Turns out the missing left arm was attached to the left hand, amazing! The problem is that you have to activate Data before he can give you hints. Anyway, good fun; maybe some traditional HOG ghosts, vampires and missing relatives will also show up in HOG-Space some day. I recommend the demo,,,and beyond!
July 9, 2012
Needs better hints
I played the demo and if the hint button either gave you a direction to go in, or the map were interactive, I would give it four stars. Since neither of these will happen, a walkthrough is absolutely needed. The hints can also be quite frustrating because they will point you to an area in a scene, when you have no way of completing the task involved. This would make a good family game because I found nothing more frightening than a large, unfriendly dinosaur (at least in the demo). If you read the information in the tutorial, it helps greatly. You have a Task List, a Data file, and a Map which can be accessed by clicking "Data" on the robot in the lower right corner. Your first task is to assemble that robot! It is rather fun - you find his pieces and attach them to his body. I have no real idea how long it would take to play the entire game (since there is no walkthrough to use as a "yardstick"). Looking at the map and guessing at how much more there might be to do, it might take 2-1/2 to 3 hours if mini-games are not skipped. This could have been a really great game if just one or two minor issues had been addressed in the development. Since there are a great number of locations, an interactive map would have been fabulous. In lieu of that, a hint system that points you in the right direction would have been worth another full star. You do not have a choice of difficulty level. The custom cursor is nice; and not too large. You can adjust the music and sound volume. The items in the hidden object scenes are not miniscule, but sometimes there are a few objects that might be the one they want. ("Clamp" - a ring clamp, a pincer-type clamp, etc.) Without a walkthrough available, I would not consider it until it is offered as a Daily Deal or Catch of the Week.
July 9, 2012
Excellent Game
Though not a particular sci-fi fan, I've really found this to be an enjoyable. It's a welcomed departure from ghosts, lost loves and interminable HO scenes. The HO scenes in this game are nicely spaced and reward you with items neccesary for advancement. I like the artwork and the music is not an irritant. This game actually makes you think and use your reasoning powers, and that's refreshing. There are times when I just want to zone out and play something minimally challenging, but its nice to have a challenge every now and then. If you liked Tiny Bang, Green Moon, and games of that ilk, I think you will enjoy this game. It's a buy for me.
July 9, 2012
Great Game
When I first began the game I too felt lost as to, what to do, and where to go, I nearly backed out, but am so glad I didn't. This game, being different began to draw me in while trying to figure out how it works. I found the info. and hints are there, I just had to pay closer attention to everything. For me, I kept a close eye on the curser for any changes, clicked on everything, and checked on the data often. Eventually, just before the demo ended I had that ah ha! moment... I don't usually get into Sci-Fi much, but the graphics, voice overs and sounds are so good it held my interest, now I'm going to have to buy it. I'm totally sold on this game, just give it a little time, if you like a bit of challenge I think you'll have fun with it too.
July 9, 2012
Catchy Title, Terrible Gameplay
Really did not like this game. I was disappointed because it was such a catchy title Good Parts: Good, modern graphics. OK Parts: Tutorial included, but not very useful. Average challenge. Bad Parts: No hint included. This was really annoying. Half the time you had absolutely no idea what to do. A strategy guide should've been included. An average storyline that did not hook me and I had no idea that the intro was over. Not very exciting. The game is no fun to play. I really didn't like this game. Not onlywas there no fun factor, no hint and no strategy guide but I could never see any hidden object scenes.
July 9, 2012
Severe Incident: Cargo Flight 821
I bought this game. It was challenging for those that are accustomed to playing HOG's, doesn't hold your hand all the way through, will make you use your brain. The robot, gives you direction throughout. Thanks to the programmers for an upgrade to the usual.
July 9, 2012
The Apple logo is a trademark of Apple Computer, Inc.