Howlville: The Dark Past
Discover the secret of Rachel's past in Howlville: The Dark Past! Many years ago an artifact was found in a mine near the small town of Howlville. The government asked Dr. Joseph and a group of scientists to examine it. Something went wrong and the experiments were halted and classified. The town closed off. Since then nobody knows what happened to Dr. Joseph. Fifteen years later his daughter Rachel is on the verge of solving the mystery, but somebody is doing everything possible to keep her from succeeding. Help find Rachel's father and save the world from the looming catastrophe!
Explore mysterious Howlville
Play challenging mini-games
Find your father and save the world!
Game System Requirements:
OS:

10.8/10.7/10.6/10.5

CPU:

1.8 GHz (INTEL ONLY)

RAM:

1024 MB

Hard Drive:

430 MB
Game Manager System Requirements:
Browser:

Safari 4.0 or later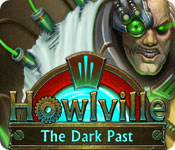 NEW299
The Big Fish Guarantee:
Quality tested and virus free.
No ads, no adware, no spyware.

Reviews at a Glance

Howlville: The Dark Past
0
out of
5 (
0
Reviews
Review
)
Customer Reviews
Howlville: The Dark Past
101
101
Not so great for me...
I found it to be poorly done. I bought the game because everyone was Ecstatic about the game. Mmm, it goes to show one should definately try the game first. The hints had to be found. And there were many, many HOS. The voice over was excellently done by the woman when she spoke, this too was rarely done. There is no wide screen to choose from. I personally would not recommend this game.
July 8, 2012
Howlville No Fun
There are so man HOS that I totally lost any idea of what the storyline was. Sorry I bought it.
August 1, 2012
Nearly non-stop HO and easy puzzles
If you like one HO after another (I don't) and the few puzzles you encounter to be very easy, then you will like this game. If you hate HO and like challenging puzzles, don't buy this game. I only gave it three stars because as an HO game, it is at least three stars. As an adventure game I would give it a half star.
July 21, 2012
Save your money
When I first demo'ed this game, its hard version was impossible as the cursor didn't change so it was just a clickfest but when the developer put in a hard version with a working cursor, I demo'ed just a little bit of the game and then bought it. I regret not demoing the whole trial as I would not have purchased this game. I bought it from the small part I played because I loved the interactive hidden object scenes. They weren't the usual ones but mini games to get the item which I very much enjoyed. However, I did not realize how frequent the hidden object scenes were. Every scene change was a hidden object scene, sometimes multiple ones in the same new scene and not all were interactive. Every time I found an item, I had a place to use it right away. There was no logic to this game, no strategy. I do like no brainer types of games sometimes but this one put me to sleep! SPOILER of sorts The ending has a non skippable puzzle (in hard mode, not sure about easy mode) that has you make character symbols out of a circle of lines? hard to describe. Anyways, you have the symbols in the diary but I found it impossible to replicate the symbols in the circle as the lines did not match what was in the diary so instead of looking at a walkthrough, I deleted the game. It really wasn't that interesting and I couldn't care less at that point if her father lived or died. I mean he was already a ghost and told her to kill the project. It was just a lackluster game at best.
September 30, 2012
Just from demo
Too many darn hidden object scenes that rely on to many hints to find itty bitty things. Mini games inside of HOS is nice idea, but not so hard to figure out.
July 7, 2012
HIDDEN OBJECT GAME
IF YOU ARE LOOKING FOR A HIDDEN OBJECT GAME WELL THIS IS THE ONE. YOU HAVE A HOS ABOUT EVERY OTHER STEP YOU TAKE IN THIS GAME.. THE BAD PART IS THAT IS HOW YOU MOVE ON TO THE NEXT FRAME OF GAME. THE ONLY THING THAT I DONE WAS GO FROM ONE HOS TO ANOTHER AND THAT WAS ABOUT ALL I DID.THE MUSIC IS OK. THE FUN FACTOR WELL LETS SAY THIS IT NO FUN FAR AS I AM CONCERN. THE CHALLENGE WELL MY DOG COULD PLAY THIS GAME. THIS GAME WAS PITTIFUL AND I FOUND IT VERY BORING AND ANNOYING JUST GO FROM ONE TO THE OTHER HOG THE PUZZLES WELL THEY WERE BASICLY FOR BEGINNERS.VISUAL WAS BASICLY FAIR TO GOOD NOTHING SPECTACULAR. NOW I AM NOT GOING SAY THIS BUT I WILL THIS IS THE FIRST GAME I EVER BROUGHT THAT WAS NO FUN FROM BIG FISH. THE GAME CREDIT I USED TO PURCHASE THIS GAME WAS IN VAIN. THE FIRST REVIEW I READ ON THIS GAME I SHOULD HAVE LISTEN BECAUSE ANY GAME IS AT THE PLAYER DISCRETION. YET AT THE SAME TIME SHE WAS RIGHT. THIS GAME IS FOR THE FISH FOOD IN THE POND.
July 9, 2012
Not so great
I'm not sure why this game scored so high on the reviews. I played the demo and it seemed like it would be a good game but unfortunately, the best part was the first couple of chapters. Here are the reasons why I scored this game so low: 1. Very, very simple and very linear. A beginner HOG for sure. I don't think I ever had more than 2 items in my inventory at any one time. There was no doubt as to what your next task would be or where your inventory items needed to be used. Not a lot of thinking required for this game. There wasn't any wandering around or maps needed. You went straight through to the end like an arrow. 2. Mini-games were either far too easy or extremely frustrating. Most didn't take much thinking, just patience and luck. Also, quite a few repeats; same game, different skin. 3. LOTS (and I do mean a LOT) of HOG scenes. It seemed like they were one right after the other at times. In addition, some items were so small, I only found them by random clicking. Small items in crowded "junk pile" scenes are very frustrating. Also, some items are misnamed or odd-looking so they're very hard to find or identify. 4. No real soundtrack other than annoying noises. 5. The demo allowed you to play the first 2 chapters which took me about 40 minutes at a leisurely pace. Since the game has a total of 5 chapters, I figured I'd at least get 1.5-2.5 hrs of play time. This was not the case. I finished the last 3 chapters in less than 25 minutes and was bored to death by the time I was at Chapter 4. After the demo portion ended, the game seemed to get much more simple and linear and..well...boring. It's a bare-bones HOG as far as content. Kudos to the devs for overall good general graphics. The game played with no issues or bugs. That said, for a seasoned iHOG or HOG gamer. I feel the game is too simplified and far too linear. I was expecting a little more. I would save this game for a $2.99 special or a freebie from your punch card but IMHO it's not worth $6.99 or a full credit.
July 19, 2012
just a HOG (for me)
I was very disappointed when I played the whole game. Too much, too much HOS ! It's a game for players who love HOS. Yes, they are interactive like in a lot of games now, it's fun at the beginning but you can't take a single step without finding a HOS or two ! And objects are tiny or very well hidden... Fortunately, there are many puzzles, not very challenging but fun. The story is banal, nothing original. I don't recommend this game if you prefer adventure and puzzles with a few HOS !
July 11, 2012
BORING
what a tedious game......did not enjoy it one bit.. very dated...
July 8, 2012
Too many HOs
If HO scenes are your thing, you will love this game. There were waaaaay too many for me, though - you'd do one or two things and then immediately be presented with yet another HO scene. As HOs go, these are good - they are interactive, at least; but they are of the junkpile variety and I got really tired of them - enough so that I stopped playing the game.
July 27, 2012
The Apple logo is a trademark of Apple Computer, Inc.
The Windows logo is a trademark of Microsoft, Inc.