The Promised Land
Take charge of a small group of settlers and build a thriving colony in The Promised Land, a casual strategy game for the adventurous at heart. Gather resources, erect buildings and establish trade as you explore a vast wilderness teeming with surprises! Can you tame the New World before it tames you?
Huge world to explore
Complete freedom of play
Build a thriving colony!
Game System Requirements:
OS:

Windows XP/Windows Vista/Windows 7/8

CPU:

2.0 GHz

RAM:

2048 MB

DirectX:

9.0

Hard Drive:

327 MB
Game Manager System Requirements:
Browser:

Internet Explorer 7 or later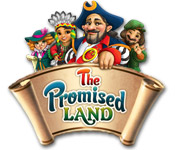 NEW299
The Big Fish Guarantee:
Quality tested and virus free.
No ads, no adware, no spyware.

Reviews at a Glance

The Promised Land
0
out of
5 (
0
Reviews
Review
)
Customer Reviews
The Promised Land
183
183
fun time management/sim hybrid + cute minigame
This game was just what I needed this weekend. The graphics are cute in a cheerful and fun way. I would have liked more variety in the character illustrations--I kept confusing them for each other. This was especially true once you re-trained them for something and their outfit changed to suit the new job. Some of the characters were a little on the hackneyed stereotyped side (*cough* the native Islanders... *cough*) but overall, not bad. The pirate mini game was so cute. That's the part that kept me occupied while I waited for my islanders to finish tasks. The tasks were not as difficult to figure out as say, Virtual Villagers, which was a both a plus and a minus. The game was over a bit quickly for me. Dunno if I just had a good strategy or if I just got lucky. Oh, as a bonus, I really loved the sound effects. They changed as you scrolled past various areas--including silence near the hospital, which was a clever touch.
July 16, 2012
Sooooooooo ugly people!!!!
I like this game very much but there's only 1 thing i hate--- THE PEOPLE ARE SO UGLY. Every time I play the game my anger tends me to close it when i see some of the ugliest people in the village.I wanna pull their heads off!!!!!
November 25, 2012
Pleasant game
It's definitely like "Artist Colony" where you build your village after being shipwrecked, but it's an unhurried pace (except for a few quests). The only downside for me is the stupid "Angry Birds" part where you have to get rid of pirates. "Angry Pirates" is just very unlike the rest of the game, and it throws off the tempo and continuity.
August 12, 2012
More Please
This game is very satisfying I wish there were more like it. I love the storyline and the game play and the idea of it in general. The side pirate game is a lot of fun too. My only complaint is that it leaves me wanting more! I keep playing it over again because it's so good but I want it to be different. I want more territory, more mines and shops and treasures and customizations. I wish you could make families and produce your own settlers. I wish you could choose where things go so it could be different every time you play. I know they probably don't want to make it too much like the sims or civilizations series but I'm yearning for those kind of games and this one left me craving it even more . This being said, it will remain a Big Fish Games favorite of mine.
August 5, 2012
For a while I was flustered, but then I got bored...
OK, initially I enjoyed the game - and bought it. Then I kind of got overwhelmed because the hints of what to do that pop up in the form of a tutor and the guy who keeps you alert to market prices don't tell you about important things that you need to be doing. They also don't always give good advice. He tells you something like "Sell all your corn before prices drop!" If you do it, your people starve for awhile. Getting the right balance of produce and helpers for the kitchen is tricky, and it is best to wait and build things when you are told to - although sometimes they give you a task long before you have the resources to complete it. Sometimes tasks conflict with one another too. The homes are little puzzles where you have to figure out how to place the rooms so that all can be accessed, and until you add on rooms for them, some of the colonists who come in will be homeless and can't work. They are very sad and mopey when they are homeless. I messed up early on and had three homeless people wandering around for the longest time! Once I got all the major stuff done, and everything balanced and working well, it got boring. I actually fell asleep waiting for something else to happen. You can't advance to certain levels unless you complete the pirate battle mini-games. Those remind me a lot of Angry Birds. I still haven't been able to finish the last one - so I still have not completed the game. I just got tired of trying. I lean more towards games like Gardenscape, but if you enjoy Sims-style time management games, you will love this one. But only if you like keeping track of around 50 characters at the same time, and balancing a myriad of tasks. It is not simple, but can be fun.
July 18, 2012
Cute and Fun Strategy Gmae
I wasn't sure at first, but before my hour was up I was hooked. I recommend this for lighthearted fun. Some things take time though so be prepared to wait while crops grow.
July 30, 2012
Great colony game. Almost perfect
I loved this game! I bought it well before the demo was over. i have just finished it. Relaxed play, but with options of making it more challenging. I did find a few bumps when i first started, but with a quick search and a trip to the forums, i had all of the issues solved. I wish they made more games like this! Compare to Artist Colony or Wondering Willows. I always mute the music, but I left it on a low volume for this one, it blended with the game seamlessly. I did have to re-start once after I had got the basics down, but I am looking forward to playing this again and again. Great value and a hugely fun game!
July 15, 2012
didn,t feel rushed
i like that you can choose either match 3 or hidden object
July 11, 2012
Fun "New Colony" Simulation Game
Fun to play. Can send trade ship to "Old World" for goods. Similar to Artist Colony, Virtual Villagers & a tribe colonizing game (the name currently escapes me). Only thing I don't like (some people may like this): there is no aging or families.
October 2, 2013
Fun to pass the time and very cute to watch.
The Promised Land is a fun game and I thoroughly enjoy playing it. It looks very cute and is set out in an easy to use fashion. You can check what each menu shows by clicking on the ? symbol in the corner if you forget. The game is best played in the order of the tasks/objectives that you are given, but easier to play when you do not rush through them (with the exception of the timed tasks, which then of course, rush through them!). In the beginning, the game will want you to gather 5 units of food, and then 5 units of wood. I have found it better to play slower and gather 50 units of food, before moving on to gather 50 units of wood. Likewise, later, before you repair the ship, it is better to gather a few hundred (I would advise at least 200, preferably 300) units of all available resources at that time. This will make sense once you've repaired the ship and start selling goods (I prefer to only sell the goods that are in high demand). You will find this easier accomplished if you match up each characters likes with their job, whilst keeping an eye on their dislikes. The game does not explain the different 'careers' and the jobs they reflect. The 'careers' you will have are: Worker, Artisan, Farmer, Builder, or Scientist. There is no real point in creating a builder, so if you have a character who likes building or repairing (these are effectively the same thing), it is better to have them fall under a different career but have them carry out the building/repairing. Always have a character who enjoys gathering food as a farmer, and those that like to mine or chop wood as a worker. There will no doubt be characters whose likes are 'shearing fluffers' or 'working at...'. It is best to have them do various jobs (making sure to swap them around so that they do not become 'experienced' in any one job yet) until you have built a forge, which is for an artesian. There will be 'dangerous' jobs later on, which will require a lot of healing herbs to be kept in storage. The best way to deal with this is to have someone who enjoys said dangerous job, as they will require little to no healing herbs to carry out the role. Whilst you have a population of under 10, always have at least two people (preferably three; with at least one on the field at all times) gathering food. Keep one chopping wood, another mining stone. Have your chosen artesian making nails. Always have twice as many people mining iron as there are making nails. Likewise, always have twice as many people working on gathering a product as there are making it into something else. Try to keep at least 20% of your colonists gathering or making food. The game can take a while to gather resources, so it is best that you set your people gathering their resources, and leave your computer to one side whilst they do so, especially in the beginning. The game does not run in the background, and if in window mode, it will pause once you leave the window, so it is best to have another device (or book or task) ready to keep you occupied whilst they are busy gathering resources. A character will only carry one unit of a product at time, and whilst this can be made quicker by you manually picking them up and dropping them at the store and then back to their post, this is not effective for a larger group of colonists, and will tire you out very quickly. Overall a good game, if somewhat slow in resource gathering. It can be a bit confusing when it comes to the houses, as you cannot start building extra rooms until after you have repaired the ship and bought another colonist who needs a room. This is not made clear until after you have experienced it. Final note, try to make sure that you have 10 times as much food as you have colonists. You have ten colonists? You need at least 100 food.
August 30, 2013
The Apple logo is a trademark of Apple Computer, Inc.