The Promised Land
Take charge of a small group of settlers and build a thriving colony in The Promised Land, a casual strategy game for the adventurous at heart. Gather resources, erect buildings and establish trade as you explore a vast wilderness teeming with surprises! Can you tame the New World before it tames you?
Huge world to explore
Complete freedom of play
Build a thriving colony!
Game System Requirements:
OS:

Windows XP/Windows Vista/Windows 7/8

CPU:

2.0 GHz

RAM:

2048 MB

DirectX:

9.0

Hard Drive:

327 MB
Game Manager System Requirements:
Browser:

Internet Explorer 7 or later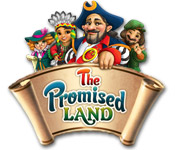 NEW299
The Big Fish Guarantee:
Quality tested and virus free.
No ads, no adware, no spyware.

Reviews at a Glance

The Promised Land
0
out of
5 (
0
Reviews
Review
)
Customer Reviews
The Promised Land
186
186
Priate Shooting
This game is a lot of fun except when trying to destroy the pirates. Controlling the ball and the level of strength is unpredictable
July 29, 2012
promised land
good game keeps you busy for hours makes you think ahead and planning is key
July 19, 2012
If only this game weren't so sloooooow...
I was a bit hesitant to buy this game after the trial, but my almost 9-year-old was adamant that we needed this game after watching me play it. That being said, even after playing it farther, I still can't say I love it. It's an interesting story, an interesting idea, and definitely has potential. Despite all of the reviews comparing it to Virtual Villagers it's not quite the same as that series of games. It's much more similar to Artist Colony than Virtual Villagers. However, it's biggest flaw is just how slow it is. You collect or make items to do things in the game (food, stone, wood, more sophisticated things as time goes along). And your colonists are the ones doing it, all with their own likes or dislikes. Unlike Artist Colony, there seems to be a larger variety of tasks (since I remember Artist Colony getting repetitive rather quickly), as not everyone is ultimately trying to do more or less the same thing. So it ends up feeling less repetitive. However, it being less repetitive doesn't make much of a difference or help it a lot when it just takes so long to get things done. This is where it's not like Virtual Villagers - the game doesn't continue to run when you minimize/quit it. Which means that in order to have your colonists collect/produce enough of the things you need for the tasks, you have to leave the game running. And you can't leave it running and walk away from it either, as occasionally messages from your advisors will pop up on the screen, and those pause the game until they're dealt with. In order to get as far as I have in the game, I've honestly sat in front of my computer reading while the game runs. Sure, I've bought more colonists and have multiple colonists working on things, but it still takes time, and without a book to read at the same time I would have given up on this game awhile ago. Even my almost 9-year-old, who goes on about how neat this game is, will frequently find something else to do at the same time. Another flaw is the tutorial portion - it's not awful, but it's not great, and sometimes information you need doesn't pop up unless a specific thing happens. For instance, I had no idea for awhile that you could add more rooms to the houses and have more space for colonists without building another house because I just built the second house when I hit the upper limit and before I got another colonist. So I didn't get the message about adding on rooms until after I ended up earning an extra colonist that put me over the limit. Not a huge deal, but it's an example of how it doesn't tell you things unless a certain thing happens. Your advisors will also sometimes tell you to do something (such as sell all your wood/stone/food because it's selling for more right now) that isn't necessarily in your best interest. For instance, without food, your colonists won't work. I didn't listen when they suggested things such as that, but I'm sure that could frustrate some. Finally, the pirates game that's sort of like Angry Birds. I don't honestly care much for Angry Birds, and it's a bit annoying that you *have* to complete those games for some things to happen or be earned in the game. Sure, I can do them, but either a skip option or at least not making them necessary to continue in the game would be better. Otherwise, the graphics and sound are good, and if there was just some option to speed up time in the game this would be pretty good. But given just how slow it is sometimes, I can really only call it okay. Definitely play the trial before you buy it and keep in mind that you'll want a book with you as you play.
September 24, 2012
Detailed, beautiful and fun storyline, but not the game for me.
I played this on trial version, and while I enjoyed the trial, I don't think I'll be buying it. What I LOVED: The design and graphics, the background music, the interesting storyline. This is a well thought-out game, more detailed than most. What I liked: Gameplay--easy to learn, tie nicely with the storyline. Each characters are well thought out, having their own likes and dislikes, quirks etc. What I didn't like: I felt like it was a slow-moving game. You cannot decide where to build your buildings as the locations are pre-selected by the system. The mini-game of defeating the pirates a la angry birds was just not up my alley.
September 13, 2012
no overview
I am not a big fan of pick up and drop off people to get them to do chores. I prefer to have the whole screen on display so that I can see what is what and to not have to squint to see my workers. But the graphics are cute, sound is pleasant and fighting pirates in a mini game is just fun. not sure if i will buy it because the constant scrolling around is just not my thing.
July 11, 2012
Good Fun, But Frustraton Brings Down The Rating
I liked this game at first, but some really annoying things brought down the rating. Good Parts: The graphics are pretty good, great designs and very modern. The tasks were fun and a great challenge for me. The game was actually pretty fun to play. The game is sims like. You start off with 5 people and have to build an entire colony. OK Parts: The tutoral was good, but some parts of it confused me a little and I had no option to skip it. Bad Parts: Particular parts of the gameplay were confusing. I'd either need to find something and I didn't know where it was, or the symbols were confusing me. The map should've been way more clear than it was. There should've been something to indicate where to go for your next task or something. Some tasks were timed, which in my opinion, took away the freedom of the game. Despite these things, the game was actually prett good. I'll recommend it.
July 21, 2012
Too Many Interuptions
There really wasn't much of a challenge. There was nothing to discover on your own. The pop-up windows were a distraction.... too many, too often. If you're looking for a game that is similar to Virtual Villagers - this is not for you.
July 13, 2012
Bad graphics and difficult to move around
Most importantly it was no fun.
October 30, 2012
Long
It takes forever to build up resources mostly at the beginning and then at different stages throughout. I like the little characters and the pirate mini game.
August 11, 2012
Same same but same
Same game as all the other with a slightly different storyline. Just grind away for hours without having to think....kind of annoying really. I liked the angry birds ripoff addition for the pirate attack though. Broke up the monotony.
August 10, 2013
The Apple logo is a trademark of Apple Computer, Inc.