Old Clockmaker's Riddle
Embark on a fascinating adventure in a world of magic through an ancient and beautiful town in Old Clockmaker's Riddle. The town has fallen to a curse and is running backwards in time. Break the town's curse by solving exciting puzzles and using bonuses to free the town's clock tower, returning the town to its former beauty and splendor in this fun Match 3 puzzle game!
Over 50 stunning and colorful levels
Use magical items to free gems
Return the town to its former beauty
Game System Requirements:
OS:

Windows XP/Windows Vista/Windows 7/8

CPU:

1.4 GHz

RAM:

512 MB

DirectX:

9.0

Hard Drive:

107 MB
Game Manager System Requirements:
Browser:

Internet Explorer 7 or later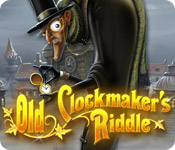 NEW299
The Big Fish Guarantee:
Quality tested and virus free.
No ads, no adware, no spyware.

Reviews at a Glance

Old Clockmaker's Riddle
0
out of
5 (
0
Reviews
Review
)
Customer Reviews
Old Clockmaker's Riddle
59
59
So-So Match Three
Not Horrid, but not Great, either... Just...Myehh. *Good sound & Music OK (mutable). *Decent storyline *Timed or Relaxed Modes Available Might get if Daily Deal or On Sale.
July 15, 2012
Times Have Changed...
Started with the 3 matches about 2005... We have all grown up (I am now 62) and done so many new games, that if you are into 3 match. This is okay. Nothing new... Not for me... Enjoy... For some reason, I am now into the Rescue, Time things, and can not get enough of them. Give us some more... Have a great week-end all, if new to this type of game, a good one... If you know this type of game... Not for you/us...
July 13, 2013
Mediocre, dull, and boring M3
The game begins with a flourish and gives the impression of being a lot of fun ahead. The story line is very good and the graphics are also. Unfortunately, after the initial couple of levels, the game writers decided to get tricky and add in all manner of pitfalls to ensure that no fun would be had. And that was my impression of the game. Over half way done now, I no longer enjoy playing and am trying to finish just to say that I did. Some of the levels are now taking as much as 30 minutes to finish, making this more of a job than an amusement. This is real work, not real fun. There is scoring by gems dropped and stuff to buy, but the only things to buy are upgrades to tools that I never use anyway. I believe in playing what you are dealt. So why bother paying attention to the gem count? At times the gems with clock hands get down to only one on the board and that is the one you need; boring. The play here is slow, deathly slow. There is one ?madness? scramble where the background changes to one that mainly obscures the gems and scoring is increased, however since I don?t use the gems to buy anything, it makes sense to avoid getting into a ?madness? scramble by not allowing the bar at the top to go all the way to the right. I have 8 houses left to restore right now and over 1000 gems in every category. What a waste. And then there are the really stupid puzzles. Total waste of time puzzles; I hit skip without even looking at them. How weird for a M3. Overall, this game is a loser. It just isn?t worth money. There are so many really good M3 games out there that this one just can?t live up to; spend your money elsewhere and get a better, more fun, game.
July 18, 2012
Mediocre Game
There are two types of Match Games that I enjoy, the ones that you can simply play to zone out, build things or the ones that make you pull out your hair as they get harder and harder to play. This paticular game does not fall in either catagory, it just is what it is, a mediocre attempt at a Match 3 game that starts off simple and somewhat confusing and then gradually becomes interesting, if you can wait that long. The story is about collecting clock hands to get the clocks working in a town lost in time. The English Translation is bad and note to devlopers, seriously invest in some decent traslation. It makes the game look awkward. There are two modes of game play, timed or relax. the graphics are sharp and if you like colorful gems, then you are in luck. There are no annimations, cartoon graphics and no voice over. Objective is to collect as many gems with clock hands in them, buy your power-ups and play the occasional bonus rounds which were actually hard to complete. The boards are the same and with each level, game play gets a bit more complex. There are alot of power-ups to buy and up-grade. Game play is a bit tedious and actually after a while, I just found the game to be a bit of a waste of time. I think I will go back and re-play Gardenscapes instead.
July 15, 2012
Time is NOT on your side?
The townspeople shunned the Clockmaker. He took revenge by messing up time. Buildings are deteriorating? Truly an exercise in patience. In relaxed mode, of course, you won't have to replay any roundss, so the game will take you 24 rounds to complete. That's approximately 80 levels depending on how many bonus levels among those you want to tackle. They can be skipped. The required levels, however, are tedious and unforgiving. There is definitely logic involved even from the first move. It feels like punishment to miss an obvious move -- other moves become frustratingly difficult. There is no "restart level" option. Using power ups doesn't always have a positive effect. I would give up ice cream for a "shuffle" power up. If there are no more moves the board resets and adds frozen tiles. (More punishment.) A level can take so long as to become a hateful exercise. Timed mode -- I can't imagine ever investing the effort. At least not until I figure out the logic in all the boards and have a better shot at completing them more quickly. Even with that, time is so much a factor that your buildings will deteriorate during your game play. They even deteriorate while you work on the supposedly untimed bonus puzzle like rounds. One way to beat the game is to play rounds over and over until you earn enough points to buy the "indestructable" power up 24 times. I'm afraid I lack the fortitude for that! I finished the game in relaxed mode and figured out 22 of the 24 bonus puzzles. (Makes me really wonder why I couldn't get the other two, but you can't replay the buildings once the game is completed.) I have spent enough time with the Clockmaker.
August 15, 2012
Really Not Good
I was attracted by the graphics by looking at the video, but after I got into the game, I wanted to leave within 15 minutes and understood why people had opposite opinions about this game. The storyline is really good. It has good potential. It could really shine if there were voiceovers. Excellent graphics. It reminded me of the atmosphere of Haunted Domains. But the pace in this game is much slower, and it feels especially quiet accompanied with long descriptions. Too many words, too few sounds. Not much variation or complication of the gameplay. Good match 3 games often give a beautiful background with each level, nice music that doesn't bore the player, and/or a special mission mixed with adventures, dialogues, and HO scenes. More often there are variations of the tiles, shapes of the board, challenges and trophies that keep you interested. The time allotted to each level shouldn't be too long. I noticed that in the third house, there were 30 gems to collect. That required longer than 6 minutes with nearly the same board as the previous two and the same thing going on. The music even made me sleepy, so I decided not to bore myself any longer.
July 16, 2012
What the heck???
I thought the graphics, music and storyline were very good. However, I didn't understand what the devices were and how they worked and the bonus levels were too hard. With a little more instruction the game would have been a lot better.
July 15, 2012
Good for new players- maybe
Music a little annoying. No voice overs, so you have to stop and read everything. The plot is a little silly. Definitely not for experienced Match 3 players. Perhaps brand new players might like the game. It would be best to "try" this game before you buy it. I didn't finish the 1 hr. "try" time, because this game didn't offer any kind of challenge for me, and the music was sooooo annoying!
July 15, 2012
Boring
This M3 is just that. Nothing more. The only thing this game had going for it was ending.
April 1, 2013
Unexciting!!!
Very boring and lots of "no more moves". Story is cute but got tired of clicking conversations. Graphics were great but not enough to keep me interested.
July 16, 2012
The Apple logo is a trademark of Apple Computer, Inc.