Haunted Hotel: Charles Dexter Ward
Track down your missing twin in Haunted Hotel: Charles Dexter Ward. The only trace of your missing twin is the necklace he never took off…and a swampland address. Follow the clues to an abandoned hotel and unravel a mystery of necromancy and more in this eerie hidden-object puzzle adventure classic!
Gorgeous graphics
Gripping story with live-action cinematics
For a more in depth experience, check out the Collector's Edition
Game System Requirements:
OS:

Windows XP/Windows Vista/Windows 7/8

CPU:

1.0 GHz

RAM:

1024 MB

DirectX:

9.0

Hard Drive:

618 MB
Game Manager System Requirements:
Browser:

Internet Explorer 7 or later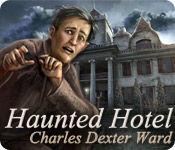 NEW299
The Big Fish Guarantee:
Quality tested and virus free.
No ads, no adware, no spyware.

Reviews at a Glance

Haunted Hotel: Charles Dexter Ward
0
out of
5 (
0
Reviews
Review
)
Customer Reviews
Haunted Hotel: Charles Dexter Ward
41
41
Great Spooky Game!
If you passed up on the CE version then you really have to get the SE version today and find out just what happened to your twin brother as you explore the abondoned Haunted Hotel. Once upon a time, the very first Haunted Hotel started off as a simple straightforward HOG, but since then the Haunted Hotel series have gradually evolved with each game and with this latest edition, developers now bring us a new HOPA game that takes place in New Orleans, a ideal setting for any ghost story. The tale of Charles Dexter Ward offers something for everyone; Hidden Objects, Puzzles and Adventure and lets not forget, a great Ghost story. I loved the graphics and . using real live film footages always impresses me. This game had me at the opening scene. The sound effects were truly oustanding, I recommend you use headphones while playing and enjoy the sounds of swamp creatures in the background that set the mood for the game. Game features included widescreen, stretch screen and custom cursor. There were two game modes, but be warned, there were the odd sparkles here and there in advance mode which I found to be disappointing. Game features included a task list but no journal and no map. Instead, you need to find pages of a missing diary as you roam each scene. There was a very good hint system when used, tell you exactly where to go and what to do. Game mechanics were standard, involving collecting objects from non interactive HOS (again with the disappointment) and solve a variety of puzzles along the way. The puzzles were very enjoyable and some actually needed a bit more elbow grease. There are also achievements to earn along the way which were basically tied to each task done. The only problem I had with the entire game was the lack of a journal, the fact that you needed to collect the diary pages to unravel the mystery and with each page just seemed to slow down the pace a bit. If you are a fan of ghost stories then you are in for a treat; put on your headphones and be prepared to surround myself with the eeriness of the sound effects and discover what really happened to Charles Dexter Ward.S
July 14, 2012
Good, creepy game!
I liked the storyline: you have to save your brother from evil... The atmosphere is creepy! I played in expert mode, so no help, no sparkles. - The graphics are good, not too dark. - The objects in the HOS are easy to find. - Most of the puzzles are really challenging! - There is no journal, just a list of all the letters you find, but they contain no clues for the puzzles or the tasks. - The hint system is good, it tells you where there is something to do. - There is no map, and you easily get lost... well, I did... It took me about 3 1/2 hours to finish, and I never got bored. All in all, a good, challenging game!
July 14, 2012
Great game!
I've played the CE version and enjoyed it very much. The game is quite challenging and doesn't have to many HOS. I found it to be logical and interesting. Really worth playing. Try it!
July 15, 2012
Exciting!!!!
The game has lots of interesting puzzles. Not to much HOS. The hint recharges fast. I loved the atmospheric music and the eerie "weather". And I found visuals to be pleasant. I've played the CE version. Can't say that the Bonus develops the story further (the game play starts where the SE version ends), but it is loaded with new puzzles. If you are a puzzle lover, then go with CE. Try it for your self and see how it works for you. I recommend this game!
July 15, 2012
Wonderful
Can't understand some of the bad reviews. The game is great. I think that the ending was interesting and the graphics is good on my monitor. The game has some puzzles that I didn't see before, but some are pretty standard. And the relation to some works of H.P.Lovecraft added some interest to me.
July 15, 2012
worth the wait for the SE version :)
i ahve been waiting for this to come out on se version for what seems like an age (because im too much of a scrooge to pay for CE). The only gripe i will have is i had to use the hint button to much as there are so many laces to go i lost my way a little bit! Although saying that, i loved the storyline, the graphics were amazing and the hint button recharged quickly. This is definatley my sort out game - dark, eerie, supernatural etc. A definate must buy.
July 17, 2012
Eerie, Necromaniacal Fun!
I think that most of us don?t get ?scared? by these spooky storyline HO/adventure games, but it?s fun to play along. Haunted Hotel gets into necromancy, spells, the dead, the almost dead, and the living dead with a mix of good graphics. You are playing against time to save your brother from a deceased evil recluse whose gigantic portrait hangs in the main hallway. You search the house and the surrounding grounds for clues and pages of a journal that your brother has left behind. There is an Info button in the upper right corner of the screen that you can click to re-read any of the written pages you find. You do have to conduct some pretty in-depth spells, especially toward the end of the story. I found those rather interesting and creepy. I played the SE in Casual Mode. I have seen all of these puzzles/mini-games before, in one format or another. They all were pretty easy; but if this is one of the first HO/adventure games that you are playing, then the puzzles/mini-games might provide a bit of a nice challenge. I still enjoyed them all. I admit that I don?t like difficult HO scenes, and Haunted Hotel had just a smattering of nice easy ones here and there: Loved that factor. I didn?t get lost, but it never hurts to jot down notes about which room or path leads to another. I even wrote down a couple of the spells so I wouldn?t have to consult the Info button. Over the course of 2 days, it probably took me about 4-5 hours to finish the game, and I was taking my time. Toward the end of the story, I did have to use the Hint feature twice to find out what to do next. I think that this is an extremely user-friendly game. I did enjoy Haunted Hotel. It moved along quickly, I didn?t mind the traveling between locations in the house and on the grounds, and the storyline was creepy enough to keep me interested: I HAD to find out how it ended!
July 18, 2012
excellent.. well done big fish
Kept me intrigued.. loved it so bought the game.. very eerie in some places.. but kept me guessing.. the only downside was boring ending... all im saying i would never have guessed!!!!!!!!.. buy it....
July 14, 2012
Very interesting
This game is a long a story and every turn is an adventure.
July 19, 2012
Not at all outstanding by any means...
Oh, dear !...another game based on the supernatural with an abundance of skulls, skeletons, coffins, all wrapped up in a gloomyish package of crypts, swamps, derelict hotel and other similar welcoming locales that are meant to convey horror, even terror, yet fail to convince every step of the way. I haven't yet found a game that will chill me to death... LOL Anyway.... In spite of all this, I found the graphics, cutscenes and voice-over interesting. The movies have been given an old-fashioned aura, the visuals are on the whole in line with that wannabe creepy atmosphere already mentioned, the voice-over is good, the music is okay and non-obtrusive though not worthy of a horror motion picture, and the colors not at all unpleasant despite their lack in brightness. None of them, alas, are good enough to really immerse the player, least of all to deserve an Oscar. That set aside, the whirling black smoke [ie: the evil spirit] that destroys everything and shuts off the light was laughable. The very first thing that started to fuel my interest was the first minigame: a variant of the Hanoi Tower that is not that easy to complete. I expected the rest of the puzzles to be of like standard. Well, they are much easier and less challenging, at least those in the demo of the CE [the one I played], since it lets you play only Day 1, ie: Chapter 1. The second was how easy the HO Scenes were, so much so I didn't have to use one hint. I hate difficult HO Scenes ! The third and last one was the visit to the different locales. Plenty to see. Unfortunately, my fun didn't last, my fuel tank depleted quickly. I completed the demo is 40 mns exactly without rushing or skipping anything. So, how many hours of playtime does that give us ? Not sure. Hopping from one location to another soon became tedious as you have a lot of backtracking to do, very often for very little, little picking up the paper notes... of which there are quite of few !... or the obvious "useful" items. I like complex adventures, but when I have to walk a lot I want a good reason as well as originality. Finding and using these "useful" items is straightforward; some respond to some logic, others simply don't, like patching up a hole in a boat with... moss ! Yes. Other than that, the items are standard: crowbar, sledgehammer, etc... Same as in other games. I am not sure the storyline made any sense. Apart from the fact that, once again, you have to "fight" the forces of darkness to save your brother ... how original !... I am at a loss to determine how well the plot unfolds or how exciting if finally is. Funny how these casual games always use the same theme and get you to "fight" without ever giving you a real sense of danger ! Conclusion ? The best is for you to try the demo and see how it tickles your fancy. As to my recommendation, I am hesitant. I awarded that game 3 stars (rounded up) as I believe it can be enjoyed by gamers who haven't played lots of similar games, by fans of gloomy stories, as well as by those who are prepared to overlook all the imperfections, but that's as far as it goes. As for me, Charles is not on my must-buy list.
July 14, 2012