Haunted Hotel: Charles Dexter Ward
Track down your missing twin in Haunted Hotel: Charles Dexter Ward. The only trace of your missing twin is the necklace he never took off…and a swampland address. Follow the clues to an abandoned hotel and unravel a mystery of necromancy and more in this eerie hidden-object puzzle adventure classic!
Gorgeous graphics
Gripping story with live-action cinematics
For a more in depth experience, check out the Collector's Edition
Game System Requirements:
OS:

Windows XP/Windows Vista/Windows 7/8

CPU:

1.0 GHz

RAM:

1024 MB

DirectX:

9.0

Hard Drive:

618 MB
Game Manager System Requirements:
Browser:

Internet Explorer 7 or later
Mild Blood
Mild Blood
Use of Tobacco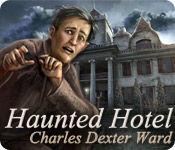 NEW299
The Big Fish Guarantee:
Quality tested and virus free.
No ads, no adware, no spyware.

Reviews at a Glance

Haunted Hotel: Charles Dexter Ward
0
out of
5 (
0
Reviews
Review
)
Customer Reviews
Haunted Hotel: Charles Dexter Ward
52
52
A Quality Game
I really enjoyed this game! It?s a little different than most HOGs. It?s more like an adventure game with lots of inventory items to find and tasks to complete. It only had a limited amount of HOG piles, which I appreciate. The puzzles were not too hard and I didn?t need to skip any. The graphics, music and sound effects were all excellent. The story was well written and read like a good horror novel (it?s based on a Lovecraft story) and even though it may not be that unique, I thought it was very well done. To me the game was challenging which kept my interest to the end. I?ve played the previous Haunted Hotel games and think this is the best one yet! I hope the developers continue with the series.
August 11, 2012
Haunted Hotel Dark and Frightening!
Just getting to playing all the sequels. The 1st and 2nd Haunted Hotel and Haunted Hotel: Lonely Dream were largely hidden objects. Charles Dexter Ward leans more to a dark and foreboding adventure-style game with a sparse amount of hidden objects. You are searching for your brother, Charles Dexter Ward and explore an abandoned hotel where his personal items have been located. The user friendly game does not have an interactive map, however, objects are used quickly and there is minimal jumping about from scene to scene. The movie-style cut scenes add to the foreboding darkness of this game and draw gamers into the riveting story line. Enjoy! -Mama Mia-
August 30, 2014
Disturbing, eery creepy mega-fun!
I absolutely LOVED this game!! Has to be one of the creepiest games I ever played, seldom had such a great time with a game. This game absolutely enters my top 5! The storyline grabs you by the throat from the very beginning, with great cutscenes -partially real movies- outstanding voice-overs and unbelievably good music and sound-effects!! Great graphics, they also add to the creepy atmosphere, nice puzzles, and good HOS. The gameplay is smooth, you never mind to walk somewhere, because you are so engrossed in the game it feels completely natural to walk there. There are a whole of scenes, and without a map I got lost twice and had to go to the walkthrough. What made it more difficult (but also more fun!) was that here and there some shortcuts came up, and other ways got closed off. But, as said before, I enjoyed myself so much, I never cared. I really had a ball with this game, for about 4-5 hours and hope you will too. You won't be disappointed!
October 2, 2013
Good Spooky Game
Good adventure and good ending. Easy HOS. Even the puzzles were reasonably easy. No map but you really don?t need it. Enjoyed the graphics and the music went well with the game.
October 26, 2014
Definitely worth to be bought
Graphics: good and clear Objects HOS: clearly to see, easy to find, not so overcharged like in other games where I often tired at an early stage because I am forced to jumping from HOS to HOS Puzzles: mostly suprising and challenging Journal: none Map: none Hints: recharging quickly Story: Interesting, never boring Atmopshere: lovely, especially the changing of weather gives a feeling of reality in the space of surreality Music: First time I like it very much and exceptionally keep it on during the game Voice over: Very good, warm voice so did'nt put it off exceptionally Visuals: video sequences are very well done and do not disturb like in so many other games Length: Just played 2 hours and yet at the beginning... a lot to explore, seems to be a long game, not so short as many others Opinion: worth to be tried, worth to be bought
July 30, 2012
Fun to play on a lazy day...
I just finished this game, and I felt it was worth 4 stars. I was actually going to give it 3, but it did have some redeeming qualities that pushed it to 4. It was a very creepy game. I actually started to play this the other night, and it creeped me out so much that I waited until morning. For those of you that like that level of creepiness you will really enjoy this. In a nutshell, your character is searching for her twin brother at the hotel. The story was based on a story by H.P. Lovecraft, and it was well done with an awesome ending. I could see a sequel in the future. It's important to note that the HOS in this game are few and far between. It really is more of an adventure with some puzzles and scattered HOS. For those of you who are sick of HOS, you will probably like this game. There are two levels, and I chose the hardest one. There was no map or journal, only a task list. The hint button did take longer to recharge, but that was fine. One thing I have developed after having played these games for awhile is a high threshold for patience. Part of what I didn't like was the fact that there was no map. It would have simplified the running around, but the developers took that into account and would find a way to "ruin" certain pathways so your character wouldn't have to keep backtracking. So, in that respect, you were basically being told in a round-a-bout way that an area was cleared without having to see it crossed off on a map. That's actually pretty clever. Another thing that was annoying was that at times you would have nothing in your inventory, and then it would shoot to a ton of stuff. If the item had an X underneath it, you would have to figure out what it was to be combined with. Sometimes that was easy, and sometimes it wasn't. I will say that the hint button was 100% reliable. I never had to consult the walkthrough. Another thing that kind of got on my nerves was when I was in a place where I could drop something from my inventory off to help clear out my inventory list I was not allowed to do that until I had EVERYTHING needed for that task. You can imagine how cluttered your inventory gets. There was only one puzzle that was challenging and required some thought. Everything else I've seen so much that I solved with no problem. I like my puzzles to be a bit more challenging. The cut scenes were really well-done. I'm a huge fan of cut scenes that play like an old movie such as the ones did in this game. All in all, I would recommend this game for adventure lovers who really don't like a lot of HOS. The story actually makes up for the less-than-spectacular puzzles.
July 28, 2012
Worth a Try
I bought this game based on the excellent reviews that it received. I thought it was a good game as well. I like the fact that if you get lost or are just clueless, the hint button will tell you what to do. A walkthrough probably wouldn't even be necessary for most people. The main thing(most important to some) was the ending...I really didn't care for it. Other than that, good game & worth the try!!!
July 22, 2012
Good buy
Good game, good storyline, nice challenge. However, I am getting a bit tired of ghosts, spirits, lost souls, etc. Would love some HOGs with normal, straightforward, everyday storyline.
August 20, 2012
This one needs a PG-13 rating
Yes, a PG 13 rating simply means that every 9 year old will now beg for this game. But maybe it would give a few parents a bit of steering during this Christmas shopping time. While it is a well designed, fluid game that held my attention from beginning to end, I feel that the subject matter and way that it is dealt with makes it too intense for many younger players. If you are under 14, give this one a miss for a couple of years, you will enjoy more then. But this is just the opinion of an old school teacher. Take care ya'll! 0
November 5, 2013
For the Adventurer in You
I just finished the game, and what a game it was. I won't go into the story, because that is pretty much explained to you. The fun of this game is the eeriness of it. The music, story, and the weird hotel that captivates you. I was hooked from the beginning. It was fun to play. Hidden objects were relatively easy as were most of the mini games. Not a fan of the minis so I do skip a lot. I just hate to think anymore. The visuals are excellent. They used real footage in parts of the game. The sound is good, as were the voice overs. HOS are well done as is all the graphics. The music goes along with the plot and wasn't to annoying. This is truly an adventure game. There is no map, no journal, nothing but the hint button, which is very helpful and refills fast. You will appreciate that as the time goes on. I think the addition of an interactive map would have earned this puppy five stars. You go from place to place trying to collect papers, documents, and diary pages. Some how I missed one, and I looked, so be on guard. The story is really good. It is based on a novel and has its twists and turns along the way. I think the book if the book is like the game, it would be a really good read. If you like figuring out what to do next, where to go, how to do it, you are going to love this game. I don't particularly like that, but this was fun enough that I really enjoyed playing.
October 14, 2013