Haunted Hotel: Charles Dexter Ward
Track down your missing twin in Haunted Hotel: Charles Dexter Ward. The only trace of your missing twin is the necklace he never took off…and a swampland address. Follow the clues to an abandoned hotel and unravel a mystery of necromancy and more in this eerie hidden-object puzzle adventure classic!
Gorgeous graphics
Gripping story with live-action cinematics
For a more in depth experience, check out the Collector's Edition
Game System Requirements:
OS:

Windows XP/Windows Vista/Windows 7/8

CPU:

1.0 GHz

RAM:

1024 MB

DirectX:

9.0

Hard Drive:

618 MB
Game Manager System Requirements:
Browser:

Internet Explorer 7 or later
Mild Blood
Mild Blood
Use of Tobacco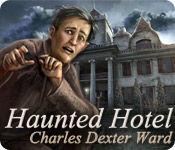 NEW299
The Big Fish Guarantee:
Quality tested and virus free.
No ads, no adware, no spyware.

Reviews at a Glance

Haunted Hotel: Charles Dexter Ward
0
out of
5 (
0
Reviews
Review
)
Customer Reviews
Haunted Hotel: Charles Dexter Ward
52
52
Charles Dexter Ward...again
Really, I don't mind that two games are both based on "The Case of Charles Dexter Ward", by H.P. Lovecraft. ("Dark Mysteries: The Soul Keeper" is the other.) But the developers of this game didn't give Lovecraft any credit that I could see. Both came out in 2012. The games are quite a bit different, but both are enjoyable, if you can stand evil necromancers. This one turned out a bit differently, but I played only the SE version. It didn't matter that there was no map, since I don't play for time. The sound effects helped make the game creepier, so I suggest really listening. Try this one; you'll probably like it.
July 14, 2013
Not Too Bad
Not too bad on its own - nice storyline, a modern take on the Lovecraft story. The graphics were pretty good and the cutscenes didn't give my computer hiccups like some do. There's no map, but it wasn't too much of a problem. It wasn't very scary, though I do think it would be for younger players. The things that disappointed me were - it has nothing to do with the other Haunted Hotel games. It's a Hotel. It's Haunted. That's the only similarity. The others had a weather-machine, time-travelling, conspiracy COMPLETELY DIFFERENT and pretty UNIQUE story. This one just goes with the 'I have lost my sibling in this haunted, scary place and must find them before it's too late!' that dozens of other games have. I would have enjoyed it more if it hadn't been tacked on to this series. Also, in the other three games you play a guy, which is also kind of Unique, in this, it's back to being a 'scared-but-determined' female protagonist. I kinda liked being the smart-mouthed FBI agent who made a joke when you did something stupid. And who yelled for his Mommy when he saw a ghost. That was hilarious. But for a HOG game on it's own - yeah, it's worth playing.
September 10, 2014
Not at all outstanding by any means...
Oh, dear !...another game based on the supernatural with an abundance of skulls, skeletons, coffins, all wrapped up in a gloomyish package of crypts, swamps, derelict hotel and other similar welcoming locales that are meant to convey horror, even terror, yet fail to convince every step of the way. I haven't yet found a game that will chill me to death... LOL Anyway.... In spite of all this, I found the graphics, cutscenes and voice-over interesting. The movies have been given an old-fashioned aura, the visuals are on the whole in line with that wannabe creepy atmosphere already mentioned, the voice-over is good, the music is okay and non-obtrusive though not worthy of a horror motion picture, and the colors not at all unpleasant despite their lack in brightness. None of them, alas, are good enough to really immerse the player, least of all to deserve an Oscar. That set aside, the whirling black smoke [ie: the evil spirit] that destroys everything and shuts off the light was laughable. The very first thing that started to fuel my interest was the first minigame: a variant of the Hanoi Tower that is not that easy to complete. I expected the rest of the puzzles to be of like standard. Well, they are much easier and less challenging, at least those in the demo of the CE [the one I played], since it lets you play only Day 1, ie: Chapter 1. The second was how easy the HO Scenes were, so much so I didn't have to use one hint. I hate difficult HO Scenes ! The third and last one was the visit to the different locales. Plenty to see. Unfortunately, my fun didn't last, my fuel tank depleted quickly. I completed the demo is 40 mns exactly without rushing or skipping anything. So, how many hours of playtime does that give us ? Not sure. Hopping from one location to another soon became tedious as you have a lot of backtracking to do, very often for very little, little picking up the paper notes... of which there are quite of few !... or the obvious "useful" items. I like complex adventures, but when I have to walk a lot I want a good reason as well as originality. Finding and using these "useful" items is straightforward; some respond to some logic, others simply don't, like patching up a hole in a boat with... moss ! Yes. Other than that, the items are standard: crowbar, sledgehammer, etc... Same as in other games. I am not sure the storyline made any sense. Apart from the fact that, once again, you have to "fight" the forces of darkness to save your brother ... how original !... I am at a loss to determine how well the plot unfolds or how exciting if finally is. Funny how these casual games always use the same theme and get you to "fight" without ever giving you a real sense of danger ! Conclusion ? The best is for you to try the demo and see how it tickles your fancy. As to my recommendation, I am hesitant. I awarded that game 3 stars (rounded up) as I believe it can be enjoyed by gamers who haven't played lots of similar games, by fans of gloomy stories, as well as by those who are prepared to overlook all the imperfections, but that's as far as it goes. As for me, Charles is not on my must-buy list.
July 14, 2012
Just Like A Movie
BASED ON COMPLETED GAME I really surprised myself by thoroughly enjoying this game. From the demo, I expected lots of HOS with ?cut & paste? GRAPHICS (which I generally dislike) and not much else. In fact, there is a lot MORE ADVENTURE than HOS & PUZZLES. And the STORY is INVOLVING. The STORY runs along familiar lines. We must save our brother from an UNSPECIFIED EVIL FORCE. We find ourselves searching an ABANDONED HOTEL looking for answers. There is a lot of ground to cover, and many locations: the hotel, the gardens and a swamp are just some. There is also lots of activity within each LOCATION, and we will return to all of them several times. Unfortunately, we DON?T have a MAP or a JOURNAL, so we?re on our own about where to go next. Luckily, HINT is VERY HELPFUL outside HOS, giving the item you need and its location. Some of the CUT SCENES are great. They are OLD MOVIE in style, and many are DEFINITELY CREEPY. But others that take on a more familiar style seem very poor quality. Still, the good ones are in the majority. Accompanying the CREEPY VISUALS are some REALLY SCARY AMBIENT SOUNDS and some UNIQUELY EERIE MUSIC. Early on, there are a LOT of HO SCENES. These are LISTS with NO INTERACTION OR ANIMATION. Despite that, they are still enjoyable to play. The CUT & PASTE GRAPHICS are very clear and crisp, and realistic. Objects are easy to see. As the game progresses, the number of HOS dwindles, but near the finish, we will revisit the early ones. PUZZLES & MINI-GAMES are RARE, but INTERESTING. I had to skip a few. A lot of time is spent finding necessary items for our inventory. Some inventory items can be COMBINED. We are also COLLECTING the 30 or so INFO PAGES which not only give you BACKSTORY, but also REQUIRED INFO needed for potions etc. These are kept as an ?INFO? menu rather than a journal. This is, I think an EXCELLENT LOW BUDGET game. While there are no bells and whistles, the QUALITY of the GAMEPLAY makes them UNNECESSARY.
June 24, 2013
Ho Hum
More of the same old...the story is very familiar and the visuals are adequate at best. There are no interactive items in the HO scenes. The demo is very short, but at the end they do give you a preview of the other scenes. I don't think it will be a very long game, judging from the samples shown, but I could be wrong. I don't like traipsing back and forth, which you have to do a lot of with this one..(seriously needs a map). Also everything in the outside scenes is too small for my liking and we are treated to WAY too many visits from the dratted vapor guy!! The mini games they trotted out in the demo were the same old ones we have seen many times.... All in all, I don't think this has the interest, quality or creativity we expect now.
July 14, 2012
a little slow
it's okay but not great. didn't grab my attention, couple of the mini games didn't play as the instructions said, moving from scene to scene is a little slow. In some ways very elementary.
July 14, 2012
It didn't Grab me
While I like mysteries, and monsters etc, I didn't even get there. I am not a fan of mini movies in games, and I expect graphics to be that not images from photographs. I prefer my HOG games to have items relevant to the story, though I will accept an occasional odd piece. I felt this game had potential, but it seemed put together too quickly. I am sure others will find the game intriguing, it just didn't meet my expectations. When a game is described having "Gorgeous graphics" I expect something more. I should have realized that "live-action cinematics" meant that there wasn't quite the level of "Gorgeous graphics" as implied. I do not recommend the game, but honestly, I was so put off because my expectations of the graphics was so high I didn't really get into it.
July 17, 2012
Good Enough
Not sure how to rate this game. It is right on the edge of being a great game. I like how they made part of it like the old scary movies, but it was a little boring in spite of all the stuff to be done. Graphics were okay, but a little too much dreariness. The music was okay. The HO's were nice and easy and the puzzles were just right for my taste. Would be a great game for beginners maybe. I could see this game being tweaked here and there in a collectors edition. A little more color, a little bit of a music mix and some cutesie interactions with objects or wildlife just for kicks.
July 14, 2012
Skulls and shadows and snakes, oh my.
This game is okay, just more of the same. If I have to find another lost brother, sister, or any other family member, I think I will stop doing HOs. Unless they are very good ;) The hints will hand hold you though the whole game, but since you don't need them, it dosn't matter. The visual quality wasn't as good as I like, but I can live with it. The music didn't annoy me, that was nice. There really isn't much of a challenge, I mean, really, you didn't need the hints. I can't tell you anything about the storyline. I think it will be like most of this type of game. As far as scary, hah, the only thing that made my heart beat a little faster was the snake LOL. This would be a great for some one new to these types of games.
July 14, 2012
WAY to Easy
This game had a decent storyline and visuals where clear and ok but it was just too easy. I got threw the whole game in just 4 hours. There was no guessing or trying to figure out what to do next because it tells you what to do next. The HOG's were pretty easy as well. Never had to use hint. The puzzles were decent and some challenging but over all boring and to quick....do not recommend
November 17, 2013