Haunted Hotel: Charles Dexter Ward
Track down your missing twin in Haunted Hotel: Charles Dexter Ward. The only trace of your missing twin is the necklace he never took off…and a swampland address. Follow the clues to an abandoned hotel and unravel a mystery of necromancy and more in this eerie hidden-object puzzle adventure classic!
Gorgeous graphics
Gripping story with live-action cinematics
For a more in depth experience, check out the Collector's Edition
Game System Requirements:
OS:

Windows XP/Windows Vista/Windows 7/8

CPU:

1.0 GHz

RAM:

1024 MB

DirectX:

9.0

Hard Drive:

618 MB
Game Manager System Requirements:
Browser:

Internet Explorer 7 or later
Mild Blood
Mild Blood
Use of Tobacco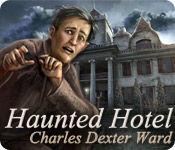 NEW299
The Big Fish Guarantee:
Quality tested and virus free.
No ads, no adware, no spyware.

Reviews at a Glance

Haunted Hotel: Charles Dexter Ward
0
out of
5 (
0
Reviews
Review
)
Customer Reviews
Haunted Hotel: Charles Dexter Ward
49
49
Just Like A Movie
BASED ON COMPLETED GAME I really surprised myself by thoroughly enjoying this game. From the demo, I expected lots of HOS with ?cut & paste? GRAPHICS (which I generally dislike) and not much else. In fact, there is a lot MORE ADVENTURE than HOS & PUZZLES. And the STORY is INVOLVING. The STORY runs along familiar lines. We must save our brother from an UNSPECIFIED EVIL FORCE. We find ourselves searching an ABANDONED HOTEL looking for answers. There is a lot of ground to cover, and many locations: the hotel, the gardens and a swamp are just some. There is also lots of activity within each LOCATION, and we will return to all of them several times. Unfortunately, we DON?T have a MAP or a JOURNAL, so we?re on our own about where to go next. Luckily, HINT is VERY HELPFUL outside HOS, giving the item you need and its location. Some of the CUT SCENES are great. They are OLD MOVIE in style, and many are DEFINITELY CREEPY. But others that take on a more familiar style seem very poor quality. Still, the good ones are in the majority. Accompanying the CREEPY VISUALS are some REALLY SCARY AMBIENT SOUNDS and some UNIQUELY EERIE MUSIC. Early on, there are a LOT of HO SCENES. These are LISTS with NO INTERACTION OR ANIMATION. Despite that, they are still enjoyable to play. The CUT & PASTE GRAPHICS are very clear and crisp, and realistic. Objects are easy to see. As the game progresses, the number of HOS dwindles, but near the finish, we will revisit the early ones. PUZZLES & MINI-GAMES are RARE, but INTERESTING. I had to skip a few. A lot of time is spent finding necessary items for our inventory. Some inventory items can be COMBINED. We are also COLLECTING the 30 or so INFO PAGES which not only give you BACKSTORY, but also REQUIRED INFO needed for potions etc. These are kept as an ?INFO? menu rather than a journal. This is, I think an EXCELLENT LOW BUDGET game. While there are no bells and whistles, the QUALITY of the GAMEPLAY makes them UNNECESSARY.
June 24, 2013
Ho Hum
More of the same old...the story is very familiar and the visuals are adequate at best. There are no interactive items in the HO scenes. The demo is very short, but at the end they do give you a preview of the other scenes. I don't think it will be a very long game, judging from the samples shown, but I could be wrong. I don't like traipsing back and forth, which you have to do a lot of with this one..(seriously needs a map). Also everything in the outside scenes is too small for my liking and we are treated to WAY too many visits from the dratted vapor guy!! The mini games they trotted out in the demo were the same old ones we have seen many times.... All in all, I don't think this has the interest, quality or creativity we expect now.
July 14, 2012
a little slow
it's okay but not great. didn't grab my attention, couple of the mini games didn't play as the instructions said, moving from scene to scene is a little slow. In some ways very elementary.
July 14, 2012
It didn't Grab me
While I like mysteries, and monsters etc, I didn't even get there. I am not a fan of mini movies in games, and I expect graphics to be that not images from photographs. I prefer my HOG games to have items relevant to the story, though I will accept an occasional odd piece. I felt this game had potential, but it seemed put together too quickly. I am sure others will find the game intriguing, it just didn't meet my expectations. When a game is described having "Gorgeous graphics" I expect something more. I should have realized that "live-action cinematics" meant that there wasn't quite the level of "Gorgeous graphics" as implied. I do not recommend the game, but honestly, I was so put off because my expectations of the graphics was so high I didn't really get into it.
July 17, 2012
Good Enough
Not sure how to rate this game. It is right on the edge of being a great game. I like how they made part of it like the old scary movies, but it was a little boring in spite of all the stuff to be done. Graphics were okay, but a little too much dreariness. The music was okay. The HO's were nice and easy and the puzzles were just right for my taste. Would be a great game for beginners maybe. I could see this game being tweaked here and there in a collectors edition. A little more color, a little bit of a music mix and some cutesie interactions with objects or wildlife just for kicks.
July 14, 2012
Skulls and shadows and snakes, oh my.
This game is okay, just more of the same. If I have to find another lost brother, sister, or any other family member, I think I will stop doing HOs. Unless they are very good ;) The hints will hand hold you though the whole game, but since you don't need them, it dosn't matter. The visual quality wasn't as good as I like, but I can live with it. The music didn't annoy me, that was nice. There really isn't much of a challenge, I mean, really, you didn't need the hints. I can't tell you anything about the storyline. I think it will be like most of this type of game. As far as scary, hah, the only thing that made my heart beat a little faster was the snake LOL. This would be a great for some one new to these types of games.
July 14, 2012
WAY to Easy
This game had a decent storyline and visuals where clear and ok but it was just too easy. I got threw the whole game in just 4 hours. There was no guessing or trying to figure out what to do next because it tells you what to do next. The HOG's were pretty easy as well. Never had to use hint. The puzzles were decent and some challenging but over all boring and to quick....do not recommend
November 17, 2013
Not the worst, but not the best ... just OK
This game contained several features I appreciate in a HO game, including a search and find interactive storyline and multiple puzzles mixed in with hidden object scenes. However, the storyline is very similar to a lot of other games that have recently been released and was not particularly gripping for me. The graphics are just so-so. The hidden object scenes are fairly easy - which I appreciate because I hate straining my eyes to find objects - but I prefer hidden object scenes that contain objects that need to be paired together, or are not in plain view. Overall, just an ok HO game to pass the time.
July 17, 2012
They All Start To Look The Same!
This is actually an ok game. I didn't finish the demo, but agree with other reviewers that the game looks to be shorter than most. The graphics are very well done. And that's about it for the positive. My big problem with this game is that it's all been done before - and done before - and done before - and .. well, you get the idea. HOG's do NOT have to be dark, dreary, scary, or full of monsters, ghosts and whatever's. I'm starting to yearn for a HOG that's birght and funny. Like the Scrubs or Gardenscapes. Great HOG's - no ghosts!
July 15, 2012
Too Short - too much load time
(Review is based on Trial Version) - It took me roughly 25 minutes to get through the demo - reading all letters and not skipping any HOG or puzzles. A quick glance in the Strategy Guide shows that the Demo covers roughly one third of the overall game (judging by the page numbers). This is just too short... - Every screen-change takes too long for my liking (my computer is comparatively fast). - Finally - as stated before by others: The label "Gorgeous graphics" would have been OK a couple of years ago - now I expected more... (music is OK, though!)
September 1, 2012