Sister's Secrecy: Arcanum Bloodlines
Exclusive
Ariel and Belle were dropped off at an orphanage long ago and cannot remember their parents. Now, Belle has been kidnapped and Ariel goes off in pursuit of her twin sister. Ariel's search leads her to a backwater European town that time forgot and where magic fills the air. The locals tell tales of bloodless bodies turning up and strange silhouettes floating in the night sky. Discover the connection between these strange events and Belle's abduction in this exciting hidden object puzzle adventure.
Fantastic gameplay
Solve the mystery, before it's too late
For a more in depth experience, check out the Collector's Edition
Game System Requirements:
OS:

Windows XP/Windows Vista/Windows 7/8

CPU:

1.4 GHz

RAM:

512 MB

DirectX:

9.0

Hard Drive:

913 MB
Game Manager System Requirements:
Browser:

Internet Explorer 7 or later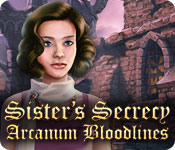 NEW299
The Big Fish Guarantee:
Quality tested and virus free.
No ads, no adware, no spyware.

Reviews at a Glance

Sister's Secrecy: Arcanum Bloodlines
0
out of
5 (
0
Reviews
Review
)
Customer Reviews
Sister's Secrecy: Arcanum Bloodlines
42
42
Longer than expected...and thoroughly enjoyable
Enjoyed this game very much; and was a good length for a SE game. Storyline along the lines of most games; you need to save someone from a fantasy land. Gameplay was generally good; however movement between screens was a bit slow on occasions; this was especially frustrating when you needed to visit that specific scene lots in a certain part. Voice-overs were good; believable but not over dramatic. You can choose your difficulty level as with other games. I played at the middle level, which for me, was perfect regarding difficulty. Sometimes I did actually get stuck and wasn't sure what to do next so I just tried every inventory item on every active area until something happened; which it eventually did! One aspect which did lack in difficulty for me were the HO scenes and puzzles. Compared to some other games, these were very easy. The HO scenes were very open and the items were easy to see as they were just laid out next to each other. Although I have to say, one or two items did evade me for some minutes on a few scenes. The scenes are also timed, so the quicker you do it, the more you're rewarded. Also, if you don't want to play the HO scenes, there's the option of playing a Match 3 game instead. Puzzles were extremely easy; and quick! On most, I clicked a few times and the puzzle was over. Not very taxing. But to be honest, this didn't bother me too much. I'm not playing these games to be totally stuck on every puzzle and be tearing my hair out because it's too difficult. Extras you had were the usual notebook; but no map in this game. You've got Achievements to gain, and also purple flowers (two in each scene) to collect to buy stuff in the shop. The shop, however, was disappointing. I thought you'd be able to buy items to use in the game, but all you can buy is Music and sketches of the game. Another thing which I really liked, was that finally a game had a proper ending scene. So many times I play games that end abruptly and there's no closure to the game. You just use your last inventory item and then the game suddenly ends and the credits roll. You actually get a proper cinematic ending in this game; which finishes it nicely. Wish more games would do this! I would definitely recommend this game.
January 21, 2013
Nice intermediate game
Played the trial. Graphics are clear and crisp. Really like the voice over. Hint button recharges quickly. Nice combo of HO amd Match 3. I also really liked the journal, as it actually helped throughout the game. The "store" idea- a little odd, as the items bought are not used for the game itself (????). Relaxing game - not too hard. I'm going to buy the full version, because it does have a good story line.
July 20, 2012
Just different enough
I like it! Previous reviews don't applaud anything about the game but I like the little blue flowers that give you money and the choice of match 3 or find the object. Nice change of pace. The story moves forward, the graphics are clear, the hints are helpful and the leads are conclusive. I didn't score it the best only because of the constant back and forth clicking that is the latest in all HOG games (UGH). This causes an overreliance on the hint and I like to figure everything out without any help. I'm buying.
July 20, 2012
I Love This Game
I was a little skeptical about this game at first, but then I got into it and loved it. While some people say its the same old, same old and I kind of agree, I thought it was great fun. I love these old games. The visual is awesome and the sound with voice overs is excellent, in my view. I would recommend this game to anyone who likes HOG's and Match 3 in the same game. I'd like to see more games incorporated like this!!
July 20, 2012
Not bad... not bad...
At first the storyline didn't attract me, it looked boring & typical... however, after I've tried the game (out of boredom :P), the graphic and puzzles actually are great & fun.. i like the alternative to play match3 especially my eyes are too tired to focus on small objects... good length..
July 23, 2012
More good than not
I started off loving this game, then liked it. It's got tons of scenes. And most of them have a mix of Interactive Hot-Spots, Objects and Puzzles. Some of the scenes are beautifully drawn, while others seem kind of cluttered. This also means at times you will miss vital items. A big plus is your inventory is always chock full of items to use. Sometimes however the objects are kind of obscure, and their usage ever more strange. I like the way you come across "collections" to trigger puzzles (books, gems, etc) The puzzle range from easy to slightly diabolical, nice mix. One thing I absolutely LOVED was the amount of characters you come across in this game! And even better, they all talk to you complete with voice-overs, no matter how cheesy the voice effects might be at times. It gives you that feeling that you're never alone. Love it! There was also a storyline throughout, and while it may have been good, for whatever reason, I couldn't care less about it. The HOGs were pretty straight forward and not too difficult, but at times were definitely a bit cluttered. But never really to the point of frustration. They were also quite bright and clear. A definite plus is the almost Unique HINT system! I say almost, because I remember this from games back in the PC era of great games, circa late 90's. Specifically, when you click on a puzzle/interactive object, the game will say something about it. If you don't figure out what to do on your own, the 2nd time you click it, the game will give a bit more info about what to do with it. And if you're still stumped, the 3rd time, it all but tells you what to do. Keep in mind this is without using the HINT button, which is still available to you in addition! One particular frustration was how at times you had to click exactly in the right hot-spot or on a hidden object multiple times to get the game to trigger an acknowledgment. Overall it was pretty good.
September 18, 2012
Pleasing, but...so many plot holes you could water a lawn with it
It was a fun game and its graphics are really, really great. You can tell some parts/characters were blatant rip offs of the Van Helsing movie, and the twins theme from the movie Constantine. The graphics....They're above par for sure but I'm still debating if they're good enough to redeem the rest of the problems. My biggest irritation with this game, however, is the storyline is at times very unclear. I understand the premise of finding your missing sister, but you get to a point in the game where it becomes unclear why you're doing what you're doing, how you're supposed to do it, and end up staring at the items in your inventory not knowing the purpose they serve, or where to go next, yet the diary will make it sound completely natural that while you are originally just hunting for your sister and trying to discover your past, it's totally normal that you should be collecting crystals that dark cultists used to bring about the end of light, robbing murdered women, and sprinkling magic dust on statues. Sure, why didn't I think of that? And...maybe because I feel that if I have to pay for something it should be good quality...what bugged me immeasurably were the dialogue lines that appear at the top when you click something of interest and the horribly written, cryptic diary entries (not cryptic because they're challenging clues to follow, but because they're literally so badly written you have to stop and think about what they were actually trying to say and guess what to do). First, the "reaction" explanation when you try to use an incorrect object on an object of interest or you misclick. It says "It won't fit." Well, the problem is that the pickaxe isn't strong enough to break through the crystal--you have to melt it. Or that you can't set a mug on top of the flat top of a wine barrel. What does that have to do with "fitting" into anything? Am I being too literal? There are other worse examples but I can't recall them at the moment. Second, the diary entries...For the love of God, surely you have enough money in your budget to either hire an English-speaking proofreader or a better translator, from whatever language you speak, to the English language. You can tell several different people worked on the diary entries, which are really helpful in figuring out how to solve a challenge, because some are not badly written and others look like someone who has no grasp of English was assigned to write them. And then you're supposed to try to figure out what you're supposed to do, because those diary entries try to tell you... Some examples: "It's eyes are closed and lends a hand as in request. I wonder what happen if I found what statue needs and will put in his palm." I get that premise. "On a the platform a creature scared me a lot." Is it a platform, or is it the platform? Ok, grammar, but still.. "My god she was murdered so brutally which confirms mayors words." I have to ask, why would the mayor leave the body out in the middle of a swamp and just tell people about it? And why would you be more interested in the mayor's words than the fact that you stumbled upon a dead body in the swamp and you just took everything out of her purse and left her there with some bat creature? "On the map there are pathless bogs here. Maybe my sister was taken there I should go I should save her." Ya because it makes total sense to go wander a dangerous bog when you're not sure that's where she was taken. "Magic stuff could turn dreams into reality, so I wonder what can happen when I use this chalk. Magic things can bring dreams into reality, Interesting, what can I do with it". I get it...magic = dreams = reality. You don't need to repeat the same thing twice. Although I think it funny that you tried twice to make sense and failed both times... And finally this gem, the diary entry opens with "Does it seem to me or what?" ...Um. Ya, sure. I don't know what "it" is or how "it" seems to me, and why I'm arguing with myself if that's what I really feel like. All your base are belong to us. Moving BEYOND the typos and gibberish, I got lost in the plot about halfway through. The diary said I was heading to pathless bogs to find my sister, then a few pages later it said I was going to the mansion of my ancestors. When did that happen? Why did I take a boat through the bog and skip through it entirely when that was the original destination to look for my sister? Is it really so commonplace for the character to see dragons that she has no problem with seeing one in a bar and fixing him a drink, yet she's freaked out by flying bats? Why would I automatically think the solution to a glowing statue is to sprinkle magic dust on it? What magic dust? Why would I think multiple people are trapped in crystal when all I see is a hand holding an orb? Ah well. Rant over. Back to shutting off my brain, ignoring the dialogue and moving through it like it's a movie with bad subtitles.
July 31, 2012
Dark and entertaining
This game has a good storyline, 3 game modes - but sparkles even in the Hard mode... I like it that you can switch to Match-3 in the HOS. The mini-games are easy. In each location, there are flowers to collect, so you can earn coins and unlock artwork and videos. The game is not very long; for me about 2 1/2 hours. But I found it interesting and worth the money.
September 7, 2013
Very Good Game
I enjoyed this game.in the beginning i thought ohh no why did i even d/l the demo...But im glad i did!!..Had to use the hint a few times tho..but good job on the game i endend up really enjoying it!!..
December 28, 2012
Good story line, fun characters
It's a mystery filled with fun charaters that you interact with along your quest to find your sister. I like that it is pretty easy to figure out what to do next. I would call it a great game for beginners to the hidden object adventure games, but also a good one for advanced players looking for a fun game with colorful graphics. I don't comment on games often, even though I've played hundreds of these types of games, but I've found this one to be enjoyable. I prefer to just have fun with my games, but there are different levels of difficulty with in the game if you choose to make it more challenging. Have fun!!
September 27, 2012