Sister's Secrecy: Arcanum Bloodlines
Exclusive
Ariel and Belle were dropped off at an orphanage long ago and cannot remember their parents. Now, Belle has been kidnapped and Ariel goes off in pursuit of her twin sister. Ariel's search leads her to a backwater European town that time forgot and where magic fills the air. The locals tell tales of bloodless bodies turning up and strange silhouettes floating in the night sky. Discover the connection between these strange events and Belle's abduction in this exciting hidden object puzzle adventure.
Fantastic gameplay
Solve the mystery, before it's too late
For a more in depth experience, check out the Collector's Edition
Game System Requirements:
OS:

Windows XP/Windows Vista/Windows 7/8

CPU:

1.4 GHz

RAM:

512 MB

DirectX:

9.0

Hard Drive:

913 MB
Game Manager System Requirements:
Browser:

Internet Explorer 7 or later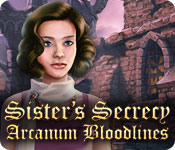 NEW299
The Big Fish Guarantee:
Quality tested and virus free.
No ads, no adware, no spyware.

Reviews at a Glance

Sister's Secrecy: Arcanum Bloodlines
0
out of
5 (
0
Reviews
Review
)
Customer Reviews
Sister's Secrecy: Arcanum Bloodlines
42
42
Decent but average
I wasn't too thrilled by what I saw in the demo. Arcanum is a standard HOPA that gives you a choice between searching for hidden objects in the usual way or acquiring them via a Match 3 game. The minigames are old classics and not difficult to complete. They seem to become a little more interesting towards the end. Nothing new either as far as the adventure is concerned; it's very much the same stuff as what I have seen in many other games. The visuals are fine, though sometimes a bit darkish, yet neat and pleasant to the eye. Standard too are the intro and cutscenes. The music is not to be remembered as a masterpiece, but the voice-over is natural enough. You can collect coins to buy items from the store, but these do not seem to have any relevance to the story or any action you have to take during gameplay.. 3 game modes, some achievements to obtains as rewards, plus an integrated Strategy Guide which is in fact the walkthrough also available independently. I suggest you take a sneak peek at it while playing the demo, and see how you like the game. I do recommend this Sister's Secrecy mainly to beginners or players who want something classical and easy.
July 20, 2012
Not My Kind of Match 3...
I started doing HOG when I first was introduced to computer games, but after discovering Match 3, found them much more interesting, challenging and plausible. This game is more solve the mystery/HOG than it is M3, and what I've found true about all HOGs is that if you have the Strategy Guide, you end up reading and following a set of instructions, not actually playing a game. The music is wonderfully eerie and graphics are appropriately colored. I prefer to read the text than have it read to me, as the characters are too slow, so you can click by each screen as you as you are done reading the text. I've become a true Match 3 (and Match 2) fan with added mini-games. This is not my kind of game, even though I do keep trying new ones when they come out, but continue to be just as frustrated as the last time I tried!! This is not my kind of game!
July 23, 2012
There's a great game in here, somewhere...
I downloaded the one-hour sample, as it gave an extra punch-card stamp if bought today. The intro is a tad long, but the voice-over is good, and it set the stage well, although the storyline is nothing that we haven't seen before in other games. After that... Good things about this game: 1) Some of the animation is excellent; most of it is at least decent. Over-all, the artwork is very good. 2) Nice music: atmospheric. Sound effects are generally good, although in a few places they are a bit out of sync with the action. 3) mini-games and puzzles, while standard fare, are well-designed, and the idea of having a choice between two different games to get certain objects is a very nice touch. 4) The coins idea is interesting, although I've not gotten far enough into the game to be able to use them. Bad things about this game: 1) Most scene changes come with annoying little delays, where nothing happens, and you can't do anything until the game "catches up with itself." 2) The various cursors - arrow, hand, etc. - are not very precise. This is OK for most things, but some mini-games and puzzles take a lot of patience to get past. Often, this is because of a peculiar perspective chosen to present a game or puzzle. 3) There are several points in the game where you acquire an object, only to come to another point in the game where you acquire it again, even though you already have it. 4) At least one of the mini-games (so far) is pointless. The above covers the salient points. Realize that I've only played for 57 minutes, on the easy level. Things could be a lot more interesting further in. Conversely, some of the difficulties that I mention might be maddening when playing on the Hard level. I have not decided if I will buy this, yet. What I like about the game makes me think that it *might* be worth buying it, despite the problems. The closing little "ad/teaser" has some intriguing things in it, such that I am leaning slightly toward buying it, and taking the risk. If you like a lot of variety and have patience enough to deal with a lot of quirks, this might be worth it. But for those who like clean game engines, you might be too frustrated to enjoy it. Bottom Line: The producers of this game did a fine job on the new things and fancy little touches that they added. But they appear to have rushed the total package, and it shows. If they can clean up some of the bugginess, this could be an excellent game. As it is, it's merely one of many average efforts, which is too bad. Final Note: we are asked if we recommend the game when we review it. I'm going to click "Yes", but let it be known that this is with reservations, as noted above.
July 20, 2012
Bloodlines again
Its an ok game just ok. I found it a tad boring same old storyline, same old everything. Sorry its not one for me to, use a credit on.
July 20, 2012
Same old, same old
Graphics a bit old hat and stilted.Usual challenges so for experienced HOG lovers nothing much new although I only played for about 15 minutes before becoming bored with slowness. OK for newbies to HOGS
July 20, 2012
Good for beginners
I found that this gme ws just to easy. The HO scenes are way to simple. It would definetley be a good game for beginners, not seasoned gamers.
July 20, 2012
Why so many snakes
I love playing the hidden object games and puzzles I just hate snakes. Why can't programors invent these types of games without snakes in them?
September 11, 2012
Felt pestered to work at the game's pace, not my own.
The game has 3 modes of play, this review is based on advanced. I really wanted to love this game based on the rave reviews, but it just isn't for me. First, the goodness: --Very creative and intriguing creatures; I liked the tavern --The journal is well done and useful --The hints do the job but are not great; they recharge quickly even in hard mode --There is a strategy guide but it is accessable only from the main menu Now, the rest: --No Map; Graphics dark in places and kind of grainy --The cursor is extremely sensitive making it easy to miss the a hand showing an item to pick up. I wound up slowly combing each screen watching for the blink that was the cursor turning to a hand and then back again. --Pet peeve: When the game refuses to accept an item. One of many examples - a well handle and bucket needed to be attached to a well (Isn't there always a well?). It took a half a dozen attempts with responses of "it won't fit" or "that won't work here", etc. before the game would finally and at long last allow the handle and bucket to attach. Grrr. --Even in hard mode the game is free wheeling with unasked for hints. Click on a mound of dirt, "something needs to be planted here". There just was not much room to think things through; instead the player was led by the hand even in hard mode. --This may just be my own idiosyncrasy, but I felt constantly pushed for time. Each new scene was busy with blue flutteries showing HOS (yes, even in advanced mode), little purple buds to click on so they would bloom and accumulate value for "shopping", locating gold coins for the same purpose, then the painstaking scanning of the entire scene to make sure no inventory items were missed. --Speed of HOS completion determined the # of gold coins earned; No time to smell the roses there... --The background music was a kind of maniacal, off-key piano that jangled my last nerve. For some reason I could turn it down, but not off, so to make it stop I turned the speakers off. Thanks to the entire team for all of their efforts. It is good to see how many really enjoyed the game. I just don't like to be time pressured and doused with hints and glints. Sorry that I cannot recommend this game, but very glad so many others loved it.
August 9, 2012
Very dark scenes & not very exciting gameplay
My advice is to play the full demo before purchasing as before I was halfway through this hidden object adventure I was fed up with playing & had to make myself finish. The gameplay felt quite disjointed & I couldn?t always figure out what to use the inventory items for so had to use the hint button as an aid. There are a lot of screens to open up & quite a bit of going back & forward to find other items to use. There are 3 modes of play, casual with a 30 second hint recharge, lots of glints everywhere & bright blue butterflies to mark any H0 screens, adventure with 60 second hint or hard with 90 second hint; both that latter don?t have glints but the butterflies are there. The few voiceovers are really good & I liked the music; it suited the story telling style. The graphics are average & the artwork the same, neither was as crisp & clear as I like & many of the scenes were very dark. In each scene there are one or two purple flowers to find for which you earn coins, you also earn them for completing H0s and mini puzzle and the coins can be used to buy the sketches used to create the artwork or the audio. The hidden objects are not too difficult & you can switch to match 3 play if you prefer, the mini puzzles are also pretty easy & along the lines of picture tiles, simon says, slider, etc. You will collect a lot of inventory items & some are kept for ages before use, I had to scroll along to see some items as I had so many at points during the game. It took me around 4 hours to play but that was because I had to keep leaving the game through boredom & come back later & try & remember what I was up to before shutting the game down.
July 23, 2012
Didn't like this one!
Found this to be very uneventful. The skip button for mini-games takes FOREVER, and you have to refer to diary about what the heck to do. If you play or especially buy this one , you will see what I mean about the whole game in general.
July 31, 2012