Kingdom Chronicles
Journey to a land of royalty and adventure in Kingdom Chronicles! John Brave finds his homeland captured by a greedy villain and only he is courageous enough to fight and save the kingdom from total plunder. Build, trade, research and battle for your kingdom! Workers, clerks and warriors will help you on your quest to restore the towns and villages, solve mysteries, defeat the enemies and restore order. Rescue the princess, defeat the villain, and save your homeland in this fun and exciting strategy game!
Defeat the villain and save your homeland
For a more in depth experience, check out the Collector's Edition
Game System Requirements:
OS:

Windows XP/Windows Vista/Windows 7/8

CPU:

1.0 GHz

RAM:

512 MB

DirectX:

8.0

Hard Drive:

148 MB
Game Manager System Requirements:
Browser:

Internet Explorer 7 or later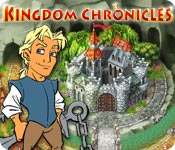 NEW299
The Big Fish Guarantee:
Quality tested and virus free.
No ads, no adware, no spyware.

Reviews at a Glance

Kingdom Chronicles
0
out of
5 (
0
Reviews
Review
)
Customer Reviews
Swordfights!!!
Some of these games can be a bit boring when you are waiting for things to get built, or for resoures to replentish themselves. Boring this is not. Frantic it can get when you have to fend off mercenaires and trolls. Your warriors have their hands full keeping them at bay, and more and more keep coming. Also, when they attack, the workers are too frightenned to come out and their tasks accumulate wating for a lull in the fight. Just like in real life. Also, if a troll or mecenary slips past your defenses, one building at least goes up in flames, and yuo have to put your resources into extinguising it and rebuilding. The other details. You never have all the information you need at the start. You may build a big sstructure, which is supposed to be your main task, only to be told it needs upgrading. Back to collecting resources... Or there are some unknown areas, taht once you investigate, are more structures that need to be built. All in all, never a dull moment. Keeps the adrenalie flowing. It is hard to get the gold. Sometimes it is even hard just to get a medal at all. If you have been attacked by mercenaries and trolls, you may end up with none. Thankfully the game still lets you finish the episdoe, and contratulates you on your victory no matter how long it took. Eventually, with practice, yu may get the gold there. But gold or not, you had a great time. Did I mention the Cyclops taht makes his living by lyiing on the road?
August 4, 2013
Terrific TM
I played Kingdom Chronicles SE. The game is really fun. There is always a lot of action that you have to pay attention to. The game is fair. Although I was able to get gold on all the levels, there were only a few where I got it on the first try. This is one of my favorite time and resource management games.
July 26, 2013
Awesome storyline and gameplay!
The graphics are awesome. They are really detailed and colourful. Even the underwater images look wonderful. The music is really cheerful and doesn't distract from gameplay. The tutorials are easy to follow and teach the basics needed to master each level. You get medals for completing the level depending on how well you did. Then you also get various trophies for completing various tasks during various levels such as Gold Prospector, Skilful Mason and Invincible Fighter. The game is great because you are rewarded for successfully completing each level. Life should be like that too! Then of course, there are bad guys to deal with. At first these bad guys just come out and walk around. This made me nervous because they kept lurking near the resources but in the early levels they didn't take anything. Then in the later levels you have to defeat them because they would steal resources or destroy building. Don't worry though; there are tips at the start of each level for e.g. always completing the goals in the order given. Furthermore, when you click on a goal, the resources you need are highlighted so you always get help. Even if you didn't get the Gold medal on the first try you learn so much that you can replay the level without even searching online for help. Awesome game!
May 12, 2013
My first time management game on here
Very fun and addictive, wish it had more audio/speech though. I've spent hours on it already and still haven't finished the game (attempting to get gold medal on all levels).
March 8, 2013
Fun..........
I really am enjoying this game.....thanks.
January 29, 2013
Nice game. Good challenge.
Lots of levels. Graphics are 2D, but it has a good story line, and I spent many hours of enjoyment playing this game through completion.
December 14, 2012
lovely TM game
This is the first road-building game where I've been able to cue tasks, that's such a nice touch and adds a different type of strategy to the game. Game play is smart, it's easy to tell by mousing over or clicking each task exactly how much of each resource you will need. The graphics started out rather grainy, everything blended together especially the trees, but they seemed to improve as the game progressed. Each "episode" lasted longer than TM games that I'm used to, so if you didn't get gold it was quite the task to replay. There were two episodes with non-stop enemy attacks that I gave up on, but the rest I played over and over until I perfected my strategy and achieved gold. The characters were varied and comical, especially the robbers and the cyclops.
November 11, 2012
Enjoyable time management game
I bought the collector's edition and it was such an addictive game. Just played level after level. It was really FUN to bulid the town, manage the resoures and make decisions as to what to do first. The story is straightforward and nice. I particularly liked the music, it kept me going in the game. I found the characters interesting. All in all, it has been a very good game. Thank you the team at BIG FISH!
August 2, 2012
Cute and easy to play, a variation of Kingdom for princes style games.
I enjoyed the trial but I have not been convinced enough to buy it because I simply am tired of the type. It is very comfortable to play with a nice clean look. The game-play is familiar, you will operate workers and soldiers and gather resources to rebuild damaged infrastructure. There are trophies to earn, plus points and level medals...nothing new, nothing wrong with it ...just pleasant.
July 21, 2012
Enjoyable
Very much of the MKFP and Roads of Rome type. An enjoyable game if you like this kind of time management format.
July 22, 2012
The Apple logo is a trademark of Apple Computer, Inc.