Kingdom Chronicles
Journey to a land of royalty and adventure in Kingdom Chronicles! John Brave finds his homeland captured by a greedy villain and only he is courageous enough to fight and save the kingdom from total plunder. Build, trade, research and battle for your kingdom! Workers, clerks and warriors will help you on your quest to restore the towns and villages, solve mysteries, defeat the enemies and restore order. Rescue the princess, defeat the villain, and save your homeland in this fun and exciting strategy game!
Defeat the villain and save your homeland
For a more in depth experience, check out the Collector's Edition
Game System Requirements:
OS:

Windows XP/Windows Vista/Windows 7/8

CPU:

1.0 GHz

RAM:

512 MB

DirectX:

8.0

Hard Drive:

148 MB
Game Manager System Requirements:
Browser:

Internet Explorer 7 or later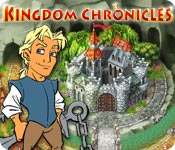 NEW299
The Big Fish Guarantee:
Quality tested and virus free.
No ads, no adware, no spyware.

Reviews at a Glance

Kingdom Chronicles
0
out of
5 (
0
Reviews
Review
)
Customer Reviews
Enjoyable
Very much of the MKFP and Roads of Rome type. An enjoyable game if you like this kind of time management format.
July 22, 2012
I liked the Snowy the bear kind of music!
this is a pretty good game, It's very much like island tribe. I don't know what would be better. but I'm going with this....cuz it's made by Aliasworlds! makers of snowy! :D
April 29, 2013
Great for all ages!
I bought CE of this game for my 68yr old Mum. She loves it! My 12yr old Nephew and his 8yr old sister loved it too. As did I. It's easy to play and once you start you get hooked. The levels increase in difficulty, but not so much that you get sick of the game because you can't finish it. The bonus level is highly amusing also! It's a wonderful game for the entire family. In short, it's a great game!
August 16, 2012
Amusing, VERY ADDICTIVE !!
...and nice graphics! You will want to have the gold star everywhere! ONE REGRET++++: The map does not indicate OBVIOUSLY the level obtained for each step and you must drag the mouse over each circle of the level to see if you got it or not ... VERY VERY UNFORTUNATE ... It's the reason why I put 4* and not 5 !!! ******************** NB/ Please excuse the broken English: I am French and am using Google translate.
January 19, 2014
I liked it
This is a fun game, along the same lines as MKFTP and Island Tribe series. The graphics are clear. Some levels I wanted to beat the clock and get gold, and some I didn't. The walk through works great to glance at before playing a level to try to get the gold on the first try. This game does use a lot of rapid point and click, but it also uses strategy, and that's why you can enjoy it without the timer. It would have been nice to have been able to cancel a task because once you click on something, you can't undo it.
August 1, 2013
Hols
I enjoyed this game good fun to play. BIG FISH - I have just bought a new iPad 3 and would love to buy this type of game on my new iPad. These type of games are great if you have to wait around for any reason. Can you get some games like this for my iPad please :+))
July 23, 2012
Fun TM game
The graphics are clear and you have a good view of your workers as they go about their tasks. The music is repetitive but not unpleasant. It's a typical gather resources and build structures game but you have plenty of different tasks to do and periodically you're surprised by attacks from mercenaries and trolls. Part of the area you're in is often hidden until you unlock it by paying a wizard to work his magic and open it up. There are also areas where you have to trade for the resources you need to move ahead rather than building a structure that supplies it. These features make for a game where you have to think about what to build and when to build it. You can queue up tasks and when you want to upgrade something it takes only a single click. Both of these are features that improve game play significantly over many other games in this genre in my opinion. My only real complaint is that the game is a little bit short. Overall though this game is well ahead of most in the TM genre and I really enjoyed it.
January 24, 2015
Define fun!!!
Click, click, click, click, click, click, click. There is way too much fast clicking which really hinders gameplay enjoyment. There is too much going on at once, layout is not that good and the characters have to do way too much running around the field. Don't even bother trying to get gold the first time on quite a few levels, it will ruin the game for you. Royal Envoy 2, Legends of Atlantis Exodus and the Roads of Rome series are much better. Discouraged that I wasted a game club credit on this game.
July 23, 2012
Tedious & VERY Strategic
I LOVE TM builders. I thought I was pretty good at them until I played this game. There are some levels that you have to think out before pressing start. I like strategy but what I don't like is making it halfway through a level and then realizing that I don't have the tools to move forward so I have to start over. I love the roads of rome series and my kingdom for the princess. This game just disappointed me. It has 40 levels, each in different areas like fire or snow etc like usual games. The bad guys aka trolls, knights, thieves etc in this game were just TOO MUCH! You have to be real careful about when you build the barracks because once you do, the bad guys will start coming and if you don't have enough other supplies they will take over your camp. There are 4 help buttons you get throughout the game. The first one helps you build things faster, the second one makes your guys run faster, the third one makes your factories produce goods faster and the 4th makes the barracks fighters, fight the bad guys faster and that last one is REALLY helpful on later levels. I found it was really hard in some levels to get enough supplies like food or wood and it made it almost impossible to get gold. I am a person who likes to play until I get gold on a level but this game was tedious and I just wanted it to end so I didn't get gold on most levels. Even if you run out of time, you can still advance to the next round, you just don't get a medal for the level. It only happened to me once. There are lots of achievements to get. I got all of them except 3 and this game took me forever to play. 40 levels may seem short but they are long levels and since you need to be very strategic, it can take even longer than usual to get through some of them. I found this game to be quite boring once I got through a few chapters. The buildings are really hard to level up in my opinion because after the first couple, it would take 3 times as many supplies to upgrade and thats most of your inventory or so it seemed! Sometimes I felt that there were too many buildings to worry about but you would always need all of them especially to get gold. I guess I just didn't feel this one. Same old save the princess type story but you actually get to save her and then deliver her home by doing the dirty work instead of just watching the game end. I started out really liking this but by the end, I was just happy to finish it. There was just nothing real special about this game and I never felt like I had enough time or resources no matter how much I planned. I recommend this game to die hard TM fans who like a challenge and lots of achievements. To builder fans who like more of a relaxing vibe, I don't know if this is the game for you as there is no untimed mode and although levels can still be advanced even when time runs out, its quite a frenzy. oh and I had several sound issues with this game. In the beginning I could hear the sound of buildings being built and food being picked up but near the end of the game, all those sounds had disappeared. I tried deleting and reinstalling but nothing helped and I haven't had this problem with any other games. I missed the sound effects.
October 13, 2013
Time management sort of
In time management I expect strategy comes into play. In this game there are countless rounds where all play stops for many minutes while you battle trolls, bandits, and other bad guys. I don't mind a few of these to keep you on your toes but if I wanted a battle game I'd have bought one. The clock runs down while you're madly clicking bad guys and by the time you finally get to resume the game you've forgotten whatever strategy you had in mind. Like most games these days, the scoring makes no sense. If it takes you 10 times to play a level to reach achieve the gold you get more points than finishing it the first try. The trophies are pretty but they aren't for anything significant. There's no trophy for finishing all rounds in bronze or above, or one for finishing all levels in silver or above. You get a meddle for earning 1000 foods. One level alone requires this so reaching 1000 early in the game is a non-event. The trophies should actually give a sense of accomplishment, not given out for showing up. Also, you can click ahead but you can't change your mind and unclick to change the order. I was bored and frustrated with this game. There are 7 levels I can't get to gold and 1 level I can't even get to bronze. It's not a game I would ever replay. If you like frantically clicking bad guys then waiting for your workers to catch up, you might enjoy this. Nice graphics can't save this game.
November 17, 2013
The Apple logo is a trademark of Apple Computer, Inc.