Live Novels: Jane Austen's Pride and Prejudice
Live one of the world's most famous novels in Live Novels: Jane Austen's Pride and Prejudice. As the young, wealthy and single Charles Bingly and his friend, Mr. Darcy visit a neighboring estate, the respected Mrs. Bennet sees a rare opportunity to marry off one of her daughters. Unravel a plot of intrigue, envy and romance in this beautiful Hidden Object Puzzle Adventure game!
Explore Victorian era England
Experience a romantic atmosphere
Solve interesting mini-games
Game System Requirements:
OS:

Windows XP/Windows Vista/Windows 7/8

CPU:

800 Mhz

RAM:

512 MB

DirectX:

9.0

Hard Drive:

252 MB
Game Manager System Requirements:
Browser:

Internet Explorer 7 or later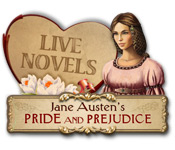 NEW299
The Big Fish Guarantee:
Quality tested and virus free.
No ads, no adware, no spyware.

Reviews at a Glance

Live Novels: Jane Austen's Pride and Prejudice
0
out of
5 (
0
Reviews
Review
)
Customer Reviews
Live Novels: Jane Austen?s Pride and Prejudice
58
58
good PC filler
Based on FULL hour Demo: one game level Music mellow Artist concept drawing between scenes FROG (Fractured Object Scenes) tend to go from monochrome to bright Some Object are difficult to see (white on white sort of thing) Hint refills at about 45 second-I used it alot Click Penalties & sometimes has dialog to tell you you misclicked (really?) Overall a relaxing game to wile away an afternoon if you want a non-demon, non-gory, family friendly type of game or if you are at end of month & need to burn a punch code or get you card punch for a freebie **On personal note I find Jane Austin books kinda funny in todays world. More a comedic story line.
July 25, 2012
Prefered the book !
Played 30 minutes of the game and after reading the other really bad reviews, I started to wonder if it had been worth downloading. In fact I'm sure quite a lot of fishies will enjoy it. Only one game play mode. Hint refills quickly. You have to find a lot of objects, either in H0 or all over rooms (silhouettes). You can move to either side of the room to see more. Items are sometimes difficult to spot, looking like the background. Graphics are pretty good. Annoying thing, texts keep appearing if you make a wrong click. An enjoyable game for straight H0G lovers, well worth a punch card credit. If you were expecting something better, re read Jane Austin's book..... ;)
July 25, 2012
Does not do justice to the novel
As a huge Jane Austen fan, I was really disappointed with the game. The HO scenes are contrived and don't mesh with the story at all, and huge parts of the plot are passed over without explanation. If you don't know the novel well, the game would make no sense at all. (To give a good example of a game based on a classic novel, see The Great Gatsby.# With regard to actual game play, there are long load times between screens. In many cases, you have to go back and forth between screens to collect everything, so having to wait for the scene to load #again and again) is annoying. And the graphics, though lovely, are not precise enough to explain the load time. What I did like: it was challenging, and you're not looking for pasted-in cell phones and computer disks in the 18th century. And it's not another occult/horror game, which is the main reason I'm clicking 'yes' for 'recommend this game'.
August 20, 2012
Depends upon your level of patience
Another book...oddly done. This one is a trade off on preferences. The graphics for the story are presented in comic strip form and people talking are on the screen surrounded by blackness instead of being in a "normal" setting. Now, if you can get past that, you get some lovely graphics for HO scenes and interactive scenes. You hunt for fragments of the items you need until you have all the parts, then they assemble themselves and go to your inventory. The rooms scroll from side to side although not all at the same pace. The living room moves quickly but the next room moves at a snail's pace. There are puzzles sandwiched among your search for pieces. The one with the balls of yarn is quite unique. The game has only one mode of play; you can choose your sound, cursor and whether or not to skip the tutorial. There are a great many pop-ups including ones that tell you you have clicked on something that is not useful. These do get to be annoying eventually. If you can get past the petty annoyances it is a really cute and challenging game. I finished the demo but probably won't buy because I don't really care for FROGs. I recommend you play the demo.
July 25, 2012
Even a Janeite has trouble being positive...
Well, I love Austen. This game does not do justice to either the story or Jane LOL. If you have never read the book, you will be confused by the random characters, never named, that appear and disappear. If you know the book, you will be somewhat befuddled by the hopscotch of the story. The game itself is a low challenge, moving around to find pieces in several places kind of game. More time than effort is needed. I went ahead and bought it because of the subject matter and wish I had saved the credit. Over all, if you don't mind the story being fractured, the art is nice, the music isn't annoying and the game is easy.
August 15, 2012
Pride and Predjudice
Slow and uninteresting. Not very enjoyable at all.
July 28, 2012
Bad Deja Vu!
If I am not mistaken, we had another game with same story not long ago which was bad. Now I am trying to choose which one is worst. I am a big fan of P&P however Live Novels just does not make me want to spend time with one of my favorite literature characters, Mr. Darcey. The Game begins with hand drawn art work and unfortunately scenes load very slowly. This is a FROG/HO/Interactive Game which involves scrolling screen. I anticipate that many will not like this feature. There is a journal with a task list and no voice-over. I liked the music but it is on a loop and does get annoying after a while. Visuals and Graphics are poor and items are difficut to find. Hint system does refill quickly and there is only one mode of game play. No sparkles and HO scenes are easy to play. Not a difficult game but very tedious and uninspiring. Sorry, it is a pass on this. I prefer to go and re-read the book.
July 25, 2012
Boring
This was another attempt to translate a classic piece of literature into a game. While it has been successfully done,as in Edgar Allan Poe's "Murder in the Rue Morgue", this attempt was a failure. It opened with cartoon-like drawings to set the story line, no voice overs, and proceeds to the standard HOS where you find the parts of an object then combine them. While the graphics after the opening scene are rather nicely done, the game play was not interesting enough to entice me to complete the demo. Sorry, this is a no buy for me, however, it might hold a begginer players' attention.
July 25, 2012
Yawn, yawn, yawn !!
This game is a perfect bore. I quit the demo after 15mn, tired as I was of having to find bits and pieces of items that don't have any definite shape, are nearly invisible and perfectly irrelevant to the storyline. How exciting is it, indeed, to search for shapeless thinggies to fix a ladder, place a valve on a fountain, look for beads to make a necklace, pieces of dress that don't look like anything, and many other goodies of like kind such as parts of a glass, or handle, or key and who knows what else, I ask you ? Not my idea of an adventure and hardly a challenging passtime anyway. The intro is ridiculously cartoonish, the cutscenes come up much too often, there is no voice-over so everything is in text form and too much to read slows the game down terribly, the rendition of the storyline doen't do credit to the novel, you need to scroll left and right all the time to get the HOs and use hints because you can't locate them. As for the music, even though it is pleasant, it quickly becomes annoying as there is only one soundtrack that turns in loops. The artwork is okay but I have seen better. I have no idea whether the game includes any minigames and/or puzzles, and quite frankly I have no intention to buy it to find out. Reading the book is a lot more satisfactory as, at least, it won't lull you to sleep as the game does.
July 25, 2012
A Snoozer ...
I loved the book and the movie; the game not so much. The game's story moves along at such a creeping rate that sleepiness descends. Transitions between scenes are slow, and the image of a book appears in each transition, with pages turning rapidly. I wish the scene transitions were as rapid as the turning pages. :( Seeing the book once is fine. Seeing the book every other minute is annoying. I'd say it's probably always a bad choice to model a game after such a beloved classic. And I wish the game were better but ... All I can tell you is, I now need a nap. zzzzzz.
July 25, 2012