Fierce Tales: The Dog's Heart
The citizens of Houndspoint have always loved and trusted their canine companions, but a recent wave of coordinated attacks by a pack of strange dogs has thrown the snowy mountain town into a state of fear. After your beloved dog, Pippa, is kidnapped by the creatures, you vow to discover the cause of the sudden attacks and figure out who, or what, is behind it all. Explore beautiful hidden object scenes and mysterious locations to uncover the truth in Fierce Tales: The Dog's Heart!
Rescue your canine companion
Investigate a cruel love story
For a more in depth experience, check out the Collector's Edition
Game System Requirements:
OS:

10.8/10.7/10.6/10.5

CPU:

1.6 GHz (INTEL ONLY)

RAM:

512 MB

Hard Drive:

1022 MB
Game Manager System Requirements:
Browser:

Safari 4.0 or later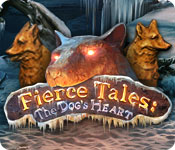 NEW299
The Big Fish Guarantee:
Quality tested and virus free.
No ads, no adware, no spyware.

Reviews at a Glance

Fierce Tales: The Dog's Heart
0
out of
5 (
0
Reviews
Review
)
Customer Reviews
Fierce Tales: The Dog's Heart
60
60
Terrific game !! Devs hit again!
Cutscene already holds you: a group of furious dogs attack a man who falls off a cliff! Game very well developed, great story with good following, very good sound and VO, excellent crisp graphics, appealing characters (as Pippa, the cute little dog, and its owners, two children ... and the interesting furious dogs), very appropriate atmosphere and gorgeous locations. The only place that I did not like was the cave with snakes ... arghhh! I hate snakes ... and there has a lot! Reminded me the movie Indiana Jones! Interactive HOS, with good visibility, entertaining mini games although some are already well known. Three play modes. It has a journal and a map. The map takes you straight to the place you want, just clicking on it. One thing I loved is that, different from other games, you can hold an object and click on the place or thing that you will use it ... it does not "fall back" in your inventory to be picked up again!! The game itself is not challenging, as well as HOS and mini games are not difficult, but it is an excellent entertainment and provides plenty of fun. I chose to buy the CE for having SG and Bonus play!
July 27, 2012
It?s The Cute Factor
BASED ON CE GAME COMPLETED SEVERAL TIMES It?s been almost a year since I played this game, and was all agog at how beautiful it was. And exciting. And most importantly, CUTE. A gorgeous little puppy is kidnapped by monster dogs whilst trying to protect two equally adorable little kids. As we race off to find her, we instead find a brave but injured bulldog, and that dog too is grabbed! My heart ached for those dogs. Thereafter the game is littered throughout with doggy images and folklore. This game is delightful alright. You have absolutely beautiful graphics, some very imaginative scenes (my favourite is the fountains), excellent cut-scenes. You have an involving story, plenty of well done iHOs and puzzles (easy and familiar), and lots of travel. There?s a ?jump? map, but I didn?t find it useful in any other way. No interactive components. There are no collectibles or achievements. It?s quite lengthy, but there?s nothing, really, other than the dogs to distinguish it. Although one thing that did stand out for me was how quiet this game was. It?s eerie. I even had to turn up the volume to hear the very pleasant and relaxing music. CE or SE? Will you miss anything? I?m tied. Both games register four stars, taking in the differences in price and content. If you?re interested in new puzzles particularly (all the new ones seem to be in the bonus game), or fear you?ll be needing a strategy guide a lot, I?d recommend the CE. But the rest is just chaff, wallpapers etc.
April 11, 2013
HOWLING GOOD FUN
Purchased this game right away..ive been waiting since the ce came out..not second thoughts didnt even play this one..I highly recommend this game..its an outstanding game all around..great visuals and sound..the dogs make you very aware they are there with their howling..the graphics are very good and the hurt little dogs makes your heart just reach out to help them
July 27, 2012
Tired of the Same Ole, Same Ole Story? Try this......its NOT!
Well now! Not exactly what I was expecting! For those that state we get the same ole story line, try this! No grave yards, no witches, no skulls, and well, yes you do have snakes (fear not, it?s only in one scene). For those of us that love a good story line, here ya go, it?s very unique and I believe I can safely say there?s not been one like it?. ?Play options-there are 3, I played in advanced (middle) and had NO sparkles. Wide screen DID fill my 15" laptop screen (thank you!) ?Hint button in advanced seem to take a good 4 minutes or longer (didn?t time, just felt like that). ?Graphics, the scenery is very good except the people and dogs could have been better. ?There is voice over throughout the game, performed better than most. ?Music is on a loop, it?s ok and you really don?t notice as you are so busy searching and reading, yes there is some text, not much buy you will want to read so you know what is going on in the story. ?HO-full but not cluttered or junky. There are not a lot of HO. Items are well hidden but not impossible to find. ?Puzzles-not really a lot. HO and Puzzles are fairly balanced. Nothing new, but ones that you rarely see. ?You get your handy dandy journal that reminds you of what you?ve found out and items you?ve gotten ?Inventory-there is one particular item that you carry quite a long time, most are used within an acceptable amount of time, not necessarily immediately. ?There is a map that will teleport you, and you will be doing a little backtracking (not excessive). ?Storyline is very captivating, you will not really get the full grasp of *why* until mid-way through. It is a not a short game, took me about 6 hours altogether, I read everything, did not skip games and just enjoyed the scenery (I love to search an area for things to do). Game play is fluid, I did not get stuck until the end when I had to use the hint button more than several times (that?s how I know it took so long to fill), that could just be because I stopped overnight and lost track of what it was I was going to do/go. The demo does not give you a chance to find out the storyline it?s just a jumpstart into the game, but it does give you a sense of how the game plays and flows. I would say more adventure than HO.
August 10, 2012
Really Attached to this One!!
Maybe it's the fact that the plot involves dogs, however, I immediately became quite attached to this game and could hardly wait to purchase. There's a violent pack of dogs attacking people, but first there's the sound of a horn, and then another, and then they're gone!! As gameplay begins, children are playing outside in the snow and I am screaming at them to get inside as there is a pack of violent dogs out there somewhere. Oh, boy! Seems to me that when a game's story line is that intense along with awesome graphics, I want it, so,maybe I'll read the CE reviews a little more and decide rather than jump on the SE too fast. Either way, this game is a purchase! Enjoy! -Mama Mia-
July 27, 2012
Nothing to write home about, really
Intrigued by the astonishing amount of 4 and 5 stars already awarded for the CE I decided to try the demo, since so many high ratings led me to presuppose this dog story was exceptional. Well, sorry to say, the game is just average, doesn't shine by the least bit of originality or anything outstanding, and left me totally unimpressed. In fact I started to get bored half way through. Set aside the well-crafted artwork of most outdoor scenes [not all though], the rest of the visuals is ordinary: the HO Scenes are confused with a blatant lack of sharpness, but the characters are the worst; the kids for instance look like woodden puppets. The 3 nasty dogs look sweeter than a pitbull. The animations, intro and cutscenes are similar to what could only be done 15 years ago when processors were desperately slow and graphic cards had limited memory. Let's face it ! There is no reason, today, why casual games couldn't offer high quality graphics similar to, say, ARMA II, Operation Flashpoint Dragon Rising and many other like hardcore games. Anyway, back to our doggies. The music is best turned off, but the voice-over is okay. There is no difficulty in the HO Scenes; I completed them in about 2 mns each without a hint, and believe me, I am not a HOG fan. My preference goes to Adventure games; I was hoping Fierce Tales would provide me with a thrilling experience in that respect. Another disillusion. Visiting the locales was enjoyable but the useful items to be found and the tasks were very ordinary, even improbable: get a can opener, matches, a drill, a key....well, that's what we do in all casual games, isn't it ? ...remove a huge snowdrift with a broom [uuhh ? what no shovel ?], cut a tree with a small handsaw in order to cross over a chasm after the bridge has been destroyed [in winter, on a slippery trunk...??? LOL], get rid of snakes in... a sewer..... [the rats probably emigrated to a warmer place]... heal a small wound on a dog with morphine .... [morphine only, no disinfectant ? Geez !}... as just a few examples. Could we please have some logic, some realism and novelty instead ? I placed my last hopes in the puzzles and minigames. Hard luck. The rare ones I encountered could be easily solved by a 10 year old. I also noted a number of funny things. One example: at the beginning you see two kids playing in the snow. A caption pops up, saying, I quote: "The kids are getting along. They must be ill". No other comment... ! That said, Pippa is a cute pup, though I couldn't figure out what breed he was, the wounded dog looks true to life [photos ??], the snowy landscapes and the little town have been nicely rendered, you have a map even though I can't say there is any excessive bactracking, quite a few locales to explore and re-explore, 3 Modes if you want to up the antes a bit and probably a decent gamelength. So is this game really worth it ? As far as I am concerned the answer is "no"; Fierce Tales will never be part of my collection. Beginners and dog-lovers may like it, but if you're looking for a real challenge, for a much scarier thriller, for a much more realistic adventure that involves dogs, I suggest you try Nancy Drew: Ghost Dogs of Moonlake.
July 27, 2012
Good Solid Game
The opening cutscene is a little disturbing with its dog attack in front of the children. It is not the only alarming cutscene. On the plus side, surely the puppy (Pippa) will be saved. It is not the most challenging or thinky game. You can easily figure out what needs to be done next and how to do it. Good balance between HOS, puzzles and adventure. The HOS are well drawn with fairly sized objects. The interactive map aids in having to travel to a lot of different locations, just to collect various parts of objects before they can be assembled. You come across many newspaper articles telling of current and past events in the town, but your journal only records the most pertinent, bare bones facts. Graphics are nicely detailed but bleak (after all, it is winter and snowing). The characters are unrealistic, as are the voice overs. Music is pleasant and relaxing.
July 27, 2012
Super great
I am very envious of anyone who can get the collectors addition. I just played this lesser version and it was so good. I am not sure my computer could down load the whole game. The file is sorta big and I know the collector addition is even bigger and will not even play on my computer. I think I need to find a way to own this one. The map was no help though and the help button would indicate areas that I had no tools for yet so that was a little disappointing and left me to figure it out on my own.
July 27, 2012
Its alright.
I was super excited about this one but when I started playing, I became mildly disappointed. Theres 3 levels of play: Casual, Advance and Hardcore. So do not purchase SG. Theres a journal and a map so theres no back and forth as you can 'teleport' to the scene you need to be in. Puzzles and HOs are easy and typical. Storyline was not gripping. A few V/Os. Just not the game I expected. I purchased it at a discount so I wasnt kicking myself for purchasing. I wouldnt buy the CE. I would recommend for the intermediate player.
August 10, 2012
Super Game!
I'm really enjoying this game! I bought this today after playing the CE trial version. Have been waiting for the SE to come out. Story is good, HO scenes clear, and puzzles are challenging without being overly difficult. A very fun and enjoyable game!
July 27, 2012
The Apple logo is a trademark of Apple Computer, Inc.
The Windows logo is a trademark of Microsoft, Inc.