Cases Of Stolen Beauty
Expose the most incredible plot of the millennium in Cases Of Stolen Beauty! While writing a typical story for a well-known European magazine, the talented journalist, Eva Sanders, begins witnessing strange events. After taking it upon herself to investigate she soon finds herself implicated in an evil conspiracy. Will you be able to solve the mystery and find out who is behind the plot?
Uncover a terrible plan
Restore your reputation
Intricate detective story
Game System Requirements:
OS:

Windows XP/Windows Vista/Windows 7/8

CPU:

800 Mhz

RAM:

512 MB

DirectX:

9.0

Hard Drive:

130 MB
Game Manager System Requirements:
Browser:

Internet Explorer 7 or later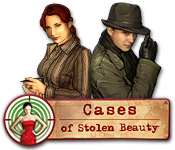 NEW299
The Big Fish Guarantee:
Quality tested and virus free.
No ads, no adware, no spyware.

Reviews at a Glance

Cases Of Stolen Beauty
0
out of
5 (
0
Reviews
Review
)
Customer Reviews
Cases Of Stolen Beauty
27
27
Glad I FOUND the game, 'Cases of Stolen Beauty'
Most gamers would definitely not be satisfied with this style of of game every day, yet it was a very enjoyable game for a drizzly day of R/R! "Cases of Stolen Beauty" is a delightful and refreshing change of pace for those seeking a respite from cookie-cutter games of the 'norm'. You play a beauty magazine journalist turned detective seeking out answers to several beauty themed mysteries.* *If you enjoy the occasional romantic mystery game, you will enjoy this game. Obviously, with that, it's not for everyone. The H0G-based game's graphics are bold and intense, the music, ambience and sound all have seperate sliders for your personal listening options, and though slider cut scenes are not generally popular, I found them to be quite good in this game as they are fast paced and do not interfere with gameplay, rather enhance it a bit, IMO. I have no idea why the game is getting such low ratings other than many have only given it 'minutes' to judge, and perhaps compare it with other games which I believe is not fair. This game stands on it's own merits and is definitely worth giving a whirl. I would have liked a lot more difficulty but other than that as my only complaint, I thoroughly enjoyed this game. Happy detecting! >Would like to add, I changed my screen resolution to 1024 x 768 and it was beautiful on my 22" monitor. It only takes 2 seconds to change your resolution and your system is designed to accomodate changes, so do not fear it will bother the integrity of your system. [To do so: right click on your desktop, go to 'screen resolution', click on 'resolution' and slide the button to either the setting I show above, or find one that is comfortable for your system/preference ~ works like a charm/ to undo, go back and reset to 'normal' res... that simple! :) ]
July 29, 2012
Very Good
I don't understand the negative reviews from these others especially when they only played for minutes, you cannot judge a game in that time. The objects were NOT "mini" size they were regular size, I believe that you must change the resolution as one of the other reviewer said, the one that rated this game a 5 star. I agree with her. This is a good HO game and puzzle game. Altho I am not a fan of hopping back and forth in a game this one wasn't too bad. I am not into playing music of any kind in a game so I can not rate that, but the visual and graphics were good, yes they were a lttle "cartoonish" but were good. I think the negative reviewers like all that "dark" side game junk I do not, I like clean games and they have not been making them too often. There are too many "dark, blood, vampires and etc" but to each his own. This is a good game.
July 30, 2012
CASES OF STOLEN BEAUTY
This game is Ok if you are a beginner to HOS games.Unlike the first reviewer I did not have any problem mixing the cocktail it was very easy to do. The storyline was a little different and the one thing I liked was that the HOS were relevant. To fix the microphone for example you had to find tools, for a make up bag you had to find make up and accessories. I wouldn't give it such a bad review as the first 2 reviews. Hints are many and clues easy to follow. Not for the hard core gamer I would say, but not too bad. Would recommend to teenage girls (for the storyline) and beginners for the game play itself.
July 29, 2012
Great Untill I Got STUCK!
This game was actually much, much better than all the reviews said, but then I got stuck and could not find a walkthrough so I quit. Good Parts: Great graphics, really enjoyed them. Everything was clear. Great HOS, Not many objects to find, weren't too hard and just enjoyed them. Hint recharges fast. No click penalty No puzzles! :D finally, there is an all HOG Game. OK Parts: I had a lot of fun with the game untill I got stuck. Bad Parts: The game really, really needs a strategy guide. I got stuck, and I was using the hint and it ket telling me "look in another place" and I went to all 3 available places and it kept telling me the same thing! Storyline has potential, but is in comic strip and no voice-overs, so I found myself skipping the entire thing. This game was actually alright. I would recommend it as long as you can get past the "Miss World" stage.
November 1, 2012
Beauty verus Brains?
Very childish, can see some juvenile fun, beauty is only skin deep. Games are supposed to be fun and work for the mind but then everyone is different and if we all liked the same things how bored would we be.
July 29, 2012
Cases Of Stolen Beauty
I found this game to be sluggish, the tasks are boring, and most of the items you are searching for are extremely small and difficult to identify. You are a journalist for Sparkle Magazine on assignment to Rio de Janeiro to interview the star dancer of the Carnival. Before any interview takes place you are tasked with mundane chores such as finding ingredients to make one of the cafe's employee a drink because he's grumpy! The items you are searching for are listed as words but if you place your mouse cursor on the word a picture of the item will be revealed. Some items you find will be stored as inventory to be used to help you progress in the game such as finding and using lipstick to write down your phone number on a nearby napkin. I think some will enjoy this style of seek and find game but for the most part I think most people will get bored with this game quickly.
April 18, 2014
Just When You Think........
Just when you think you have outgrown certain HO games, one pops up your way that once again reminds you how far you have come. If you are in a nostalgic mood or you are a novice to PC game, I suppose you can start of with this one. Provided you can avoid cringing at the graphics, the music and not to mention, the game mechanics that when all combined, create a very tedious and flat gaming experience. The storyline is irrelavent and told through cartoon graphics with written dialogue that load up to your screen very slowly. The music is bad, so bad that my grandfather actually liked it when I was trying out the demo and told me to keep this station on. He likes this kind of music. Game features include a task list and hint system that refills quickly, no gameplay mode and you can jump locations by clicking on the scenes below your task bar. HO scenes are plenty and objects are obscure that you will need to use extra anti wrinkkle cream tonight. Mini games are almost laughable and not to mention, you will need to move around alot. There is no direction to this game, and you end up picking up objects that you dont need and you wonder, just why do I need green and red nail polish. Be patient, you find out after the next couple of scenes and you will thank me for having picked them up. It is not the worst game I have played and to be quite frank, I played the entire demo. I will pass because I, like many others, have outgrown these games. They no longer hold my interest but merely add tomy frustration at the poor quality of almost everything.
July 29, 2012
this game is'nt a steal
Hi, just a tip to the first reviewer, you needed to find some water to make the cocktail, will say no more. Well its not the best of games, the story line is corny, done the first chapter, then your wisked off to a diffrent location to start all over again, very disjointed game, couldnt make head nor tail of some of it. not for me im afraid.
July 29, 2012
Out-dated and boring
This game struck me as being somewhat out-dated. It didn't cater for wide-screen. The scenes were in the style of the original hidden object games - drawn and angular with item list at side. Can't really comment on the story itself as i found myself hitting the delete key very quickly.
July 30, 2012
What a shame.....
..to go to all the trouble, time and money to make a game and end up with this. The storyline isn't terrible; You are a journalist for a magazine and have been sent to Rio during Carnivale to interview a celebrity named Louise. Apparently there is some mystery afoot. Not a bad story. When you get there, though, the dialogue between characters is presented in comic strip form (not the first time we've seeen this). There are no voice-overs and quite a bit of reading. The conversation is a bit juvenile. You have a hint, an item list, inventory, goal list and two modes of gameplay. I chose casual with no tutorial. The first room was a colorful cafe with lots of super tiny stuff in it. Finding things was reduced to clicking and hoping to hear a ding because it meant you found something. You could check the list then to see what you found. Not a fun way to have to play. With this method and the hint system, you could finish a room. I almost seems as if the developers are very inexperienced in what makes a good game and should maybe play a few to see what they need to strive for . I didn't find any puzzles to play. The cocktail did not seem like a puzzle to me. You played a small HO scene and gathered the items for the cocktail but it made itself, you didn't get to mix it up. The dialogue for the boyfriend of Louise when he is talking with Eva was stiff and cold. He seems to be quite helpless and leaves things he should be doing for Eva to do. After getting his drink and finding his flowers to give to Louise, you are asked to get rid of the butterflies because she is afraid of them. Oh, spare me. By this time I was disgusted with the whole thing and uninstalled it. I have to agree with the other reviewers; this one's a stinker.
July 29, 2012