Cases Of Stolen Beauty
Expose the most incredible plot of the millennium in Cases Of Stolen Beauty! While writing a typical story for a well-known European magazine, the talented journalist, Eva Sanders, begins witnessing strange events. After taking it upon herself to investigate she soon finds herself implicated in an evil conspiracy. Will you be able to solve the mystery and find out who is behind the plot?
Uncover a terrible plan
Restore your reputation
Intricate detective story
Game System Requirements:
OS:

Windows XP/Windows Vista/Windows 7/8

CPU:

800 Mhz

RAM:

512 MB

DirectX:

9.0

Hard Drive:

130 MB
Game Manager System Requirements:
Browser:

Internet Explorer 7 or later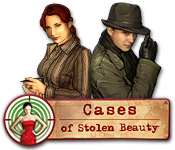 NEW299
The Big Fish Guarantee:
Quality tested and virus free.
No ads, no adware, no spyware.

Reviews at a Glance

Cases Of Stolen Beauty
0
out of
5 (
0
Reviews
Review
)
Customer Reviews
Cases Of Stolen Beauty
26
26
Unfunny and irritating!
Intro is like comic strip: Eva Sanders goes to Rio at Carnival and ends up having to investigate suspects of a conspiracy. It is a classic game of HOS - easy. You will finding the necessary things, and using. Even without selecting tutorial has sparkles, and hint explains what you have to do...but...after a few HOS, some tasks done ... I got stuck. You go back to the lobby of the airport and have to make a cocktail. Ok, the ingredients are in your inventory, you have the key of the cupboard, but has no way to reach again the bar to blend! Hint does not help this time ... just say you have to make cocktail .. so I thought I had skipped something important, I made another profile and the same thing ... annoying! I stood in place without having to do...impossible to move on! It has a table on the right, containing: hint, items, goals, inventory, and a case with people and evidence. It also has frames with the locals (locked or open) that you have been or have to go. Just click and goes into them. Graphics are clear and colorful, and sound is ok.
July 29, 2012
Dont Waste Your Time Unless You Are 10 and Younger
this game is aweful...its slow and the story line is boring with lots of mispelled words....worst of all there is nothing to capture your interest and the HOS are juvenile....not worth it....
July 29, 2012
CASES OF STOLEN BEAUTY
This game is Ok if you are a beginner to HOS games.Unlike the first reviewer I did not have any problem mixing the cocktail it was very easy to do. The storyline was a little different and the one thing I liked was that the HOS were relevant. To fix the microphone for example you had to find tools, for a make up bag you had to find make up and accessories. I wouldn't give it such a bad review as the first 2 reviews. Hints are many and clues easy to follow. Not for the hard core gamer I would say, but not too bad. Would recommend to teenage girls (for the storyline) and beginners for the game play itself.
July 29, 2012
Just When You Think........
Just when you think you have outgrown certain HO games, one pops up your way that once again reminds you how far you have come. If you are in a nostalgic mood or you are a novice to PC game, I suppose you can start of with this one. Provided you can avoid cringing at the graphics, the music and not to mention, the game mechanics that when all combined, create a very tedious and flat gaming experience. The storyline is irrelavent and told through cartoon graphics with written dialogue that load up to your screen very slowly. The music is bad, so bad that my grandfather actually liked it when I was trying out the demo and told me to keep this station on. He likes this kind of music. Game features include a task list and hint system that refills quickly, no gameplay mode and you can jump locations by clicking on the scenes below your task bar. HO scenes are plenty and objects are obscure that you will need to use extra anti wrinkkle cream tonight. Mini games are almost laughable and not to mention, you will need to move around alot. There is no direction to this game, and you end up picking up objects that you dont need and you wonder, just why do I need green and red nail polish. Be patient, you find out after the next couple of scenes and you will thank me for having picked them up. It is not the worst game I have played and to be quite frank, I played the entire demo. I will pass because I, like many others, have outgrown these games. They no longer hold my interest but merely add tomy frustration at the poor quality of almost everything.
July 29, 2012
Oh!
The storyline sounded good and then the game opened. Oh dear! Given the choice of a tutorial I said NO. Then I wanted to play the game but I was 'hand held' every step of the way. Within 5minutes I was bored +++. Please Devs! Give a decent storyline a good game to back it up. So disappointing. Maybe the very young/inexperinced etc may find it useful but it's certainly not for me.
July 29, 2012
this game is'nt a steal
Hi, just a tip to the first reviewer, you needed to find some water to make the cocktail, will say no more. Well its not the best of games, the story line is corny, done the first chapter, then your wisked off to a diffrent location to start all over again, very disjointed game, couldnt make head nor tail of some of it. not for me im afraid.
July 29, 2012
Cases of Stolen Time
I played for 15 minutes and then uninstalled the game. The graphics are passable, character conversations are annoying, and the game is overly simplistic.
July 29, 2012
Almost a disaster
!6 minutes of the demo and I uninstalled it. This Stolen Beauty has nothing interesting to offer, simple as that. Although the HOs are not difficult to find if you click at random [without penalty] HOGs lovers are bound to be disappointed as they won't find searching exciting at all. The adventure -if you can call it that- [ie: tasks and useful objects] is lame and perfectly boring. Hints help in the HO Scenes but no so much for the rest. I visited 4 locales in those 16 mns, all utterly crummy; in spite of being colorful the scenery in each of them is neither appealing nor the result of elaborate drawings. I didn't get to see any minigame, but I'll take the other reviewer's word for it. Chances are they are just as bad as the rest, anyway. The storyline has nothing for itself; dialogs comes up in the form of text and there are many of them....very irritating ! No effort has been made to even give us a nice intro; it's just cartoon after cartoon. Only one level of difficulty. The soundtrack is a bit better than the rest of the game, provided you like jazzy music. Tips for those who get stuck at the beginning: you've got to get the jug of water to get the key and the tumbler in the locked closet to make the cocktail. I wouldn't recommend this game to anyone, not even to beginners, as there are many other easy.... and better games to choose from in BFG's treasure trove.
July 29, 2012
Glad I FOUND the game, 'Cases of Stolen Beauty'
Most gamers would definitely not be satisfied with this style of of game every day, yet it was a very enjoyable game for a drizzly day of R/R! "Cases of Stolen Beauty" is a delightful and refreshing change of pace for those seeking a respite from cookie-cutter games of the 'norm'. You play a beauty magazine journalist turned detective seeking out answers to several beauty themed mysteries.* *If you enjoy the occasional romantic mystery game, you will enjoy this game. Obviously, with that, it's not for everyone. The H0G-based game's graphics are bold and intense, the music, ambience and sound all have seperate sliders for your personal listening options, and though slider cut scenes are not generally popular, I found them to be quite good in this game as they are fast paced and do not interfere with gameplay, rather enhance it a bit, IMO. I have no idea why the game is getting such low ratings other than many have only given it 'minutes' to judge, and perhaps compare it with other games which I believe is not fair. This game stands on it's own merits and is definitely worth giving a whirl. I would have liked a lot more difficulty but other than that as my only complaint, I thoroughly enjoyed this game. Happy detecting! >Would like to add, I changed my screen resolution to 1024 x 768 and it was beautiful on my 22" monitor. It only takes 2 seconds to change your resolution and your system is designed to accomodate changes, so do not fear it will bother the integrity of your system. [To do so: right click on your desktop, go to 'screen resolution', click on 'resolution' and slide the button to either the setting I show above, or find one that is comfortable for your system/preference ~ works like a charm/ to undo, go back and reset to 'normal' res... that simple! :) ]
July 29, 2012
Beauty verus Brains?
Very childish, can see some juvenile fun, beauty is only skin deep. Games are supposed to be fun and work for the mind but then everyone is different and if we all liked the same things how bored would we be.
July 29, 2012