Infected: The Twin Vaccine
Search for a missing girl who holds the key to stopping a global epidemic in Infected: The Twin Vaccine! A new breed of virus has spread throughout the City of Oxford forcing the area to be quarantined. The first reported case of the virus was found in 6 year old twin sisters Tiffany & Theresa Morrisey. Tiffany never survived the infection but Theresa made a full recovery and is now believed to be the key to finding a cure. In the chaos of a city-wide evacuation, Theresa has gone missing. You must travel back to the abandoned city of Oxford to find her before the virus spreads globally. Though be weary...you're not the only one back in town.
220+ Scenes to Navigate
New Unique Hidden Object Mode
For a more in depth experience, check out the Collector's Edition
Game System Requirements:
OS:

Windows XP/Windows Vista/Windows 7/8

CPU:

1.8 GHz

RAM:

512 MB

DirectX:

8.1

Hard Drive:

1398 MB
Game Manager System Requirements:
Browser:

Internet Explorer 7 or later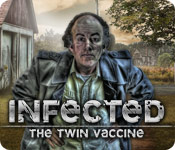 NEW299
The Big Fish Guarantee:
Quality tested and virus free.
No ads, no adware, no spyware.

Reviews at a Glance

Infected: The Twin Vaccine
0
out of
5 (
0
Reviews
Review
)
Customer Reviews
Infected: The Twin Vaccine
100
100
Had to play it straight through to the end!
I love a game that gives you customized control over difficulty settings, like glint, skip, hint recharge and sparkles. This one even gives you a variable slider for each of the above! Plus you can set the quality to suit the speed of your computer, and there are several separate sound settings, all with sliders. So far, so good. The graphics aren't bad, the sound quality is good (except for the very repetitious music#, and the live actors and voice-overs are well done. The puzzles are not overly challenging, but the HOS's are extremely interactive, which I loved. This is more of an adventure game with an HOS here and there. This game's real strength, however, is in the story. Kudos to the developer #Go gi Games) for actually writing a story, not just some sketchy outline to string people along through the puzzles. All the puzzles have to do with, and support, the story. It was so compelling I had to play right through to find out what happens. The only reason I didn't give this game five stars was because of the black-screen pauses between each and every scene. Sometimes nearly a minute long, that got a bit monotonous. I'd rather stare at the current scene until the next one is loaded than a black screen. This might not be an issue on faster computers, though. I highly recommend this one.
April 30, 2013
Fun and Fantastic!
This is a good game.I liked the storyline, it was new with fresh ideas. Music and graphics nice and the live videos in the cutscenes were great. I did find the game conuising at times, lost track of the little girl(just me?). Over all its a good game, supsensful and it kept my attention. Bought the ce and felt it worth the spend.
July 28, 2012
Try it!
Great story line and graphics.
August 11, 2012
Good Game
It was way to short and I felt they could have kept it going longer. Liked the hidden objects a lot.
August 3, 2012
Creepfest!
There is a virus loose in Oxnard, started by twin girls and one has died. Her sister, who made a full recovery, carries within her DNA the means to create a vaccine to stop a pandemic. You are a doctor trying to locate her in spite of one man threatening you with bodily harm and another man whose purpose is not clear. The second man is pretty funny, tho'. And, Bonus!, the talking fit their mouths very well. I was impressed and wish more games were this good at it. Glad I got this as a Daily Deal. This is a short game & the HOS items are very hard to see. That's the bad. The good is it was chilling and put me in mind of The Stand by Stephen King. The music fit this game to a T and added to the atmosphere of creepy. Although short in length, a fairly good game, which I did enjoy.
August 2, 2013
Weird....
I really like this theme as Im sick of the witches, haunted houses and such in most hidden object games and loved the news in the background following along with the story because it made it feel like it was a real virus attack like when swine flu or avian bird flu was all over the news a couple years ago. I loved the hidden object layout where everything you picked up helped discover something else in the scene. I also liked the pace of the game and exploring this creepy quarantined virus ridden area. HOWEVER...this game is extremely short. Im talking 3 hours max to play and the ending is there for a standard edition but in no way fulfilling in any way. I wonder if the Collectors edition had an ending that showed them making the cure or theresa being tested for the cure etc but instead it had a news reporter at the end talking as if a sequel will be coming up and there was no news on whether the virus was caught and contained. For a game where the whole thing is trying to find the girl who holds the cure and then finding her and having no resolution is really disappointing especially since we never learn what the virus was or where it stemmed from or what it did to people. BUT the thing is, I REALLY like this game. Its weird how I can be so disappointed and still love this game at the same time. Gogii were going in the right direction with this game as it was an out of the box theme but the fact it was shortened with no resolution was very disappointing. I also am baffled at the fact it was almost 1gb and so short. I guess it was the amount of cut scenes and real people around and I did enjoy the game play but since I love forensic science stuff, I really wanted to know how it was cured, what were the symptoms and other things I feel they shouldn't have left out...its like they ran out of ideas so just cut it short...bummer
December 15, 2012
Very Good storyline but way too SHORT!!
I loved the storyline, it was fresh for the HO genre. However, I found the game too short. I brought this game, started and finished it today. Hopefully there will be a part 2 or some type of continuation of the storyline.
November 24, 2012
Enjoyable game!
This was a good and worthwhile game. Positives: Very good story, which builds up in intensity towards the end. There is a dramatic finale and it was played out nicely between the characters. The game reminds me of another one called Small Town Terrors: Livingston, with the theme of a virus taking over a town. I loved the realistic graphics and artwork, which was such a nice contrast from the fanciful and sometimes chaotic artwork of other games (Elephant games comes to mind as an example). The graphics were a big plus for me. The setting is a small town called Oxford, which judging by the accents of the people takes place in the USA. There are however some scenes (buildings, objects) which made me think of Canada and I got a bit nostalgic as I am originally from there. Turns out the creaters of this game are from Canada! Cool! The music fit in perfectly with the story. HO scenes were different ? there needed to be a sequence of actions to get the desired objects, you had to think about how to use the objects together, which was fun. Had to use the hint button a few times to know what to do next, which is a good thing, don?t like for my games to be too easy! Good actors and voice-overs, well scripted. Negatives: Too few minigames and they were not challenging enough ? the main reason this game only gets 4 stars. The minigames in Livingston were far more interesting by comparison. The final chapter and the ending of the game was 5 stars for me, but I wish the rest of the game was as suspenseful. That said, I did play the game for a long while without interruption! You can?t ask for everything! The game could have been a bit longer. An extra chapter would have been just right. Conclusion: Overall 4 stars ? a fun game, you won?t be disappointed!
September 3, 2012
Excellent game, but on the short side
Visually wonderful with a great story line and terrific voice overs, this game was fun and interesting to play. There were some annoying things (some of the required uses of tools were silly), but very few games are perfect, I guess. The blank screen in between scene changes made me feel impatient and irritated with myself when I went in the wrong direction. My only real gripe is that it was so short. The game could be made better with the addition of more puzzles and/or more difficult mini-games. Most of them were exceptionally easy. But it's still one that I'll keep and play a couple more times.
August 21, 2012
Innovative HOS
Loved the HOS with the different steps and puzzles. Made the game very interesting. Also, being able to adjust the levels on hints and skips was fantastic. You are able to adjust the game to your style somewhat. Story was good. The visuals were a little blurry and dreary. Of course, the subject matter was not all light and happiness but the visuals were indistinct.
August 18, 2012
The Apple logo is a trademark of Apple Computer, Inc.