Pirates of New Horizons: Planet Buster
Embark on a swashbuckling puzzle adventure in Pirates of New Horizons: Planet Buster! Travel through the universe with the space pirate girl, Annha,as you amass your treasures! Strategically arrange planets to trigger chain-reactions and loot plenty of gold in this colorful, charming puzzler set in a world of pirates and science-fiction!
Beat 48 different stages!
Unlock 6 special weapons
Solve 18 additional challenge stages
Game System Requirements:
OS:

Windows XP/Windows Vista/Windows 7/8

CPU:

800 Mhz

RAM:

256 MB

DirectX:

7.0

Hard Drive:

51 MB
Game Manager System Requirements:
Browser:

Internet Explorer 7 or later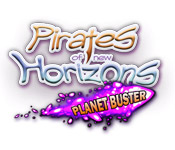 NEW299
The Big Fish Guarantee:
Quality tested and virus free.
No ads, no adware, no spyware.

Reviews at a Glance

Pirates of New Horizons: Planet Buster
0
out of
5 (
0
Reviews
Review
)
Customer Reviews
Pirates of New Horizons: Planet Buster
24
24
A good game for the kids
This is a very relaxing game. This game has good graphs and is a good game for the kids. It has the earth, sun, milky way, It is a different kink of match 3 game in that you can move a piece from the top to the bottom to make a match. Then there are challengs where you have to clear the board in one move. I would recommend this game.
July 31, 2012
Another gameplay variation
I played the demo for a half hour and intend to use it to fill my punch card for this month unless I like tomorrow's game better. It seems the challenge here is not so much to match just 3, but to use the ability to swap *any* 2 pieces to create larger matches and chain reactions. You have to score a certain number of points within the time limit, and that gets harder to do as you go along. There are also challenge levels where clearing the board with one move earns you a power-up. As always, I appreciate new gameplay variations.
July 30, 2012
fun
I guess I am just a kid at heart because I really liked this game. I thought the challenge games were very fun. My granddaughter would like this too.
August 16, 2012
Not bad at all
This is a prime example why you should demo games for yourself. It is a pirate themede game (hence the Irish jig usic) very apporopriate music for this game. You go from place to place playing the match-3 game until you get to a challenge. I found two challenges and could not find the right square to click on to make the whole thing clear the board. It was clearly a challenge! The square motifs are planets and they come with all of the appropriate sounds and are quite colorful. Yes, I do think this game will appeal to children or anyone else who likes to gather points (coins) to attain the most. I think you should try the demo without a jaded eye, however. You might just find it is not bad at all.
July 30, 2012
BETTER Than Many of Its Reviews
Here's another match game that got so many low reviews that I had to try it for myself. It doesn't deserve ALL of the bad reviews. You need to play it a bit longer to learn some of its secrets. While at first blush this M3 may SEEM like a children's game, it is not. I'm an expert M3 player owning over 60 games and playing at least several hours each day, and by Level 9 in World #1 I was bested by the clock before I was able to achieve enough points to earn the next level-which is the object of each level! Not only once, but several times! While the graphics are cartoonish and may not be top quality, this is the only game I've seen where there are moving parts in an icon (moons circling the blue planets)! Very cool but also distracting toward the goal achievement, as your eye is drawn to this motion. The colors are vivid and bright. Yes, the music IS an Irish Jig, however; I don't think John Williams would have sanctioned his Star Wars theme music for an M3 game. While not necessarily appropriate to the game theme, the music is more agreeable than many of the games out there. This is one where I did not turn the music all the way down. What IS different in this game than any other M3, is that you can physically MOVE the pieces to another location on the board (not just adjacent squares) to make the matches. As you get past the first two levels you start to get locked icons which DO require moving matching pieces TO the locked piece to gain big points, but the down side to this is that it takes more time off of your very short clock. You also get high-point icons which you need to match to gain the points, and looking for these also takes precious time off of your short clock. My best suggestion for strategy is to start by making matches near the bottom, so that the cascade effect will make more matches, hence, more points. The drawbacks to this game are: 1) that you cannot make a match until all falling tiles are in place from the prior match which causes more time off the clock, 2) the clock is VERY short, move fast, work from the bottom until the bonus icons appear, and 3) through Level 13 in World #2 there is only one mini-game, which is a match 3 where you can make only 1 move to clear the entire board. You can retry this as many times as needed or opt out of it. While it would seem to get monotonous to play this game, it is surprising that it isn't because you are trying to beat the clock. Only an android child could play this game successfully - it is definitely for adults, if you are okay with the same kind of game boards one after the other.
August 1, 2012
A Logic Game in Disguise
Having read the reviews and the category for this game, I dowloaded it just to see if it really was soooo bad. Then, surprise! It turned out to be a game of strategy and logic hampered by kiddie graphics and music and the nonsensical title and theme. But under all that is a game of cold logic in which you have limited moves and time to amass a hihgh score and thus get more "coins" for more turns. The real goal isn't match 3, that's only the engine by which you prove successful. Chaining shapes, causing avalanches and doing so with a fixed clock and number of moves gets waaay beyond child's play at higher levels. In sum, it's a good game wanabee that got lost in kindergarten. Hoping for a reissue with updated graphics sounds and action. But give it a try once you know what to expect. I got to level 10 but beyond that, who knows what you'lll find!
July 30, 2012
not bad--kinda
Based on Demo This is a twist on M3--actually it isn't a M3 per se, but can be fun-kinda The game board: Timed (4-5 min) The colours are very bright! And the orbs have a 3-D quality to them The overall map is child like drawings--don't let that fool you! can hop from one level to another once unlocked The game: you are to swap one orb for another to create as many chain reaction as you can--each match YOU make cost a coin-each chain reaction creates 1-15 coins. You need to reach a certain score to go level up- After level 3, I think, you get random bomb locks-match those & get even more coins. In between level you some times get a "challenge" clear the board in "x" moves-- like Bejeweld in a way http://www.bigfishgames.com/download-games/26/bejeweled2/index.html This game can be challenging, after the first few levels Good for final punch or really boring day Can be played by any member of the family I recommend trying the trial hour completely to get "it" & decide
July 30, 2012
:-(
It could be at nice game, BUT it isent.. its a really borring game, no ny gaming.. I save my money for this game
July 30, 2012
Recommended for children only!
It is a cute, colorful and well designed game, appropriate for children. The music is vibrant, but tiring. Extremely easy, you can even swap tiles to any part of the board, even when it makes no match 3. With a few points already exchange level. Gave up after 10 minutes.
June 20, 2012
Oh Dear!!
I beg to differ from the other reviewers. This game is definitely NOT for children, adults or any other intelligent life form. Colours, great, if you happened to have taken mind altering stuff. Music, very annoying. And these were the good bits. Come on Bigfish, this game is no where near your usual standard!!
July 30, 2012
The Apple logo is a trademark of Apple Computer, Inc.