Rite of Passage: The Perfect Show Collector's Edition
Exclusive
Solve the Mystery of Everlake in Rite of Passage: The Perfect Show! You are a teacher in Everlake, a small town recently struck by a series of unexplained child abductions. When your student goes missing, it is up to you to take up the role of a detective and save the children. On your quest you will uncover secrets, solve challenging problems and encounter enigmatic characters with unclear motives. In the town of Everlake nothing is at it seems, as the story of crime, mystery and supernatural events unfolds before your eyes. At the center of it all stands the old puppet theater and its elusive patron. The Perfect Show is coming.

This is a special Collector's Edition release full of exclusive extras you won't find in the standard version. As a bonus, Collector's Edition purchases count toward three stamps on your Monthly Game Club Punch Card!

The Collector's Edition includes:
Integrated Strategy Guide
Bonus Content
Beautiful Wallpapers
Game System Requirements:
OS:

10.8/10.7/10.6

CPU:

1.4 GHz (INTEL ONLY)

RAM:

512 MB

Hard Drive:

586 MB
Game Manager System Requirements:
Browser:

Safari 4.0 or later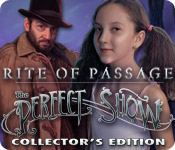 The Big Fish Guarantee:
Quality tested and virus free.
No ads, no adware, no spyware.

Reviews at a Glance

Rite of Passage: The Perfect Show Collector's Edition
0
out of
5 (
0
Reviews
Review
)
Customer Reviews
Rite of Passage: The Perfect Show Collector's Edition
159
159
TOP NOTCH FUN!!!, But Seriously-No Map? Why not 5 stars?
BASED ON COMPLETED GAME + BONUS PLAY IN Expert (2nd of 2 Modes), no sparkles, few black bar hints. SUMMARY: I agree with those who have said this game is among the best we have seen in a while. Unfortunately there are a couple of reasons to not give it top ratings. See "BEEFS" below. This game balances mildly interactive, beautiful HOS, cleverly packaged and fun mini-games, and adventure very well in the main game. GAME CONSTRUCT: STORYLINE: TRUE, the "must.... save... .the..... chil... dren....gasp..." is worn almost threadbare, but somehow the main game is fresh and engaging with the bonus chapter falling short (see below). ARTWORK/GRAPHICS: This is a beautiful game start to finish without a single throw-away scene. The whimsical fairy tale backdrop is gorgeous, rich in detail with a dash of mystery. The graphics were clear, crisp, and harmonious (?I guess that's the right word). --Lots of eye candy. JOURNAL: YES. Referenced in mini-games & tracks back story. Like some others the journal and hint icons vie for attention with the nearly constant distraction of glittering, winking, and blinking. MAP: NO. Seriously? This is a CE right? See "BEEFS" below. OBJECTIVES: YES. Accessed from icon on left by inventory bar. STRATEGY GUIDE: YES. Integrated & easy access top of screen. Used it to help with game instructions as the chalk-outline, visuals approach didn't work me me. SASSY SIDE-KICK: NO. AWARDS: NO. MORPHING OBJECTS: NO. COLLECTIBLES: YES. Masks in both main & bonus play. iHOS: Mildly interactive (move a curtain, paint an object, find wings for the angel) and beautiful scenes were put together with care and attention to detail in main game. I love when the "oil lamp" found in one scene is very different than the "oil lamp" found in a later HOS. MINI-GAMES: These were a hoot! I thoroughly enjoyed their cleverness, originality, beauty, and the way they blended seamlessly into to theme. Level of difficulty did vary but I found most to be easy. ADVENTURE: Lots to find, combine, and figure out how to use throughout the game. ------------------------------------- "BEEFS" - This is a beautiful, fun, creative game that should rate with the best. SO WHY NOT 5 STARS? **NO MAP - Not just no jump map, but no map at all. Assembling items to accomplish something required several trips to other locations. Even the beautiful surroundings could not overcome the tedious back and forth wearing out my patience and e-shoe leather. MINI-GAME INSTRUCTIONS: This one may be on me --- Instead of the traditional brief explanation - "match pairs of books" , the player gets a chalk-board with stick-figure-style outlines. For matching books we are shown outlines of a book shelf, books, and arrows. UNSATISFYING BONUS CHAPTER - This starts with promise as a continuation of the main game. Unfortunately it quickly devolves into HOS after HOS with a few plain seen-it-before mini-games and lots of hand holding which was not present in the main game. At one point it takes around 6 steps and trips to various locations in order to start a fire. sigh. MINI-GAME AT END WORST OF ALL: The ending of the bonus chapter very closely emulated "Otherworld: Spring of Shadows". -- The style and appearance where out of place and they were just un-fun. At the end of the bonus chapter, the player comes face to face with the evil one and his minions. The player must race against time locating the correct runes to throw at the enemy. Slow players like myself get our runes shuffled every few seconds. Once enough runes are tossed the enemies are vanquished with a boom - GAME OVER. -- Reminiscent of an 80s Arcade game. -------- I do highly recommend this game as for the most part it is beautiful, detailed, and high on "Fun-Factor! Just know you won't get a map or a cool ending. The SE might be a better value given the CE doesn't offer the bells & whistles many expect.
June 1, 2013
Puppet Show meets the Pied Piper!
Original ideas are rare to come by as proven by this game. Once again we have to rescue our victims, save a town and solve a mystery and deal with a puppetshow. Before I begin, I would like to comment on the subject matter of the story which I found to be a bit disturbing. Like many people who indulge in PC games, I too enjoy mystery, murder and mayham when the supernatural is involved. However when horror fiction involves little children being kidnapped by a creepy man in a playground, it really draws too much on real life especially when the vicitm's name is Amber. I just think developers should be more sensitive to topics involving missing children and creepy men in games. Moving along, the game offers two play modes and there are voice overs used as well. Story revolves around the mysterious disapearance of children, a puppet show and what I imagine an act of revenge on a town. Graphic and visuals were not as sharp and crisp as many other games I have played but I did like the artwork very much. Color was added to various scenes which is rare in dark games and overall the game had a very good look to it. There are voice overs that were very good and I especially enjoyed the musical track which was well composed and added an overall atmosphere to the gaming experience. Rites of Passage is a standard HOPA with really nothing special to offer other than a familiar storyline, inventory items to pick up and minigames to play. In other words, same ole same ole.... The HO scenes are junk-piled and are interactive. HOS graphics are not sharp but items were not too difficult to find. You have a journal that also outlines your objectives and you also need to collect 55 masks throught the game. Unfortunately there is no map and alot of backtracking is required. I thought the minigames were very well designed and corresponded to the story. They were colorful and imaginative but unfortunately were very easy to do. I wish that a little more challenge was put into this game. I really enjoyed the overall look and feel but I did find it easy to play. I expect that many Hard-core players who try the demo will not be overly enthusiastic about spending the extra pennies on the CE version especially when the bonus section is locked and the SG only shows three chapters. Personally I dont like to spend money when I dont know what the extras include. I will therefore save my pennies for a more interesting game and wait for the SE version to come out. However fans of Adventure HOGs will most likely enjoy this rather stereo type game that does hold some merit when it comes to visuals and actual gameplay. I on the other hand will go and replay the original Puppet Show series which I found to be much more entertaining.
June 7, 2012
Painfully average
It's really surprising that players are so enthusiastic about this kind of games. I've played much better games with only 3.5 stars. I can't believe this one was given 4.5 stars. It offers nothing original whatsoever. The same old HO scenes that make your brain a blur, the same old screwdrivers and crowbars... I often wonder whether the authors of these games think we are some kind of electricians or handymen. Nothing exceptional in the design or look of the game. Half way through you've already forgotten the story. It starts OK, but then they just loose it. Not below average, but nothing special either.
October 3, 2012
Not sure whether this is worth CE prices
Based of 1 hour of demo play. First impressions matter a lot to me; when I trial a CE I expect to get sucked in and not notice the hour go by. Here however I found myself drifting off on occasions and happy when my hour was up. The storyline offers a lot, and maybe playing experience improves as the game progresses. But during the demo the storyline could not make up for the graphics, grainy and dark. The game also cannot be adjusted for widescreen so the graphics are further worsened by the fact I had to peer through a letterbox to play it. Shocking in this day and age! There are 2 game modes - casual and experienced. I played in casual mode and there were not too many sparkles - good IMO. The HO scenes are painful due to the graphics. You have to find hidden masks in each scene and the little mask icon glows green when there is one to find, which kind of takes the fun out of it. There are voice overs but the characters didn't endear themselves to me at all. All in all a mediocre offering which may be worth a SE price tag but I won't be playing any further to discover if I am right.
June 7, 2012
average hidden object game
the game is fun but i think that it could have used a bit more challenges. that would have made the game more interesting
June 7, 2012
Wasn't so perfect of a show for me....
I wanted to really like this game because I usually like quirky games with carnival-type features. It was sort of slow moving and I didn't think it was much of a challenge. The HOS were not difficult at all, and the items were easy to find. I was not impressed with the overall game. It was....at most....something to do for an hour. I will not be purchasing this one. :-(
June 7, 2012
Rite of Passage: The perfect show
The first 15 minutes of play, I found the story line about missing children to be in poor taste. You also have to keep going back and forth, with different objects which is a pain. All in all not a game for me. The hos are sorta hard, and do not have much to do with the theme of the story.
June 7, 2012
Groundhog Day, etc
I have checked BF less and less over the last year, and when I do the featured game and most all the ones I missed are the SAME PLOT, I swear. Over and over and over ....lost kid, missing kid, abducted kid....car in the rain, running all over and calling it "game-play time", gates with no keys, spooks that aren't spooky, go save someone, gear puzzles, turn the rings puzzles. I really am stumped. Do they just use a cookie cutter to make these? It's just a matter of how well the game is done, like remaking Dracula for the 6000th time. This game is more of the same. I don't know who the child is in the game but they get more face time than the Geico Lizard. The graphics are blurry, the rain rains, the locks are locked, the child is abducted, you root around empty stores, empty houses, zzzzzzzzzzzzzzzzz. If you must, buy this when it's a SE. To everyone out there making games for us: I love you dearly. Now when oh when does someone think up a fresh plot that's based in creativity and really gives amazes us?
June 10, 2012
Rite of Passage: The Perfectly boring Show
Oh dear, with such awesome reviews I bought this outright without playing the demo. I find it childish and very simple, very low challenge level compared with the recent releases. I am not sure if I can finish this game............ it is realy very tedious. Sorry BFG, this is not up to the normal standard...... :(
June 18, 2012
I feel ripped off!
beat this game in less then five hours after paying $13! Not cool, at all!
June 25, 2012
The Apple logo is a trademark of Apple Computer, Inc.
The Windows logo is a trademark of Microsoft, Inc.