Amazing Adventures Riddle of the Two Knights
An ancient chessboard is unearthed and the missing pieces need to be found. A curious trail leads you from the crowded bazaars of Morocco to the snow-swept summits of the Swiss Alps. With each new piece, a strange tale of two Medieval Knights is revealed. Complete 25 missions by finding hidden items and solving unique puzzles. Good luck!
25 unique, exotic locations!
1000s of hidden objects!
Good luck on your adventure!
Game System Requirements:
OS:

10.8/10.7/10.6/10.5

CPU:

1.4 GHz (INTEL ONLY)

RAM:

512 MB

Hard Drive:

90 MB
Game Manager System Requirements:
Browser:

Safari 4.0 or later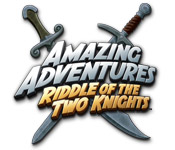 NEW299
The Big Fish Guarantee:
Quality tested and virus free.
No ads, no adware, no spyware.

Reviews at a Glance

Amazing Adventures Riddle of the Two Knights
0
out of
5 (
0
Reviews
Review
)
Customer Reviews
Amazing Adventures Riddle of the Two Knights
59
59
Great next installment!
I love the Amazing Adventure series. It's just like the "Mystery P.I." series, where you play various scenes for 25 levels of gaming. Newer HOG fans may not be impressed because this is not in the "Hidden Object ADVENTURE" game style...it is not meant to be...go back and see where hidden object games were born from, and you'll notice that the Amazing Adventure series was instrumental in getting us where we are today with the adventure playing along side the hidden object. That's NOT what this game is. It's a perfect next installment in the series and I always look forward to these games, along with others that have been around for us "old-timer" hidden object fans. I love that there's always some object #in this series, it is crowns# that you have to find in each unique scene, in order to open up the bonus mode. [NOTE: This is the Unlimited Seek & Find mode, NOT a whole new adventure to go play, like in a collector's edition of a HO Adventure game!] I highly recommend this game for fans of the Amazing Adventure series, and/or fans of traditional Hidden Object Games, who understand that it all began somewhere, and this is a game with beautiful graphics, fun puzzles and thousands of hidden objects to find. Thanks BigFish, another hit for me!!!!!
June 1, 2012
Beautiful Hidden Object Game
An excellent addition to the Amazing Adventures series. For those who love the others in the series, like me, you will enjoy this new entry as well. We travel back and forth between Morocco and Switzerland to find missing chess pieces after a mysterious chess board has been found. As always, this developer has beautiful graphics and objects that are hidden in plain sight, but can be tricky. They have changed the order of scenes and puzzles. In this game we play several hidden object scenes and then multiple puzzles to end the level. This game is for those who love straight hidden object games. There is no trying to remember which object is in what scene and no trying to figure out what to do with inventory items. I will be spending a happy weekend playing this game.
June 1, 2012
Enjoyable game
This is a straight Hidden Object game with 25 missions. Graphics are crisp. The Hidden Object scenes are not at all junk pile and the clues are a mix of standard, slightly cryptic and interactive. There are also hidden items to find that unlocks two bonus games. There are mini-games at the end of each mission. I liked this game enough that I bought it as soon as the demo finished. I had just finished mission 2, so it has the feel of being a nice, long game.
June 1, 2012
A Fun Seek And Find Game - Love It
This review is for the whole game in timed mode. 25 Missions "levels." Timed/Relaxed mode - Go into options to change to relaxed mode if you are one who doesn't like to be timed. Also has an option of unlimited hints. Hint/skip charge up really quick however. Less than 20 seconds. This is a straight HO game along with some puzzles. There is no inventory or wandering around at all to this game. HO Scenes: All items are found by word list. There is as many as 12 different locations within the "mission" and 10 items to find in each scene. You will also visit these locations more than once. Some are also interactive and some you have to do a couple of steps to complete them. There's also some "missing items" scenes where you have to fit the items back into the scene. Puzzles: Repeat the sequence, spot the difference, jig saw, slider, match 2 or more, and rotate/swap pieces to form a picture.On some of them you can get a hint or just skip them. All of them have the skip option. Points and Penalties: If you find all the crowns which there are 2 in each scene (a total of 50) will unlock unlimited seek and find along with a bonus puzzle. You also receive 150,000 points for finding all the crowns. For each item found 2000 points. A 1000+ points for items found in succession. Perfect investigation bonus: 15,000 for not using the hint and there is also a time bonus depending how well you do. You lose 5,000 points for each time you use the hint. Also lose 10,000 points for skipping any puzzles. My overall impression of the game: If you have played any of the Amazing Adventures or Mystery PI games and liked or loved them then you should this one as well. I find myself coming to these type of games when I need a break from all the "wandering around" and trying to figure stuff out. For me, while the graphics are really good for the most part, there were a couple of scenes kinda dark as a few items were in total darkness, some were really small, blended into the scene really good, and some I was looking too hard as they were right there in front of me so I did have to some hints. While I'm not a fan of the puzzles I didn't skip any of these. Not even the repeat the sequence cause I hate these but thank goodness that didn't go on for too long. The timed option I found this to be very generous in giving time to complete the missions as I was never even close to running out of time. As for game length: Well this is definitely worth $6.99. Many hours of game play here as I looked at the high scores as it will state your time. Some as long as 15 hours however for me 9 hours, 24 minutes and 31 seconds to be exact. Thanks Big Fish and developer for a great game here. I sure hope to see more of these Amazing Adventures along with Mystery PI games. As always definitely give it a whirl and decide for yourself. P.S. A note to the Big Fish since I know for a fact you read these reviews: I'm not sure why you have this game listed under "adventure" because there is no "adventure" to this game. Just a HO game with some puzzles. A smile and wink here: Is is because the name of the game has "adventure" in it? LOL!
June 2, 2012
I love the Amazing Adventures series!
Great game! Like all the other Amazing Adventures, relaxing and a pleasure to the eye. I love the clever and funny way these games hide some of the objects. Very pleased!
June 2, 2012
Relaxing Fun
I love the amazing adventure series ,nothing fancy just looking for hidden objects and simple puzzles. A wonderfully relaxing way to spend a day. The larger more complicated games are great also but every now and then you just like to get back to basics with fun relaxing game play and this game and others in this series do just that.
June 2, 2012
Love these HOGS!!
Like the other Adventure stories I thoroughly enjoyed this one!!!....The graphics were great & I like that you get bonus points at the end of each scene, even if you did have to use the hint button a couple of times.....The level of challenge was just right....Some of the crowns were hard to find as were a few of the hidden objects but not so where you wrack your brain trying to find them.....I really love these straight HOGS every once in awhile.....It gives you a break from the deep, dark games & the running back & forth.....This game was as good or maybe a little better than the other Adventure games......I highly recommend this game for the players who, like me, enjoy a good, straight HOG......Thank you BFG & the developers for another great game....
June 1, 2012
No captivating storyline however great HO scenes.
From the company that brought you amazing adventures series here's another game that for those who got hooked to the previous ones probably would like to have this one in their inventory as well. For those who played previous games in this series, we all know it's the same concept, same quality same good old playtime. For those who haven't played any game of this series, forget the story, 'cause there ain't one. The developers of this game will educate you with facts about your adventure but I prefer to just play so I skip the history lesson I won't remember it anyway I feel smart as it is. I am all about hidden objects and this game has bunch of those scenes. The graphics are well made, clear and not so difficult to find, there's a hint option, you get more points if you go through the game without using it though. You gotta find also extra objects in this game there are 2 crowns each scene. No need for a long school day for this one, It's all plain and simple to understand how to play this game. The music is repetitive but not really annoying even soothing a bit, I almost fell asleep to it! I recommend to download the demo and see how it feels. If you're into finding those illusive objects in a clutter environment high probability you will want to own this game.
June 2, 2012
I love this game!
This is a straigh HOG game, which I prefer to any of the HOG Adventure games. There's no picking up this or that to get to some other location to find something else to do something else. I hate that kind of game. This one has great graphics, don't know about the music because I always play without it, I find music a distraction when I play. I'm happy that they changed the tone when you find something, the bell in the other AA games was irritating to me. I'll definitely be playing it again. I recommend it to others.
June 6, 2012
Great Hiddeen Object game!
I love games like this. I wish they would make morre games like this instead of so many where you use objects found in order to find another huidden object session. Games such as the Amazing Adventure games, and the Myster PI games are much more fun for me because they do not require as much concentration! I own all of the Amazing Adventure games and I love them all! I hope another one comes out soon!
June 8, 2012
The Apple logo is a trademark of Apple Computer, Inc.
The Windows logo is a trademark of Microsoft, Inc.