Secrets of the Titanic 1912-2012
Join Eva and her family as they take a cruise following the same path as the ill-fated Titanic. After wearing her grandmother's necklace, Eva starts to experience flashbacks and finds herself onboard the Titanic as her beloved grandmother. Should she try to stop the titanic from colliding with the iceberg and change the course of history forever? Test your hidden-object and logic skills in this tense and exciting adventure game, Secrets of the Titanic 1912-2012!
Hundreds of hidden-objects to find
Challenging mini-games and puzzles
Play in timed or relaxed mode
Game System Requirements:
OS:

Windows XP/Windows Vista/Windows 7/8

CPU:

1.0 GHz

RAM:

256 MB

DirectX:

9.0

Hard Drive:

282 MB
Game Manager System Requirements:
Browser:

Internet Explorer 7 or later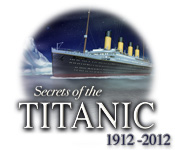 NEW299
The Big Fish Guarantee:
Quality tested and virus free.
No ads, no adware, no spyware.

Reviews at a Glance

Secrets of the Titanic 1912-2012
0
out of
5 (
0
Reviews
Review
)
Customer Reviews
Secrets of the Titanic 1912-2012
52
52
Anouther titanic game, when will they learn?
As soon as I saw it was anouther Titanic game, I just got this sinking feeling ( terrible pun intended). I havn't seen one that has been any good. This one is no better. I did like the sort of history thing, except for getting a few facts wrong it was okay, sort of. Worked Titanic: movie on tour. They had a lot of interesting facts. Anywho, I'm saving my money, not buying this game.
July 31, 2012
R.I.P. Titanic
I had a hunch we were in trouble when the game opened and I was staring at a screen with a bunch of flags and nothing to tell me what to do with them. No words to click on, no cutscene opening, nothing. I clicked on the English flag and bingo! I was in the first HO scene to be played. There was no introduction, no place to put in your name, no options, no game modes, no choices. You don't even get to use your whole screen, just a window in the middle of your screen. The graphics are colorful, bright, tiny and some items are so spot-sensitive you have to click all over the item to find the one spot that will let you pick the item up. When you finish this HO scene you get nothing for use in the future and now you are in the next HO scene. No moving from room to room on your own; you are automatically in the next scene, The dialogue, which you have to read (no voice-overs) is in white lettering on a yellow background. Who dreamt this one up? The letters are finely outlined in blue, I think, but it's not enough to make them readable. I found one puzzle, move the cars so you ccan get the yellow car out of the "garage". The story plays out as you play. At one point Eva is wondering about what her great-grandma did on her voyage and if she wore the necklace she left Eva. I picked up a handerkerchief at this point and it went into an inventory I didn't even know I had but again, no instruction on what to do with it. I wiped the mirror with it and that's when I got a cutscene that takes Eva to the Titanic back in 1912 to find the answer to her question. I would have liked to have seen how the story unfolded, but the HO scenes had become tedious by this point and I just didn't want to play anymore. I admit, I didn't play the entire demo, I got bored. I think mostly because I didn't have to hunt for the items; there was so much on the list that almost everything you saw was on the list and I really like the hunt for the items. I'm afraid this one's a no-buy for me.
July 31, 2012
no no no
bog standard ho only. no interaction. nothing to keep your attention. waste of time.
July 31, 2012
Not my cup of coffee
Never wrote a review for BF, but had to this time. This is not a game for me, after just 12 minutes I had to leave the game. Either it was just plain text/talk or straight HO's. Not a very interesting game at all. I am not easily bored, but this game did it.
July 31, 2012
This game could be better if only...
If only the game developers could take off this unnecessary frame around the HO scenes because it makes the HO smaller. If only they could also get rid of the dialog that serves no decent purpose in this game. If only the game developers would make the levels more challenging because the way it is now it's for beginners even mini-games are to simple. If only they could make the graphics look more updated to nowadays standards. I uninstalled this game after playing for few minutes, has no quality to keep my interest. This boat does not float...
July 31, 2012
ughh.. can it get any worse??
I think the theme Titanic for a game is just over exploited, all with similar storyline, always the same time machine theme, unfinished business, saving the souls and the like. It's getting tiresome and very predictable. The game graphic is fine, but the music is annoying, I think there's only 2 music in this game, every time repeated. The fact that there is no voice over in this game making it more boring that it already is. The puzzle is very basic, I hate mini games and puzzles in games so I usually skip them, but the ones on this game is really easy I can solve them very quickly. The game is a straight HOS, minute every minute is HOG scene and quite annoying too, the items are random junk and they are put everywhere on the scene, one after the other, and the real scale is weird, tiny clothes for super tiny person?, extra large popcorn? upside down clothes, dresses, bowls.. doesn't make sense. And you don't have to worry of not finding them, simply click on things randomly and most likely you have hit an item in the list. You basically click on every item until about 5 - 10 items are left on the scene. Simple as that. Plus it's hard to really grasp the emotional moment in Titanic if the character graphic is very cartoonish. In a nutshell, I think this game is meant to be passed. If you are a total HOG fan, you might give this a try, but you might want to see why the majority of the reviewers here gave this game a very low rating.
July 29, 2013
Wouldn't suggest to anyone unless a beginner!
I originally purchased this game back in Dec. 2009. I have since replayed the game. The graphics are good, The story line not spectacular. I flew through this game extremely fast the first time and then again the second time. I played the game without using any hints. I was not interested in the actual storyline, so I didn't even read what was going on. There was no real struggle finding the hidden objects. The puzzles were all really easy to solve. I feel bad for giving something 1 star, since so much work went into making this game. But, I wouldn't suggest this to anyone. Sorry, Big Fish, I normally love all your games.
November 15, 2012
Very Boring
This is a very boring storyline. To easy and not challenging at all.
July 31, 2012
The WORST Big Fish Game Ever!
This is a terrible game. I'm surprised that Big Fish has even presented such a game on their website. The graphics are clear, but rather odd (you have the game screen which has a border around it). But the most awful thing about this games is that it seems like it's just HOS. I'm not kidding. The game opens up, and you are immediately in a HOS. As soon as you complete it, you are immediately in a second HOS. Complete the second HOS, and you are immediately in a third one. I actually gave up on the game at that point, and uninstalled it forever and ever. PLEASE. Do yourself a favor and try, try, try this game before you even think of buying it. It's not even worth a sale price.
July 31, 2012
Another titanic flop
It's a HOG and not much more than that with one HOS following another. Too many of them, and they are all equally bad, all of them junk piles filled up with tiny thinggies. Just click at random and you're done. I quit after the third HOS, not even wanting to see what the announced minigames were like. I am not a HOG fan and this game won't turn me into one. Graphics are sort of clear on the whole but look nothing like the interior of the Titanic. No real storyline, no adventure whatsoever, awful music, awful intro. A total waste of time that I would not recommend even to a beginner.
July 31, 2012