Jo's Dream: Organic Coffee
Help make Jo's dreams come true in Jo's Dream: Organic Coffee! Join her in a challenging journey to build a coffee shop. Learn to make different brews, take orders and manage staff. Make customers happy by serving them fast with the correct order. Improve their mood by inviting musicians and attracting celebrities to your shop in this fabulous Time Management game!
Tons of available upgrades
19 different achievements
Addicting gameplay
Game System Requirements:
OS:

Windows XP/Windows Vista/Windows 7/8

CPU:

1.0 GHz

RAM:

1024 MB

DirectX:

9.0

Hard Drive:

168 MB
Game Manager System Requirements:
Browser:

Internet Explorer 7 or later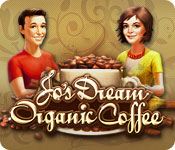 NEW299
The Big Fish Guarantee:
Quality tested and virus free.
No ads, no adware, no spyware.

Reviews at a Glance

Jo's Dream: Organic Coffee
0
out of
5 (
0
Reviews
Review
)
Customer Reviews
Jo's Dream: Organic Coffee
135
135
Could have been more challenging
As far as graphics, the game is great. However, the time management part of it just isn't that challenging. There isn't a way to get a harder challenge, and once you've finished all the smaller goals, the only goal left is to play through a set number of game days. Then, that's it- game over. I burned through this one in two evenings. Just not that challenging.
August 24, 2012
I love tm games but...
this one was awful to me. I bought this right off instead of testing it. First, because of the reviews and second, because I was wanted a new tm game so badly. Mistake! Instead of keeping the bubble telling you what the customer wants, you have to keep clicking the customer to find out what it was, if you can't remember. I don't like this feature at all. It's such an aggravation to me that I would not have bought this game on that basis. Otherwise, it operates just like any other tm game. Another note: the merchandise you are selling are small, making them harder to click on quickly. I've never written a negative review. On this one, I felt I must. That order bubble thing, for me, is a definite no go. Thank you for reading. Happy gaming! :)
August 3, 2012
Too crowded
It could have been a really good game, but there's too many recipes to remember and the place is too crowded. The workers stand in the way of the machines and you can't complete the orders properly. Very frustrating.
January 20, 2014
Not fond of this
It's a TM game where you run a coffee shop and serve customers before they lose their patience and scram. It comes in two options: relaxed and timed. I started off in Timed then switched over to Relaxed. The game is a bit hard at the beginning but not terribly bad. However, there were a few things that made me end the demo quickly. You have to click on a character to see what they order. Instead of leaving the order above their head, it disappears. So if they order multiple items, you either need to memorize it or reclick on them. When you are playing a TM game, you don't need to waste precious seconds. I can't memorize everything so I had to keep clicking. One might be doable but when there are 3 or 4 people at the bar and several at the table, I'm not going to even try. If you played Spooky Mall, you know the restocker was a waste. You did most of the work anyway because the guy walked too slow and took his sweet time. No difference here. Your basic helper is in slow motion. I would have been happy if he just stayed at the counter and clicked the on button to brew the coffee. You can't carry multiple items so if a seated couple orders 7 items, you have to walk back and forth delivering items one by one. If Mr. Slow Staffer is waiting on them then forget it.
August 1, 2012
I have to agree with the negative reviews
One in particular who said that the order bubbles, once you click on a customer to see what they want, don't stay above their heads, they disappear. So like that reviewer said, you either have to memorize what they ordered or go back and click on them again, which was a pain in the behind and wasted time. Also, hello, where is the server??? Like in other foodie TM games, there's always a server/waitress present but there wasn't one in this one, which put me off a little bit. Basically you don't feel like you're controlling an actual employee to serve the customers, you instead feel like it's just you against the computer, mindlessly clicking all over the place to complete the tasks. There's no actual waitress in this one, not one person behind the counter. And that makes me feel more like I'm playing an arcade game than a personable "your waitress is present and there to serve you" game, as in the Diner Dash and Delicious games.
August 2, 2012
JO NEEDS TO KEEP DREAMING
Wow! Click, click and click. Not very fond of this game. I love time management games but this one is bad. Haven't played a good one in awhile. Where is Flo when you need her? Well fishies I'm ready to move on to another game sight. Big Fish what has happened? There is only so many hidden objects you can find. Please more tm games or will be moving on.........
August 2, 2012
This joe is a no go!
Unfortunately, this game is not my favorite. The graphics are really good and it could have been a fun game, but all you do from start to finish is click, click, click your mouse to death, and I really can't stand doing that in a game. It is monotonous and boring and I can't see why this game has to be designed that way, like most time management games these days. It would have been more fun if it were designed as a tycoon game with strategy.
August 1, 2012
You have to do all the work!
I love TM games, Diner Dash, Cooking Dash and all their related games are my favorites, followed by the Emily Delicious games. And the Frenzy (including Rescue Frenzy) and Build a lot games. And recently Kingdom Chronicles, Legends of Atlantis, Hidden World, Monument Builders, and Gnomes Home. Oh, and not to forget, the Roads to Rome, Rescue Team, My Kingdom for the Princess, Fix it up, and Island Tribe games. This game lacks originality. The storyline is blase, get a school chum, buy a property, open a restuarant, make loads of cash. I know I've seen that one before? And playing the demo, it doesn't get you very far into the story. The story doesn't evolve, there is only the beginning, so I guess I'd have to buy the game to find out where it leads, and frankly I wasn't interested. Now if it was Emily and her soap opera life, I would bite. How come one of the choices for Storyline isn't Boring? I had to choose Poor. The game play is also a bit boring, I'm sure you've seen this before: make coffee, serve coffe, add milk, caramel. Serve croissants, ice cream. Make money, buy stuff. Stupid me, I bought the hired help... and I hate hiring some barista punk who only thought more of "Show me the money" than he did his customers, (I guess they had to add a little realism to the game). I beat him to the punch every time, served his customers and thumbed my nose at him. Though admittedly, when I did give him more money he did perform a little better, until near the end of his shift when dollar signs were apparently all he was thinking of again! So make sure he's well paid, making top dollar, making more money than you as the poor owner, it will keep him going, and he'll help out. The game is also different from most TM games. In the dash games and most resturant games, you click on Flo and she does the work, like delivering the food and cleaning the counters/tables. In this game it's all up to you to click everything and clean everything, so there would be happy customers and available seats. I can see how some would like this hands on experience, but being a mom and thankful my children aren't as demanding, it gets old fast, I hate cleaning up after anyone! So this game is not for me. The levels get harder and harder and more difficult to play pretty quick. I had at least 2 of everything cooling on the counter and constantly pressing the expresso, americano, tea and cocoa machines to keep them coming and I still had a hard time finishing the last levels of the demo. So play the demo, work hard, and see if this game suits you. For me, it was a no go.
August 7, 2012
Teeny Weeny Characters
I really enjoy TM games. Mostly all of them. This one, no. Everything is soooo small it's ridiculous. The orders that the customers want do not stay in the bubble atop their heads, so if you have quite a few customers, you need to waste time clicking them again. Some items, such as the garbage can, you need to click a few times to get it to work. I didn't enjoy this one at all. The cup of coffee was the size of 1/2 an eraser head.
January 10, 2014
Not Intersted!
Did not like this game at all! Absolutely everything failed!!! Good Parts: 2 modes; timed and relaxed. I played relaxed The only really good thing I noticed were the graphics. Really modern and lots of good designs. OK Parts: Tutorial included, but no option of skipping and dragged on for ages. Bad Parts: Gameplay was very slow and not the least bit interesting. No variation at all. The gane was not fun to play. Game was also very boring. The level of challenge. The game was too simple, really annoying. Terrible storyline. Didn't interest me at all. Overall this is about as boring as a game could get. I could go on and on about all the terrible things about this game, but you'll get the picture once you start playing.
August 1, 2012