Farm Quest
Put your Match 3 skills to the test in Farm Quest! Make matches and care for the farm animals keeping them healthy and active. Earn money to purchase upgrades. Make friends with the farm hands, like Hector the dog, and use their special abilities to fight off vermin and protect your animals in this fantastic farming adventure.
Feed the animals
Purchase farm upgrades
Play in either action or relaxed mode
Game System Requirements:
OS:

Windows XP/Windows Vista/Windows 7/8

CPU:

1.2 GHz

RAM:

512 MB

DirectX:

9.0

Hard Drive:

73 MB
Game Manager System Requirements:
Browser:

Internet Explorer 7 or later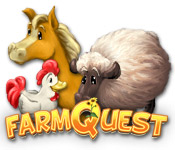 NEW299
The Big Fish Guarantee:
Quality tested and virus free.
No ads, no adware, no spyware.

Reviews at a Glance

Farm Quest
0
out of
5 (
0
Reviews
Review
)
Customer Reviews
FUN BRIGHT Match3
Based on demo--then bought! This bright fun game looks like childs game---at first. two modes: timed & relaxed funny sounds- several controls for sounds awards/achievments extras to play for bonus game click on flying sheep for extra $'s buy farm buildings with cash earned ~~~~~~~~~~~~~~~~~~~~~~~~~~~~~~~ at first I thought this would be a game for the grandkids, but after playing full demo hour, which I highly recommend, found it light, bright, entertaining, some challenge *try not to starve off the livestock you slowly earn animal bonus Dog/Cat/Rooster/Pig--that represent the different things you can use for, you also need to "clean up" the yard by M3 the gold square. All in all a fun light game with some challenge & good entertainment value.
August 6, 2012
Never a dull moment
This is one of my very favorite match 3 games. I love the graphics and love the animals and the sounds they make. I hate time management games and never buy them, but the time management aspects of the game just add to the fun and break things up. You never are penalized for being slow--the worst that can happen is a crow will eat your apple or a chick will hatch and you'll have to feed it. Can't stop playing. Useful powerups and just the right amount of challenge--never got stuck but not easy either.
October 30, 2012
Perfect for the kids!
If you've been looking for a game safe for your kids or grandkids, this is it. Fun. Cute animals. Happy farm-ish music. While it's no challenge for this old gamer, it made me smile while playing the trial version.
August 6, 2012
farm quest
Its fun to play and changlenging to play. Isn't boring,
August 6, 2012
Much Fun for Everyone!
I have never written a review before, so I hope you will all bear with me, if I don't provide what you're seeking to discover. I just had to submit this, because I found this game to be such light, bright fun and not just for kids at all. If you love animals, you'll love this game. The animals' running, eating and making extremely real sounds will delight you. Someone else mentioned that, if you don't feed the animals they will die. That is not so, as you have the option of selecting the casual game version which does exactly what I described above. The little guys wake up from sleep, run around, sniff the ground, eat the grass and walk or run off, stage left and right, probably because the grass is longer there :) I purposely read reviews for games with animals, because I would not purchase one in which it's up to you to keep the animal alive! So I thought this was important to tell people. I beta'd this game before it's release and, while I was playing, my husband walked by and said: now that's so cute, that's something I'd like to try. I have been waiting for it to come out ever since and am purchasing it immediately for both of us. I would also add that this is the first match 3 I will own and probably the last, as neither of us enjoy match 3 games. But this was so good, we had to have it. Small additional notes on the game -- I haven't played through, so I don't know how many, but there are multiple, multiple levels of play, each adding additional challenges and new characters, some of whom help you clear the board. Very bright and very fun!
August 20, 2012
LOTS to watch while you're playing!
LOVE IT !!! I love the chit chat in a game, such that this provides, and heck with the music, it can always be turned down or off (however, I sometimes get so focused on my current task(s) that I don't always hear the music). Love the commentary and the suggestions. However, I got miffed because I can't move the bones, fish or worms anywhere. It gets quite difficult to get them off the board and usable to its particular animal. HOWEVER, this game is delightful, amusing and worth my hard-earned money.
September 1, 2012
Match-3 with Time Management Elements
In timed mode, Farm Quest is a unique mix of Match-3 with Time Management "extra chores" to keep you clicking. The matches you make feed the animals, so have to keep an eye on their hearts' desires at all times. Then there are extra chores to click such as the sheep which runs across the upper screen, the apples that fall from the tree, the fox that runs through, the mole that pops up, and the eggs that will hatch if you don't click quickly enough. Oh yeah, you also need to try to collect the power-ups for the dog, cat, rooster, and pig. You're also trying to clear the yellow (dirty) tiles. As you earn $$, the things you buy give benefits or add chores. You have no choice where to locate the items -- the shadows show the items' costs/benefits. In untimed mode, it's definitely less of a Time Management challenge and more of a plain match-3. While many folks are insisting this is "just for kids", IMO it offers plenty of challenges with a bright busy combo of Match-3 and Time Management. One last point, the music is definitely an acquired taste, but fortunately there are separate sliders for music and for game sounds.
August 8, 2012
Play it Through to get the Gold
Just wanted to add my two cents in here. This is one of those games that you will not be able to get the gold until you have purchased the up grades. Once you get all the way through the game and go back to replay the levels you need gold on your up grades go with you. I actually found it kinda nice that I had to work to get the gold and wasn't just handed it every level.
August 10, 2012
not bad for a match 3
this isn't a bad game, having only played the demo. the only issue i have is that the "special" tiles can not be swapped with another tile. this makes is hard the complete a board once it is in a small area. have yet to complete a "day" any hour than a bronze. so if you are up to a challange this is for you.
August 6, 2012
Fun M3
Based on the demo, I found this game to be quite entertaining. Graphics are bright, animals cute. The music is jaunty, a bit like a country and western dance. The objective is to help a farmer tend his animals and build up his farm over a 12 week period. The demo took me a little over half-way through week 1 (playing in relaxed mode), so it looks to be a long game. Gameplay is varied. There is the swap M3. You can also right-click on groups of 3 like objects, in an L-shape, for instance, to remove them from the board. You make matches to fulfil the needs of the animals, which earns you money and to clear the gold tiles. Four animal helpers are gradually introduced, giving you different bonuses. Their power-ups need to be dropped off the board. This can be tricky, as their locations are fixed. One point to note here is that the power-ups are not stacked. For example, if you collect two of the same kind, you still only have one bonus to use. They can be carried over to the next level. Certain tiles will give you extra bonuses, e.g. a bomb. There is also a fun time management element to the game. For example, sheep appear at the top of the screen and you earn extra money clicking them. Hens will lay eggs. Clicking on the eggs will also give you more money, but if you are too slow, the eggs will hatch cute chicks. There was certainly a lot to do, considering it was just week 1! I intend to buy this game and look forward to discovering new elements as the weeks progress.
August 9, 2012
The Apple logo is a trademark of Apple Computer, Inc.