Be Richest!
A city is left in ruin at the hands of a corrupt official, and you have been called in to rebuild it in this exciting new installment of the Be Rich franchise! Build and restore homes and businesses, keep residents safe and happy, and bring the city's crooked former mayor to justice as you develop your own business empire. Find out if you have what it takes to Be Richest!
Addicting Gameplay
Fabulous Upgrades
Game System Requirements:
OS:

Windows XP/Windows Vista/Windows 7/8

CPU:

1.0 GHz

RAM:

1024 MB

DirectX:

8.0

Hard Drive:

261 MB
Game Manager System Requirements:
Browser:

Internet Explorer 7 or later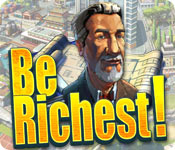 NEW299
The Big Fish Guarantee:
Quality tested and virus free.
No ads, no adware, no spyware.

Reviews at a Glance

Be Richest!
0
out of
5 (
0
Reviews
Review
)
Customer Reviews
It's Ok
I bought the game just because I am tire of the hidden object games if not for that I could have done without it.
August 4, 2012
Good game let down by horrible UI
I am a big fan of the first two games in this series and was thrilled when I saw this game today however it was overall a bit of a let down. First the good- The general game play is great. It builds on the first two games adding new features whilst keeping the general feel I know and love. The commercial buildings work differently with capacity replacing catchment area, they are now up-gradable and come in 4 categories. Each house wants to be a dream house, to do this you need to provide it with a number of amenities. It sounds convoluted but it works really well. Another new feature is the bonus goals which appear at random, these vary in degrees of difficulty and reward and can be strategically completed or ignored. Like the other two game there is an upgrade system which means there is some replayability as some of the levels are really difficult to complete with a gold medal without some upgrades. The Bad- Of the new features the only one I didn't like is the rapid click "killing" system (rat etc appears at random you have to click your mouse on it repeatedly to kill it). Featured in lots of time management games this mechanic baffles me, I find it very tedious and arbitrary and was disappointed to find it added to this game. Presumably some people like this though so that's fairly subjective. Another niggle I had was with the way the bonus goals system worked. Like the previous game the time doesn't start here until you make a move, however bonus goals will appear in this non timed part and often I found myself staring at the screen waiting for a "good" bonus goal to come up before I started playing. This is very bad game design, we paid to play the game not stare at the screen. The REALLY bad- The UI (User interface) very nearly ruined this game for me. in the previous games when you hovered over/clicked on a unit an info panel came up as well as a button to sell or upgrade. It worked perfectly. For some reason the developers have got rid of this system and replaced it with a horrible one where clickling on any part of the building upgrades it. This game is much more fast paced than the rest which lead me to make a lot of mistakes. This isn't helped by the fact that demolitions and upgrades cannot be cancelled. The game has the building cash bonuses present in earlier games and attempting to collect these further adds to the frustration.
August 4, 2012
Painful game!
Was good on the hour trial so bought it. But then there is so much clicking needed with the mouse that I had to stop playing as my arm became painful. Regret buying this and won't jump in so fast again!! Advise not to purchase as you won't be able to finish the game unless your arm is bionic!!
August 4, 2012
Disappointing
I loved the previous games so I bought this one without even trying it. Mistake. The frenetic pace means strategy element has almost disappeared. There is too much going on to plan your moves. The addition of button clicking to get rid of the pests is entirely unwelcome in my opinion. The way you upgrade by clicking on the building leads to a lot of errors during gameplay. I can't see that I will ever be able to get gold on all levels (certainly not without getting serious arm problems!) Try before you buy!
August 6, 2012
What happened?
Be Rich and Be Richer are great games. I bought this latest release based on my enjoyment of the past two titles. Unfortunately, Be Richest has abandoned the gameplay mechanics of the past in favour of becoming a left mouse "clicking-fest". Hovering my mouse pointer over a rat, thug, fire, etc and mashing the left mouse button until the threat is removed isn't much fun, especially when it makes up 50% of the gamer's experience.
August 9, 2012
Not Entertaining!!
I am a fan of the first 2 games (Be Rich and Be Richer). This, Be Richest, is terrible. Constantly clicking to build, constantly clicking to get rid of rats, thieves, and Abominable snowmen. I mean, really, you got to have like 4 clickers to get pass a board. After the first 3 boards it is almost impossible to get gold and it don't tell you how many days it will take for you to get gold, silver, or bronze. Who ever created this game needs to be fired. This game is a serious disappointment. Don't waste your time unless you love to click on your mouse consistently.
August 12, 2012
Thought it would be more challenging?
I was hoping for more. I did absolutely hate having to click on many buildings at once rapidly to rid of criminals and rats. The levels were too easy, but then again I play a lot of Time Management games. So maybe, I am beyond these basic games. If anyone knows of other TM games that are good please let me know!
August 6, 2012
Proof that I should play free trials first!
After playing Be Richest for about 45 minutes I was ready to call it quits. That was because my finger became numb after so many clicks! Really. It got to the point I left most of my houses in ruin, which lead to me not making much rental income; and along with other elements that would make my neighborhood the place to be but I couldn't afford. A four-year-old can complete the challenges. I'm glad this game only cost me $2.99 and awarded me a punch on my card and gave my finger a good workout, but if it takes this much effort to 'Be Richest'-----I'd rather be in the poor house! Good Day!
December 3, 2012
Constant clicking required very annoying
I really enjoyed Be Rich! and Be Richer! This was definitely the weakest of the 3. Graphics are good, but a new element to the gameplay requires you to constantly click the mouse -- to build faster (req'd to meet gold status), defeat random enemies, etc. Turns out you end up clicking non-stop if you want to get gold on the level, which grows pretty annoying after a while. In fact, victory on a level had less to do with skill and strategy than it did with how long your left-mouse finger could hold out constantly clicking. Even more annoying, pop up story bubbles would appear in mid-play interrupting frantic clicking and stalling gameplay. PRO: Interesting game concept and levels. CONS: Stupid constant mouse click requirement was very annoying and made me bored of playing within a fairly short time.
August 11, 2012
Too much left clicking to do.
I should have read some of the reviews by other players. The game basically is fun, however, the repeated need to click to boot out the rodents or photographers is annoying to the point where I have given up playing the game. I like games where one is challenged in building etc, however, would like a break from having to constantly be clicking the mouse to get results. It's hard on the muscles.
August 8, 2012