Be Richest!
A city is left in ruin at the hands of a corrupt official, and you have been called in to rebuild it in this exciting new installment of the Be Rich franchise! Build and restore homes and businesses, keep residents safe and happy, and bring the city's crooked former mayor to justice as you develop your own business empire. Find out if you have what it takes to Be Richest!
Addicting Gameplay
Fabulous Upgrades
Game System Requirements:
OS:

Windows XP/Windows Vista/Windows 7/8

CPU:

1.0 GHz

RAM:

1024 MB

DirectX:

8.0

Hard Drive:

261 MB
Game Manager System Requirements:
Browser:

Internet Explorer 7 or later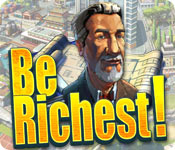 NEW299
The Big Fish Guarantee:
Quality tested and virus free.
No ads, no adware, no spyware.

Reviews at a Glance

Be Richest!
0
out of
5 (
0
Reviews
Review
)
Customer Reviews
Sick of fighting rats
This game could have a lot of potential but the rats and broken down buildings from them becomes very frustrating. Always three rats attacking three buildings at a time that you can't build as you would like to.Money is constantly going for repairs instead of gaining ground. It is a constant rat attacks.This is the second time I have played it and it is frustrating quit again and didn't finish the game.
November 19, 2014
Confusing and Difficult
I looked forward to this game after playing the first two for hours and it started off ok, like the other two then these yetis, and thieves and rats showed up and it went downhill. There was no time or chance to plan my next move, where to build roads, or what buildings or trees needed to be removed, heaven forbid you have the bulldozer out when one of these creatures popped up. I made it to about level 27 and have given up, it's just too frustrating and downright annoying.
September 25, 2013
What were you thinking?
Be Rich and Be Richer quite entertaining. Play them often. Be Richest is irritating. Get the impression they rushed it out to capitalize on the earlier games and didn't spend enough time on it.Ten mins into the trial and not sure I can be bothered. I generally like Time Management and like many others I don't like Hidden Object Games of which Big Fish has oh so too many!!. But they've gone backwards with this one. Seems they've tried to be different for the sake of it and they've gone worse not better. Graphics, music, game play are all worse than the earlier games. Annoying, as when I saw this I thought great a sequel, but it's not great. Might not finish the trial which says something as a buyer of all the earlier ones.
August 4, 2012
Disappointing 3rd version
Be Rich and Be Richer are fantastic, play them often, Be Richest is terrible. Too much clicking, confusing logic in storyline, incomplete explanation. Is there a bug in the program? Even when i upgrade a building to 3 stars and surrond it with groceries the shopping chart keeps on popping up and i can do nothing to stop it.
August 10, 2012
When a sequel goes horribly wrong
This is a horribly wrong sequel to Be Rich and Be Richer. The original was pretty good, the sequel even better, but this one is absolutely, incredibly stupid. The disasters outweigh anything good in the game play. There is no chance of planning ahead because disasters happen in droves, usually three at a time, and require multiple clicks to remediate. You have to click in a pattern, not too fast or too slow to get rid of rats or whatever. Thousands of clicks later, you have run rats out of the same six buildings countless times and the level is finally over. Take a break, because you are risking carpal tunnel injury. In fact I do not recommend the game because of the carpal tunnel risk, and the fact that the frequency of disasters absolutely spoils any fun in the game. To the plus side, the graphics are absolutely amazing. They are as wonderful as the game play is stupid. When you widen out to an aerial view of the city, you can still see exactly where you placed buildings. Incredible detail. If only the game were fun to play. I rate this game all work and no fun. I quit after 32 levels (which with replays of previous levels probably meant 150 levels played). If you are a real glutton for punishment, limit your playing time to avoid strain to your wrists.
October 20, 2012
Very bad
The worst game I ever had. - I regret that I bought this game. The strategy guide is also not really helpful. The later on actions to get the blueprints can't really worked out. For ex. the buildings want groceries or work - but there are all upgrades, shops etc. but nevertheless you thave to repair the buildings.
August 8, 2012
Buy at own risk!
I regret not heeding reviewers advice/warnings. I HATE this give with a purple passion. This game is so far removed from the first two Be Rich/Be Richer games. This Be Richest is a major let down. The graphics and story line are horrible, and you're battling rodents and vagrants by clicking non-stop. Also, you're constantly barrage with pop ups piling on to the task at hand. This game is a loser. Save your credit on something better.
December 21, 2012
Nothing like Be Rich 1 and 2
if you like to keep the mouse in your hand and keep clicking more than hundred times during a single level , then this game is for you. otherwise you will hate it. I was tired after the 4th level so i just gave up. I have played the previous 2 games and it was nothing like that.
November 15, 2012
Don't get this
I didn't mind Be Rich and Richer but frankly, this one has to go. Having to replay the levels at a later date to get gold is tiring. I like a challenge but this is ridiculous. I am so bored with clicking and the constant interruptions of rats, crime lords and yetis that I have no fun at all. You can't even look at your town to see what you need without having to stop every two seconds to deal with the vermin. I may not even finish this one and believe me, I always finish my games. Love bigfish but not this particular game.
October 1, 2012
Appalling game
Time management games, at their best, offer a chance for players to solve multiple layers of puzzles, balancing purchases, resources, and various other factors to try and create an optimal path towards the level's objectives. When done well, they can be extremely challenging, and equally rewarding. The only resource in this game is CLICKING. Furious, endless, mindless clicking. Clicking to make things go faster. Clicking to hope that the UI will get done showing pretty animations so I can upgrade a building that I desperately need in order to win. And what's worse, so much of this game is left to chance - whether a house will go up for sale or not, for example - that many levels demand multiple replays to get that perfect set of happy accidents in order to get the golden time bonus. Time management games should not be CHANCE management games. Avoid this game, and this developer.
September 17, 2012