The World`s Legends: Kashchey the Immortal
Help the young Tsarevich save his dear mother in this exciting Hidden Object game, The World's Legends: Kashchey The Immortal! The evil sorcerer, Kashchey has kidnapped the Tsaritsa and brought her to the Kingdom Beyond the Ends of the Earth. The eldest and middle sons went searching for her and since vanished without a trace. Now with his father's blessing, it is time for the youngest son to set out on his quest. If the spriit of a warrior is with him, he shall not fear his path. Only then will he be able to find his dear mother and conquer the evil-doer!
Gorgeous graphics
3 Modes of Difficulty
Ancient Russian fairy tale atmosphere
Game System Requirements:
OS:

Windows XP/Windows Vista/Windows 7/8

CPU:

1.6 GHz

RAM:

1024 MB

DirectX:

9.0

Hard Drive:

479 MB
Game Manager System Requirements:
Browser:

Internet Explorer 7 or later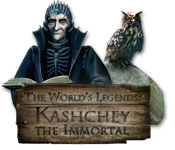 NEW299
The Big Fish Guarantee:
Quality tested and virus free.
No ads, no adware, no spyware.

Reviews at a Glance

The World`s Legends: Kashchey the Immortal
0
out of
5 (
0
Reviews
Review
)
Customer Reviews
The World`s Legends: Kashchey the Immortal
52
52
OK game, definitely not a masterpiece.
Based on the demo. The story is of a bad guy kidnapping the most beautiful woman in all Russia and lock her up in a tower. Her kids go looking for her and you're the third one that try to locate your mom. nice try attempting making me feel sorry for the lady, but not to convincing to care, I pretty much started to skip the storyline once realized it's not something that keeps me entertained. The graphics are OK, but not mesmerizing. HO scenes are clear and no problem finding objects, some of the objects need extra assembly but it's a piece of cake...the level of difficulty is easy, at least for my taste, minigames gave me a deja-vu, been playing them in other games, nothing new here. Hint recharges super fast. Music is boring and annoyingly repetitive. I would say it's an OK game, nothing out of the ordinary nothing special just your typical HO game. I would probably avoid playing it till it's on some kind of special deal doesn't worth more than that.
August 7, 2012
Send Back to the Drawing Board, Needs Improvement
I prefer to finish a game before writing a review. However, I could only play 15 minutes before I just got disgusted. Based upon Russian Fairytale. Graphics are beautifully drawn/painted. Music is relaxing and not intrusive. 3 levels of play. Hint button in advanced mode takes approximately 60 seconds to refill. HO has sparkles (even in advanced mode). HO are not cluttered and are VERY well hidden, almost to the point of ridiculousness. There is no click penalty. There is some interaction, some HO are find 12 of this, 15 of that. There are some puzzles as well. The only voice over is the intro. Inventory items are very small, ?thin? and difficult to see (the crow bar is almost invisible). Game play feels jerky, literally. Whenever something is written in your journal the game literally stops and you just look at a still life scene, you are prevented from moving forward. Could have been a wonderful game. But I don?t need the eye strain and frustration. I enjoy a well-placed HO but when done to excess is just an unpleasant experience. A no buy for me.
August 7, 2012
Old game messed up bad
Was able to do the HOB 7 times. It does count the items that go into inventory, but it gets repetitive when you have to go find the same thing in the same spot 15 times. Clicked on the alarm clock and there was only a dark shadow where something belonged. Had hard time clicking out of that one. The music is aggravating, had to shut it off. Went out into the Kings throneroom and each time I go there I am able to pick up the gloves. Inventory counts how many times I do. Wonder how many I need. This game is aggravating and I just stopped. Sorry
August 7, 2012
Just Ok
I played the full demo game which took about 35 mins. The games graphics are not spectacular but they are not to bad either. A bit of traveling back and forth through scenes looking for items in which to move forward. The HO scenes were okay but very easy. The puzzles were way to easy. The story line was okay. This game is definitely not for hard core HO players as it is way to easy. The game itself is not terrible. I have tried and played many a game that was way worse than this one. I think it could be recommended for the younger set just starting out playing HO games.
August 7, 2012
Eye Opener
This is the type of game that I needed today to keep me awake. There was a lot of walking back and forth so it is very time consuming if you play in the two difficult modes. I kept the music low key as I always do, but turned up the background sound. There were subtitles that I hate but these were not that bad at all. I loved the rabbit in the box and what came out of his mouth and what followed. Truly amazing what one small animal has inside of it. The puzzles were not that bad once you got the hang of how to do them. I wanted to see more action when you had to take on the kidnapper. That was a big let down. Most quit after the opening of the story, but I gave it a chance. I took some 2 minute breaks for a little R&R so I wouldn't become bored or frustrated. The game does need some minor adjustments and hopefully the developers know where it is needed. I recommend that all players give the game more than a 2 to ten minute chance. Game is worth playing to the end. Happy gaming all. Stay cool, stay safe and pray for rain in the drought striken areas of the U. S.
August 7, 2012
No problems at all
I was a little apprehensive when I started playing this after reading so many people had problems with it but it played perfectly for the 51 minute trial when I stopped to buy it. The graphics and artwork are very good, the story is interesting, and the game play is just enough different that it doesn't feel like a typical HOG with some interactive bits and pieces in each scene. I don't like the repetitive music and some of the items were very difficult for me to find but those were rare. All in all, a good value for a coupon purchase.
August 8, 2012
HOG
This was the worse HOG game I have ever played , 2 minutes into the game and I had to get out,they had me going back and forth and redoing the same thing over and over again , I have played well over 300 HOG games and this one was really bad.
August 7, 2012
Good overall game, but slow moving
Based on the demo - While this game is not of the quality most HOG players have come to expect, it is a good quality game. I did not have a problem finding things in the HOs although they weren't always easy to find. While you do have to go back to several HO scenes, you are asked to find different things and having to find 12 of a specific item wasn't that bad as the items were fairly easy to find. There wasn't much direction given on what to do but using the hint button gave you the direction to go and then what to look at and that was enough to proceed. It has the usual oddities expected in a HOG such as finding things like keys where you'd never find them in real life or locked stables where horses are actually in the stables, etc., but overall not a bad HOG. The story is slow moving since you spend the entire demo period just getting ready for your trip, so there doesn't seem to be any sense of urgency in the game but perhaps it picks up a bit as the game progresses. Overall, I enjoyed the demo, liked (but didn't love) the storyline and gameplay, and will be getting the full game eventually.
August 7, 2012
Awful
I generally will play and finish even the most dull and simple game but this couldn't even hold my interest for a few minutes. Plain and simply the most boring, uninteresting and dull game I have seen in a long time.
August 7, 2012
Fun relaxing game
It is definitely not a Collector's game, but is better than all the regular HO games offer lately. The grphic are good. HO are not that straining. For a free game is just right!
August 7, 2012