The World's Legends: Kashchey the Immortal
Help the young Tsarevich save his dear mother in this exciting Hidden Object game, The World's Legends: Kashchey The Immortal! The evil sorcerer, Kashchey has kidnapped the Tsaritsa and brought her to the Kingdom Beyond the Ends of the Earth. The eldest and middle sons went searching for her and since vanished without a trace. Now with his father's blessing, it is time for the youngest son to set out on his quest. If the spriit of a warrior is with him, he shall not fear his path. Only then will he be able to find his dear mother and conquer the evil-doer!
Gorgeous graphics
3 Modes of Difficulty
Ancient Russian fairy tale atmosphere
Game System Requirements:
OS:

Windows XP/Windows Vista/Windows 7/8

CPU:

1.6 GHz

RAM:

1024 MB

DirectX:

9.0

Hard Drive:

479 MB
Game Manager System Requirements:
Browser:

Internet Explorer 7 or later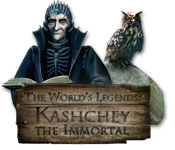 NEW299
The Big Fish Guarantee:
Quality tested and virus free.
No ads, no adware, no spyware.

Reviews at a Glance

The World's Legends: Kashchey the Immortal
0
out of
5 (
0
Reviews
Review
)
Customer Reviews
The World's Legends: Kashchey the Immortal
52
52
OK game, definitely not a masterpiece.
Based on the demo. The story is of a bad guy kidnapping the most beautiful woman in all Russia and lock her up in a tower. Her kids go looking for her and you're the third one that try to locate your mom. nice try attempting making me feel sorry for the lady, but not to convincing to care, I pretty much started to skip the storyline once realized it's not something that keeps me entertained. The graphics are OK, but not mesmerizing. HO scenes are clear and no problem finding objects, some of the objects need extra assembly but it's a piece of cake...the level of difficulty is easy, at least for my taste, minigames gave me a deja-vu, been playing them in other games, nothing new here. Hint recharges super fast. Music is boring and annoyingly repetitive. I would say it's an OK game, nothing out of the ordinary nothing special just your typical HO game. I would probably avoid playing it till it's on some kind of special deal doesn't worth more than that.
August 7, 2012
Just Ok
I played the full demo game which took about 35 mins. The games graphics are not spectacular but they are not to bad either. A bit of traveling back and forth through scenes looking for items in which to move forward. The HO scenes were okay but very easy. The puzzles were way to easy. The story line was okay. This game is definitely not for hard core HO players as it is way to easy. The game itself is not terrible. I have tried and played many a game that was way worse than this one. I think it could be recommended for the younger set just starting out playing HO games.
August 7, 2012
Fun relaxing game
It is definitely not a Collector's game, but is better than all the regular HO games offer lately. The grphic are good. HO are not that straining. For a free game is just right!
August 7, 2012
It's like Broccoli... Not your first choice but it will keep you from starving
So I must admit I have played better games, but I have also played worse. It's an old school HOG that is trying to be a new snazzy game. It has potential but lacks the Pizazz and spark of the newer games. I had a free credit that I needed to use, and I was hard up for a game (thus the broccoli reference) So, if your starving for a game, this game will keep you alive til thursday when the "good" game comes out, but it will probably not be your first choice. Hope this helps.
August 7, 2012
Pretty, but has flaws and may not be good for children.
I had to add my two cents after seeing a reviewer write that this game would be fine to play with kids. There is some animal violence that could be disturbing. Mostly just what happens in nature, but it could upset a child. It is an interesting view into a Russian folktale and the scenery is beautiful. There are a number of glaring flaws, however, that greatly detracted from the game for me. A lot of, "What the heck?" moments, misnamed hidden objects, and a bewildering ending. The biggest problem I had was with the hints. At one point, it points to a location on the screen where there is absolutely nothing to do. With perserverence, I finally found the hot spot half a screen away from the "hint" arrow. Gee, thanks for that. As for it being an adventure lover's game, there really wasn't much adventuring. You pretty much went from one hidden object scene to the next, and the scenes repeat. The puzzles were laughably easy. Overall, it felt like a really beautiful-looking but amateurish game. I did enjoy some of it and HO lovers will find lots to do.
February 6, 2014
OK for beginner.
Not sure how I missed this when it first came out, but I sure did. Not a bad little game. Graphics okay mostly, but some areas a bit odd, e.g. digging out the horse. Music gets very annoying very quickly..the same few notes all the time. Hint system isn't much help when it point up in the air and there is nowhere to go. HOGs simple but take some thought. Games very simple. Not a lot of direction and a lot of shoe leather running back and forth. Nice game for a beginner, but not for a seasoned HOG veteran. No buy for me. Thanks for the reviews.
August 30, 2012
Just OK
I found the music a little repetitive after a while and had to turn it down. The graphics and storyline were ok. As far as HO games go it was better then some but not as good as most. I did enjoy it, but would I buy it, probably not, if it was on special then, yes. In other words I wouldn't pay full price for it.
August 8, 2012
Slow . . . slow . . . slow
Lost interest exited and played the game approximatedly 3 X's. Just could not get into this game. I am a die hard HOG player, but this one is a sleeper. You have to travel and revisit the same places over and over, to locate the same items. Yep! Good music and graphics though. The storyline seemed ok, beautiful princess kidnapped and must be saved. I recommend other's play this game and decide for themselves.
September 16, 2012
ending not expected a HOG game
this game is quite short with a lot of interactive HOGs which in some not very clear with underwater and another covered with cobwebs these are difficult to find items but help charges quickly The puzzles are fairly easy with a bit of thought. I turned off music as I found it annoying The graphics were good and enjoyable to watch There is no voice over and you have to click to move to next dialog I couldnt believe I had come to the end of the game it looks as if the developers had run out of ideas how to end it and I was very dissapointed All in all worth a free game voucher but nothing else no problems in playing no glitchs linier game needing backtracking to find items at end you can play some HOGs from game again in the free games
September 14, 2012
So Disappointed
All in all this is a good game... Nice HO scenes... some glitches... story line was good... music was wonderful and relaxing. It should be less quick on clicks, missed some dialog... would have been great to see the demise and maybe a return of the brothers and to home to see the change of the "uncle's picture". I would only recomend this game for it's HO scenes.
August 29, 2012