Tesla's Tower: The Wardenclyffe Mystery
Exclusive
Save the world from an experiment gone wrong in Tesla's Tower: The Wardenclyffe Mystery! Nikola Tesla – villain or victim? It's the question everyone asks after what should have been his greatest invention drained the world of color. Tesla disappeared in the Ether that fateful day when his experiment went horribly wrong. Help him get back and bring the color back to your world!
Game System Requirements:
OS:

10.8/10.7/10.6/10.5

CPU:

1.4 GHz (INTEL ONLY)

RAM:

1024 MB

Hard Drive:

405 MB
Game Manager System Requirements:
Browser:

Safari 4.0 or later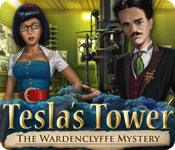 NEW299
The Big Fish Guarantee:
Quality tested and virus free.
No ads, no adware, no spyware.

Reviews at a Glance

Tesla's Tower: The Wardenclyffe Mystery
0
out of
5 (
0
Reviews
Review
)
Customer Reviews
Tesla's Tower: The Wardenclyffe Mystery
100
100
Not a game for me - too much dialogue
This is from a developer I do not know, Persha Studia & I am sorry to say I was underwhelmed. The voiceovers are endless & after 5 minutes I wanted to smack Tesla around the head & yell ?will you shut up?. There is no choice of gameplay so expect sparkles & glints, the hint recharges at around 45 seconds. The graphics are crisp & the artwork well drawn, rather bluish but that is because colour has been drained from the world. You get a journal with the story & clues, a task list & you will pick up maps; these are not interactive but do give the layout of your current area. In addition the maps have pins & if you click on one it will show you where it relates to & any pertinent information from the journal. There are not a lot of hidden object scenes; during my 40 minutes of play I encountered one, some were well hidden. There were more tasks & ranged from very easy, match pairs, match colours, put a picture together to ?I have no idea what I am doing? (trying to get the Tesla box started). Anyway this is definitely not for me simply because of the interminable dialogue even though it is skippable.
May 26, 2012
WHAT YEAR IS THIS?
Time travel to change history and right wrongs is the premise of this game. It left me totally confused: what year is it and where am I and what am I supposed to do here? Actually, except for the very end of the game, I am in the same place, just different year; 1895? 1918? 1943? present? There was entirely too much dialog to try to explain why I was at a specific place in time, what I needed to do to fix things in the future, and how that affected the world. Yet when explanations were needed, like how to read/use the map or instructions for puzzles, information was unavailable. I enjoy hearing voiceovers, and I was able to turn off the other sounds and still hear the protagonists, a real plus for a game in my opinion. However, I got really tired of hearing the high-heels of the time traveler click/clack back and forth over and over again. A very annoying sound that really got on my nerves. There weren't that many hidden object scenes and the puzzles were the same over and over again. I think this is just laziness on the part of the developers, when there are so many types of puzzles out there to choose from. There is a map, but it was also confusing and served no purpose that I could see. In the casual mode that I played, the hint and skip buttons charged pretty quickly, one of the few good things about the game. The final straw for me that made me rate this game low is the infinitesimal movements of the mouse that are needed to complete an action. For example, in one hidden object scene I was looking for a wine glass. I clicked and clicked on the only item that I could find to fit this name. I finally gave up and went looking for another wine glass. When I still came up empty, I used a hint and it sent me right back to the original item I had been clicking on in the first place. Another example was having to sew pieces of cloth together in a frame. After clicking with the thread all up and down the lines where the pieces of cloth connected, I accidentally found the right spot; at the very end, right against the frame. I could cite several other examples. Ridiculous. Even in the puzzles, the mouse was very unresponsive at times. I checked the walkthrough a few times to try to figure out what I was doing wrong, but I wasn't; the mouse just didn't want to work. Adding all of these things together, I was glad when I finally finished the game.
June 5, 2014
Not Enough Oomph
Like most of the reviews, I felt there was way too much dialog. Some said you can skip it, other said you can click through it. Either way, the amount of dialog really detracts from the game play. I found some of the mini-games (in the demo) were not really logical. I was able to solve one, not by being intelligent enough to figure it out, but just by clicking switches until the puzzle was solved. Not very exciting. Give me a real sweat-on-the brow challenge and I'm in heaven. Yes, I'm stubborn and don't give up until it's done. The lock pick puzzle was pretty unresponsive, I agree. But I did get mine to work, though it's just a question of remembering which tumbler to click next. Over all, not worth the time.
May 27, 2012
not for me
way too much dialogue, too bored with it to finish the trial, it could have been a good game if it wasn't swamped with dialogue. The one HOS game i played was tedious, The game seemed to have no challenge to it at all, even the graphics were boring. Sorry guys but i will pass on this one.
July 8, 2013
Very Well Done Game
Which I found Very Boring The story did not keep me interested The gameplay did not either and the mini games were just so/so This game is well done and plays like an Adventure game thats really the only good i can say about it.... I found it so boring i cannot recommend it....
June 27, 2013
Slow, wordy and the mini games were terrible!
This game is frustratingly slow and tedious. I don't know who was more annoying, the Tesla character or his Granddaughter. I gave up at the lock-pick mini game. The pick was completely unresponsive and wouldn't let me lift the pegs, it just kept going back to the first one. I gave this game 20 minutes I'll never get back. Total waste of time.
May 26, 2012
Too much jibber-jabber for me
I'm sorry, I blipped this one from my line-up wih 2 minutes left to go on the demo. Now, don't get me wrong - the game is well-designed and challenging; but even with the voice sound off I quickly tired of the constant pop-up chatter from Nikola. It interupts the flow of the play like too many commercials during a TV show. Without that, I would have bought the game. If you don't mind listening to the dialog or clicking through it, then I do recommend this game.
May 26, 2012
Great Game--NOT!!!
Way too much dialog. Very difficult to find the "back" button--I spent more time moving my cursor around looking for it and listening to the talking heads going on and on and on, than I did actually playing. It drove me nuts. Hated the mini games and the game is not intuitive at all. I play games for fun, not for frustration. Save your money on this one.
June 20, 2012
too much dialoge
I cannot recomend this game because I had no time to play - (in the demo) only to read dialogues. It is a pitty - because graphics - and the story and the skills are good
May 28, 2012
Tesla's Toer:The Wardenclyffe Mystery
What a horrile game!! Within 5 minutes,I hated it.The hidden object items were below mycomputer screen.I couldn't find a hint button.I culdn't find the menu button. Horrible!
May 28, 2012
The Apple logo is a trademark of Apple Computer, Inc.
The Windows logo is a trademark of Microsoft, Inc.