Grim Tales: The Wishes
Be careful what you wish for... When her young son begins to wither and age before her eyes, your sister desperately requests your help. You arrive to discover that a deadly bargain has been made. You must set things right before your nephew pays the terrible price in Grim Tales: The Wishes!
Save your nephew
Fantastic gameplay
For a more in depth experience, check out the Collector's Edition
Game System Requirements:
OS:

Windows XP/Windows Vista/Windows 7/8

CPU:

2.5 GHz

RAM:

1024 MB

DirectX:

9.0

Hard Drive:

839 MB
Game Manager System Requirements:
Browser:

Internet Explorer 7 or later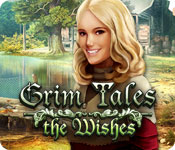 NEW299
The Big Fish Guarantee:
Quality tested and virus free.
No ads, no adware, no spyware.

Reviews at a Glance

Grim Tales: The Wishes
0
out of
5 (
0
Reviews
Review
)
Customer Reviews
Grim Tales: The Wishes
137
137
More than likely will purchase this one
Liked the game...looks like it will take a little time to finish it and can play it over changing the skill level. Worth purchasing based on the 60 minute trial.
August 9, 2012
A Litte Redundant, Still Fun
I bought this game on the quality of the previous 2 games in this series, despite some of the reviews saying it wasn't as good. While those reviews are correct--it doesn't quite live up to its predecessors, it was still fun to play! The story and game play were very similar to the other 2 Grim Tales games, however I was worried when first starting out in the game as the first memory you visit doesn't happen for quite a while in the storyline. I felt like they could have done more with that aspect of the game, as that is what drew me to the first two games. So while they included this bit of game play, and the bits they had were quite good, it didn't feel as seamless or quite as well done as it was before. The hidden object scenes were particularly notable in this game. They were clear and well drawn, and the item lists had the perfect amount of difficulty to find. With many hidden object adventure games it's easy for the HO scenes to become tedious and feel like an arbitrary obstacle. In The Wishes they were fun, engaging and fit within the outline of the story. The puzzles were mostly fun and relatively challenging, although there were too few of them. There were a few frustrating AI puzzles towards the end of the game that gave me some headaches, mainly though because of the knee jerk nausea reaction that I felt due to their Stauf-esque quality. I knew something was up trying to beat the AI in picking glowing beetles against a gecko, but it wasn't until I encountered the honeycomb shaped flower pot that I really made the connection. While all these HOG adventure games can thank Trilobyte and "Old Man Stauf" for their roots, this puzzle hit a little too close to home. Luckily the AI here wasn't nearly as unforgiving as Henry Stauf. :) The adventuring for the most part was intuitive and enjoyable, although after an hour or so it became clear that the main obstacle behind most locked doors and boxes would be an oddly shaped "key". While acceptable and even fun in most situations, after locating several of these keys and trying to remember exactly which shape went with what door, the process became rather redundant and tedious. You almost feel as though there must have been something slightly more creative the developers could have come up with as a reason I couldn't progress through this particular door at this time, rather than just throwing a swan shaped key at it and tasking me with finding it. All in all, I would recommend this game. There are better games available, but this one ranks nicely in the middle of the pack. If you played this and enjoyed it, I would definitely recommend its 2 predecessors, The Bride and The Legacy. I enjoyed this game, despite its flaws, and do not regret the time or money spent!
August 13, 2012
hidden object game
A lot of going back and forth,leave one scene ,go back two or three ,get what you need and return.
August 10, 2012
bravo!
the length was great! I get upset when I feel the progammers gave me a short story. but not so in this case. I liked the story and the way they took you into the pictures. good game! (2012)
August 12, 2012
Not as good as I expected
I've been waiting for the SE of this to come out, ever since the CE came out, but I'm a little disappointed by it. I loved Grim Tales: The Bride and Grim Tales: The Legacy, and was hoping that this game would somehow again centre around werewolves as in those games (even though the story was tied up at the end of The Legacy). Instead of werewolves though, we've got a demon preying on Brandon - the child from The Legacy. Once again you enter into the memories of the main character (Luisa in the first two instalments, Brandon in this one) and fix things that have gone wrong. Everything is pretty much the same as the first instalments, so if you enjoyed those, then you should enjoy this game - I'm just disappointed that it should go off on a different tangent from the originals. After all how much 'evil' can surround one family?
August 12, 2012
Solid SE in a solid series.
This review is based on a complete playthrough of the game. Talk about a high-maintenance family - this time it's your nephew in trouble, but don't worry, the two main characters from the previous two games get caught up and need your help too. The game took me a solid five hours on Advanced (middle difficulty). I skipped two puzzles, and used a few hints on the HOS, but most I was able to figure out. The game ends conclusively - no being cheated out of an ending. THE GOOD: They used live actors for some of the cutscenes and had good voiceovers for the most part. The graphics throughout were good (but more on that in a bit). The map - it was an interactive 'jump' map that showed you not only where things still needed to be done, but also told you what those things were: "You need to open this box" when you moused over a location. The map did NOT tell you where there were "Things to Find", only "Things to Do". No clicking penalty in the HOS - which were clear, clean, and well lit for most of the game. Puzzles: medium challenge for the most part and ones not seen all the time. They even brought in two very old board games that had you playing against the computer. THE BAD: This game really needed a journal. It follows the same basic premise/pattern of the first two, revolving around you entering 'memories', but trying to keep track of all the plots in this game wasn't easy, especially if you're like me and play these games over a couple days. Writing down my own notes would have helped me out in this game (I normally do) - I didn't because I though the map help would be sufficient. Silly me. For most of the game, the scenes were a 'realistic' drawn appearance. No junkpiles, no dark, drab corners hiding items. Then it suddenly shifts into 'photo-realistic' mode for a few HOS. This wouldn't be bad if they did it the whole game, but switching from one to the other really messes with your immersion in the game. It also had the effect of items 'popping' if you left the scene and re-entered. There was no voice acting or live actors during the 'chapter transition' dialogs. Just a plain picture of whoever was talking to you standing there. Again, something that wouldn't be so noticeable if it weren't for the higher quality elsewhere. THE UGLY: Toward the end of the game (after the 'photo-realism' scenes), the HOS turned back into junkpiles. Maybe they had to rush through to make ship date, but they were just plain ugly. BOTTOM LINE: It's a great buy for a Standard Edition - yes, it has some flaws, but it's a good five hours (for me - if you rush you'll probably get through in four) of enjoyment. If you've played the prior two games, this one will make a bit more sense, but they aren't required to understand this one.
January 30, 2014
Worth buying but it did go on a bit
This is a very good value game as you get days and days of play. The storyline is good and all the usual hogs, puzzles, good to look at, it ticks all the right boxes BUT it did go on a bit too long. So I thought, this is great of the developers to give such good value, but after a while I wanted to play something else, but I had to go to the end of course, and phew I was glad when they were all saved and I could play something else. But yes, buy it, just know yr in for the long haul with it.
December 14, 2013
Easter Egg!
I found an easter egg in this game! when you first enter the boy's closet there is an HOG in it. If you look carefully there is a 'post it note' stuck to the back wall. It is a lesson on Russia and it has NO part of the playing of the game. when you complete the HOG, it goes away and doesn't show up again. From now on, I will be checking the HOG's in all my games, just for fun. I enjoyed this game, I play easy, just to relax so slow game pace in ok with me.
October 19, 2013
Great Game
I thought this game was very thought provoking. It was pretty long, worth the money...had a good map that you could transport to areas by clicking on them. Missed the music throughout though, and unfortunately the ticking clock which played during much of the game, had a sedative effect. All in all, I enjoyed playing; had some easy puzzles and some difficult ones; story line was interesting;
April 3, 2013
Good Game
Good game, nice and long, Elephant Games does not disappoint. My only pet peeve is that a couple of chapters we're running from the house to the swamp through the house to the backyard, many many times and this is the worst I ever come across I counted 12 clicks to get there. Come on developers you're wasting our time, try a different trick to make the game longer. It's a good story, lots of places to discover, good graphics, good puzzles, right amount of HOS and mini games, it would have got a 5 but for the running for nothing reduced to 4.
January 30, 2013
The Apple logo is a trademark of Apple Computer, Inc.