Grim Tales: The Wishes
Be careful what you wish for... When her young son begins to wither and age before her eyes, your sister desperately requests your help. You arrive to discover that a deadly bargain has been made. You must set things right before your nephew pays the terrible price in Grim Tales: The Wishes!
Save your nephew
Fantastic gameplay
For a more in depth experience, check out the Collector's Edition
Game System Requirements:
OS:

Windows XP/Windows Vista/Windows 7/8

CPU:

2.5 GHz

RAM:

1024 MB

DirectX:

9.0

Hard Drive:

839 MB
Game Manager System Requirements:
Browser:

Internet Explorer 7 or later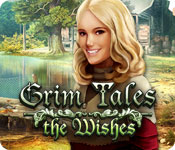 NEW299
The Big Fish Guarantee:
Quality tested and virus free.
No ads, no adware, no spyware.

Reviews at a Glance

Grim Tales: The Wishes
0
out of
5 (
0
Reviews
Review
)
Customer Reviews
Grim Tales: The Wishes
137
137
Nice Balance of Puzzles and Hidden Objects
Overall I found this game very satisfying. Both the Hint and Map functions are excellent; the map shows at a glance any objectives and locations thus far found and takes you to any of these locations with one click of the mouse, thus eleiminating a lot of pointless busy work. There was one puzzle fairly early on that I found extremely difficult compared to all the others, and another puzzle that appeared to have a bug in that it could not be reset to start over like the others. The flow of the game was quite nice and it lasted a fair amount of time, as did the bonus scene. The hint system was so good the Strategy Guide was really rather redundant. I would actually give this one 4 1/2 stars.
January 21, 2013
Challenging and fun
This is by far one of the most lengthy SE games I have played, and kept me challenged from beginning to end. The map is a MUST to stop yourself going back and forward endlessly- very happy with this game- minimum HOG scenes, challenging puzzles!
January 5, 2013
Good Story Line but...
The game was all over the place and some of the actions did not make sense to me. One minute you're in a swamp then all of a sudden, you are in Siberia. I finished the game and I liked the game. Took me about 4 hours but not without a LOT of help which was available. I hope the next Elephant game is a little "smoother" transitioning from one scene to another. I would recommend this game to people who enjoy a challenge.
November 4, 2012
Disappointment
After thoroughly enjoying the two previous titles in the Grim Tales series I was eager to try this title and even tho' it was only available in Collectors edition I went ahead and bought it. It was disappointing, as usual the graphics and sound were excellent, the story line was uninspired and the Puppet helper irritating especially in the cut scenes. I feel that the makers of this game bowed to the pressure to "make another one" too quickly maybe, and could have put a little more thought into the story line. Also I found that the Items to find were mostly either too easy or too obscure I will not be buying #4 if they make it
September 23, 2012
Different art direction from the previous games.
I adored the artwork in the last two Grim titles, but something has changed with this one. It's still a pretty game, but it's lost the opulent painted style of before. Now the Greys live in a comparatively normal upper-middle class world. I was kind of put out that they hadn't just raised their baby in another castle with a torture chamber hidden under the garden. Also, the small 3D elements don't quite mesh with the 2D environment. That cat you keep in your pocket is a prime example. I cringed every time it emerged to pluck something from a tree top. But besides that, this series still has a stronger plot and sense of how to tell a story visually than most HOG games. I'll still be hoping for more games in the series
September 1, 2012
Annoying puppet
Love the game... But the puppet sitting in lower right corner is really annoying. What`s the meaning of him moving all the time? That should not be necessary. Well, that's my opinion.
August 23, 2012
Grim Tales: I wished this game was better...
I'm a fan of the Grim Tales series, so I had to play this game. However, it felt like somewhat of a let-down for reasons I'll explain. Fun Factor: The game was somewhat fun, with interesting, varying puzzles. The game has a slight whimsical feel, which is nice but not overbearing. Nor are the dark elements in the game. The game also presents a map earlier on, which saves time backtracking between scenes (which is a big problem with a lot of HOGs). However, one irritating thing about this game is that you spend a lot of time finding medallions to objects, which seems nice at first but gets tiresome when you're looking for the 20th or so medallion. I wouldn't say I had a blast playing this game, but it wasn't awful...just average overall. Visual and Sound: Elephant Games has a reputation of having absolutely stunning artwork, and this game doesn't disappoint. Each scene is breathtakingly done, and it's worth stopping for a moment and just taking it all in. I can never find fault in the visuals. The soundtrack is limited (compared to the other games), but when you're in an area, you actually feel like you're in the area, with no loud monotonous music--sometimes you just hear nature, or a clock ticking, which is a nice change. The voice actors have crisp, clear dialogue, though some of the characters can be annoying to listen to after awhile. The only thing I could wish for her is more ambient music, but the minimalistic soundtrack is perfectly fine. Level of Challenge: The game offers standard HOGs which aren't too difficult. Puzzles vary in style, which is refreshing. The picture-jumping is memorable from the other games, and I always enjoyed it--the rewriting the past to positively effect the future. I played on the casual mode, so if I got stuck on a game, the skip button came up pretty quickly if I wanted to move on. The fault I find with the regular hint button, though, is that it won't point out what to do in a scene; it will just give a hint in text. While this can be nice, it relies on you remembering things. The other problem is that sometimes the hint will tell you to do something in a location that you haven't gone to yet, so you'll have no idea what the hint's talking about. Of course, you get no clarification until you complete the task. Also, the hints refer to the names of specific locations/scenes, so if you're not familiar with them from the map, then you have no idea what it's talking about, either. The game was challenging, but sometimes in a way that was more irritating than necessary. Storyline: The story here is really unacceptable. It starts out promising, but most of it doesn't get explained. Characters do or say things that never get resolved. The end was very quick and I felt like there could have been a more satisfying conclusion. In fact, I was confused about how many wishes the boy made, what were the exact consequences, etc. It was just very confusing and poorly done, and I got bored of it easily and focused my attention to the puzzles. Most of the game is about "saving" a character in some way. Also, the puppet that comes to life is a constant annoyance throughout the game, and I hoped he would shut up, though he never does. Overall, the puzzles were great, the HOGs were nothing special, the story was terrible, but the visuals and sounds were beautifully done as always. The game is very long, so you feel you get your money's worth just by that, but it's not a game that really wow-ed me compared to some of Elephant Games' other titles. It's worth buying, sure, but don't expect it to be a masterpiece unless you're only looking for great visuals and sound.
August 15, 2012
Good but a little frustrating
This is, like most HOGs, a game where you must search for items to complete your quest. The story is good, the graphics are crisp and sharp and you have help from the hints if you need it. I have only two complaints: First, in most HOGs if you see an item you can pick it up and take it with you for later use, in this one you have to wait until the game allows you to go back and pick it up. Second, and to me most frustrating, is the fact that you are continually running from one end of the game area to the other. Items that you need for one part of the game require you to travel through up to a dozen sections to another part of the game to get them and then go back. What puzzles there are are just hard enough to be interesting but not impossible. All in all it is a good game but very time consuming.
August 15, 2012
Not bad, but not the best
1) The Exorcist, revisited? *yawn*. 2) Was I the only one tired of running back and forth between the forest and the backyard with no shortcut? 3) Too much items to collect and too many places requiring a specific item at the same time; it is really confusing. 4) Fluffy is the only hero of this game.
August 18, 2012
Ok but not terrific
When I played the demo I thought it was fun and seeing who the developer was I normally really liked their games, but somewhere about the middle it got a bit tedious and confusing at times. However, you do get a map and this does help as there is a lot of going back and forth. The graphics are great, the storyline is fairly good, but sometimes the next thing to do didn't make sense. Even with the map there is a lot of remembering to do, so I found myself jumping back and forth a lot trying to get to the right place on the map to take the next step. The puzzles were challenging, but not to hard. Overall an OK game, but towards the middle I found myself wanting to quit because it was to much back and forth for me.
August 12, 2012
The Apple logo is a trademark of Apple Computer, Inc.