Suburban Mysteries: The Labyrinth of the Past
Follow the kidnapper's clues, and bring Sarah's brother back to safety in Suburban Mysteries: The Labyrinth of the Past! When arriving at her aunt's house, Sarah discovers a strange and disturbing letter. After discerning that her brother's life is in danger, she must embark on a journey taking her back through her own past if she is to see her brother again.
Solve the mystery before it's too late
Fantastic live action video
Hundreds of hidden objects to discover
Game System Requirements:
OS:

Windows XP/Windows Vista/Windows 7/8

CPU:

1.6 GHz

RAM:

512 MB

DirectX:

9.0

Hard Drive:

942 MB
Game Manager System Requirements:
Browser:

Internet Explorer 7 or later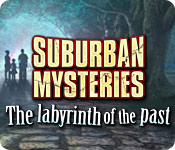 NEW299
The Big Fish Guarantee:
Quality tested and virus free.
No ads, no adware, no spyware.

Reviews at a Glance

Suburban Mysteries: The Labyrinth of the Past
0
out of
5 (
0
Reviews
Review
)
Customer Reviews
Suburban Mysteries: The Labyrinth of the Past
70
70
A few too many HOS
I liked this game, I enjoyed the storyline and I liked the mix of live action video with the computer graphics. One thing I did find annoying was that there were so many HOS! Being an adventure story, with puzzle elements to solve, the HOS just slowed things down. Another thing I found annoying was that even when you had finished a HOS, that area was still clickable, so it made you think that there was still something to be done there. Once there was an item I hadn't picked up, but other times, there was nothing to be done there, which can become rather frustrating. I will probably buy this game, but only with a free credit or on a DD - I don't think it's worth paying full price for.
September 3, 2012
A solid B-. Very good graphics, great live action, good play.
Like several other reviewers, I'm a bit baffled by the low reviews. This is a good, solid game with some stellar qualities and some faults. I've played the demo through, and it's entertaining and attractive. It's not a blockbuster, but nor it is shoddy. It's well crafted, from the acting and graphic direction to the puzzles. Are there things I would change? Yes. Most annoying to me: the game splits rather suddenly between live action scenes starring a very attractive young lady and animation scenes featuring a character who has only a passing resemblance to said actress. I find this annoys me a lot. Their eyes are different colors, one wears jeans and one khakis, and one is more- um- endowed than the other. The animated heroine also seems to me to be inappropriately sexualized. Both live action and animation are pretty well done, but they don't jibe very well. It seems that perhaps they started with the animation bits, and then tried to find an actress who kinda sorta looked like her. The direction of the actions scenes is inventive and interesting, and that makes a game more pleasurable to me. But the story is a little spotty. Intriguing and suspenseful, but a bit thin. It may be clear in the developer's head, but I'm given no idea whether the heroine is scared, is angry, knows what's going on, or is as lost as I am. Let me into the character and the story! Good HOS with few of what I call "cheats"= items "hidden" by simply making them teeny tiny or black against black.
October 24, 2013
Different kind of hidden object game.
This is the weirdest game I have played for some time. The HOS were fairly easy, but you have to find things in them which aren't listed. On casual mode, there are no sparkles to tell you what to do, so you have to look all over the place, I bought the game because it was new and it's more of a challenge than the average HOG. I would class this as an adventure game in the highest sense. Graphics are good (quite photographic) and the voice overs are good too. Skip available. Music not too bad either. The way this game is built is so unreal, unlike any game I have ever come across. I am only in the very early stages of it and I can foresee many players getting 'stuck'. This game is an experience. When I quit the game , my desktop icons were outlined in blue!
October 23, 2013
Overall a good game.
I liked a lot about this game. The story was intriguing, engaging, and creepy--all without being based on demons or the occult, which is a plus for me. The opening was fantastic and the cut scenes are a mix of live actor and comic book drawings, which I thought was interesting. There are three game modes, and thank goodness I chose the easiest one, because I almost wore out the hint button (which charges quickly). This was one of those games where it just didn't click for me what I was supposed to do next, so I kept taking hints so I would know where to go or what to do. More expert gamers will likely not have that problem. There is a good mix of tasks, mini-game, and HOS, but I found the HOS a little frustrating. The artwork is gorgeous, but some of the items are so blended into other items or the background that it is almost impossible to find them, so after a few of them, it became a little tedious. That said, another interesting feature of this game is that I sometimes had to return to a completed HOS to find a single item that I needed to complete a task much later in the game. The live action sequences aren't always convincing, but that's a small thing. I started with the preview and bought it right away because I was so interested to see how it ended. Overall, a good game.
August 11, 2012
Was just OK.
As usual, no problem with wide screen. Why do these devs want to combine real people with cartoons? Do one or the other, but not both! Really takes away from the whole graphic concept. Didn't care for that at all. Also didn't care for the need to find another item when you didn't even know you needed to find something. You waste a lot of time clicking aroudn trying to see if you need anything more in the scene. Someone really has a syringe fixation. Every HOG you need to find something to do with a syringe. Otherwise, graphics aren't bad. Hint system not bad. Nice sound effects, game play good. Just didn't get into this one either. Started out good, but constantly clicking to find "something" else took away the fun. I like the games that actually tell you to find another item in the HOG. Couple of fixes and this would be a very nice SE. Have to put this one in my puddle for awhile. Not sure I want it right now, but will hold on to it anyway. Thanks for the reviews.
August 11, 2012
Just OK
This was not as good a game as I had hoped. The graphics, especially on the HOG, were very 2 dimensional and not at all as sophisticated as many of the new games out there. The game went from one HOG to another very quickly with not much inbetween. Great game for the beginner.
August 12, 2012
You would think they would spell the title right!
Put off when the title screen appears and labyrinth is spelt incorrectly- more mistakes followed... Live action suddenly changes to cartoon and back again- why? This distracted from the storyline a lot. A bit too many HOS to really progress the game Never did find out what was on the CD as the game bypassed that bit and took me to the house without completing phase 1 - bit odd! In two minds about the game - bit the misspelt items, the live/cartoony bits and the still live HOS screens after completion just threw it over into the no buy decision.
August 12, 2012
looked promising
this game looked like it would be good but cartoon like dialogue made an otherwise serious/spooky atmosphere seem silly only got through about 30 minutes lost interest but on up side premise of hospital experiments was good idea. HOS not difficult.
August 11, 2012
Got through it, but kind of annoying
Hi gamers, I didn't like this game too much. I played on the most difficult setting but had to re-start at middle. The obvious choices, say finding keys, would show up on a HO but they weren't the right keys? Stuff like that made it hard to get past with no clues. The "real" footage was totally annoying, some girl making the same rolling eye face over and over...yikes. Definately not one of my fav games. If you're looking for a good one, I recommend not getting this one.
September 17, 2012
Not for me!
Really didn't like this one. Had a hard time figuring out what I was supposed to do. Had to keep using the hint. Very creepy--so if you like those type of games, you may enjoy it. HO parts were okay, but the rest was difficult to follow.
August 12, 2012
The Apple logo is a trademark of Apple Computer, Inc.