Arizona Rose and the Pirates' Riddles
Decipher the clever codes of Blackbeard's treasure maps in Arizona Rose and the Pirates' Riddles. While shopping for exotic antiques, Arizona stumbles across the lost maps of an infamous pirate's hidden treasure. Join Arizona on her epic treasure-hunting quest with 200 levels and fortunes waiting to be discovered. There's always one more puzzle to solve, one more cave or shipwreck to explore and one more treasure to take home at the end!
Over 200 levels
15 achievements to unlock
Clever mini-games and hidden object scenes
Game System Requirements:
OS:

10.8/10.7/10.6/10.5

CPU:

1.6 GHz (INTEL ONLY)

RAM:

512 MB

Hard Drive:

85 MB
Game Manager System Requirements:
Browser:

Safari 4.0 or later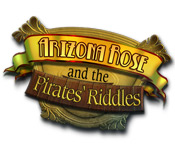 NEW299
The Big Fish Guarantee:
Quality tested and virus free.
No ads, no adware, no spyware.

Reviews at a Glance

Arizona Rose and the Pirates' Riddles
0
out of
5 (
0
Reviews
Review
)
Customer Reviews
Arizona Rose and the Pirates' Riddles
49
49
Almost a 5 star, but breaks a cardinal rule ... sadly
I love picross games. While playing this one, I found the layout, color scheme, and controls to be really well thought out. And fun to play to boot. There are a few HOG games inserted in here, I guess to appeal to that genre too. I would have preferred to have strictly picross gameplay, but the HOG games are short and easily done. So as I was playing, I was gearing up to give this a 5-star review for a well made game, but then discovered they broke one of the cardinal rules of a picross game: puzzles that you have to guess to complete. Totally disappointing and heartbreaking. Now I know what the veteran picross players are thinking "yeah sure, you just didn't apply the right logic". But no, this I discovered when solving a puzzle down to only a few squares left. It required pure guesswork to solve, or using one of the hints. No way that pure deduction could solve the 4 squares I had left. So to sum up, Pros: - Great controls, graphics, and color scheme - Story applied to a picross game is somewhat interesting Cons: - Have to guess to solve some of the puzzles. Unforgivable! - HOG games mixed in, but that's more of a personal preference than a fault. Still would recommend.
July 5, 2012
Great picross game!
This is the best nonogram or picross game I ever played. It has grids starting from 5x5 in easy mode for those that are not familiar with this games, and from 10x10 in hard mode, and the difficulty increases to 25x25. Beside nonogram levels there are also hidden object scenes, inlay puzzles and one more I don't know how to call. The story is very well blended into the game. Art is very good. I bought it after demoing it and don't regret. There are also achievements, power ups and hints (you don't need to use them, but it's great to have them when you get stuck).
July 5, 2012
Almost a great game!
KUDOS! For one really fantastic feature found in no other picross game I've tried: If you exit in the middle of a puzzle, it saves your progress!! This is super, especially on the harder puzzles. One of the gripes I have with the World Mosaics/World Riddles is that some of the puzzles are truly difficult, but you cannot save your progress for another session. I've been playing the game for a couple of weeks, as I bought it on release day elsewhere. So, alas, I also have some rotten tomatoes to hurl... For one thing, there are ambiguities in these puzzles. In other words, you can find spots where two solutions are equally possible and correct. So you either guess at it or use a hint. I've never found ambiguities in the other series. Secondly, when you clear blank tiles, they simply vanish, leaving the background showing through. On some of the puzzles, it is VERY difficult to tell where tiles are gone, still undetermined, or positively id'd. They really need to change that. Many reviewers at other sites have complained about the same thing, and I hope they will release an updated version with opaque and plain background that makes it easy to see where you are. I like the art, the music (very relaxing), and the picross puzzles, except as noted above. It's a nice long game, too. The story is okay, but in this type of game, I can take it or leave it. The puzzles are the thing! I guess they wanted to offer some variety, so there are a few HO scenes, which I wish had a skip button. There are also some mosaic inlay type puzzles that get harder as you go. I don't like these in the first place, and you cannot skip them. I got stuck on one, and no matter how hard I tried, couldn't finish it in time. I thought I was stuck forever. After about 6 tries, I finally finished, but I don't want to see the next one! Those REALLY need a skip button. I wish developers would understand that if you like the main puzzle genre, you may not like the others, or may not be good at them, and it kills the game for you if you HAVE to play them to progress. I almost canned the game because of the mosaic puzzles. It's our game, we bought it for our pleasure, and we should be able to play it the way we want to - not the way the developer thinks it ought to be played!
July 5, 2012
WORLD MOSAICS LOVERS TAKE NOTE
Many people compare this game to Gemsweeper; THIS game is FAR BETTER than that game because you don't have an idiot professor popping up making stupid comments AND this game's got a storyline and it sticks to it. This game is more like the World Mosaics games but with a TWIST -- if you use the hook to open empty spaces before and after placing the tiles, you could end up picking up rocks which in turn knocks into the treasure chest; too many rocks damaging the treasure chest means smashing said chest and having to start the level over again. So what do you do? PAY ATTENTION and REMEMBER where there are empty spaces WITHOUT making them empty and to be honest, I found it fairly easy to do. As a matter of fact, I found it easier to do each nonogram than to do the inlay puzzles and the mosaic-type puzzles which can be skipped. Besides having 4 hints (which rarely refills) you've got 5 power-ups (which do refill) which are: Sword -- CAN use to show empty spaces WITHOUT picking up rocks Medallion -- randomly places tiles Map -- will either SAFELY clear empty spaces or fill in tiles 4x4 Skull -- will fill in tiles horizontally Pouch -- will fill in tiles vertically Actually you might have 6 power-ups because I don't think it was a pouch that filled in the tiles vertically. The one thing that I found was your computer cursor (I did have the game's cursor for a while but then it reverted to the computer one and I could find no way to switch it back to the game's) BE CAREFUL when picking up board tokens -- seahorse, starfish, etc. which are rewards for placing so many tiles correctly; said tokens have to be picked up either with the hand (which means you're placing a tile) or with the hook (which will SAFELY -- no rocks -- clear empty tiles). I say be careful because several times I THOUGHT that I'd switched to the hook -- never used it for any other purpose -- but hadn't clicked hard enough and my cursor didn't switch and I lost the token. Using the computer cursor does not allow it to visually change to hand nor hook. There are 11 stages with 20 levels in each starting with 10x10 (I think) and ending with 25x25. I usually started with the highest number possible and if I made too many mistakes EARLY enough in the level, I would click the Menu bar and then click restart level and correctly place the tiles and continue; long game.
July 24, 2012
interesting game
I did not have high hopes for Arizona Rose when the game began, but it grew on me as it continued. THis is a combination of HOG, tangrams and fill in the spaces ala World Mosaics. Given ( that to me at least ) the last couple of WM games have been so-so, I found that part of this game to be compelling. The hidden object sections are very easy to complete, the tangram segments are not a favorite of mine so I used the skip on them. Were this game ever offered as a DD, I would buy it for the smaller price. I think this game will greatly appeal to the novice HOGger and the folks who are also new to the Mosaic type game. Grading Arizona on a one to ten scale, I give it a 6.
July 5, 2012
Pirates Win!
Had to stop playing the demo so I could buy the game. So far, very enjoyable opening. Combination HO and puzzle. If you already know how to work the puzzles, I would suggest skipping the tutorial as soon as possible. It's just too much hand-holding. Other than that I think it's going to be a fun game.
July 5, 2012
Fun From the Get Go - I LOVE THIS GAME!
This is the first Picross I have come across and now I am hooked. The trouble is, of the few I have found, none of them are on a par with this one. The game is very polished, with crisp, bright graphics and a Nautical theme. There are mini-games and picture based HOS between levels. The music is upbeat and fits with the action, but I keep it turned down as after a while it is distracting. Examples of awards for successful completion of a level include a map that uncovers a 3x3 section of the tiles, a skull that uncovers a column of tiles, an eye that uncovers a row of tiles, and other similar goodies. These come in handy although I prefer the added challenge of flying solo - no hints, no help. The texture and color of the tiles is lush and vibrant - A little reminiscent of the shag rugs so popular in the 70s. The images revealed by completing a screen are clever and creative. As already pointed out, the game saves the last state so the player can safely exit the game completely, then pick up where game play left off.
March 12, 2013
splendiferous!
whilst shopping for exotic antiques in Guatemala for a wealthy client, you stumble across Blackbeard's lost maps that will lead you to a hidden treasure. In this hidden object puzzle adventure, you are Arizona and you are using logic to uncover Blackbeard?s hidden treasure. graphics: lovely pictures; detailed, colourful and crisp. hidden objects are visible and relatively easy to find -- nothing that requires a magnifying glass to find! instead of a search list, you have silhouettes of the items you must find. but the puzzles are what got me hooked: most of the puzzles are picross games, consisting of a 5x5 (10x10 and later 25x25) grids of tiles that you must uncover or break -- if you correctly choose which action to take, you win! music and sound effects: i enjoyed the background music, very nice! storyline: average, but storytelling is not this game's strong suit. gameplay: there are two modes: casual and advanced. casual starts with a tutorial and a few easy picross puzzles before ramping up to the really challenging ones. advanced starts without any tutorial and the picross puzzles are challenging from the very first one. each level starts with a hidden object scene and ends with picross puzzles. some puzzles can be skipped. hints are provided, achievements and powerups are awarded. the game loads quickly, no hesitations or freezes. my interaction: one hour demo. i purchased this game. this is the first game like this i've played, but i was hooked almost immediately. it's a treasure hunt and there are so many levels to play that this game has a lot of replay value. good fun for the entire family!
August 19, 2012
Great for logic game lovers
This game, like Gemsweeper, World Riddles, and World Mosaics, is a great diversion from the normal HOPA! I love these "pic-a-pix" type games, and in my opinion, Arizona Rose and the Pirates Riddles is the best of this type of game offered by Big Fish!
July 5, 2012
Lots of Fun
I bought this game. I really like the puzzles, and there aren't a lot of this type out there. Plus some hidden object scenes.
July 5, 2012
The Apple logo is a trademark of Apple Computer, Inc.
The Windows logo is a trademark of Microsoft, Inc.