Arizona Rose and the Pirates' Riddles
Decipher the clever codes of Blackbeard's treasure maps in Arizona Rose and the Pirates' Riddles. While shopping for exotic antiques, Arizona stumbles across the lost maps of an infamous pirate's hidden treasure. Join Arizona on her epic treasure-hunting quest with 200 levels and fortunes waiting to be discovered. There's always one more puzzle to solve, one more cave or shipwreck to explore and one more treasure to take home at the end!
Over 200 levels
15 achievements to unlock
Clever mini-games and hidden object scenes
Game System Requirements:
OS:

10.8/10.7/10.6/10.5

CPU:

1.6 GHz (INTEL ONLY)

RAM:

512 MB

Hard Drive:

85 MB
Game Manager System Requirements:
Browser:

Safari 4.0 or later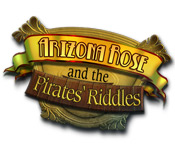 NEW299
The Big Fish Guarantee:
Quality tested and virus free.
No ads, no adware, no spyware.

Reviews at a Glance

Arizona Rose and the Pirates' Riddles
0
out of
5 (
0
Reviews
Review
)
Customer Reviews
Arizona Rose and the Pirates' Riddles
73
73
I want more
I loved the game and have played it at least a dozen times. I love these type of games and this one is just enough to drive you nuts. Some you can get through with no mistakes and some that even you know what it is, you can't get throug it without a mistake. We need more games like this.
October 12, 2012
Endless hours of play and keeps my brain challenged
I'd never heard of a picross game, so I was intrigued and downloaded the trial. I was immediately hooked and haven't been able to stop playing. The object of the game is to click and turn over tiles in rows and columns according to the numbers that show how many tiles need to be flipped. The tutorial levels are excellent for showing you the ropes if you've never played a picross game before, but you can skip them if you want to get right to the meat of the game. I was really grateful for being able to skip the tutorial levels after I'd gone through the game once and wanted to play again in Expert mode. As you advance through the levels you encounter small hidden object scenes that are pretty easy, and Tetris-like puzzles where you have to fit the dropping objects into a larger grid before time runs out. You gradually collect a few hint features you can use, such as being able to clear one row or column, clear five random tiles, or clear a block of nine tiles. The first time I played the game I found myself using a hint with many screens--but that takes away a lot of the challenge and makes for a lazy brain! Now that I'm going through it again, I'm forcing myself not to use hints and it's much more fun. Even though it's slower going, the reward of thinking the puzzle through is so much greater when you don't use hints to complete it. My husband, a fan of Solitaire and simple HOGs, absolutely LOVES this game. He keeps telling me how much he likes having his mind challenged this way because it keeps him sharp. And it keeps him BUSY, so I love the game, too! :-) Download the trial and give it a go. It's a challenging game with a nice mix of picross, HOGs, and puzzles, with excellent replayability. I enjoyed this game so much that I went on Facebook and "liked" the designer's page so I could ask them to create a sequel or more games like it!
October 5, 2012
Best Puzzle Game Ever
Played the entire game twice after buying it immediately finishing the 1 hour trial. A lot like Gemsweeper and World Mosaics but way better graphics, music, puzzles and game play-much more modern. Perfect selection of power ups! Excellent flow of easy to medium to hard puzzles and so many of them-it's great. When I play my husband whistles to the music always-so very catchy tune. Hours of fun game play-definitely worth every penny, so addictive I have to wait until I have a week free to play again otherwise I'll never get anything done. Hope for a second one of these and 3rd and 4th, the sooner the better please.
October 5, 2012
Almost a great game!
KUDOS! For one really fantastic feature found in no other picross game I've tried: If you exit in the middle of a puzzle, it saves your progress!! This is super, especially on the harder puzzles. One of the gripes I have with the World Mosaics/World Riddles is that some of the puzzles are truly difficult, but you cannot save your progress for another session. I've been playing the game for a couple of weeks, as I bought it on release day elsewhere. So, alas, I also have some rotten tomatoes to hurl... For one thing, there are ambiguities in these puzzles. In other words, you can find spots where two solutions are equally possible and correct. So you either guess at it or use a hint. I've never found ambiguities in the other series. Secondly, when you clear blank tiles, they simply vanish, leaving the background showing through. On some of the puzzles, it is VERY difficult to tell where tiles are gone, still undetermined, or positively id'd. They really need to change that. Many reviewers at other sites have complained about the same thing, and I hope they will release an updated version with opaque and plain background that makes it easy to see where you are. I like the art, the music (very relaxing), and the picross puzzles, except as noted above. It's a nice long game, too. The story is okay, but in this type of game, I can take it or leave it. The puzzles are the thing! I guess they wanted to offer some variety, so there are a few HO scenes, which I wish had a skip button. There are also some mosaic inlay type puzzles that get harder as you go. I don't like these in the first place, and you cannot skip them. I got stuck on one, and no matter how hard I tried, couldn't finish it in time. I thought I was stuck forever. After about 6 tries, I finally finished, but I don't want to see the next one! Those REALLY need a skip button. I wish developers would understand that if you like the main puzzle genre, you may not like the others, or may not be good at them, and it kills the game for you if you HAVE to play them to progress. I almost canned the game because of the mosaic puzzles. It's our game, we bought it for our pleasure, and we should be able to play it the way we want to - not the way the developer thinks it ought to be played!
July 5, 2012
Ahoy my picross hearty's!
This game is billed as a mix of genre's between a HO and a picross game. In reality its main focus is that of a picross game. The HO scenes are fairly easy if you are a seasoned HO player (even if you aren't they are not that difficult),the graphics are ok, but the main focus of the game was that of picross grids. If you are new to this genre then there is a tutorial which will take you through the basic premise of the game (if like me you have played this type of game before but need a 'brush-up' then I would also recommend the casual mode to start off with). Other reviewers have stated that some of puzzle solving was down to 'guess-work', I am not sure about this as if you followed the puzzles logically and deleted the blank as well as filled in the ones that needed to be filled in then I didn't have guess work, maybe it is just how you methodically went through the puzzles. There were other mini puzzles interspersed in the game as well, one was a 'tangram' style of game. Overall this was a good solid game and surprisingly for this genre the storyline was relatively good (considering the genre), the music and soundbytes were usual for this genre. Overall I would recommend this game if you are a fan of puzzle games, if you have never tried this style of puzzle or if in the past you have found them too difficult then I would defiantly give this one a go.
June 29, 2013
An interesting treatment of the nonogram/picross genre
This is a game based around a type of logic puzzle called nonograms/picross. It utilizes a similar type of thinking to what you'd use for Sudoku.Try the demo to see if you like them, because almost the entire game involves solving these puzzles. There are also a few hidden object scenes where you get a list of images to look for and a couple of different types of puzzles where you try to fit pieces into a specific shape. There aren't a lot of these, but they do break up the nonograms nicely. Another nice addition is "powers" that you can use to help solve the puzzles. Some reveal a selected row or column while others randomly reveal tiles that are empty or occupied. I would have appreciated these except that the puzzles are all so easy that none of them are that much of a help. Most of the biggest 25x25 puzzles could be solved in under 5 minutes. In comparison, the 20x20 puzzles from another nonogram game I play typically take 10-15 minutes to solve. Overall this is a very welcome and refreshing treatment of this puzzle genre.
August 19, 2012
Very Nice Pic-Cross
A fun pic-cross game along the lines of World Mosaics, etc. Some HOS are thrown in along the way. They are a great idea, adding a bit extra to the game. However, they're very very dark and the objects are very small. There are also mini games to solve in each chapter. The pic-cross puzzles themselves are nicely done, easy to see. 2 modes of difficulty. Great game.
February 7, 2014
Fun to Play but nothing special
I wasn't expecting a nonogram game when I started this but it was enjoyable to play for the hour-long demo. It would have been extremely repetitive for me to have played the entire game. The HOG is by matching pictures and I thought the scenes were much too small.
July 9, 2012
Very, very good game
I think this is one of the best "paint by numbers" games out there. My main complaint is, as other reviewers have noted, that the dark backgrounds can sometimes make it very difficult to tell the difference between a cleared space and a dark-colored filled square. That has led me to make errors a few times, so I hope the developer will note these complaints and tweak the backgrounds/tiles to create more contrast. Aside from that, this is a really well-designed game. The puzzles start out very simple 5x5 and work up to pretty difficult 25x25. The graphic quality, with the exception of the contrast issue already noted, is excellent. The minigames are kind of fun--you gain powerups by completing hidden-object and mosaic puzzles. There are a LOT of levels, so replay value is high; I'm currently on my third play through of the game.
August 18, 2012
Something Different
This game is a real thinker. There isn't as much hidden object game as many other mixed category games. The main block-breaking game reminds me a lot of mine-sweeper and I have always liked that game. I think this game is a good combo type game.
August 23, 2012
The Apple logo is a trademark of Apple Computer, Inc.
The Windows logo is a trademark of Microsoft, Inc.