The Agency of Anomalies: The Last Performance Collector's Edition
Exclusive
Take on the task of exposing a secret brotherhood called The Seekers and save the performers of the theatre who became the brotherhood's victims in The Agency of Anomalies: The Last Performance. As an agent of The Agency of Anomalies, help the performers restore their human form, return their paranormal powers and find out what happened to the theatre's founder Patrizia Edelshtain.

This is a special Collector's Edition release full of exclusive extras you won't find in the standard version. As a bonus, Collector's Edition purchases count toward three stamps on your Monthly Game Club Punch Card!

The Collector's Edition includes:
Bonus gameplay
Achievements
Collectable Items
Replayable Mini-games
Sketches
Game System Requirements:
OS:

Windows XP/Windows Vista/Windows 7

CPU:

1.0 GHz

RAM:

1024 MB

DirectX:

9.0

Hard Drive:

557 MB
Game Manager System Requirements:
Browser:

Internet Explorer 7 or later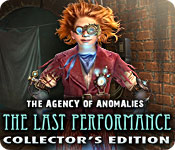 The Big Fish Guarantee:
Quality tested and virus free.
No ads, no adware, no spyware.

Reviews at a Glance

The Agency of Anomalies: The Last Performance Collector's Edition
0
out of
5 (
0
Reviews
Review
)
Customer Reviews
The Agency of Anomalies: The Last Performance Collector's Edition
60
60
Excellent addition to the series & everything I want in a CE
Game is 3rd in the series & having purchased the first two, I've been waiting for this release since the beta test in June.. I LOVE the decision to release a CE & this one is full of goodies that I look for in a CE purchase. + Well balanced mixture of HOS, puzzle and adventure. Not your typical HO. Balance was perfect for me so probably a little more puzzle / mini games than HO but well spaced. Was never bored and I didn't groan at the thought of yet another HO scene getting in the way of having fun. Plot: Find out what's become of the missing theatre performers and the discover what's behind their mysterious "ailments" and return them to human form - Basic options menu: music / sound adjustments, custom cursor - 3 levels of play: casual, advanced, and hardcore. I played hardcore mode. No hints, sparkles or puzzle skips and you can't change it in mid-game #so beware#. No help whatsoever and you're on your own - Crisp graphics, very clean. Mouse clicking was accurate - Nice VO and much improved since beta test. Way more believable and talented with option to skip dialoge + 7 Chapters #not including bonus play# + Locking inventory window #love games w/ this niffty little option!# + Journal w/ replayable story scenes - No map as in previous games but back tracking wasn't bad at all and was logical and relatively contained to a few areas + Special powers are learned along the way needed to progress in the game #5 total# + HOs were a mixture of list/interactive and the opposite version #place items where they belong# Not too dark at all or impossibly invisible, and while technically junkpiles, they weren't too cluttered. I'd describe them as "scattered heaps" + Puzzles are a new spin the old which was refreshing while some I've never seen before CE Includes: + Achievements #11 total# + 31 Hidden Objects to collect #vinyl records# + Bonus puzzles to play afterwards + SG and bonus chapter Simply put... If you enjoyed the first two games, you don't wanna miss out on this one!!
September 13, 2012
Freak causes car crash !!! No ghost this time...
Played 25 minutes, casual - 3 modes, casual, advanced, hardcore - Integrated SG which stays on the page you leave - 7 chapters and bonus chapter - Bonuses : mini games, SG, achievements, concept art - Voice overs - You get awards (using no hint in H0, not skipping mini games, etc) - You've got to find 31 records throughout the game - Note book - No map - You get an amulet of Astra Projections - H0, 3 types, names, silhouettes, objects to put back in, you interact - Hint refills really quickly and is useful outside H0 - [b]SCREEN[/b] : I have no widescreen and I get (first time for these games) black bars - Mini games are the regular ones - Excellent graphics Long time a strange creature hadn't created a car crash ! You've got to rescue theater performers turning into freaks. This looks like an excellent game and I would be perfectly happy if it wasn't for the black bars I can't adjust, never had this problem before with The Agency of Anomalies' games. Still, it's a buy for me. :thumbup:
September 13, 2012
Oh Brother, What A Ride!
GAME COMPLETED TWICE Story: It?s your 3rd and most difficult case with the Agency of Anomalies, Take on the task of exposing a secret brotherhood called The Seekers and save the performers of the theatre who became the brotherhood's victims. As an agent of The Agency of Anomalies, help the performers restore their human form, return their paranormal powers and find out what happened to the theatre?s founder. Developer: ***** Release Date: Sep 2012 Extras: Cut Scene Replays, Achievements, Collectibles ! For Bonus Content See Below ! This is third of the series surpasses even the excellent Cinderstone Orphanage. Its visuals and sounds can match any game out there, so please take it as a given that you?ll not be disappointed with any of the game?s artistry. I?m on a strict word limit here :-# ;) . For the record, this is very like the other two, except we have silhouettes and lists for HOs, but still visited each 3 times. The puzzles are harder, and everything feels more original and alive. I?m rather ?over? carnivals, and therefore was very pleasantly surprised with the originality of characters, their predicaments and their visuals; all were excellent and new. That?s one reason I am so impressed with the game, the other was the new styled mini-games associated with each special ability you acquire. Both are exciting and different, visually appealing. It?s definitely a ?must have?. Bonus Content Review The Strategy Guide, which I used only a couple of times, seems clear, stays where you left it, and gives you the location of the ?secret objects? aka collectibles at the end. There are 6 bonus mini games and 11 achievements. This was a beautiful game to look at, and for once I actually enjoyed the concept art. . The Bonus Adventure was not at all essential to the main game, and took me roughly one quarter of the time of the main game, but I skipped the puzzles in it, because I was too tired for them. There were more puzzles than in the main game relatively speaking, and you must uncover the solutions in layer after layer, which although it was done well, I got a bit tired of. Would I buy the CE again? No, I think I?d have been just as happy with the SE.
February 24, 2013
Blooming Marvellous!!!
Waited months for this and finally it is here! The 3rd instalment of Anomalies and the best so far! played for 30 mins and bought straight away. The graphics are superb and right from the opening cutscene i am hooked. This is a HOPA and the HOS are clutter free with great art work. Love the challenge of achievements and collecting all 31 of the records hidden about in the scenes. The storyline is interesting and you don't feel like you're stuck with wondering what to do next, the hint system is great if needed. Think my afternoon is taken today and busy busy with this wonderful new game. Thank you Big Fish.
September 13, 2012
A Teeny Bit Disapointing
I simply love this series and was so excited to see this next installment out; but when I found myself begin my adventure with a car accident, my initial excitement began to wane. At first glance, it carries all the game features that you expect in a CE Game. However as I began to play, I noticed that everything was all a bit too familiar. As always you have good graphics, although there was a slight graininess in some scenes, good artwork and there are voice-overs. The music was too familiar and seemed to be on a loop. There are three game modes, widescreen options. You have a SG that keeps your place, collectables where you need to find hidden records and achievements. Extras include mini-games and according to the SG, there are 7 chapters plus a bonus chapter. Game features include a journal but no map. It is a HOPA with interactive HO scenes that come in three modes; Finding items on the list, Finding objects according to the silhouettes, and reverse HO scenes where you place the items back to their proper place. There are puzzles to solve, items to pick up and use and mini-games to play as well. You also have a crystl ball that gives you special powers that you will be collecting along the way. So why not give this game 5 stars? Something was amiss and it started with the car crash at the opening scene. There was a feeling that this game was a rush job. Same game features as the others but just different setting. This time I found the storyline weak compared to the previous games. To be honest, I also found gameplay a bit tedious. However as I do own the series, I will include this one as well. It is a Good game but not a great one; same features just different scenery.
September 13, 2012
Anomalies Work Well
I have to admit I was a bit doubtful that the third installment in the Agency of Anomalies series could provide a great game yet again, but I have been proven wrong. Once more using the fun addition of powers, the game has you solving puzzles and hidden object scenes to figure out why a group of performers are suddenly becoming creatures that aren't quite human. There are backwards hidden object scenes where you must place an item back in the scene as opposed to searching for it, and the puzzles range from the standard fare to enjoyable twists. I highly enjoyed this game and I'm stoked that the series has stayed true to it's high standards and delivered.
September 13, 2012
REVIEW OF COMPLETED GAME
This is a good game as far as the main game goes. It has good graphics, story, mini games, HOS and music and I enjoyed it, except for the repetition of a number of puzzles, which were not very clear as to what needed to be done. I often find devs doing this and I think it denotes laziness. Rather than create new puzzles, or at least incorporate old ones that we have seen before, they choose to opt for repetition. Not a good move, in my view at least and not appreciated by me. My main problem with this game is the BC. It is by far the worst I have encountered for a long time. So long in fact that I cannot remember one I disliked more. It is filled with puzzle after puzzle, all the same, and very little else. It is not integral to the story and is just quite simply, a complete drag. Devs would do well to understand that gamers are not impressed with CE's where the BC is just an attempt at justifying CE classification. A BC has to be as relevant and as interesting as the main game, and here they failed. We are, after all, paying double the price, mainly to get an extra hour or so playing time, though I know that many players value the other extras as well. I do not. For those who choose to wait for the SE, good move. You will miss nothing
September 16, 2012
SUPER SEQUEL!
I loved everything about this game. I felt like the storyline was better than the other anomaly games. As usual, the graphics and cutscenes were great and music along with voiceovers were done well. Not overdone with the HOS but just enough to be interesting. I played advanced as I usually do and it wasn't too difficult although the "light" mini game took some time and it took a little while for me to figure out the "picture outline" mini game. I had not seen one quite like this one before. You collect records along the way which I always enjoy those little extras like that. It's a definite "thumbs up" for me!
September 13, 2012
Fun, enjoyable game - bonus review at bottom as well as loads info on the puzzles
Very good, stand alone game in this series from Orneon. I enjoyed the first one but didn?t like the second one. The plot is the weakest part but it was enjoyable how it was done. People from a theatre have these strange abilities and the owner is missing. While you are looking for the owner you can take the strange abilities of the people you meet, kept in the form of a crystal ball and use it on items. But because of the whimsy of the characters that kept it different and engaging along with some very good puzzles and nice graphics. I nearly didn?t buy this game due to the first 10 mins of frankly seen it all before gameplay, but thanks to a sale I bought it and enjoyed it! Thanks for giving us some useful extras, to make this a CE with all the bells and whistles. There is a lot of backtracking and again I wish this DEV would bring us the transporter map. I played the hardest of three settings ? no skip or hint button and no information button on puzzles. But you do get black bar tips and there is no random click penalty on HOS. I give the following numbers on HOS and puzzles, so you can decide and deduce if this game is for you. I try my best with recording them but I might be out by one or two. 23 HOS (hidden object scenes) There are three different kinds of HOS; list, silhouette and reverse (put items back into a scene). Most were mildly interactive, no random click penalty, some tiny items, most were quite clear. 11 original scenes, each one is repeated and one you have to play three times. 3 original silhouette 5 original list 3 original reverse 31 PUZZLES 14 different mini-games 17 crystal ball type (5 original) I really enjoyed the puzzles in the game, not so much the crystal ball ones as these were repeated not only in main game but the bonus as well. There were a couple of hard ones ? one very nearly blind jigsaw (2nd one) and the maths took me a while. Spoilers ahead as to type of puzzles (I am useless at describing puzzles, but if you can decipher lol) The crystal ball ones were: 3D rotate the picture, click on opposite icons to make a path (positive and negative), astro ? move cloud to change the path, colour in area (fill up a shape with a spray bottle), link atoms together ? ends have to go in opposite end (cup or rod). Mini-games Simple click on one tile others will rotate to make a picture Fuse ? pipe type puzzle (swap different shapes to get a path) Pipe type combined with lines of light Quick paint a mask Numbered lines ? match the numbers to how many lines are connected to them variation Swap tiles to make 3 in a row Arithmetic (the math isn?t hard but not repeating numbers took a while) 2 nearly blind Jigsaws ? (just a couple of outlines then rest is blank) Click on correct line to make a path to get to the light Move an object to get the light to connect to all the others Paper doll puzzle Move ball on path with obstacles to get the lights by using pre-programmed arrows Jigsawesque? click on one others move BONUS PLAY (slight spoiler for general plot line) The ending to the main game was 100% tied up. The story really consisted of two cutscenes, beginning and the end of bonus. Were unknown baddies came out of nowhere (not in main game) and you try and find evidence for police (2nd cutscene). Setting was mostly in old area of main game (about 60/40?) and one HOS was from main game. Wasn?t really loving gameplay but it did take me 1hr 45mins (no hints no skipping) but puzzles were just OK and you had to repeat them as well as playing all the crystal ball ones as well. Numbers are in addition to main game. 10 HOS in total ? Most were silhouette type, repeat them all. 16 puzzles ? 5 crystal ball puzzles 1 stack largest to smallest on the right pole 3 match pair 2 rotate circles to get colours to match up to each other 3 rotate circle (squares) (didn?t like this one) 2 swap tiles mosaic one (exactly the same pattern) EXTRAS Achievements 31 Collectables ? records (this could be in the SE as it wasn?t under the ?extras? in the game) 6 puzzles unlocked 29 concept art SG Bonus gameplay TIME main game at least 5 hrs (on hardest setting - so no hints, skipping puzzles and I got all but one collectable) I say this so you can judge your own speed from it. Bonus another 1hr 45mins (no skipping, no hints) I got this in a sale so it was a bargain and have no problem recommending the CE due to all the extras and the length of bonus gameplay although I do wish the attention that was put in the main game was in the bonus and didn't repeat so many puzzles. (I do out of 5 not love or like etc)
October 2, 2012
Very Good
Love the different HO scene. One of the Puzzles had me hard at work when I ran out of time. Graphics, voice overs were great. Story line good. Flowed pretty nicely. Will enjoy the rest once I buy this along with their other games. I already own one of. Music okay, but I am still waiting for a game that has a great music selection without repeating. Like a movie it should have different mood music for each part of the story exceptions for when a certain mood needs to be repeated. But one can always turn off music and theirs was fairly good anyway. I would put this near the bottom of my favorite top ten. I probably will always buy The Agency of Anomalies games because they make a very good game. My favorites start out with Ravenhurst, down through Rainclieff, through Puppet show and so forth and so on.
September 13, 2012
The Apple logo is a trademark of Apple Computer, Inc.