Snow Globe: Farm World
Explore the mysterious world of the Snow Globe: Farm World. Grow sheep, collect products, organize work in a workshop, run a pillow factory and as a result of all your hard work the two lovers will finally reunite. Take good care of your domestic animals and be aware of the dangerous predators trying to destroy your farm. Every level is one more step towards love. There is no challenge you can't handle in the Snow Globe: Farm World!
Breathtaking romantic storyline
Diversity of animals and equipment
Reunite the lovers!
Game System Requirements:
OS:

Windows XP/Windows Vista/Windows 7/8

CPU:

1.0 GHz

RAM:

1024 MB

DirectX:

9.0

Hard Drive:

337 MB
Game Manager System Requirements:
Browser:

Internet Explorer 7 or later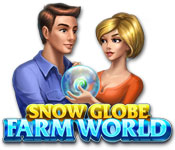 NEW299
The Big Fish Guarantee:
Quality tested and virus free.
No ads, no adware, no spyware.

Reviews at a Glance

Snow Globe: Farm World
0
out of
5 (
0
Reviews
Review
)
Customer Reviews
Snow Globe: Farm World
35
35
If you love TM Games, then this one is for you!
Fans of the Farm Frenzy games are going to love this one. I thought it was a lot of fun. The only thing I feel is very corny is the storyline. They say "Breathtaking, romantic storyline" in the blurb about the game. At the start of this game we are shown a couple in love, who are moving into his father's farmhouse. It pans to the attic where they are both entranced by a snow globe. They pick it up and Poof, they end up in separate worlds. The wife who we play at least for World one of the game is desperately trying to reunite with her husband. She wakes up surrounded by little people. (Thinking munchkins-lol) They tell her that her husband is on another world, but they will help her unlock the portal as soon as she helps them with various tasks. The gameplay itself is fun and challenging. It is set up similar to the farm frenzy games where you have to raise animals, make certain products, and capture predators trying to eat your farm animals. But it is much more interactive. I have only played the demo hour so far, so can't tell you the rest of this corny breathtaking tale, but so far it is an excellent game and I highly recommend it!
August 15, 2012
Fantastic new take on an old favourite
Here is my review based on the first 10 levels. I completed 5 as my demo ran out so I have probably been playing it for a couple of hours on and off. I have no idea if this game is made by the same people as Farm Frenzy just under a different arm, or not as the "Publisher is different, but this game is an improved clone of the former. Apart from playing along the same premise as the FF games, this game wins the Cutesy stakes hands down. In fact the story line is almost nausiatingly sweet, but then there are the little people and they are just sooooo cute. The publishers site said there were 100 levels, but i have only counted 92 on the game so far, but either way a great length. The graphics are amazing and although turned down low, but not off, I can't comment on the music or sounds, so they could not have been at all annoying. There is a bit of fast clicking on the predators, two different kinds so far, a fox who eats your stock and a goat who eats your animals food. Selling is a little bit different too. In this game, you put your goods up for sale, the van comes to collect them but you get paid as soon as he takes them. It feels a lot quicker than FF and having to wait for the cart to return. The buildings are quite good. sometimes you are provided with buildings other times just spaces other times nothing. You can buy spaces for your buildings in the form of a cloud. Not only can you update a building but you can also sell it, then build a different kind of building. As I said, the buildings come on clouds and you can move the clouds around the screen to where you want. Another nice addition is the bank, which although not that fast, will turn 5o credits into 150 The animals so far have been a goose a sheep and there is a silhouette for a cow. Now here is the cutest thing ever. When you buy your animal, they come as babies. You have to pet them and give them love and then they will grow up. The goose will then start to lay eggs, and eat the grass you plant by watering with water from the refillable well. However, if you then buy some food for the trough on top of that, the bird will mature even more and start dropping feathers that can be made into pillows etc I have just noticed that a guard has just appeared to help with ridding the pests. It is a time management game, but I don't think there is any penalty for not getting gold or silver, so you can play at your own pace. So far this is a brilliant little game and if you like TM esp If you like the FF series you will adore this wonderful game. I highly recommend a download and try at the very least I am sure it will be 1 hour you will not regret. Jojo
August 15, 2012
Don't be fooled
This may look like a child's game but after playing it you realize that it is quite challenging. You have to have your whits about you. It makes you think about what's next, and as you play along more elements are introduced to the game. You need to concentrate on what the objectives are for each level. It is quite an addictive game. I don't know if I would buy it but it is fun to play for the hour. The animation is quite child like but you soon get past that as you get in to the game. Nice One
August 15, 2012
A farming game in rainbow style
Being thankful for every TM game to appear I was eager to play this one and found it quite like a sequel to Farm Frenzy Games. You have to by animals to produce eggs... and other products and buy machines to make new products out of the collected items to sell them, catch foxes and other animals... just as it was in every Farm Frenzy Game. So it was just a repetition of games I already knew and loved in a new style. It was good but not unique and it offers certainly hours of entertainment on an average level. The child like design and sound is probably lovely for kids. I just played 40 minutes of the demo and I am not sure if I will buy this one.
August 15, 2012
Snow Globe
Yes this is yet like Farm Frenzy but with a twist! Absolutely love this game! Graphics, sound, storyline, everything about this game is awesome! If your into the Farm Frenzy games then you will definitely enjoy this game! Its so nice to have TM games instead of the same old HOG games. Great job on this one Big Fish! =)
August 16, 2012
Cute version of Farm game
Very cute and fun. I will probably not buy this because there are so many versions of this kind of game. For someone who has never played one of these-- this is probably one of the cutest!!
August 15, 2012
Snow Globe Farm World Review
First I could not review Sound/Music quality because I play with sound off Visually, wow a lot of thought went into this magical game. It may look cartoonish to some but who wants to live in reality all the time lol Level of Challenge: first lots of stuff to do but its not overly taxing with the mouse. So far, I've completed the first planet completely (23 levels on first planet), so many many levels on this game. Levels are clearly marked with times for gold, silver and green for anything left so no really hurry if not trying for medals. I also like the trying to beat Best time feature and yes so far I did on all first planet levels so very doable. Love the Petting the animals feature although with a touch screen computer my cats are able to pet them too making this even more of a challenge and fun here in this house. Storyline: Lots of short still shot captions between several levels so very cute. I purchased the game with 14 minutes left into the demo so definately recommending this one.
August 15, 2012
Not your Momma's Farm Game
Two minutes in, and I knew it was a Farm game. This time, though, you have multiple people working at the same time. Plus, the animals make noise and you can pet them. I think this is a great game for adults, but especially for younger children who will enjoy the sounds. It is not an easy Farm game, but I bought it anyway. My grandson loves it!
August 15, 2012
Cute yet challenging
This is a fun farm game! But you would never know it from the game picture of a couple. The word "snow" is what caught my eye (we're in a heat wave!) long enough to take a look. The story line has nothing to do with the game and is kind of annoying. The game is actually a lighthearted version of other farm games. Not easy - just has a sense of humor. You can even pet the animals! Silly but makes them grow faster. Gotta lov it! The music is nice and the other sound effects are good too. No blaring or honking noises (so far). The graphics are a charming cartoon style. All together its relaxing. This kind of game is usually intense. The game has silver and gold for each level or you can just finish in whatever time it takes you. And there are awards for things for extra challenge. Those are features I like in a game. Usually I'm trying to get gold but I was having so much fun playing the demo hour that I didn't really care. I think I'll be playing this one a lot - its a definite buy for me. Thanks Big Fish for this and for the recent Farm Fables game. Two fun, charming TM games in the same month - really great!
August 15, 2012
A good twist on the farm frenzy series
I love it. I love the farm frenzy series but it was too much of the same. This game is a bit different. You have to plan more. Sell buildings etc. More strategy than time management. I really really like it. A bit and long game. The story it self is a bit too sweet for me, and the challenges are easy. Hopefully the sequel is more challenging and less sweet. But I love it. And I am looking forward to the sequel!
August 17, 2012