Witch Hunters: Stolen Beauty Collector`s Edition
Help Angelica get her witch-stolen beauty back in Witch Hunters: Stolen Beauty! One evening, Angelica's grandma started talking of her old days at school. Grandma said that she had run away from the finishing school she attended because the director of the school, Madame Flemet was a witch! As soon as she uttered Madame Flemet's name, the woman herself appeared in the room, attacking grandmother and stealing Angelica's youth! The only way for Angelica to get her beauty back is to go for a witch hunt. Go for a witch hunt indeed, in this ensorcelling Hidden Object Puzzle Adventure game!
This is a special Collector's Edition release full of exclusive extras you won't find in the standard version. As a bonus, Collector's Edition purchases count toward three stamps on your Monthly Game Club Punch Card!

The Collector's Edition includes:
Integrated strategy guide
Story-expanding extra content
Beautiful artwork
Game System Requirements:
OS:

Windows XP/Windows Vista/Windows 7/8

CPU:

1.4 GHz

RAM:

1024 MB

DirectX:

8.1

Hard Drive:

983 MB
Game Manager System Requirements:
Browser:

Internet Explorer 7 or later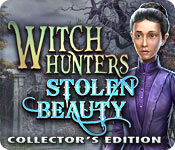 The Big Fish Guarantee:
Quality tested and virus free.
No ads, no adware, no spyware.

Reviews at a Glance

Witch Hunters: Stolen Beauty Collector`s Edition
0
out of
5 (
0
Reviews
Review
)
Customer Reviews
Witch Hunters: Stolen Beauty Collector`s Edition
105
105
Which witch is it this time?
Yet another HOG with a witch and an almost collapsing house and find the simple HOG. Yawn. The music is annoying (although you can change it to more annoying music). I think we've all been here and done this one.
August 16, 2012
COLLECTORS EDITION THIS IS NOT!
I played the full demo and actually found this not to bad. The storyline is OK but we have had lots of witches lately. No journal, map or any extras you usually get with a CE so why is it a CE as many have asked? You must find 12 keys and when you help a person that the witch is holding, I assume you get an ability to help you move forward in the game. First ability is to see through things. The graphics are good. Hint system okay. HOG scenes were not difficult, the same with the mini-games. I will definitely wait for a SE version. So I recommend to wait so no for this game. Definitely try the demo yourself. Happy Gaming!
August 17, 2012
Owl and crow need to be quiet!!
I always turn the music off when playing any game...too distracting. I do however like the sounds of finding an object. I gotta tell ya, the crow and the owl were really irritating.
August 16, 2012
An ok game but nothing new
I'm a sucker for CEs and usually can't wait to demo them and buy. With this one I gave up after the trial. Nothing new and too much hand holding which I really don't like. Good graphics. Even though I chose advanced mode, there were still sparkles everywhere. Couldn't change modes mid game either. The point of a game is to get you thinking and having a bit of a challenge, not being led right through. If it wasn't for this, I'd probably have bought it.
August 20, 2012
Easy game with irritating sound effects
This is an intuitive game with fairly easy puzzles and HOS. Although I normally play with the sound effects on, I turned them off this time because the birds' constant cawing and hooting were so irritating. The fun, adventurous, Disney-ish music (Night on Bald Mountain) did not fit the dark storyline. Even though my computer is powerful, with 16 gig RAM, this game did not flow well. It loaded each scene slowly, which is unusual for games produced with modern technology. This game was so easy, I didn't need the strategy guide, but since it was priced as a CE, a journal and map would have been nice. My advice is to wait for the SE version.
September 29, 2012
Mixed feelings and second thoughts about this one
I can understand that people get enthusiastic over this game after playing the demo, because at first you are awed by the beautiful graphics and the interesting storyline: rummaging through an orphanage and its surrounding grounds to help old ladies who are in fact young girls whose youth has been stolen by an evil witch. There are lots of things to do and at first the HOS aren't too manifold... but little by little, it all gets tedious: the HOS are repeated and you keep going back and forth and up and down to find one object in one location that you have to bring all the way to the other end of the game to use... really... there is no map, so you just have to go through it: hitting the hint button in order to know in which direction to go and keep on hitting that same button + clicking, and clicking from one scene to another... I remember having to do 16 clicks to find an object, and then to do 16 clicks alle the way back again to use that object. I have to say that the game is quite lengthy, but this is largely due to this endless turning around and around. So, no map, and... no notebook to keep track of the tasks to execute... again, your only rescue is the hint button. These are the pro's and the con's: + : good graphics and the soundtrack is OK (I smiled at the Wagner bit in the beginning), good storyline, quite a handful of gameplay - : no map, no notebook, HOS are repeated, too much turning around and around For the CE: the bonus play is a real full-fledged game which will take you some time to finish: you have to find or make seven rings in order to beat the witch. So, do I recommend the game? Well, if you don't mind turning around and if you don't mind replaying the same HOS scenes, yes ... if not, no. The CE is worth the extra money, because the bonus game is a real game.
August 28, 2012
Expected more from a CE game
I was very excited when this game first came out. But my excitement cooled very quickly after I started to play. I had just finished playing Dark Parables: Rise of the Snow Queen CE and perhaps I was spoiled by that amazing game. Witch Hunters has great graphics but lacks in too many other areas. The plot is lackluster with no real tension. The witch appears in a puff of black smoke, cackles an evil pronouncement, makes a lame attempt to hamper the heroine then disappears again. <yawn> I also thought, like another reviewer, that the music didn't fit the game, especially the music for the HOGs. This game should have had voice-overs as well and something extra like cursed objects. Otherwise it's just a really long SE with lots of back and forth which gets a bit boring after a while. Also, I would have like a bit more backstory at the beginning regarding the witch and the school. Grandmother just happens to mention her name and oops! there she is! I realize this is just a hidden object game, but this seems like a bigger plot hole than usual. Personally, I wish I would have waited for the SE to come out. As a CE, this game falls short.
August 27, 2012
I AM EXHAUSTED!
Waaaaay too much back-forth-to-fro for absolutely no reason whatsoever! Gawd...really developers? It honestly seemed as if the developers randomly tossed interactive items all over the place without any other reason than to UP the game's playtime clock. AND without a map, I was forced to play the game on the lowest difficulty possible; so as to use the HINT as arrow guides back/forth to where I needed to go. Of course, I guess I could have kept copious notes...but what's the fun in that? I dreaded a new location opening, and usually I LOVE that part of a game. Beautiful graphics, and fun things to do...but the blatant overuse of back/forth really ticked-me-off! I don't appreciate being sold an average length game disguised as a long one! BONUS CHAPTER....I also was unable to gather the 3rd board (or keep it after I gathered it), and the few minutes it took me to actually find the BONUS CHAPTER after all the back/forth in the main game was a complete frustration overload for me! Thanks for all the aggravation with this one! Too bad too, because the graphics and basic principal of the game is OUTSTANDING! ....But, what will players remember - outstanding graphics or gameplay aggravation? (I would bet the latter!) My rating is reduced to a THREE-STARS because even though the visuals were top-notch, I had to deduct from that all the trouble I went through to play it.
September 3, 2012
A Good Game But Definitely Not A Collector's Edition
This review is based on the demo of this game since I'm not buying it. At least this collector's edition version I'm not. The story: You take on the role of Angelica who has had her beauty stolen by a witch who is robbing her along with others of their beauty. This only shows the first 2 chapters of the demo but according to the game forum I guess there are 8 chapters plus a bonus chapter?? The 3 play modes and I played the hardest mode. The HOS (hidden object scenes): I believe I did 5 during the demo time. All found by word list. A couple in the list are a green color where you have to move something to get to them. Puzzles: I only came across 2: A hexagon puzzle where you have to match up the pieces to match the symbols and a puzzle where you have to press the bricks in the correct order to open a door. You also find 12 snake keys and I found 4 of them during the demo time. In some scenes there is also a green eye or yellow tag attached to your cursor are to do "special powers" as you move forward in the game. There is no map, journal, voice overs. Strategy guide stays where you left it. The hint/skip charge up pretty quick My overall impression of this game: I'll start off with what I liked: I found the story to be good even though yes it's been done before. The graphics are also very good. The puzzles while I'm not a fan of these I did them with no problem as I didn't have to skip them. Now for why I don't think this is Collector Edition worthy: There are no voice overs which is a must for me being a collectors edition. Yes I know some don't care and that's fine but paying twice as much for the game that should be an option for those like myself who do care as the people who don't care can also turn it off. The music while it started off really good however pretty much the same music played over and over again so I had to stop the madness, cut that off and pull the plug on the music as that was grating on my last nerve. I also wish the HOS would of been interactive as just "moving something" out of the way I don't consider interactive. There's also no map, journal, Only shows the first couple of chapters as I had to go to the forum to see how many chapters this has. Yes while it's true just because a game has a lot of chapters doesn't necessarily make it a long game but you can kinda gauge it from where you left off in the game when time was up to get an idea of how long the game may be. I also never encountered any of these "special powers" as that didn't explain in the tutorial as once again had to go seek out the game forum to see what the green eye and yellow tags attached to the cursor was all about. Also those who are interested in the screensavers and wallpapers well those are locked until you complete the whole game. What good are they then after you complete the game? By that time you're ready to move on to the next happening game. No other extra like achievements I've seen in other games. Just no extras as some others have mentioned. The harder mode also had some glints of what you're suppose to do. Oh and what's up with the review telling others to ignore less than favorable reviews? Just because they loved this game doesn't mean I or anyone else has to. Just like me thinking it's not collector edition worthy doesn't mean others should feel that way. As I always say: Give it a whirl and decide for yourself. Thanks anyway Big Fish and developer while I don't think this is collector edition worthy I'll await the standard edition.
August 21, 2012
Good game...not the best.
This game is long, and kept my attention, but lacked a little bit of the animation qualities of other CE's and had no voiceovers, which was annoying. Also, no notebook to write clues in, and no map. I enjoyed the story, and the HOS were good. The scenery was beautiful, and some of the objects were tricky to find. One very irritating point is it took a long time to move from one scene to the next, almost as if my computer was running slow, but it wasn't. Also, if you had to complete a task that required doing more than one thing, it took FOREVER for the computer to complete the task (ie. pulling nails out of boards...took almost as long as it would have taken in real life!) I bought the game and enjoyed playing it, but not as much as other CEs.
August 20, 2012
The Apple logo is a trademark of Apple Computer, Inc.