Echoes of the Past: The Revenge of the Witch
Exclusive
Save the kingdom of Orion in Echoes of the Past: The Revenge of the Witch! Once again black powers have seized the land and this time the witch is more determined than ever to take her revenge on you. The entire city is gripped by fear and it's up to you to save them, and yourself. Exorcize the evil and defeat the witch once and for all!
Exciting gameplay
Unique mini-games and challenging puzzles
For a more in depth experience, check out the Collector's Edition
Game System Requirements:
OS:

10.8/10.7/10.6/10.5

CPU:

800 Mhz (INTEL ONLY)

RAM:

512 MB

Hard Drive:

518 MB
Game Manager System Requirements:
Browser:

Safari 4.0 or later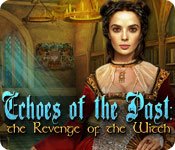 NEW299
The Big Fish Guarantee:
Quality tested and virus free.
No ads, no adware, no spyware.

Reviews at a Glance

Echoes of the Past: The Revenge of the Witch
0
out of
5 (
0
Reviews
Review
)
Customer Reviews
Echoes of the Past: The Revenge of the Witch
81
81
Revenge was sweet
Good game for beginner and immediate players. Each area was connected and you interact. Too bad there wasn't a map to cut back on going back and forth to each area. With the map you can jump to specific area. Overall the game is really a 3.5 stars, Would have given a 4. but without the area map it got a low rating.
November 13, 2012
Meh!
I've played all 4 so far, and it was ok. I felt like there was a lot of back and forth, sometimes I'd get an object and not even remember what I needed it for. No real storyline, just played it as a time waster.
September 11, 2012
Frozen when getting good
was enjoying the game until it Froze. It will not let me advance. It is stuck and I can not select another area to explore or anything.
September 5, 2012
Only if you like puzzles.....
I've played quite a few Big Fish games ranging from easy to hard, but this is the first game that I quit playing and uninstalled halfway through. The reason is that there were so many puzzles that the storyline got lost and I ended up frustrated and not having fun. Almost every new scene had at least one puzzle with many scenes having more than one puzzle. One scene I played had at least 4 if not 5 puzzles. There's so much going on that it's best you play with a notebook to make notes because it got to the point where everytime I found a new object I had to go to the start of the game and move from scene to scene trying to use it on every puzzle because there were so many unsolved puzzles that I'd forget where they were. I'd finally find the puzzle and solve it and then get or find a new object that meant I'd go back to the start of the game and start trying every puzzle again, etc, etc. The game play is continuous but plays in segments where in each segment you play toward solving a big puzzle to move forward. The big puzzle in each "segement" is basically the same, so I lost enthusiasm every time I'd solve it because then it would start a new round of game play to reach the end goal of solving the same puzzle again, etc. I do enjoy puzzles, but this just didn't work for me.
August 17, 2012
Better things to do
It's been a while since I played this game, but going by my copious notes, I doubt that I'll ever want to play it again. Take my word for it, you will need to keep notes to get through it. This will seem crazy to some, but for me the game was too long! I'm not one to abandon a game I've paid for, but I couldn't wait to be done. On the plus side, there was lot to do and a pretty good hint system. On the negative, repeated HOS, some with tiny objects, repeated puzzles, fuzzy or faded graphics, too much running back and forth and too much inventory piled up cancelled out any good points. No map made it all the more tedious. This is just my opinion among many, but be forewarned.
August 23, 2013
A game with lots of puzzles but no storyline
This is not one of the best games around & the story telling leaves a lot to be desired; the soundtrack is very repetitive & I know I have heard it in another game. The graphics are pretty average & the artwork quite medieval in style although rather ?green? in colouring. There are 3 modes of play; regular with a 15 second hint recharge, glints on every item of interest & sparkles to mark the HOs, advanced with no glints or sparkles & a 15 second hint or expert which has no hint or skip button. You get a journal that contains some clues & a staff for which you have to find 10 jewels through the game. The hint is useful; if you get stuck & click on it you will be shown a picture of where to go & a sparkle to show what object to investigate. Puzzles & finding items to open cupboards, chests & doors abound; in fact you will spend most of your time searching for something to use. In addition you will find that you have to search the same H0 scene more than once which is rather tedious, these are either the usual word list or a variation, put the objects back into the scene. Even though there are a lot of puzzles many of them recur & unfortunately by the time I had played the hour long bonus I was rather tired of the whole thing so I will not buy. I am however going to recommend this game as if you love to be busy then this hidden object game from Orneon may be for you.
August 17, 2012
What a waste of money
I love HOG, and I love a game that gives me a challenge. But .. this game was rediculous in the back and forth and unending items to find. Had I bought this game before Citadels of Time, I wouldn't have bought Citadals. Unfortunately, I bought Citadals before this one. Citadals was a fun, challenging games without the ENDLESS back/forth jumps from one location to another. At least the items/back & forth made sense. This game was rediculous and frustrating. The ONLY saving grace of this game was the quick "hint" system that THANKFULLY moved me from one location to another. I will not be buying the next Echoes of the Past unless it is more like Citadels then Witches. If you like ENDLESS jumps from one location to another, and have an amazing recollection of where you have been and what you need, then this is the game for you. Otherwise, be prepared to just wanting to get it over with. I'm not even going to waste my time with the bonus section. Sorry, but I almost hated this game. Give me more Mystery Case Files or Puppet Show games which make a lot more sense and are not as frustrating as this game. NEXT!!
August 21, 2012
Like Secrets of the Dark
Right at the beginning of the trial I stopped and deleted it. It sounds and look like the Secret of the Dark series. The Citadel, Castle of Shadows and Royal House, which have a completely different feel. Ugh! I guess that's all the Orneoin can do.
September 13, 2013
DO NOT PLAY UNLESS YOU LIKE RUNNING BACK AND FORTH....A LOT!
BASED ON COMPLETED GAME ON INSANE LEVEL I really despise it when a developer uses back and forth movement to compensate for a poor game. I enjoyed the previous two games in this series, but this game is the WORST FOR BACKTRACKING I've ever played. There is no map. The game isn't difficult IF you either take notes on locations or have a very good memory. You will find objects in one area, then have to go backwards 6 times, then over 2, then up 1 to find the next HOS. After that, you won't be able to use what you find. You will accumulate a lot of items in your inventory which are kept there for chapters. There is so much back tracking that my wrist actually became sore from all of the mouse work. I'm not kidding. The story had a lot of potential, but you are running around so much it's easy to lose track of what is going on, where you need to be next and why you're even bothering to play the game. I forced myself to finish it, but I hated the last two chapters very much. Bottom line: If you play this game, you'll need a lot of patience and SEVERAL PAIRS of hiking boots.
September 6, 2013
Perplexing and confusing
This is my first review but felt compelled to WARN other players this game is NOT much fun I own quite a few SE&CE games most of which are HOG and have never been so disappointed, Many times I lost track of where "Items" were used just because of the fact the player had to run back and forth so much it became next to impossible to remember where "it' was to be used I haven't played any of the other" Echoes" game and don't think I ever will
September 15, 2012
The Apple logo is a trademark of Apple Computer, Inc.
The Windows logo is a trademark of Microsoft, Inc.