Echoes of the Past: The Revenge of the Witch
Exclusive
Save the kingdom of Orion in Echoes of the Past: The Revenge of the Witch! Once again black powers have seized the land and this time the witch is more determined than ever to take her revenge on you. The entire city is gripped by fear and it's up to you to save them, and yourself. Exorcize the evil and defeat the witch once and for all!
Exciting gameplay
Unique mini-games and challenging puzzles
For a more in depth experience, check out the Collector's Edition
Game System Requirements:
OS:

Windows XP/Windows Vista/Windows 7/8

CPU:

800 Mhz

RAM:

512 MB

DirectX:

9.0

Hard Drive:

529 MB
Game Manager System Requirements:
Browser:

Internet Explorer 7 or later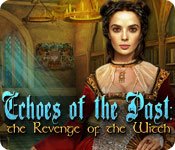 NEW299
The Big Fish Guarantee:
Quality tested and virus free.
No ads, no adware, no spyware.

Reviews at a Glance

Echoes of the Past: The Revenge of the Witch
0
out of
5 (
0
Reviews
Review
)
Customer Reviews
Echoes of the Past: The Revenge of the Witch
80
80
Solid Game
Great hints. HOS had variety and were fun. Great graphics and scenery. Storyline pretty good. Puzzles were hit and miss for me. I do not like puzzles that repeat. Especially when they are puzzles I find tedious but that is what the skip button is for. Had fun playing this one.
September 16, 2012
In two minds about this game
Having played the previous Echoes of the Past games and thought they were excellent, I couldn't wait to play this game. The vision and sound quality were excellent and the story line was good. In all fairness I did still enjoy this game but some of the Puzzles were repeated so many times, the first half dozen times of playing the same type of puzzle was okay but after that it got boring, There are other puzzles in the game which are good and even the H/O scenes were okay - just thought the repetition took something away from the overall enjoyment. I would be wary of recommending this game for this reason only.
September 7, 2012
The quality is still there!
I can not find the ribbon that is required to tie the pages in the book in the HO. Has anyone else had trouble finding this. I do not have the statagy guide and the Help button is no help, just shows you the shape of the ribbon! Thanks if you can help.
September 3, 2012
An enjoyable game
I have liked all the games in this series but I suppose with each new one you expect just that little bit more. This is a very good, enjoyable game but didn't quite live up to my expectations. I'm not a great fan of puzzles repeating them selves - once you crack the way to do them, they are always easy. I also found that I was never at a loss what to do. It always seemed to follow on logically, which again is not a bad thing but not very taxing. I would however recommend this game.
August 27, 2012
Not bad, but to many puzzles.
The only problem I had with this game was all the puzzles. Could have done without all the puzzles. This is a game for people who really enjoy puzzles. Overall great game. I would recommend this game only if you enjoy lots of puzzles.
August 19, 2012
Outstanding Game...Mostly
I enjoyed this game more than the others in the series for the brighter, more vivid graphics good voiceovers and interest-keeping plot. Most of the puzzles were fun, too tho I'm not a great fan of some types. The bonus game plot was super but the implementation was, well...weak. I mean, why did we have to do a certain task (no spoilers here!) several times when they could've varied the approach. But a relatively minor note in an otherwise fun HOG/puzzler. The ending satisfies but I'd have liked more flourish. Again, don't let these quibbles keep you from giving this a try. It might leave you feeling triumphant over evil...or are you? Try it and see!
August 19, 2012
For puzzle lovers only
** I finished the CE version. The plot is NOT 100% tied up in this SE version and told you what you would be doing in the bonus so I can?t even recommend the SE version either! See end to see other CE vs SE differences etc** If you are not a puzzle lover I don?t recommend this game to you at all. I am and even I found some areas between puzzles boring. I really enjoyed all the other games in this series but thought the last game would be the last in the series as it was really pushing the plot of the same witch which you defeat in every game and keeps coming back. This is the weakest of the series by far. Instead of calling this game something else, as it doesn?t have the same feel, look to it as the other games, they have ended up watering down the series instead of finishing strong. This game is the perfect example of formulaic plot, sometimes you can get away with it if everything else is strong or excellent or at least different. Frankly the story, plot etc was really bad IMO. The only thing very good about the game was the puzzles, the graphics were washed out and seemed worse than the other games, adventure side boring at times. Both puzzles and hidden object scenes were repeated. PUZZLES (spoilers as to kind, numbers in this review are roughly!) There is a variety of type ? arcade, logic but nothing timed. I found them all to be easy-medium apart from the arcade/non logic type. I loved the amount, variety of them as I?m a puzzle lover! (for a HOPA though, I think some are hard - hence the 4 out of 5 hardness.) The first puzzle you encounter the light up the lines one, if you don?t like it then you will be frustrated as that puzzle is repeated 10 times, (different patterns) 22 different puzzles in SE Repeating puzzles and number of times you play them in total ? light the lines puzzle 10 ? aquarium puzzle 2, -domino 2, - peg solitaire 3, - click on pattern tiles to rotate them 2 plus another variation of it HIDDEN OBJECT SCENES What was good was that there were three different kinds of HOS ? 4 different traditional scenes ? all of them you had to play 3 times. 2 different reverse scenes (put item back)? both of them you had to play 3 times 5 find the same items ? one was repeated Mostly static scenes (not much movement), some tiny and hard to see objects, defined enough but not sharp. Mildly interactive. There were 3 levels of hardness and you couldn?t switch mid game. The hardest had no sparkles, no info on puzzles, no skips or no hints including HOS. But they did have black bar tips and with reversed hidden object scene told you the objective. I didn?t feel the puzzles, HOS and adventure were well spaced out. It was a good length SE and probably super long if you are slower with puzzles. It's so frustrating this game as I love the puzzles. I just wish the HOS weren't repeated (which I hate) as well as the puzzles, and started a new series with a different better plot. I do think it's an objective 3/5 stars. CE differences ? I bought the CE as it promised unlocking of puzzles and ?game designer ? create your own game levels and play them? But it was a very limited ?design? of one puzzle that was in the game, so misleading, and there was only unlocking of 8 puzzles. You don?t get any of that here. The bonus was a good length but there was a lot of repeating of one puzzle. Even though it told you what you would be doing in the bonus there was no plot IMO in the bonus.
August 17, 2012
Plenty of game play, but somewhat boring
The game initially started out to be fun, but quickly became boring due to its repetitious nature. There is also lots of trudging back and forth between different areas of the game which becomes boring as well. Some of the puzzles were a little different and interesting, but they became repetitive as the game went on. The ending was anticlimatic, although that may have been because I played the SE rather than the CE. You will get your money's worth in game play, but you won't care by the end.
October 8, 2012
Boring
Became very boring...should have had a map because it did not seem to flow too well.
April 29, 2013
SO ANGRY ABOUT THE ENDING!!!
I am sooo angry right now as I have spent a lot of time playing this game and its a long, interesting, entertaining one and its the END of a series so I want to know what happened BUT the ending is NOT in the SE which just really makes me angry! A bonus game should be a BONUS not the ending to a game especially a game that is in its last installment! I find it tacky and lazy and it makes me not want to support this developer at all in the future which makes me sad because I Like this developer but I think its cheap to do this. I really wish people who do these star reviews, review it AFTER THEY'VE PLAYED THE WHOLE GAME! I think the star system is useless if its just based on the demo because based on the demo, Id give this 5 stars too only to find out later it has no ending at all. I just think its misleading. Now back to what I did like... I enjoyed playing this until the ending so here's what I liked. Its the same music as in the other games in this series but there's something about it that is pleasing to my ears so I liked that they brought it back. I also love the fact there are lots of puzzles in this game. I am a puzzle person. The only thing I didn't like about the puzzles was the fact there wasn't much variety. If you don't like checkers OR turning on all the lights, you will hate this game because those puzzles repeat throughout the entire game. I personally like turning on all the lights but I skipped the checkers game because after the first one, it got confusing and I had no use for it and didn't understand why it repeated so many times. The lights one had to do with banishing the evil but the checkers one was just overdone IMO. I also like how this developer does a variety of hidden object scenes with the usual interactive but then does ones where you put the objects back. That makes the game more fun in my opinion because it gives it a lot of variety and I don't dread stumbling upon hidden object scenes that way. I actually wish there would have been more of the "put the object back" ones or just more hidden object scenes in general. I missed the lack of them. Overall I liked this game, it was long and interactive. I like the back and forth in games though but the ending is sooo disappointing and rushed and just not okay with this being the last installment that I went from thinking this was a 5 star game to rating this a 3. I can't even recommend it even though its fun because of the ending. IF you've been an avid fan of this series and just get the SE you will be truly disappointed :(
September 15, 2012