Dark Alleys: Penumbra Motel Collector`s Edition
Exclusive
During a road trip your friend's daughter is kidnapped by a mysterious man at the Penumbra Motel, the scene of murder and strange occurrences 50 years ago. You must head into the heart of madness to not only find the girl, but unravel the mystery haunting the descendants of the Penumbra family and the Motel grounds.

This is a special Collector's Edition release full of exclusive extras you won't find in the standard version. As a bonus, Collector's Edition purchases count toward three stamps on your Monthly Game Club Punch Card!

The Collector's Edition includes:
Wallpapers and Screensavers
Original soundtrack from the game
Concept art
Game System Requirements:
OS:

10.8/10.7/10.6/10.5

CPU:

1.4 GHz (INTEL ONLY)

RAM:

1024 MB

Hard Drive:

574 MB
Game Manager System Requirements:
Browser:

Safari 4.0 or later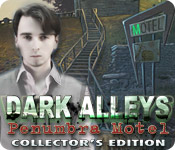 The Big Fish Guarantee:
Quality tested and virus free.
No ads, no adware, no spyware.

Reviews at a Glance

Dark Alleys: Penumbra Motel Collector`s Edition
0
out of
5 (
0
Reviews
Review
)
Customer Reviews
Dark Alleys: Penumbra Motel Collector`s Edition
125
125
A lot of sizzle but the steak's gone off...
Normally ERS games are an almost immediate buy and I'm always happy to see the logo pop up. Good, gorgeous games with a lot of thought behind them. Sad to say I did not find that true for this offering. First of all the story, which began quite intriguingly, spun off in untraceable directions - SPOILER - what did the clock maker have to do with the war? Why did the Dad want to kill the boy friend? What drove the family nuts? What did the locks have to do with the medals...? and on and on. It was like several good story ideas got mashed together into one big mess. The game mechanics were fine for the most part, though the mini-games seemed either ridiculously easy or overwhelmingly fiddly and/or difficult with very poor directions. One BIG no-no that had me growling is in more than one mini-game, objects needed in the puzzle were so close to the bottom of the screen that I inadvertently backed out of the puzzle, starting the SKIP timer over. Since many of the puzzles seemed overly difficult or were so terribly unclear I skipped many and I rarely skip. Hints were not helpful except to say you had nothing to do in an area, cursor was very picky, and while I understand inventory puzzles often have an illogical nature to them this game took the cake for having many items in inventory that *should* work in a situation but didn't OR things like needing to find an endless chain of *different* screw drivers as you go along because the many you found earlier you inexplicably dropped. Grrrrr... Art work great, sound good, though music was repetitive (this might have been heightened by my general annoyance) and duration good. Thing was on duration I wasn't having fun, so wrap it up already. :D I actually played the Bonus chapter on easy to get it over with. I NEVER play on easy. Tons of potential but an over-all fail in my estimation. I'd give it a 2.5 but since I can't it bumps to a 3 for content. Lots there, just not the best of what could be.
May 14, 2012
Not!
Well, I must be "one of a kind," because I didn't find this game particularly fun. I can't remember the last time I gave "poor" on any game. The graphics were nice, music okay, sound good, game play good. The story didn't grab me at all, nor did it keep my attention and make me want more when the demo ran out. It is lacking in something, maybe a HOG here and there to break the same old same old. I'm sure this would be a very nice game for a beginner (and that is the only reason I am recommending the game), but just not for me.
May 13, 2012
Close but no cigar
The devs, Ers, are know for their gorgeous, rich environments, fairy tales with a spooky edge, lots of H0 scenes & pretty little details. They excel at fantasy escapism I applaud their courage in making a game that is such a complete departure from their norm. It took guts but sadly, it doesn't really work. It almost felt as if they resented having to make such a muddy, gritty, adventure. This is a solid adventure game with many different environments, a ton of puzzles and mini-games, no H0 scenes. Basically, you find items and use them to advance the rather thin story. This worked well if there were a chain of items to use within just a few scenes. There were a few tricks and surprises. But too often it was pixel hunting, backtracking tedium. I almost missed H0 scenes because they would have provided a nice rest. Hardcore mode does not include black bar hints which is a great idea, something I love about Ers games. But it was poorly executed here. No black bar information was shown, so it often seemed as if there was something left to do in an area that was completed. For example, in the very first scene there are three places where the black bar text describes the environment (the gas pumps, the crows, the sign). In hard core mode, you just get the magnifying glass icon. This makes the game less immersive because you're missing out on interesting little descriptions and spending too much time figuring out that there isn't actually anything to do. Descriptive black bar dialog should be put back in. Few of the mini-games have a reset button. Many of them involve lots of parts which need trial and error to figure out. Dragging them all out of the way to restart gets boring. There were two glitches - one (the matches) meant that I needed to restart under another name. The other was a pipes puzzle that I could skip but only after changing modes and waiting. Very boring. This should have been fixed before release. The bonus content was rather short which was fine because I wasn't very invested in finishing it. I'll give the devs credit for trying to do something new but I wish they would have spent more time trying to make the game better instead of just different.
May 14, 2012
A Bit Of A Let Down
Thus far, most of the folks that have posted their review(s) concerning this HOG have given it five stars. I?m going to have to agree to disagree with my fellow fishies on this occasion, as I am only willing to give Dark Alleys: Penumbra Motel CE a three star rating without a game recommendation. What drew me to the game was the fact that there are no HO scenes throughout the game ? I was interested to see how that would work out and thought that it would be an interesting change. I played the game using ?Casual? mode. The graphics and voice overs were ok ? nothing that I would consider to be outstanding (if you want a great HOG with AMAZING graphics check out ?Surface: Mystery of Another World?? the CE is money well spent). The storyline to Penumbra Motel was intriguing enough to keep my attention, but I was disappointed by the manner in which the main game came to an end. I haven?t played the bonus chapter yet, but don?t really have a burning desire to do so. I didn?t think that the game presented a very strong challenge - I finished it in a few hours. I can?t really say much about any of the puzzles. I?m very bad at puzzles, and skip over them more often than not (as I did in this game). I will, however, say that in Penumbra Motel, some of the puzzles became redundant (same puzzle, just more difficult each time). Hint button tells you: ?There?s Nothing To Do Here Right Now?, which is something a player usually already knows? so hints aren?t that great. Not the best game Imho.
May 14, 2012
Well....it's different!
To begin with, I'm a hidden object addict who loves the hidden object scenes in a hidden object game. This game has NO hidden object scenes...at all...not one. I knew this before I played the game. I knew there was stuff to find as you rambled around that would enable you to go forward in the game. There were hidden objects to find...sort of. Most scenes contained at least one inventory item that would be used in that scene or another...either before or after playing the scene you're in. The story is a usual one....you have stopped for a moment and allowed a young girl to get some snacks...and she's kidnapped..and you have to rescue her from an evil-looking fellow. The scenes are well done...I played in casual mode, as I'd never attempted a game like this before. There were sparkles to lead me to areas of interest and I found them helpful. There were real actors in the game and they did well...the dialogue and characters were in sync so the words didn't continue when the character stopped "talking". There is a great deal of running around to do, so wear your hiking boots. There are creepy skeletons, deserted buildings...and just about every door or gate you encounter is locked..lol...but we expect that in a game like this. The puzzles were good and they were fairly frequent. I didn't utilize the hint system much. I got bogged down a bit from time to time and did use the strategy guide much, much more in this game than any other I've played. I think that's just because I wasn't familiar with a game that is all "adventure" and no "hidden object"...as this was my very first one. I'm sure those who play adventure games all of the time would call this more of a hidden object game...so I really don't know which category it should fall into. I got three evenings out of this game...about 7 hours...but I'm one who doesn't rush through a game...so others may find they can finish in less time. My 7 hours included the short bonus play that is available after completing the regular game. The music wasn't great...it was rather light-hearted...I would have preferred something more eerie, as the locations were spooky and I would have liked some spooky music. To me, the soundtrack reminded me of the sort of music you hear when watching a silent Charlie Chaplain movie...not appropriate for this game, in my opinion. It wasn't unpleasant...just not what I would consider the best choice for this game. So..is it a hidden object game?...No..not the type I always enjoy. Is it an adventure game?....Yes...you have a goal and must sally forth, using what you find to help you out to reach the end. To me, that is an adventure game. Was it fun to play?....For the most part, yes.....it was creepy and I love creepy. I got to play some puzzles I hadn't seen before and I enjoyed interacting with "real" people. Would I recommend the game to folks like me who really prefer the more traditional hidden object game? No. Would I recommend the game to folks like me who might try an adventure-type game for the first time? Yes, I would..and I will...but only to those who won't miss the hidden object scenes. I enjoyed it...you might, too. Don't let the lack of hidden object scenes let you miss out on a pretty darn good game.
May 16, 2012
A Little Disappointing
I was a little disappointed in this Collector's Edition game. The storyline was pretty typical, but the graphics were excellent. The AOIs (areas of interest) were way to large so that often you thought you had two or three when in fact there was only one. And, there were not enough of them! For all the wonderful graphics, there were very few AOIs per scene. The puzzles WERE challenging, but I ran into a glitch and had to go to the forum to find out there had been a fix. If you failed to pick up a certain item when you were in that room, you couldn't go back later and get it. Had to reload the game to continue. All in all, I feel the developers fell short of what they could have or should have done with this game given it's great graphics and audio.
June 24, 2012
No vacancy
Ok, so I bought the CE, maybe not the best for me, could have saved for another SE game. This game was all adventure, yes, you did have to find hidden objects via puzzle completion. There were no "groups" of hidden objects to find. Perhaps, I just thought there would be "groups" of items. WELL, having said all that, I still enjoyed the game. Spooky, good story, terrific graphics, these devs were good! Puzzles were somewhat hard, I had to skip a lot of them, due to lack of patience to finish them. Lots of traveling back and forth. This story had a "You are there" feel, which is great for me. Try it yourself, lots of scenes to look at, and music is appropriate, and real characters. Oh, don't forget your room key!
June 8, 2012
Dark Alleys: Penumbra - ERS Take Note!!
Never use the pre-game with ERS - all of their games are excellent....however, this one gave me motion sickness with the constant slide in pop up screens - hope this isn't the new thing as I would hate to miss out on their games. I will not be purchasing this one...sorry ERS.
June 15, 2012
unable to suspend disbelief
Played through the demo and will wait for the SE version, possibly. Normally, I'll snap up any adventure-style games without HO scenes in a heartbeat. When I saw this release, I was very excited and ready to do the same. Movement is excellent, the voiceovers and graphics are good. The tasks and puzzles are not too difficult, but not so easy that they were boring. Fairly typical fare for those familiar with this developer. What's stopping me from my immediate purchase is a little hard to define. There's an element to this kidnapping - I think in the quality/type of the child's screams and something about the appearance of the abductor - that is taking my mind into a Law & Order: SVU place. The creepy elements, which are well done and should make the experience more immersive, are much, much darker than the tasks and overall visual atmosphere, which is making the tasks feel perfunctory. If I were the heroine, I'd call for a SWAT team asap, not worry about whether the mother will ever let me babysit again. She uses an object to dust off a surface, presumably so her hands don't get dirty, when the last thing she's heard from the child is a chilling scream. The tasks are typical and normally I can easily get past the ridiculous nature of some of them as part of the genre, but this time I could not. If the developer is going to go very dark, which would be great, they need to commit to it. Highly subjective, of course, so I definitely would recommend giving it a try.
May 17, 2012
Lackluster Game
The storyline is a bit weak, as are the characters. There are no HOS, and the entire game is based on searching for an abducted child. The player has to find clues throughout what resembles the 'Bates Motel' grounds, but unfortunately, lacks luster. Most assuredly, the most annoying part is figuring out the medal combinations. Some of the puzzles could use a 'reset' button, and the voiceovers were slightly off sync. Overall, it is an adequate game which some may enjoy playing.
May 25, 2012
The Apple logo is a trademark of Apple Computer, Inc.
The Windows logo is a trademark of Microsoft, Inc.