Twisted Lands: Origin
Exclusive
Experience the birth of the terror that gripped the island of Tormente in Twisted Lands: Origin! This captivating prequel will lure you in with stunning artwork and bone-chilling audio, and then hold you captive as you explore dozens of bloodcurdling locations, search for useful items and solve cleverly designed puzzles! Every story has a beginning, but few are as horrifying as this!
Interactive cinematics
Step-by-step tutorial
Game System Requirements:
OS:

Windows XP/Windows Vista/Windows 7/8

CPU:

1.4 GHz

RAM:

1024 MB

DirectX:

9.0

Hard Drive:

616 MB
Game Manager System Requirements:
Browser:

Internet Explorer 7 or later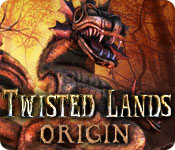 NEW299
The Big Fish Guarantee:
Quality tested and virus free.
No ads, no adware, no spyware.

Reviews at a Glance

Twisted Lands: Origin
0
out of
5 (
0
Reviews
Review
)
Customer Reviews
Twisted Lands: Origin
93
93
Made me jump in parts...lol.
I am new to the twisted land games and found this one nice and long with quite a few different areas to explore. A few too many HOS for me, especially towards the end of the game...not sure why some devs do that(?!?). Puzzles were mixed in that some were easy, others not so, but skip button available after a while. Also quite a lot of backtracking, but which doesn't usually bother me but some of this one seemed a bit unnecessary. Overall an enjoyable game though.
August 24, 2012
Twisted Lands
I liked their first two installments so I bought this game without even trying the demo. I was a bit disappointed on the first 2 chapters. There are a lot of cut scenes, most of them are like every 5 minutes and played so suddenly it makes me dizzy. I don't like the overuse of voice over, which I think overall is not that convincing. I was confused with the story: feels like it doesn't really connect with the first two games. Like all Alawar games, the graphic and background music are great, they're a bit creepy and I am glad there's some changes with the game: you get to choose what to do, what to converse, although this is very minimal. There're too many back and forth in this game. There is a map but it's not interactive, so basically you really have to click 'down' more than 8 times to use an item, and then go again forward, which is annoying many times. Since most of the new Alawar games have interactive map, this one should, too. Funny that this game doesn't have a CE (at least at the BFG) and just an SE. Anyway I am glad that I just bought the SE. I recommend this game because I like most Alawar games and the series is not bad. Hopefully the next Twisted Lands series (if there's any) will be better. This time, it's twisted.
August 19, 2012
bad instructions to mini games and too many hogs
had no idea what i was supposed to do in many of the mini games. i had to go to walk-through to see what i was supposed to do. the music was so irritating with the opera singing and loop music in the background. worst of all was the amount of hidden objects. the last part of the game was just one after another. in the same two or three spots. i would not recommend this game
August 23, 2012
Short, with no challenge ...
Barely six hours of gameplay (played it in one go)... no need to use a hint button or to consult a strategy guide... easy puzzles, too easy... HOS that repeat themselves, up to three times! A lot of back and forth, the map doesn't take you anywhere - it just indicates where there is something left to do ... anyway, if this had been the case, gameplay would have been even shorter. The graphics are nice, but the music gets on your nerves, because it is much too bombastic. All in all, absolutely nothing new to this game... if you want to spend your money - maybe because you want to have the entire "Twisted Lands" series - be my guest, but don't expect too much of the game itself.
August 19, 2012
Just OK
I'm running against the tide here. I just didn't care for this game. The graphics are grainy Music so - so A lot of back and forth Hint button directional Everything was small and sometimes difficult to see Storyline weak I bought this on the daily deal and was glad I didn't pay more. I'd give this game a miss.
October 2, 2013
Unanswered Questions...
This might have a few spoilers but nothing that will ruin the game. You NEED to play the first 2 before playing this game or it will not make any sense. In fact, playing the first 2 games and then this one didn't make much sense either. I think for this trilogy of games to be successful you have to buy the CE's because I didn't and from what I've read in other reviews says that the bonus chapters filled in the story more... I found this game OK...it wasn't terrible but it wasn't terribly exciting either. I bought it because I wanted the conclusion to this trilogy which I sort of got but it just left me with questions. Like what did Angel & Mark from the first 2 have to do with the prequel? I almost feel like this game is a remake of Jurassic Park but instead of dinosaurs, its mutant creatures derived from a plant that has healing properties but also turns people into monsters. That being said, not really sure what happened to Mark or Angel. While he's exploring the island in the first one does he sniff said plant and end up turning into a creature himself? Or was everything a hallucination before we see Angel? Was Angel really in a hospital? And if so, what for? What did the lost souls in that picture album in the 2nd one have to do with anything? Then in this one...its a prequel so Ernesto lives but in the 2nd one he's in the morgue...why? why would he come back to a place where his mom died and evil was lurking? I get family history but come on now. So I am deciding to view it as a Jurassic Park phenomenon. In that movie, they need to leave the island because dinosaurs have taken over, killed a bunch of people and its not safe. But afterwards, no one tends to the island, kind of like in this game. Everything stays as it was because no one wants to deal with it or knows if what they saw was real or thinks anyone will help them anyways, so it stays the way it is. years and years go by and then someone decides they want to go back to the island and have a look. They heard danger was there and what do you know? IT IS and the same thing happens where everyone dies blah blah because the island is been taken over. Its a place you should never return under any circumstances. It should have been quarantined years ago. Change dinosaurs to spotted monsters and you have this game. I played all 3 of these games within a 6 week period and it still is fuzzy so to truly understand this series, I recommend back to back and take notes. I, however, will add this to "played" pile and leave it at that.
March 30, 2013
MUST HAVE MISSED SOMETHING
After playing the other 2 Twisted Lands games, I was looking forward to Origin. A little disappointed about the ending. Perhaps I did miss something. The scenes were the usual jumping around but the hint not only refilled quickly but acted as a guide to get from place to place. HOs were the usual, some objects small and harder to find. Loved the animation and VOs. Can't comment on the music because I wasn't paying much attention. The puzzles were good, some harder than others. I didn't get to see what I thought would the results of the experiments. Had to use my imagination but it would have been great to actually SEE it.
September 1, 2012
Frustrating
For some reason this game aggravated me. I couldn't wait to finish it. Most of the HOS were repeats and there is this puzzle where you have to hit touching buttons that was just a pain. I wouldn't recommend this game, but it could be just me that it aggravated. Try the free hour first and judge for yourself. I buy games mostly from the reviews. This one got a good review, but not from me.
October 12, 2013
Pretty, but uninspired IHOG
Well, I have to say I'm kind of sorry I bought this game. The graphics are lovely (apart from the cutscenes - I really dislike clunky 3D-characers) and the game promised oh-so-much, but unfortunately, I didn't find it very well executed. For one, the story didn't grip me one bit. It was very poorly introduced (it made me think I might have missed something in the beginning) and it didn't get better during play. I'm still confused as to who is who. I also didn't feel a connection to the "detective" (me!!!) or any of the characters. If gameplay is good, that usually doesn't bother me all that much, but I didn't find the play very interesting. At first, I thought I was going to be able to explore and got excited seeing all those different paths one was able to take, but it was a very linear game after all, meaning it's impossible to do things in a different order than intended by the developers. There was also too much unnecessary backtracking involved. There was a map showing you where there were unfinished tasks - but it didn't take you to the desired location. What's the point? Gameplay was also very repetitive and sometimes, I felt downright bored, because everything followed the same pattern. My largest complaint: the developers missed the chance for creating mini-games! There were a few times, when opening a lock or similar, that I fully expected to play a mini-game, but the lock simply opened! There was one door, for example, where you had to collect bunches of grapes and put them on weights - this screams mini-game! But nothing. Overall, the mini-games were pretty easy; almost too easy - and I played in expert mode! Generally speaking, there were a lot of these missed opportunities in the whole game. Once in a while you also got to pick up buildings for a 3D-map - still have no idea what that was about; nothing happened when I finished it! Well, the length was good at least. A few easy hidden object scenes, but beautifully drawn - I felt myself longing for more of these while playing. Some were a little interactive - more of that would have been very nice. Nothing there, unfortunately, that will make me want to keep this game on my hard drive; it just gives me the option to play through the whole thing again. No trophies or collectibles, no goals. I'll probably do replay one day, but not in the near future! So, I do suggest you try before you buy! I'd wait for it to become a Daily Deal, though ...
May 27, 2014
It's okay
The story started out vague. I kept back tracking to see if I missed anything in regards to the plot. It eventually worked itself out, but for a while all I knew was that I was there because someone's daughter was missing, and I had to piece together who the people were. . At first, I really didn't pay much attention to the music. All I knew was that it seemed to progress the story nicely. Then I noticed someone vocalizing, and that's when I started paying more attention...the music was very soothing. The HOS were decent, but with all the running around, a jump map would have been nice. This isn't a bad game, not in the least. But for me, it's not a great game either. It's okay.
August 27, 2013
The Apple logo is a trademark of Apple Computer, Inc.