Twisted Lands: Origin
Exclusive
Experience the birth of the terror that gripped the island of Tormente in Twisted Lands: Origin! This captivating prequel will lure you in with stunning artwork and bone-chilling audio, and then hold you captive as you explore dozens of bloodcurdling locations, search for useful items and solve cleverly designed puzzles! Every story has a beginning, but few are as horrifying as this!
Interactive cinematics
Step-by-step tutorial
Game System Requirements:
OS:

Windows XP/Windows Vista/Windows 7/8

CPU:

1.4 GHz

RAM:

1024 MB

DirectX:

9.0

Hard Drive:

616 MB
Game Manager System Requirements:
Browser:

Internet Explorer 7 or later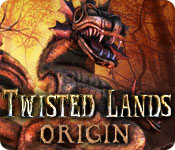 NEW299
The Big Fish Guarantee:
Quality tested and virus free.
No ads, no adware, no spyware.

Reviews at a Glance

Twisted Lands: Origin
0
out of
5 (
0
Reviews
Review
)
Customer Reviews
Twisted Lands: Origin
93
93
Okay, but not buying
The cut scenes were jerky, made me feel nauseous. Too much time spent traveling back & forth to areas that grew further apart. I would like the option to limit action (bugs crawling, branches moving, etc). Scene changes seemed long to me. I only did the one hour, won't be buying it.
March 31, 2013
I expected more . . .
. . . and got it in the visuals. I loved, loved, loved how the videos were done (don't want to say too much and spoil it for anyone). Would be great to see this in all games. The story, as with other Twisted Lands games, was good but the play factor was a big letdown for me. It was too formulaic and simple-minded. I actually found myself getting bored between cutscenes. I'm still glad I played the game because it does fill out the storyline and you don't want to miss how the videos were done but I say get it on sale if you can.
September 10, 2012
Man did I hate this game!
Despite the rave reviews I was surprised and disappointed to find game play obnoxious, tedious, and just not my cup of tea. Let me explain - The graphics are crisp and detailed with beautiful scenes and a lot of areas to investigate so that's a good start right? There was no map allowing direct jump to locations, showing active areas, and areas complete, but many games don't offer these niceties as yet so-no biggy, we can't have everything. Now the rub - This game is a constant, onslaught of hunting around for random special shape after random special shape that will be fitted into a waiting something, like a box, desk, drawer, gravestone, etc. This then grants access some small thing advancing game play. But what about the mini-puzzles? You can send me all over the place looking for all kinds of silly things as long as there is a good mini-puzzle pay-off at the end. Not so here. The gamer schlepps from place to place collecting the odd sun, moon, silver medallion, and blah, blah, blah, then on to the next. A bit like filling out a grocery list. Sure a light sprinkling in the right context of this mindless searching for fun shaped pieces can add charm in doses. However, a seemingly random, relentless stream, with no apparent meaning or connections and most importantly few/none mini-puzzles sucks the fun right out. **spoiler alert on** As example, to find a trucker's key to his rig, we must first find a gold heart. The gamer then travels to a construction site where the gold heart fits into the lid of a red velvet box that is inside a crusty, worn out wheelbarrow next to a greasy hard hat. Inside the velvet box there is a picture of a large, middle-aged construction worker, next to the picture is the needed truck key. Seriously? This trucker carries a velvet box that opens with a golden heart to work? Probably the only reason he wasn't covered in bruises by bullies in the pic was that he was a pretty big guy and could take care of himself. **spoiler alert OFF** Despite my initial intense dislike for the game I couldn't ignore all of those rave reviews, so I played for several hours trying to keep an open mind and hoping things would settle out. I didn't really get any of that - just a Migraine moment. For me a game is beautiful graphics, cohesive, intriguing storyline, interesting characters, challenging mini-puzzles, and a well thought out ending. Things absent in this game. If I am off-base and missing the point all together please feel free to tell me. I would appreciate it being set straight. Sorry I can't recommend.
September 4, 2012
Not great, not bad (except for the last 2 chapters.)
A basic HOPA with a decent story, interesting puzzles and moody art but not half as good as the previous game. It includes a new twist that is interesting but under-used. During the game there are some interactive moments with the detective'. The first time this happens, you are being chased and need to choose whether to go over or under a wall. It's a very tense and gives that moment drama. It really worked. After that, there is no choice. You are simply telling the detective what to do. It's pretty pointless. There is quite a bit of running back and forth during the first half. The map shows which areas have something to do which helps keep the backtracking to a minimum. By the second half, the game is more linear. - Find the thing that needs a piece, play an HO or look around the scenery, find piece, use piece to unlock a mini-game. Fairly standard stuff. Nothing very inspired but a decent mix. And then you get to the last two chapters which are the reason this game gets 2, not 3, stars. There are very few mini-games. After you find whatever piece, you put it into something that looks as if it was supposed to be a mini-game but is just decoration. You just run between H0 scenes and overly-simply inventory items. It was so tedious that I only finished it to see if it would get worse. This game is very formulaic. It feels as if the developers were very excited at first but then got bored or ran out of time.
August 19, 2012
Regretted Purchase of this Game
The one dissapointing thing I want to point out is that so often I would come across what I thought was going to be a mini game but only turned out to be a missing piece puzzle. There were so many missed opportunities in this game. It could have been SO much better. Also, many characters were introduced in the story that never seemed to be fully developed an only confused the story line. Finally, there was no challenge to this game. Even at the difficult level there was a lot of hand-holding. Overall, this was one of the more boring games I have played...and I've played a lot. On a side note to BF games, everyone has access to the demo's so their really is no need for a demo review. It would be nice if reviews were limited to those who actually purchase the games and play them through otherwise the game tends to be overrated.
August 27, 2012
Review of Finished Game
I didn't think this game was nearly as good as the other two in the series. There were a lot of HOs and not many puzzles, and the few they did have were way too easy. There was a map to show you where something needed to be done, but you couldn't jump. The HO scenes were repeated. I was just totally bored the whole time I was playing it and couldn't wait for it to be over.
March 21, 2013
No challenge, unlike previous games
I was very disappointed in this entry in the Twisted Lands series. Unlike the previous games, there is no challenge. Every time I collected an inventory item for an area, I expected there to be a puzzle (many times it looked like it SHOULD be a puzzle), but no dice. You basically run all over the place and slot inventory items in here and there. The mini games were ridiculously easy, and there were too few of those. So this game is mostly simplistic inventory puzzles and a lot of running around. On the plus side, the graphics were very nice and the story was one of the most engaging I've seen.
October 17, 2012
Why was I looking for a lot of stuff?
I know it is a HOG, but I kept having to go back ad forth to find little things that fit into other little slots and it got tedious and frustrating really quickly. Game quality--music, graphic, voice--were all excellent. I wanted to stay in a twisted land, but twisted meant boring to me
August 17, 2013
Hidden Object Game? This Isn't It!
More frustrating than fun. The HOSs, while beautiful, are too few and far between. There are more shaky videos and running around than playing for my tastes. This is more an adventure game than a HOG.
August 19, 2012
Definitely TWISTED... map!
My biggest complaint with this game is the map. Am I the only one who found it totally confusing? I was always going in the wrong direction to get to an active area. Had the map been interactive, it would not have been an issue but here's what happened to me. Looking at the map, it shows that I am at a "crossroads" and has a picture of a bridge going upward. So if this is a USA map, UP is north and I am at the south end of the bridge. Clockwise on the map (starting at 12:00), if I go across the bridge (north), it says I should be headed to the "foggy park", right (east) should take me to the "police station", and left (west) should take me to the "rocky road". In reality, if I go across the bridge (north) I end up at the "police station", right takes me to the "rocky road", and left takes me to the "foggy park". Everything is one point off from where it should be. Maybe whoever designed this game lives south of the equator and that's the way they read maps but in the USA... nada. As much as I liked everything else about the game, this is a "no sale" for me.
October 28, 2014
The Apple logo is a trademark of Apple Computer, Inc.