Tales of Sorrow: Strawsbrough Town
On a cold rainy night in Strawsbrough town, Melissa and Alfred are celebrating their first wedding anniversary. An old woman tricks Melissa into wearing a cursed ring that makes her go into an everlasting sleep. You play the role of Alfred in this magical adventure, meeting many of the residents of Strawsbrough town in an effort to undo the curse. Find the fortune teller Zulaikha, the town's mayor, a sad clown, a blacksmith, a miller, and many more as you use magical potions and cast spells in Tales of Sorrow: Strawsbrough Town!
Unique puzzles
Immersive magical atmosphere
Elaborate storyline with ten different characters
Game System Requirements:
OS:

Windows XP/Windows Vista/Windows 7/8

CPU:

1.6 GHz

RAM:

512 MB

DirectX:

9.0

Hard Drive:

773 MB
Game Manager System Requirements:
Browser:

Internet Explorer 7 or later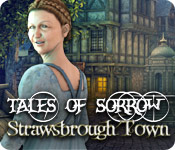 NEW299
The Big Fish Guarantee:
Quality tested and virus free.
No ads, no adware, no spyware.

Reviews at a Glance

Tales of Sorrow: Strawsbrough Town
0
out of
5 (
0
Reviews
Review
)
Customer Reviews
Tales of Sorrow: Strawsbrough Town
53
53
Not for me
This game just did not keep my interest. You cannot speed up conversations by clicking, you have to wait , or skip. After you zoom into an object to look closer , screen goes black for a second or two, annoys me. HOS items are not really clear and small. Hints on HOS will give you a closer up of item and you still have to find it. If you click on an item in inventory that has more than one part to find and you click on it , it does not tell you what it is. Maybe it's just me, but like I already mentioned, did not keep my interest, poorly executed, had to delete.
August 19, 2012
Why not ?
Played 30 minutes casual - 2 modes, casual and hard - Objectives show at the bottom of the screen - Inventory as well - Map - Voice overs - Clear H0 (a lot of them). You don't interact - Mini games : if you want to skip you have to click on the hint button - Outside H0 the hint turns into a mini SG, giving your instructions - Good graphics - Interesting story if nothing too new All in all a nice little game, will spend a punch card credit on it. Nothing over thrilling but it can be quite enjoyable.
August 19, 2012
A Bit on Slow but Good Game
The Strawsbrough Town is where you and your lovely wife live. One the day of your anniversary, an old woman appears at your door. As a reward for your hospitality, she presents your wife, Melissa, with a ring. Upon wearing it, your wife falls into a deep sleep and the old woman dissapears. It is up to you to unravel the curse and discover the dark secret that only the townsfolks know. Actually, the story is a bit reminiscent of Snow White meets Sleeping Beautiful and you will meet some very colorful characters on your journey through the town of Strawsbrough.This is a very HOPA with surprisingly crisp graphics. There are live like characters supported by brilliant voice overs. The art work is at times stunning and I really did like the overall look of the game. Unfortuately I cannot say the same for the music, a bit daunting and does get on your nerve after a while. There are two game mode options to choose from. Game features an inventory list, a objective list and a map that is NOT interactive; so be prepared to walk around alot. There are a lot of venues to visit, alot of people to talk to and many HO scenes to work out. The HO scenes are relatively easy and are not interactive which is disapointing. The mini-games are relatively easy to do but were fun at times. There is a unique hint system which everyone will appreciate, a walkthrough is supplied everytime you hit the hint button. The game is looks to be fairly long according to the map, however I do have to say, I did find the game mechanics a bit cluncky and slow. The dialogues are a bit slow, movement is slow and there is an overall slowness to the game. By the end of the demo trial, my patience began to wane. It is a nice game to look at and gameplay is relatively easy so newcomers will enjoy the adventure part as well as the HO scenes. The game did not throw me over but it does seem to be a relaxing game to play on a lazy Sunday afternoon and I have to admit, my curiososity is piqued at discovering the secret behind the town of Strawsbrough.
August 19, 2012
Disappointing
I was really prepared to like this game; tried and true fairy-tale theme (girl puts on poison ring given to her by an old woman and falls into an eternal sleep). The husband's task is to awaken his new bride by undoing the spell placed on her. The graphics are lovely and the voiceovers are well done. Other than that, the game is boring. There is a map detailing the various places in the town, but you can't use it to transport yourself to those places. The worst thing is the hint button. It is actually a step by step guide telling you exactly what to look for, where to go to find it and how to use it! The HOS's are extremely easy as are the mini-games. There is absolutely no challenge in this game. It might appeal to brand new players of this genre, but other than that, it is very disappointing. I got half-way through the demo before having to quit. It's a no buy as far as I am concerned.
August 19, 2012
Not the typical Hidden Object game
I enjoyed the trial hour of this game but I am not inclined to purchase. The graphics are appealing to the eye except in the HOSs. Then the scenes are like dark photos, not line drawings. The items are not easy to find but using the hint button gives a small highlighted window showing the item. There is a map laid out like a flow chart. The map shows the locations of the story and which location you are in but nothing else, not actions to be done or finished locations. There is one feature that I really like: the hint button, outside of HOSs, gives access to the strategy guide. Very cool.
August 19, 2012
Never Open The Door To Strangers Not Even A Little Old Lady
This review is based on the whole game. The story: You take on the role of Alfred to break an evil curse put on his wife Melissa by an old woman by giving her a ring that puts her into an everlasting sleep. 2 play modes: Normal/Hard. I played in hard mode which does have sparkles just for the hidden object scenes. Other areas of interest a magnify glass comes up. Hint (also the skip) takes about 2 minutes. There is a widescreen option which may or may not work for you but it did me as I had to uncheck the box for it to work. There are voice overs. Map: Looks like a flow chart with many locations however just shows where you are at as it doesn't show if there is any thing to do in the areas and you also can't use it to travel back/forth. To move forward in the game, you will run into several different characters and must perform tasks for them which in return you are given items (inventory). The hidden object scenes: Quite a few as I counted 30 of them. All found by word list and they're not interactive. The hint button: For the hidden object scenes brings up a box in the center of the screen showing you where the item is located but then you have to find it in the scene. The hint for outside hidden object scenes brings up a mini walk through and will list step by step what you have to do. Puzzles: Rotate the rings, click/swap pieces to restore the picture, match the pairs, hit the banana (LOL), and a couple making potions. In order to skip puzzles you have to use the hint once it's fully charged as there is no "skip button." My overall impression of this game: I'll start with what I liked: I really enjoyed the story along with the characters as I found it very intriguing as it held my interest as I played straight through until I got to the end of the game. The graphics for me were nice crisp and clear. As for the hidden object scenes most items I located with no problem. I used the hint about 4 times for this part of the game cause those were small and blended into the scene pretty good. I also liked the banana puzzle once I got the hang of that one. I also found this game to have lots to do and people to talk to as I enjoyed the traveling back/forth. Now for what I didn't like and why I knocked this down a star: For playing on the harder mode while the "mini walk through strategy guide" is kinda neat when you click on the hint button however I thought it was a bit too helpful for the harder mode . I just wanted a hint not a step by step on how to solve it. I'll also agree with the other reviews as I also found at times this game seemed to take a little bit to got to the next scene. I also found the majority of the puzzles downright annoying since some were repeated: the rotate the rings and click/swap to form the picture as I hate these. This game also says there are achievements which there aren't any. My guess would be that this game was originally suppose to be a collector's edition but then it was decided not and they forgot to take out the achievements part. Overall though I found this game pretty enjoyable and give this 4 stars as got 4 hours of game play out of it which is long enough for me. Thanks Big Fish and developer. As always, give it a whirl and decide for yourself.
August 20, 2012
The nearly great game
Just as my title suggests, a good game but not good enough to be considered top notch. Plus points are the graphics and sound quality as well as a reasonable story line. What is not so good is that you have to play at the game's pace not your own. The voice overs are slow and you cannot click to speed up the pace of conversation. I found myself hanging around a lot waiting for this part of the game and I don't think I speed read either. Also it gives you two game modes but the hard mode is really more for intermediate players. If you play a lot of HOGs you won't be using the hint button on this one. The mini games are quite simple but there are one or two new ones to keep you interested. Would I buy, I am undecided as yet having played the free mode. There are better games made but then there are a lot worse. I will probably use a coupon on this one but if I forget then I don't think I would have missed a fantastic game, just an average one. All the ingredient are there, but it just sees a bit undercooked!
August 20, 2012
Tales of Sorrow: Strawsbrough Town.
[Three Strikes, You're OUT!!"] I'm just going to put this very shortly and very simply. As I play the Demo as Alfred, husband of Melissa, with whom we've just totally experienced to the opposite of story-telling [i.e., do something good for a stranger, stranger turns out to be fairy godmother/celebrity/good friend-to be/fairy helper/generally a positive thing] Melissa gets a bright shiny new ring only to start sleeping in a spell that will make her die from sleep, or some-such thing. Husband Alfred sets out to find the women they've just fed a nice warm meal to, to get her to come back and just follow the rules of the darn story. Strike One : No Flexibility. Player is allowed to follow narrow path and must do one thing after the other after the other. In order to open the lock that I as a person can see, I have to make Alfred realize it's a lock by clicking on it and watch his thought bubble say, "That's a lock!" But before that we have to get the owner of the lock to talk about the lock so we can gather things for the lock. Strike Two : Forced Interaction So I go and talk to the clown and he says the ever-familiar "Give me this and I'll give you the very thing you're looking for!" There's only one thing you can do. You can't search, you can't explore, you're stuck in your rut and can only go backward or forward. Strike Three : Pure, Unadulterated Unoriginality. The Hidden object scenes are a great example of this. Once I enter the scene and just skim the list of objects, I know exactly which object I'm going to get out of this little search and exactly where I'm going to go next to use it. There's no creative sparkle, no three-dimensional characters, even the art seems boring after a five minute examination I'm seeing reviews that say "Why Not?" Well, let me answer. If you're not genuinely excited by the end of the Demo, it's likely you shouldn't buy the game.
August 20, 2012
Just the way I like it
This game has an engaging story, it may have been done before, but it is told with great characters, good graphics and voice over, making it endearing and refreshing. The best thing about it really is the characters, combined with beautiful graphics. I would have given it 4 stars due to some flaws, but I am surprised that it has only rated 3 and believe it deserves a boost in ratings. The flaws are a widescreen function that doesn't work, and some HOS where the objects are impossible to find. The puzzles range from fantastic to mediocre. Another flaw is that it is too short, but in a way it leaves you wanting more, rather than being bored and looking forward to it ending, like a lot of games lately. Overall, it had a good combination of HOS (not too much), cut scenes, and adventure to suit my taste. Well done developers, and I hope to see more like this soon.
August 24, 2012
What A Loser
This game started out with promise the story was pretty good and the graphics were okay so I decided to buy it what a waste of a credit. The longer I played this game the more annoying it got. The game is clunky and clumsy when the characters talk their mouths continue moving even after the conversation is done. The graphics could have been much better the background was dark and I found it very hard to find anything without leaning into my screen even though some of the items were big I still couldn't see them. The puzzles were plain frustrating and aggravating. One you had to click to get the picture to go into place that was the most frustrating puzzles I've ever done then one was mixing a potion and you had to more or less figure out for yourself what ingredient went in first and what was to follow needless to say once I figured that nightmare out I was almost ready to trash the game but I played on. Finally I got to the bridge with more dark and dingy search scenes then I reached the blacksmiths hut and he was hideous looking and after having to run all over two or three places just to find a saw and put it together I said enough and deleted this nightmare. The game lags really bad in between scenes the hint button was about the best thing this game had to offer and had it not been for the hint button I probably wouldn't have lasted as long as I did it would give you direction on what to do next but when in a search scene and you press the hint button a little box pops up and shows you a picture of where the object is and it takes forever for it to fill back up. All in all the game had a nice story but the game was put together very sloppy from the search scenes to the characters movements and to the voice overs because it seemed to me that every time the guy your playing as spoke his accent changed not well done at all. It started out with promise but quickly turned into a nightmare what a loser.
August 19, 2012