Tales of Sorrow: Strawsbrough Town
On a cold rainy night in Strawsbrough town, Melissa and Alfred are celebrating their first wedding anniversary. An old woman tricks Melissa into wearing a cursed ring that makes her go into an everlasting sleep. You play the role of Alfred in this magical adventure, meeting many of the residents of Strawsbrough town in an effort to undo the curse. Find the fortune teller Zulaikha, the town's mayor, a sad clown, a blacksmith, a miller, and many more as you use magical potions and cast spells in Tales of Sorrow: Strawsbrough Town!
Unique puzzles
Immersive magical atmosphere
Elaborate storyline with ten different characters
Game System Requirements:
OS:

Windows XP/Windows Vista/Windows 7/8

CPU:

1.6 GHz

RAM:

512 MB

DirectX:

9.0

Hard Drive:

773 MB
Game Manager System Requirements:
Browser:

Internet Explorer 7 or later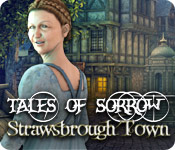 NEW299
The Big Fish Guarantee:
Quality tested and virus free.
No ads, no adware, no spyware.

Reviews at a Glance

Tales of Sorrow: Strawsbrough Town
0
out of
5 (
0
Reviews
Review
)
Customer Reviews
Tales of Sorrow: Strawsbrough Town
59
59
Let's have more like it
I really enjoyed playing this game. It was nice to have a game that stuck to the storyline, one with a little creepiness that didn't go off on tangents with far-fetched fantasy creatures jumping you at every turn, crazy time travel and mechanical repairs to do. I don't understand why some reviews say it seems like a first effort. I thought it was well done except for a few cons mentioned below. My Pros: - Very nice artwork that fitted the storyline - Good voice-overs, interesting characters - Great hint system that functioned as a strategy guide and a mere hint in the HOS - Inventory items were generally used quickly. I find it annoying when I have a huge inventory that I have to scroll through - There was some moving around but it was logical. Each segment of the story had only a few scenes that were easy to find - Clear tasks and mostly fun puzzles and games My Cons: - There was a lot of dialogue but it made the story flow. I didn't mind it as much in this game as I do in others - Some hidden objects were a little too well blended and hard to see - Swap-the-tile puzzles that rotated and moved were just plain weird. I couldn't make sense of them and gave up. - Boxes with items to be picked up didn't close automatically. Some still sparkled after the item had been picked up and there was nothing left to do there later - The map was nice but not especially needed since locations were easy to find. I wish I could say that about other games. I liked this game. Some may find it not challenging enough but it was relaxing and fun for me.
August 23, 2012
Tales of Sorrow: Strawsbrough Town
Well I played the demo for 36 minutes and I liked the game. For a SE the hint is more of a SG and there is also a map which helps. Characters are nice and there is voice overs which add to the game. HOS are clear and not difficult to find most objects quickly but some youdo have to search for (used my reading glasses to find a couple of things LOL) Ttry the demo for yourself to see if it is to your liking. I tried the Normal mode not the hard core as I like something that is a bit difficult but not frustratingly hard Some will love this game and others will not - your choice - but this is a BUY for me :)
August 19, 2012
Relaxing Casual Game- Not for Hard Core Gamers
Review based upon completion of game. This is a little sleeper of a game. There are HO, which are well done (none interactive) clear not junky, and some dewsy hidden items! There are sparkles and a click penalty (I just went slowly and had no problems). The puzzles are rather easy, except the one at the carnival?that took a while. There are voice overs which were very well acted (except for Alfred, the lead character). Music is subliminal, hardly noticed. The hint button fills very quickly and shows as a strategy guide which was very helpful on occasion. No Journal, a very extensive map but you cannot teleport. There is not a lot of back tracking/to & fro. Overall, I found it to be a VERY casual game, maybe 5 hours. It was very enjoyable not at all brain racking and I did not wish for it to ?end already?. There is a complete ending, no cliff hangers. I don?t think the demo gives it justice, and I don?t understand why so many rated it so low. It?s definitely not top 10 quality game but it is worth (IMHO) a purchase or a credit.
September 11, 2012
Gripping Storyline!
Storyline gripped me. Have to know how it ends! Good Parts: Storyline is absolutely amazing. Demo ends right when the story is getting briliant. Lots of effort put in to the storyline, excellent voice-overs. Graphics could use a little work, but they were still pretty good. Loved the objectives and how all of them were vital to the storyline. The hint was useful outside of the scenes. It was like a strategy guide, taking you through step by step how to complete an objective. Hidden Object Scenes were good, but a little too challenging. The developers should work on this a little. OK Parts: There was a little going back and forth, but not enough to ruin the game. Bad Parts: Even on easy mode, the hint and skip took too long to recharge. This disappointed me, as I usually needed them for finding objects. The puzzles are dead-set terrible. Boring, way too hard and just annoying! A pretty basic, but simple game, Tales of Sorrow: Strawsbrough Town will certainly have you on the edge of your seat. Demo leaves you wanting more. Definitely recommend this game, I will eagerly await the sequel!!
August 23, 2012
LIKED WHAT I SAW
HOS: Objects were well detailed and clear. Unlike others, I only had a couple dark spots in some of the HOS (perhaps it's the computer settings). Liked how the hint worked in the HOS, showing what the item looked like in its surroundings. However, since the picture shows the surroundings at the beginning of the HOS, some of the reference points may no longer be there. Did not find this a problem though. Also liked how the hint system worked outside of the HOS. Since it shows all the steps to be taken to finish a task, I like having the choice of reading it entirely, only to the point at which I'm stuck, or figuring it out myself. Artwork was colorful, but I cannot say it was great because I like characters to be more realistic looking. Animation was okay, but I also like people's lips moving in rhythm with their speech. Some voiceovers were good; others sounded forced like a high school actor would sound. The demo was fun and will probably buy it for those days when I want a pleasant diversion but not a difficult challenge.
August 19, 2012
Tie Breaker - Good Game After All
The varied and very opposite reviews got me to wondering and so I played the demo version and was pleasantly surprised. You are a newly wed and a powerful ring has placed your wife under a sleeping spell. Your quest is to investigate Strawsbrough Town and lift this curse. Game moves quickly, art work and graphics are crisp, clear with special skill and detail in drawing faces. They are so well done! Enjoy! - Mama Mia -
August 19, 2012
What's not to like?
I like this game! It makes you think. It makes you look a little more. I think the HOs are fine. I don't write reviews, but I hate to see this game take a bad rap! It's defionately a good game for a rainy Sunday afternoon. I've just finished the demo and I'm buying it NOW!!
August 19, 2012
Tales of Sorrow: Strawsbrough Town
I enjoyed the trailer so far and will buy the game. I own almost 200 games and found the trailer to be refreshing. I like the way the hint acts like a strategy guide. The game so far is very easy on the normal mode and it's nice to be able just relax with a less challenging game. I like the story line too. I think I will replay this game again when I want a more relaxing fun game tp play.
August 19, 2012
DIFFERENT & ENJOYABLE GAME !!!!
Not sure why so many people don't like this game. I haven't completed the game, but am thoroughly enjoying. I purchased immediately because it wasn't the "eerie" type we have seen so much of lately. I really like the HINT system, it's like having a strategy guide without the high price. Don't let the negative reviews keep you from trying this game.
August 22, 2012
A Good Game
I played the trial for an hour and found it to be a good game, it kept my interest, the HOS were not too difficult and I liked how the hint was a HINT and not a total giveaway. Even though it is not a GREAT game like the Puppet Show series I will still buy the game.
August 19, 2012