Tales of Sorrow: Strawsbrough Town
On a cold rainy night in Strawsbrough town, Melissa and Alfred are celebrating their first wedding anniversary. An old woman tricks Melissa into wearing a cursed ring that makes her go into an everlasting sleep. You play the role of Alfred in this magical adventure, meeting many of the residents of Strawsbrough town in an effort to undo the curse. Find the fortune teller Zulaikha, the town's mayor, a sad clown, a blacksmith, a miller, and many more as you use magical potions and cast spells in Tales of Sorrow: Strawsbrough Town!
Unique puzzles
Immersive magical atmosphere
Elaborate storyline with ten different characters
Game System Requirements:
OS:

Windows XP/Windows Vista/Windows 7/8

CPU:

1.6 GHz

RAM:

512 MB

DirectX:

9.0

Hard Drive:

773 MB
Game Manager System Requirements:
Browser:

Internet Explorer 7 or later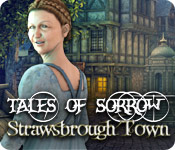 NEW299
The Big Fish Guarantee:
Quality tested and virus free.
No ads, no adware, no spyware.

Reviews at a Glance

Tales of Sorrow: Strawsbrough Town
0
out of
5 (
0
Reviews
Review
)
Customer Reviews
Tales of Sorrow: Strawsbrough Town
59
59
Only played the demo but
I won't be buying this game. The graphics and sound were so-so but that doesn't bother me if I like the game play. You can't click through the dialogue, which I really hate as I'm a fast reader so it's a drag waiting for the game to move on. Some of the mini-games are fun but the design is frustrating. For example, in one (the door to the secret room) the controls are really awkward and, after fiddling with them for a bit and making a little progress, I accidentally clicked out of the puzzle. When I went back in I had to start the puzzle over! At that point I knew this game is not for me.
August 19, 2012
Tales of Sorrow Demo
It was a game that I'm not really sure about. I felt the story and the progression of the game was choppy and didn't flow for me at all. The art and voice overs were good, The sounds were not annoying. I just couldn't get into the game and I guess I expected more. The hint button worked well but had to use for skipping games as well as for hint. It filled at a regular rate. The map was different and literally forgot about it so don't know if it was interactive. Overall I kept hoping the hour would soon be over so I could delete it.
August 20, 2012
Rather disappointing.
After playing the demo, I thought it had potential and decided to purchase the full game. Sadly, it really didn't live up to expectations. I found the game rather dull, especially playing the HOGs over and over again, and the puzzles were not very challenging. The game wasn't very long, but I actually found myself feeling pleased that it was over (not a good sign#. The artwork was okay and story reasonably engaging, but the game was glitchy which added to my frustrations. Overall I can't say I enjoyed it...can't wait to get started on a different #and hopefully better) game. Sorry.
September 9, 2013
A Good Game For Learners
This game is great if you are just getting into Hidden Object Games; however if you're a bit of a novice or an expert then I don't recommend this game. The story is great: A curse has been put on a town which you have to lift before the sun rises. The actual hidden object scenes were easy, as were the puzzles which were quite repetitive throughout. You are able to skip the conversations that you have with the characters. The "hint" can be a giveaway if you get lost or unsure of what to do next as it's more of a walkthrough on what's needed so do be careful. To move from scene to scene you're unable to use the map - the map is only there as a guide; however you won't get lost as it's pretty straightforward. Overall I didn't enjoy this game as I found it very basic.
August 28, 2012
Interesting for intermediate gamer BUT...
The game has have well done plan of all destination. If you use the hint button to know what to do next, there a well documented list of all task, but it disapears as soon as you clic to continue the game. Sometime there's around 12 instructions. You cannot remember the list. Beside that, find out object used in the game are relatively easy. that a good point. But I won't by the game...
August 23, 2012
Hesitant game
I think this would be a good game if it weren't so hesitant. The storyline is an old woman comes to your door and gives your wife a ring which renders her unconscious. It is your job to rectify this. There are two game modes, regular and advanced. The graphics are okay and the HO scenes are okay (I had to use the hint to get the last one on the list). The hint gives you a picture of the item and a little of the surrounding area and then you hunt for it. The voiceovers could have been better. They are definitely people reading a script and a lot of the inflection is comical. There is a fournal and a map, which makes it look like there are tons of places to go but there aren't. The squares are scenes instead of actual places. The problem I found is that it takes a bit for it to change from scene to scene. The screen will go black whenever you change scenes, go in and out of HO scenes, puzzles, places to pick up items, etc. It's glitchy and transitions of any kind are very hesitant. If you can get past that, the game is nice enough although I only came across two puzzles in all the demo time. The hint button gives you the strategy guide instead of just pointing the way to go next. That was a surprise. I didn't find it all that interesting but it's worth a demo. It might get better the longer you play.
August 20, 2012
Seems slow
This game is not a bad game, but it is slow in progress. The dialogue cannot be hurried only skipped. The HOG scenes are clear and the objects are easy to find. Hints are one dimensional only shows a picture of where the object can be found. Hints do not direct next action. All in all, not a bad game. Graphics are good, sound is good.
August 19, 2012
Better Around
Only played the demo game. Found this game relaxing to play with most things easyish. By no means a bad game but not very engaging. Many better games around so wouldn't recommend purchasing. If you need the help function, a complete list of actions is presented meaning you end up with more than you need to see, for me spoiling the challenge and I'm not an advanced user. The black screens as you move around is also very annoying.
August 20, 2012
Not the best, but far from the worst.
Okay - it's not Mystery Case Files or Mystery Trackers - but it's not the worst game I've played, either. It's just not all that bad. The graphics, for the most part, are pretty good. Hidden object scenes were junkpiles, but most items were fairly easy to find. An object now and then would be tough to find, but that's why it's called a hidden object game. The hint system worked nicely within the scenes. Instead of locating the item for you, it puts up a picture of part of the scene with the item highlighted. You then close the hint window and locate the item. I liked that way better than some hint systems that give you a flash of light that's so fast you can't see it. Outside of the hidden object scenes, the hint button was a great strategy guide! When you click on the hint button, a list comes up and tells you exactly what you need to do, where to go, etc. The few puzzles that needed to be done were pretty simple. There is a carnival game that was more fun than I thought it would be, and not as easy as I thought it would be. There were some puzzles I found a bit disconcerting where you had to put a picture right, but the "picture" turned and moved and made it a little tough for me, and I did end up skipping those. There is no skip button, but, when in a puzzle, click on the hint button and it will ask if you want to skip. I can't comment on the music because I turned it down at the beginning of the game, something I almost always do. Sound effects and environment sounds were fine. There were voiceovers and they were okay. The talking didn't mesh with the movement of the characters' mouths, but, who cares. The voices themselves were good. There were a few hidden objects that perplexed me...a green bell pepper was called "capsicum", an artichoke ended up being a "cabbage", and I had to use a hint to find out what an "aldrop" is. It turned out to be a latch sort of thing on a chest or trunk. All in all..the game was okay. I enjoyed playing it, as the scenes were well done, the colors and graphics were crisp and clean, and the storyline was just creepy enough...a cursed ring, a sleeping wife, an evil witch...and a fortune teller! There's more fun...try the game for yourself if you want a game that isn't all that taxing, but is enjoyable.
August 20, 2012
Boring
Boring, repetitive and short. I would give 2 stars if not the map (cool idea).
August 23, 2012