Tales of Sorrow: Strawsbrough Town
On a cold rainy night in Strawsbrough town, Melissa and Alfred are celebrating their first wedding anniversary. An old woman tricks Melissa into wearing a cursed ring that makes her go into an everlasting sleep. You play the role of Alfred in this magical adventure, meeting many of the residents of Strawsbrough town in an effort to undo the curse. Find the fortune teller Zulaikha, the town's mayor, a sad clown, a blacksmith, a miller, and many more as you use magical potions and cast spells in Tales of Sorrow: Strawsbrough Town!
Unique puzzles
Immersive magical atmosphere
Elaborate storyline with ten different characters
Game System Requirements:
OS:

Windows XP/Windows Vista/Windows 7/8

CPU:

1.6 GHz

RAM:

512 MB

DirectX:

9.0

Hard Drive:

773 MB
Game Manager System Requirements:
Browser:

Internet Explorer 7 or later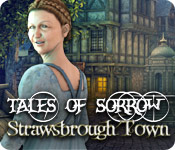 NEW299
The Big Fish Guarantee:
Quality tested and virus free.
No ads, no adware, no spyware.

Reviews at a Glance

Tales of Sorrow: Strawsbrough Town
0
out of
5 (
0
Reviews
Review
)
Customer Reviews
Tales of Sorrow: Strawsbrough Town
59
59
Buy only if on DD.
Low level challenge, clumsy interface (can't click thru dialogues, screen goes black between scenes) not really much to offer. Daily Deal only (if that).
August 19, 2012
SORROW INDEED!!
Review based on about 1 hour gameplay because it was all I could take. Animation - Characters beautifully drawn but little movement VOS - Excellent HOS - Usual fare of small to larger items but not by much. Was getting a headache. Dark in some areas. Hint - Slow recharge. Shows blocked area where item can be found and acts as an SG Random Click Penalty - Cursor circles for a few seconds and you get a text dialogue lecture. :-) Map - Does not transport Objectives are listed as part of the inventory screen Puzzles/Mini-Games - Nothing new here. No skip button. Hint asks if you want to skip. Think I made the mistake of wasting a free coupon code on this one. Now that's sorrow!! :-)
June 4, 2013
Don't recommend to anyone
i personally did not like this game because the storyline was non-existent, the graphics were very horrible, and the puzzles weren't challenging at all. it was very basic and there were quite a few spelling errors. it seems like the creators rushed right through making this game. i played through it all though because i'm a champ and wanted to see if maybe i was being too harsh. nope! if you want a great storyline, challenging puzzles, and something fun; i would not get this game. if you are more into the basic puzzle games, this is definitely for you!
September 7, 2012
Tales of Sorrow: Strawsbrough Town.
[Three Strikes, You're OUT!!"] I'm just going to put this very shortly and very simply. As I play the Demo as Alfred, husband of Melissa, with whom we've just totally experienced to the opposite of story-telling [i.e., do something good for a stranger, stranger turns out to be fairy godmother/celebrity/good friend-to be/fairy helper/generally a positive thing] Melissa gets a bright shiny new ring only to start sleeping in a spell that will make her die from sleep, or some-such thing. Husband Alfred sets out to find the women they've just fed a nice warm meal to, to get her to come back and just follow the rules of the darn story. Strike One : No Flexibility. Player is allowed to follow narrow path and must do one thing after the other after the other. In order to open the lock that I as a person can see, I have to make Alfred realize it's a lock by clicking on it and watch his thought bubble say, "That's a lock!" But before that we have to get the owner of the lock to talk about the lock so we can gather things for the lock. Strike Two : Forced Interaction So I go and talk to the clown and he says the ever-familiar "Give me this and I'll give you the very thing you're looking for!" There's only one thing you can do. You can't search, you can't explore, you're stuck in your rut and can only go backward or forward. Strike Three : Pure, Unadulterated Unoriginality. The Hidden object scenes are a great example of this. Once I enter the scene and just skim the list of objects, I know exactly which object I'm going to get out of this little search and exactly where I'm going to go next to use it. There's no creative sparkle, no three-dimensional characters, even the art seems boring after a five minute examination I'm seeing reviews that say "Why Not?" Well, let me answer. If you're not genuinely excited by the end of the Demo, it's likely you shouldn't buy the game.
August 20, 2012
What A Loser
This game started out with promise the story was pretty good and the graphics were okay so I decided to buy it what a waste of a credit. The longer I played this game the more annoying it got. The game is clunky and clumsy when the characters talk their mouths continue moving even after the conversation is done. The graphics could have been much better the background was dark and I found it very hard to find anything without leaning into my screen even though some of the items were big I still couldn't see them. The puzzles were plain frustrating and aggravating. One you had to click to get the picture to go into place that was the most frustrating puzzles I've ever done then one was mixing a potion and you had to more or less figure out for yourself what ingredient went in first and what was to follow needless to say once I figured that nightmare out I was almost ready to trash the game but I played on. Finally I got to the bridge with more dark and dingy search scenes then I reached the blacksmiths hut and he was hideous looking and after having to run all over two or three places just to find a saw and put it together I said enough and deleted this nightmare. The game lags really bad in between scenes the hint button was about the best thing this game had to offer and had it not been for the hint button I probably wouldn't have lasted as long as I did it would give you direction on what to do next but when in a search scene and you press the hint button a little box pops up and shows you a picture of where the object is and it takes forever for it to fill back up. All in all the game had a nice story but the game was put together very sloppy from the search scenes to the characters movements and to the voice overs because it seemed to me that every time the guy your playing as spoke his accent changed not well done at all. It started out with promise but quickly turned into a nightmare what a loser.
August 19, 2012
Overdone Fairy Tale Idea PLUS Poor Execution
I played the demo for 34 minutes and just couldn't go on. I believe this game is meant for children, especially when playing in casual mode. First, the storyline and dialogue were juvenile, as if written by third graders. Example: There's a secret room in the mayor's house, but the mayor doesn't know where the keys are or where the room is. It then takes you approximately ten seconds to find the secret room because it takes up an entire wall. Graphics are flat and portrayals of characters are weird. Example: The creepy mayor is in a short sleeved shirt, wearing a top hat, just hanging outside his house late at night. I was tempted to stop playing at that point, but I wanted to be able to tell you more, so I kept going. Every time you click on an inventory item to use it, the screen goes black for a few seconds and then you're shown the item being used. So, gameplay is clunky and mechanical. The written dialogue stays on the screen way after the character speaks it. And you cannot click through it - you can only skip it. The hint system is actually a walkthrough. It will give you eight or nine steps all at once, which totally plays the game for you. THAT was when I uninstalled it. I wouldn't bother downloading this one, but you might be tempted to do so -- just to see how bad it is, lol.
August 21, 2012
Bad Game
This is a very poorly produced game. There are live actors (faces really) whose lips aren't in sync with the words. The artwork is medicore at best. The story is really dumb and is poorly told. The HOS are cluttered, and random clicking is penalized. Puzzles are stupid. There is a map, but it doesn't give any info except where you are. The only good thing about this stinker is the HINT in game play brings up an SG like page. Don't waste your time and money on this dog.
August 20, 2012
Not worth the time
Unfortunately, I just found this game boring, unchallenging and awful.
August 25, 2012
Another disappointing game
The graphics were rather unappealing if not bordering on ugly, the navigation was very slow, no real challenges, objectives were clear though and it might suit someone not familiar with that type of game...and I am struggling to find something positive to add so, I will stop now!
August 19, 2012