Criminal Minds
Exclusive
Join the Behavioral Analysis Unit of the FBI to solve a series of shocking crimes in this thrilling hidden object, adventure game based on the hit TV series, Criminal Minds. As a member of an elite team of criminal profilers, you scour crime scenes for clues, interview witnesses and suspects, and carefully analyze evidence to catch the culprits. In the first case (A Dying Art), the BAU must find a serial killer on the loose in a college town before the body count rises further. Focus on the criminal, not the crime, to pinpoint the predators' motivations and anticipate their next move!
Based on the hit tv show
Interview witnesses and suspects
Solve the case!
Game System Requirements:
OS:

10.8/10.7/10.6/10.5

CPU:

1.8 GHz (INTEL ONLY)

RAM:

128 MB

Hard Drive:

177 MB
Game Manager System Requirements:
Browser:

Safari 4.0 or later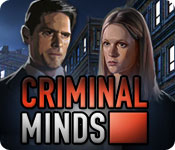 NEW299
The Big Fish Guarantee:
Quality tested and virus free.
No ads, no adware, no spyware.

Reviews at a Glance

Criminal Minds
0
out of
5 (
0
Reviews
Review
)
Customer Reviews
Not impressed
I am a huge fan of criminal minds so when I found out they made a hidden objects game I downloaded it immediately. While the game was challenging, I was disappointed at the fun level. I found myself just wanting to get through the game instead of enjoying the process. The puzzles were repetitive with changing difficulties and sometimes it was hard to figure out what you were supposed to do next. I also felt like the story line was lacking, I wanted more of a murder mystery than I got. Overall I was disappointed in this game. Maybe I just expected too much.
January 12, 2013
a crime
Thank goodness I didn't waste money buying this. I love the show & all the characters, but this game is awful. The game has no resemblance to the TV show & the dialogue from Penelope is so wrong. She never talks like that on the show. I am very disappointed in this. Also, it moves slow but the dialogue is so far from what is on the show.
January 6, 2013
Nothing like what I expected :(
I am a big criminal minds fan and didnt try the trial version since I really like the tv show I thought it would be interesting. I am happy that I used a credit for this game and didnt spend my money on it. Poor graphics, no speaking from the characters, very poor quality. I played it through the first case, there are only 2 and 1/2 way thorough I really wanted to quit. I don't think that I will even attempt the second case. Out of all the games that are available, a really poor choice to offer, there are so many better ones out there. HOS were way easy and following the game was just plain stupid. Its another TV Show game gone bad, i had this experience when I played House MD, which was even worse. I would not recommend this game at all.
May 2, 2012
The 1 hr Free Trial More Than Enough For Me Already - Cut This Off!
* 2 Chapters * 2 play modes - Casual/Expert - I played expert mode. * No voice over * Graphics: Characters are cardboard cut outs. * No widescreen. Black bars. I had to change my settings. * HO scenes: 3 different colors: BLACK you find the objects. BLUE are scrambled and you either find a ? mark or figure it out for yourself item to be found. GREEN are hidden and an extra step needs to be taken to uncover those. *There is an FBI book that will tell you about the case and gives you info on all the agents. * Tasks are listed down at the bottom. If you get stuck, click on the hint and it will bring up the tasks. If there are several listed, you can "arrow through" up at the top and select the one you want and it will list step by step how to solve it. * Hint/Skip charge up pretty quick. * Mini games My overall impression of the game here: Well usually I'm REALLY into these crime solving games but I'm sorry to report this one just fell REALLY flat. Oh and I've never watched the TV show cause I'm usually at work when it comes on so no comment there. I'm going to start off with these graphics here as I didn't much care for the "cardboard cut out" type characters. The HO scenes: I found to be pretty clear as I didn't have trouble locating too much. The finding by different colors however is nothing I haven't seen before. What I played of this there is a little bit of back/forth but not too much and inventory is pretty much used right away. Where this game REALLY went down the hill for me was OMG! The click, click, click of dialogue so I really couldn't follow the story of the murder case. This is also why I marked the story as "OK." I'm sure it would of been great if it wasn't for all this click, click, click of dialogue. This absolutely ruined it for me. As one review mentions here. The year is 2012? Really all this click, click, click. I want to play a game here. If I want to read I'll do one of two things and that is either pick up a book and prefer Stephen King or I'll go to work as I'm a transcriber so plenty of reading there and some of that is pretty hard to decipher. The mini games which you click on the ? mark to get directions and a big huge box comes up on the screen. What I played of this I did two mini games: Finding the finger print that is different and a Mahjong game and while I'm trying to complete the mini games the dreadful click, click, click of dialogue comes up. UGH! As for game length: Although this is only two chapters I'd still think you'd get a minimum of 4 to 5 hours out of this at least if you are one who takes your time and reads everything cause lots of reading here unless you're one of the "expert" game players but the hour demo was way more than enough for me already. Actually I played for a 1/2 hour and quit. I thought maybe if I came back to it a few hours later I might have a whole different outlook on this game but sorry no such luck here. I'm sorry Big Fish and the developer of this game but this is dreadful in my humble opinion. The best I can do for this game is my 1 star: Stop madness, cut off and pull the plug on this already! I'm sorry but lets forget the daily deal or catch of the week as I wouldn't finish this game for free. If by chance there is going to be another one of these Criminal Minds games I hope the developer here does away with the "cardboard cutout characters" and all the clicking of the dialogue here. As always definitely give it a whirl and decide for yourself as some have really liked it but definitely not for me.
April 21, 2012
A HUGE DISAPPOINTMENT!
I love the show and was looking forward to playing this game, but I was greatly disappointed. The entire game had a dated feel to it, like a HOG from 10 years ago. It was stilted and slow-moving with very little challenge. They did not capture the unique personalities of the Criminal Minds cast at all. I would not waste my time nor money on this game.
April 21, 2012
The first Big Fish game I've just hated
This really is the first Big Fish game I have hated. I just finished Case 1 and am so annoyed that I felt it necessary to warn off anyone who likes the show. Criminal Minds is my favourite TV drama so I was expecting something at least a little challenging. I thought the storyline was tedious and the speech stilted. The switch between characters served no purpose other than to switch between characters. I found the gameplay surprisingly dull; the team had no basic tools to work with and the unsub was obvious. Finding 3 question marks in each hidden object session unscrambled the names of 3 objects - lame is the first word that comes to mind. I should have tried it out first, my bad; I am deleting it without bothering to look at the second case.
February 23, 2014
Voices a must for this game!!!!
I bought this game a while ago to fill out my card Love the show so I figured the game would be good. Didn't try the demo, my mistake. Let me give you the pro's of the game first. Hos's are clear and bright, have a few scrambled words in them which you can either figure out or find a question mark for them. The question marks also works on your hint button. They also aren't filled to the brim with junk. The story isn't that bad either. Now for the cons. Where do I begin, what a pain in the butt. This whole game is interaction with NO VOICES. You have to read everything even when you're doing puzzles. I love interaction games and I own alot of them that you have to read but it doesn't make the game. This game is all about the dialogue. Don't get me wrong I love reading books but I don't expect my game to be one. I can't believe they took a great show and made a awful game from it. The only reason I finished the game was because I already bought it and I still had to force myself.
May 30, 2012
Boring
I don't watch the show so maybe that was the problem but I just found this game boring. played about 1/2 hour of the free game and couldn't go farther. reading what people say is boring, hidden object were odd, hard to find stuff, there was no logic to what I was doing. Sorry but I don't recommend this game especially if you don't watch the show.
April 21, 2012
No Challenge/Too short
There was no challenge to the hidden objects and puzzles. Even chosing expert mode. The stories were way too short. I do not recommend if you are looking for a more challenging game
May 18, 2012
Just Terrible
I echo what some others have said already. It's just dated and the fact that there is absolutely no voice work is kind of shocking. It's about a TV show that a lot of us love. I expected some voices. I found the response time lacking as well and I have a brand new computer. I often had to click on an area twice. I had to shut the music off because it was annoying and distracting. In short, I had much higher expectations for this game and came away disappointed. Deleted it after 30 minutes.
May 4, 2012
The Apple logo is a trademark of Apple Computer, Inc.
The Windows logo is a trademark of Microsoft, Inc.